svsfilm.com - for rail video and audio
---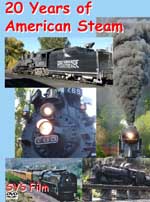 '20 Years of American Steam' new DVD from SVS Film featuring action footage filmed since 1997. From a narrow gauge Shay to the 'Challenger', many of the finest US steam locomotives are represented. Just 15.00 GBPounds (PAL format) or US$19.95 (US NTSC) postfree it's great value for a 104 minutes film.




---
Request the SVS Film email newsletter for steam news and new DVDs, CDs - click here
---
SVS Film - video titles Some US DVD price cuts!
SVS Film - audio titles Full listing of all audio CD's from SVS Film
STEAM TRAIN DIARY US/Canada steam events - update July 1
TELECINE SERVICES restore your old 8mm/16mm cine film
ABOUT SVS FILM, PAYMENT AND CONTACT DETAILS
---
Buy SECURELY online now with Paypal