---
A selection of cards/prints of Southern subjects
---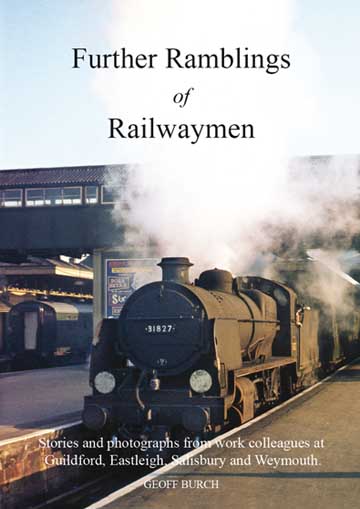 FURTHER RAMBLINGS OF RAILWAYMEN
Following the success of his first book 'Ramblings of a Railwayman' Geoff Burch has now self-published a second book - 'Further Ramblings of Railwaymen'. Containing stories and anecdotes from Pat Kinsella, Alex 'Mac' McClymont, Dave Salmon, Brian Davey, Jim Wattleworth, Tim Crowley, Roger Hope, Eric Hern, Bob 'Ben' Cartwright, Fred Johnson and Denis Turner.

The book is illustrated throughout with B/W and colour photographs (some previously unpublished from Dave Salmon and Alex 'Mac' McClymont) with a foreword by Michael Morant. Hard back with matt laminated jacket, 242 pages A4 Portrait size 297 x 210mm : ISBN 9780956796714

Price: £25 (plus £5 postage and packing) - see more and order online at:
ramblingrailwayman.co.uk

To save on postage and packing charges, the book can also be collected from the author's home in the Guildford area.





Jim Lester has written this review of Geoff Burch's latest book:

Yet again Geoff Burch has produced another excellent perspective of railway operation from the footplate. However this time he has let others do the talking having previously given us his own, personal views in his earlier book 'THE RAMBLINGS OF A RAILWAYMAN', covering his Guildford depot steam days. Contributions from former Guildford colleagues and friends who have written of their own experiences form the basis of this book, experiences that perhaps may never have been told had not this collated recollection of such times been compiled. Equally there are tales that come from other areas of the former Southern Railway's system that have been admirably recorded, a credit to all of Geoff's guest writers.

What a wonderful collection of railway stories we have to muse upon as we follow each individual's account of their footplate life and times!

Once more Geoff has managed to supplement all these interesting recollections with some fine photographs, many taken during those times and we are indebted to those photographers that made our look back in time possible. Indeed among them all is Alec McClymont's own pictorial contribution that enhances his very interesting chapter, superb!

Personally, as time has passed since the end of steam, I believe the memories that have been recorded in this book may possibly be some of the last, for sure there will eventually be a closure to these first-hand footplate accounts.

Whatever that's not now, so I do recommend that you take the opportunity and share the 'FURTHER RAMBLINGS OF RAILWAYMEN', men who were actually there, participated and witnessed events during the bygone 'Age of Steam Railways'.

James (Jim) Lester – 70A
---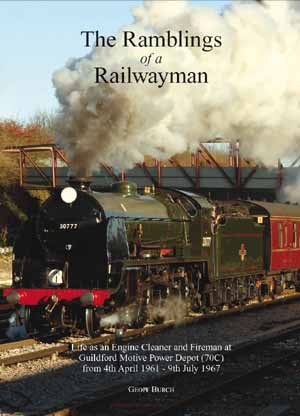 THE RAMBLINGS OF A RAILWAYMAN
Twelve chapters covering Geoff's initial interest in Steam Locomotives in the late 1950s as a Trainspotter then starting work as a 15 year old Engine Cleaner, performing Office Boy duties, working in Boilersmith's Shop and eventually becoming a Fireman in 1962. Geoff gives his account of working his way through the links with a diverse range of Drivers and Locomotives until the final day of steam on Sunday 9th July 1967 when he also had the honour of being one of the firemen of the last Locomotives to leave Guildford MPD that day. In particular, the 'Drivers and Firemen' chapter is dedicated to most of the men that Geoff worked with on the footplate - some 86 Drivers and 73 firemen who were employed at Guildford at the time.

Hard back with matt laminated jacket, A4 Portrait size 297 x 210mm : ISBN 978-0-9567967-0-7. 192 pages with foreword by David Shepherd CBE. Illustrated throughout with B/W and colour photographs.
Price: £20 (plus £5 postage and packing) and can be ordered by contacting - geoff.burch@virgin.net


Book review by James (Jim) Lester - 70A

This book for me makes up a trilogy of recent publications that cover aspects of Southern steam railway operation in the 1950's and 1960's. The first from Nine Elms (70A) and the Feltham (70B) area, then down the West of England line to Yeovil (72C) and beyond to Exeter. Now the latest addition, 'The Ramblings of a Railwayman', that provides a graphic account of life at Guildford depot (70C).

Without doubt this book, written by Geoff Burch, provides a comprehensive view of such times from 1961 until the end in 1967, indeed it covers those last days with a tinge of melancholy that so many shared at that time. Clearly his enthusiasm to join the railways is evident right from the start and, as a youngster, we learn of his early interest and of the excursions to different locations to watch and record locomotives in action. On one occasion his mum accompanied him when friends couldn't come along one weekend!

Geoff's railway career began on the 4th April 1961 and the launch date of this book will be exactly fifty years later to the very day! It achieves the author's ambition to share such memorable times with everyone and features many colleagues and friends that were part of the Guildford motive power department. As a Cleaner and eventually a Fireman we learn of the formidable learning curve encountered during these times, working alongside some fine Enginemen who were sadly coming to end of their driving days. Such men, like Jim Kemble, who had started way back in 1914 and indeed many more who are featured in the section 'Drivers & Firemen' that pays due tribute to them all. You will relish the numerous anecdotes throughout this extremely readable book, however in addition to these fascinating tales there is another real bonus! That being the diversity of photographs that fully illustrate each page as it is turned, simply superb!

All in all I have no hesitation in recommending 'The Ramblings of a Railwayman' to everyone. In particular though, to those of you that still have cherished thoughts of that somewhat unique steam shed tucked away in the chalk hillside, for it will refresh your memories of 'A Time Gone By'.

James (Jim) Lester 70A
---
GUILDFORD - AN ENGINEMAN'S VIEW
A new DVD has been released featuring the restored 8mm cine film of Guildford driver Lew Wooldridge taken in the 1960's. As well as locomotives, depots and stations, over 80 staff members are identified in the film.
Click here for full details and how to order



If you are in Guildford, the DVD is usually in stock at Ben's Records in Tunsgate, and at the Castle Museum shop.
---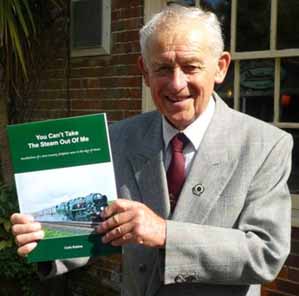 YOU CAN'T TAKE THE STEAM OUT OF ME
by Colin Robins
For those of you who have a penchant for either the SOUTHERN, or an interest in the real workings on the footplate, or indeed both then 'YOU CAN'T TAKE THE STEAM OUT OF ME' is the title of a must have book. Written so descriptively by the author, Colin Robins, it covers his formative years that then lead up to the start of his railway career in 1950 at Crewkerne in Somerset.

Subsequent Motive Power Department moves to Yeovil Town (72C), Basingstoke (old 70D), Salisbury (old 72B), Yeovil Pen Mill (old 82E later 71H) and finally Fratton (old 70F) enrich this account of one man's life and times. During your trip you will meet many unforgettable characters as the chapters unfold before you! It's like a time capsule, taking you back to an era of different values with which many of you will I'm sure align your own particular experiences of life. Initially it describes a view of the post war period by a then young railwayman. Some good, bad and indifferent times followed, all of it closely observed, recalled to mind and recounted in a manner that is both honest and enlightening. Several decisions that were made that then affected his railway future become evident as each change introduces yet another railway working environment.

So let me recommend this fascinating insight into life during those times. Alas, all too soon railway changes took place that then erased a way of living that many believed would go on forever. Whatever, nostalgically turn the clock back and join the author on his reflective journey and share such wonderful times. Thoroughly absorbing!

James (Jim) Lester - 70A
Photo: © 2011 Steve West

'YOU CAN'T TAKE THE STEAM OUT OF ME' by Colin Robins, ISBN 9780956764003.
Includes 96 pages, 47 chapters, photographs from the period, maps and a gradient profile.
Price £13.50 + £1.50 P&P
Special price to bona fide retired and serving railway staff is £10.00 + £1.50 P&P
Contact Tel: 01329 286797, email: robcoljoy@talktalk.net
or write to: 34, Chamberlain Grove, Fareham, Hampshire, PO14 1HH

---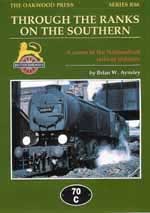 THROUGH THE RANKS ON THE SOUTHERN
A career in the Nationalised railway industry by Brian W. Aynsley
This book is based on the author's career with 'British Railways' from 1956 to 1995, a career spanning almost 40 years and moving through from Victorian steam locomotive technology to the age of computers, and even included a spell on the Waterloo & City. About 1954 Brian Aynsley discovered that there was a loco depot at Guildford and after that spent many happy hours watching the operations in and around that station. He was invited onto the footplate of an engine standing at the station and knew then when he left school he wanted to work on steam locomotives. This book then tells the story of his ensuing railway career from engine cleaner at Guildford onwards. He witnessed the demise of steam, the arrival of new motive power and the eventual restructuring of the nation's railway network.

A5 format, 208 pages printed on art paper throughout, with 110 photographs. The book has a full colour laminated cover with a square-backed spine.
ISBN 0 85361 597 7 ... £13.95

Available from railway book retailers or direct from Oakwood Press




---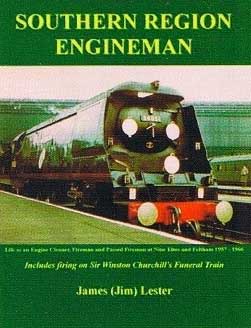 'Southern Region Engineman'
Click here for details
A new book by James (Jim) Lester now available.


---
The following DVD's, CD's and prints are available from SVS Film:
---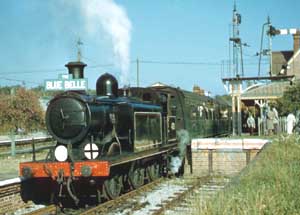 'Along Brighton Lines Volume Three' - click here for details

New DVD features vintage cine film and still photos of the Bluebell Railway in the 1950's/60's and 70's
- Available NOW!

---
'Tim Crowley 80th Birthday'
DVD features Tim's special day on the Bluebell Railway.
'Standard in Sussex'
DVD features a cab ride on board 75027 on the Bluebell Railway.
'UK Steam Sounds Volume 1'
The audio CD features sounds of a variety of UK locomotives.
'Maunsell Mogul in Sussex'
Bluebell Railway cab ride on 'U' Class 1638 on DVD.
---

SURREY'S LITTLE RAILWAYS
If you are in the Farnham or Chertsey areas during the summer, don't forget to visit two railways tucked away in the Surrey countryside:

The Old Kiln Light Railway :



The Great Cockcrow Railway:



---