EMAILS RECEIVED IN THE SHEDMASTER'S OFFICE For the sake of individual privacy, I do not publish the email addresses of correspondents to the Shedmaster. HOWEVER, I am more than happy to forward messages when requested, so people can get in touch with each other if they wish.
- Nine Elms 'Shedmaster'
Contact the Shedmaster Nine Elms if you want to get in touch with any of the writers you see below.


---
Mike Welland has emailed us about his Grandfather Driver Alf Tucker:
My Grandfather started work at Nine Elms as a cleaner in the early years of the last century. I understand from a book I read recently that he was a big fan of Drummond locos on which he must have spent much time. He drove the Royal Train from Portsmouth Harbour to Waterloo on Monday 24 July 1939 with loco T9 number 119 and his fireman was T.Cutting. After the war he was loco inspector on Lord Nelson when George V1 and Queen Elizabeth travelled to Portsmouth to board HMS Vanguard for their trip to South Africa. I remember him telling me that when locomen had their own dedicated engine his was Nelson 853.

My Grandfather was badly injured when Nine Elms shed was bombed as he was going on duty in the war. He died many years ago but I wonder if anyone visiting this site remember him or fireman Cutting. I have the detailed schedule for the 1939 Royal train issued by the Locomotive Running Superitendents Office showing details of all persons and standby locos involved in the arrangements. I, like other visitors to the site, remember many happy visits made to the shed with my grandfather, and can still visulise Nine Elms loco in all its details.
---
Jim Lester has emailed:
I am following up an earlier enquiry concerning photographs of Nine Elms Works prior to the transferral down to Eastleigh in 1909. At the moment I'm reading a splendid booklet produced by the South Western Circle (Monograph No. 6) written by Peter H. Smith which covers in detail all the events leading up to the closure. I cannot imagine a more comprehensive report with plenty of splendid photographs. Their website is to be found on www.lswr.org
---
Brian Aynsley has asked:
I was very interested in the various e-mails about the Torrington milk. Further to my earlier letter, I have a question. The night train to Morden was worked by a Western Region crew with a Warship or Western class loco. A Nine Elms driver would conduct them from Clapham Jct. to Morden and back, via the main line. Apparently these loco's were not allowed over the East Putney line. WHY? Was it perhaps because they were still fitted with the old Western Region Automatic Train Control (ATC) which was operated by a trip lever under the centre of the loco and would have fouled the negative return rail on the Underground's fourth rail system. Can anybody enlighten me on this?

We have heard from Geoff Smith
The RA booklet dated 9/5/70 shows classes 42 and 52 unrestricted via East Putney. However, I have pasted in an amendment (date not recorded) which says : "Locomotives fitted with the Western Region A.W.S. are prohibited unless the A.W.S. shoe is secured in the up or inoperative position".

Bob Cartwright has emailed to say:
With regard to Brianís question, the A.T.C shoe had to be "clipped up" (the term used), before working over lines fitted with fourth rail electrification.
---
We have received a request from The Vauxhall Society asking if anyone is interested in leading a one-hour Nine Elms guided history walk for the Society.
---
Robin Peters has written:
My wifes grandfather, Bert Reed, was driver of 73001 with fireman Wayne Mayo. I lived near Green Park station as a young boy and have fond memories of the 'Slow and Dirty'.
---
Paul Marshall has written:
I'm doing the usual family tree hunt and have been told my grandad, Len Berry (who worked on the railway for most of his life) drove the last steam train from Waterloo to (I think) Portsmouth. I remember him taking me as a kid to the Nine elms sheds (health & safety PAH !!) and letting me climb over the engines and walking down with him to Queens town road to jump on a train to Vauxhall or Waterloo for another day out.

His brother, my Great uncle Joe (Berry) also worked on the railway too. He lived in Wimbledon and I'm not sure if that was where he worked as well but if anyone has any memories of either of them I would love to hear them. Good,bad or ugly!

They have both passed now, so information is pretty hard to come by. I hope some of your members out there can help.

Alan Newman has replied:
How apt that this should appear now. I was only thinking about Len and Joe when I saw the picture of Jim Lester, Peter Roberts and Phil Bassett at Arnhem. Len and Joe Berry both served in the Para's and I believe they were both involved in Operation Pegasus, the ill fated airborne attack at Arnhem.

Len was Train Crew Supervisor at Wimbledon Park in the 1970's and his brother, Joe, was driver at Wimbledon Park. Joe was also a very active member of the LDC. Another member of the LDC, Harry Brown, served in the RAF Bomber Command flying Avro Lancaster bombers and survived over twenty sorties, We owe them all for the contribution they made in the dark days of the Second World War. I certainly will rember Joe for the numerous words of wisdom he offered to me as a young driver at Wimbledon Park.
---
Tony Reardon has emailed from Australia about his father Des Reardon, an Eastleigh engineman saying:
Dad was based at Eastleigh from the late 40's until 1965. He was mentioned in an article written by Bob Cartwright about an Eastlight Reunion where he was talking about refurbishing 76017 and Albert Waterman was remembering crews and their 76's engines. On showing him the article it bought great memories back to him, It would be great if he could contact and reminisce with some of his old colleagues or even write an article about his days on the railway. He is living in a retirement village in Werribee, Victoria, Australia. He is 83 now, but still recalls his days on the steam engines with great fondness and still has a satchel he used to take to work. I will give him a print out of your web site. I'm sure it will bring back great memories and put a smile on his face. If you would like to correspond to him, you can do it though my email address. I'm sure he love to hear how some of his old workmates are going.

Bob Cartwright has responded:
I would be delighted to get in touch with Des, (known as Scoury to his mates as he had a passion for scouring and polishing various bits on any loco he was on). I worked with Des on his last day with BR, 6th November 1965, indeed I worked with him on 10 of the last 12 days before he left the job to go to Australia . My diary shows we worked the 06.22 hrs stopper from Bournemouth to Eastleigh with 34024 where we got relief. Des did the firing on this trip, like many Drivers at that time he was only to happy to pick up the shovel. He, like many professional enginemen, regard firing as an art as well as a skill. Tucked away in a drawer I have a short piece of cinefilm taken that day which closes with Des and his "Trusty Treader" (cycle) leaving Eastleigh shed for the last time.

Around that time we were getting a lot of Clipstone Ovoids to burn. These were evil concoctions of coaldust and cement moulded into cobbles about the size of a large fist. They were a way of trying to alleviate coal shortages at that time and the name came from the original N.C.B plant that manifactured them. The one big problem with them was that by the time they had been loaded into wagons, transported to the depots and then picked up and dropped into loco tenders many of them were reduced back to dust which, when blown around and ending up in your eyes caused severe irritation. We called them,(we are all men of the world here), ''Donkey's Bollocks'' and a well filled, freshly made up firebox full of them would , with the door closed, give off evil smelling yellow/green smoke. From the side elevation these things closely resembled the shape of a Bullied Pacific's firehole.

One morning after taking water at Southampton, Des got stuck in with the shovel to make a decent fire up for our relief. He was still shovelling running into Swaythling and put a massive heap under the door. He then proceeded to hand build a perfect dry stone wall of ovoids in the firebox door hole, completely blocking it off and leaning on the aforementioned heap. It was indeed a work of art. The firebox door was carefully closed, the footplate washed round with the peppipe and we ran onto Eastleigh with the evil smoke billowing from the chimney .We got off first and one can only imagine the reaction of the relieving fireman when he opened the door to look at the fire, (unprintable). Such was the humour of Desmond ''Scoury'' Reardon. A wonderful bloke and a first class engineman.

Shedmaster - Since these initial emails, Bob has added that they have been in touch, and Bob gathers that Des was highly delighted to hear that his opposite number on 76015 in the mid 50's, Jim Lemar, is still alive and kicking.
---
Ken Jakeman has asked:
I worked in Nine Elms from 1948 until 1956 and ended up in number 2 link with Bill Cornish. I enjoy your website seeing a lot of old names and faces. One name I would like information on is EDDY BALL and I wonder if any Nine Elms website readers can help.
---
Mike Coulson emailed:
As a teenager, I spent many happy hours in 1964/5/6/7 on the Bournemouth line timing the Nine Elms drivers - men like Harry Pope, Reuben Hendicott and Fireman Pack, Frank Matthews, Messrs Gaffney, Hawkins, Parsons and Robinson and Tom Coles. So it's a delight to see pictures of my heroes on the website. I still have all my logs. For example, I had a wonderful trip on the Summer Saturday of 6th August 1966 when I travelled behind Tom Coles on 35030 with 12 on to Bournemouth - 5 early into Southampton, 3 early into Bournemouth and back up with 34024 on the 13.30 from Weymouth. Unfortunately, 34024's tender suffered a hot box at Fleet so we limped into Woking at 10 mph where a Crompton took over - and I got off to wait for steam haulage.

If Tom Coles would like the whole log, I'd be honoured to send it to him or to you to pass on to him.
---
Alan Newman asks:
Here is another poser for our friends to consider. The engine is 35016 'Elders Fyffes'. I know where the picture was taken, but not who the crew were (it is a Nine Elms Duty). It is a very interesting picture the clues are in the picture! Lets see who can identify the crew and the location.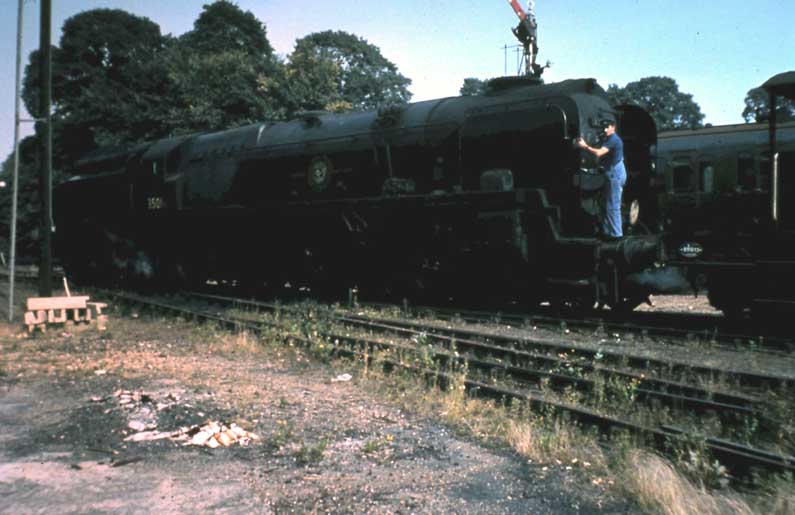 Photographer/copyright unknown.
Jim Rowe has emailed:
I reckon that the picture of 35016 Elders Fyffes is somewhere like Worcester Park yard, with an electric passing. Can't think what is was doing there, unless on a 'running in' duty or a special.
---
Kevin Chesson has asked:
As a non railwayman but as a keen supporter of 35028 and a railtour regular I was wondering if you, or your contributors, could tell me who the footplate crew were that took 'Taw Valley' out of Waterloo to Bournemouth in the early 1990's. This was a very memorable trip as it broke the ban on steam working out of Waterloo, The tour was run in darkness, for fear of mass trespass. It was pathed fast line all the way and seeing the crowds at each station was something to behold, probably benefited by the fact that the whistle was sounded almost continuously!! The Crompton hauled return to Woking well after midnight just didn't matter.

Alan Goodwin has replied:
I kept the November 1992 issue of 'Steam Railway', mainly for the article recording that event. The date was 11th September 1992 and the crews were recorded as follows:
Waterloo to Basingstoke : Driver Rodney White and Fireman Len Shave of Eastleigh.
Basingstoke to Bournemouth : Driver Hugh Abbinnett and Fireman John Couper, also of Eastleigh.
Running was reported as "sufficiently brisk to bring a smile to the faces of passengers and linesiders". Best not to speculate what that means! Was it really nearly twenty years ago?
---
Peter Mackie has written:
Just to say as a boy from Raynes Park in the 50's what an excellent website. It brought back all the memories of 33015/7 and 33038 in Wimbledon Yard and at Charringtons. Also the milk train which we used to hang around see on the way home from school. I recall seeing 34023 on that one day when it was a really rare loco in the London area. Another memory maybe from 1960 or 61 was when they acquired some L1s which worked some of the Basingstoke semi-fasts at least on a Saturday. Or maybe they were based at Basingstoke?
---
Les Calverley has emailed:
To get to my school near the (Nine Elms) depot it was necessary to walk through Brooklands Passage which ran alongside the depot. One morning the Police had it closed off as an engine had run through the turntable and destroyed part of the boundary wall. The repaired brickwork is still evident to this day and I would like to know if any of your correspondents can provide further details as to what happened (and maybe the loco involved?) This would have been in the early 1950's.

Les Calverley wrote again:
I was in South London yesterday so took the opportunity to visit Brooklands Passage re the query on the damaged wall there. The photo below clearly shows the repaired brickwork to the boundary wall, the other side of which was the depot turntable.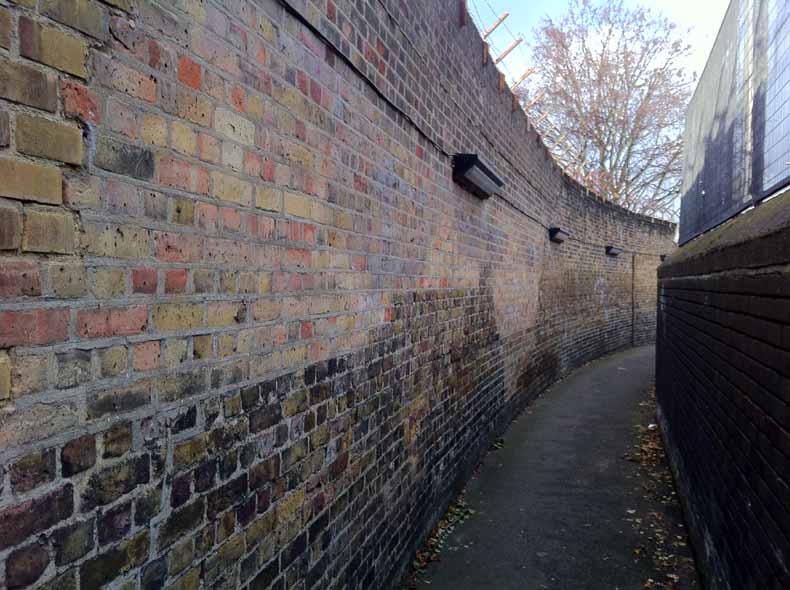 Clive Fairchild has emailed:
I have been reading Townroe's "Arthur's, Nelson's and Schools of the Southern " and it comments on the different designs of locomotive controls inherited from the three main constituent companies. This could lead to the inappropriate operation of those controls by drivers from one of the other companies. The passage relevant to Brooklands is:
"Regulators, handbrake wheels and blower-valves could be hurriedly, and so incorrectly, operated, hence the kind of incident which occurred at Nine Elms when an ex-Brighton tank went through the boundary wall into the Brooklands Arms." Brighton E4 0-6-2 tanks were allocated to Nine Elms during the fifties and early sixties so it was probably one of those.
Colin Harmes wrote:
I have somewhere a newspaper clipping showing an engine (I think it was a T9) straddled across Brooklands Passage. The report said that it was the second time that a loco had attempted to get into Mrs Clements back parlour.
Brian Aynsley emailed:
In response to Clive Fairchild's comments about different controls on different engines, I think that the reason for engines going into the wall by the turntable at Nine Elms was more simple that that. There was a very steep gradient from the disposal pit to the turntable and the rails were greasy, you had to use a lot of steam to climb it. Unfortunately, when you came on to the level section just before the table, the steam contained in the steam chest had to be used up before you could stop. This could be helped by opening the cylinder cocks, but if you did not do this the engine could go quicker before it slowed down. This was especially so on the bigger engines.
Although I personally never went through 'the wall' I did hit the buffers several times after crossing the turntable, mostly with Merchant Navy and West Country types. Another reason that this happened was that after disposal on the pit the steam pressure was not very high, although you had enough steam to climb the gradient there was not much power for the steam brakes, which made it more difficult to stop. I don't know the details of engines going through the wall but hitting the blocks was not unusual.
---
Josh Jenner asks:
I am trying to find any information on enginemen Ray Veary (may be spelt differently). I know he was a firemen at Norwood Junction at some time during the late 1950s-1960s. I would like to know if anyone remembers coming across him on there travels or if anyone has any information as to his career on the railways.
---
Nigel Whitwell has asked:
Can any ex-steam crew say whether short circuiting bars were carried on steam locos on the SR? Can't say I ever remember seeing them on any footplate (maybe they were held by the guard).

Alan Newman has replied:
I can confirm short circuiting bars were NOT carried on steam locomotives in BR days. However they were carried on class 33 diesels also one wooden paddle to be used for cleaning the under side of the conductor. The short circuiting bar and paddle were later removed because it became a requirement that staff received proper training to use the bar. This training was only afforded to drivers who trained on electric traction.

Shedmaster: other Nine Elms enginemen have also confirmed to me that short circuiting bars were not carried on steam locomotives. It does, however, raise the question of the logic of this policy when it is remembered that so much steam mileage was run in electrified territory.
---
Brian Aynsley has emailed:
When I was a passed cleaner at Guildford in the late 1950s, I spent a lot of time 'on loan' to other depot's. One of these was Stewarts lane, most of the work I did there was P&D, but on the odd occasion I did go out of the depot. I think I recall one occasion when I worked and empty train from Stewarts Lane to Cannon Street, However, I have been told that such a trip did not exist and there was no direct route between the two locations. Can anybody enlighten me on this? Could I have worked such a trip or is my memory playing tricks?

Alan Newman has replied:
Stewarts Lane did provide locomotives to work trains from both Charing Cross and Cannon Street. Indeed on 4th December 1957 34066 'Spitfire' started its fateful journey from Stewarts Lane before working the 4.56pm Cannon Street to Ramsgate - sadly in the record books as being the third worst railway accident in British railway history after Quintinshill 22nd May 1915 and Harrow and Wealdstone 8th October 1952.

Ralph Hornsby emailed:
I can think of two routes which are direct, albeit both are rather "convoluted". On departing from Stewarts Lane, run via the Chatham lines to Herne Hill, from there to Tulse Hill, from Tulse Hill run via West Norwood and Gypsy Hill to Crystal Palace, then via Sydenham and Forest Hill to New Cross Gate. At New Cross Gate, both parts of London Bridge can be reached, then onto Cannon Street. Alternatively at New Cross Gate you can get to "The Brick" if so desired. The second route is the same as the first as far as Tulse Hill, continue then as if running to Eardley Sidings, except at Streatham, run via Streatham Common to Selhurst, from there via Norwood Junction to Sydenham, then continue as before. For light engines running from Stewarts Lane to Cannon Street though, I would guess that they would have run via the Atlantic Lines from Brixton, then via Loughborough Junction and the Elephant to Blackfriars, reversing to Cannon Street from there.
---
Alex Halliburton emailed:
I have recently found your website and I am totally blown away by what I have read and also the excellent photos. I myself am an ex steam railwayman although only for a short while before failing eye test resulting in a clerical post but still with a love of steam. My shed was Dundee Tay Bridge, a long way from your territory.
---
Robert Churchill has emailed:
My Grandfather was a railwayman as were several of my uncles He lived south of the River in Battersea district and had the job of "Foreman of Carriages." His Name was James May Churchill. Do you know where I could find out if he worked at the Nine Elms engineering works and for what company?
---
Martin McGlynn has asked:
I was a fireman at Feltham in the 1960s, and was friends with a Nine Elms Fireman Les Golding. Do you have any information about Les now?
---
Ralph Cooper asks:
Have any of the Nine Elms drivers or fireman still got theirr 'S' key for the 1936 stock, and what was the 'S' key used for.

Alan Newman writes:
The 'S' key was used to lock the small tool box on the Pre EPB stock. The box contained the spare ribbon fuses and the Keys (Brake isolating and reverser). I never ever found a tool box locked, and on the Subs the box was used as an additional seat, or foot rest.
---
Martin Fenner has written:
Iím looking to built a scale model in OO scale of the Nine Elms MPD and was wondering if you can help me. Besides photos available on the web Iím finding it quite difficult to locate plans, numbers and dimensions of the various MPD items which make up the yard. Would you by any chance have or know of any detailed plans for the site? Iím currently trying to find out the following: plans/dimensions for the shedís and coaling tower; how the coaling tower worked; location and length of all inspection pits; location of all water points; diameter of the turntable. Any help you can provide much appreciated. Of course if you know of someone that has already built a model then that of course would also be helpful!

Nigel Whitwell has replied:
Can't help regarding what you are seeking but make this one suggestion: instead of 00 gauge please consider P4 or, at least EM, 00 is so narrow gauge and the others are FAR more realistic. It might be worth your while joining the SEmG as there is a wealth of experience there regarding SR modelling and SR (and its constituents) generally.
---
Derek Gribble a retired railroad train dispatcher from Corona California has emailed:
Having read "Alan Dedman recollections" in the 'Memories' section, I noticed that the byline at the end said 'San Bernardino'. I just retired from 31 years on the railroad here in the USA, the last 12 spent in San Bernardino. I still live in the neighbourhood (Corona) and wondered if you might pass on my e-mail address to Mr. Dedman. I grew up in London, was an avid trainspotter of Southern Region steam and visited Nine Elms several times. I was hoping he might like to get together and we could reminisce!!
Shedmaster has since added that Alan and Derek are now in email communication. Another case of Nine Elms 'Friends Reunited' !
---
Nigel Fagg has sent the following note and picture:
I thought I would send you the mural which is now on the downside platform of Pokesdown Railway Station. My father Sid Fagg was a steam engine driver. His name was Sid Fagg and he was based at Bournemouth MPD and I would imagine many of the London drivers would of known him. We used to live in the Station House in Boscombe and I have fond memories of those steam engines passing by. I too worked on the railway as a secondman and knew some of the London drivers who frequented the mess room at Bournemouth. I recently met Jimmy Evans and told him of the mural and hopefully, Jim will go and see it for himself. I enjoy the photos of Rueben Hendicott who always has a roll up hanging from his mouth and what a character he was. When my father passed away, the support my family recieved from his friends on the footplate will always remain close and in particular Driver Fred Holloway, who on his trips to Bournemouth made time to visit my mother.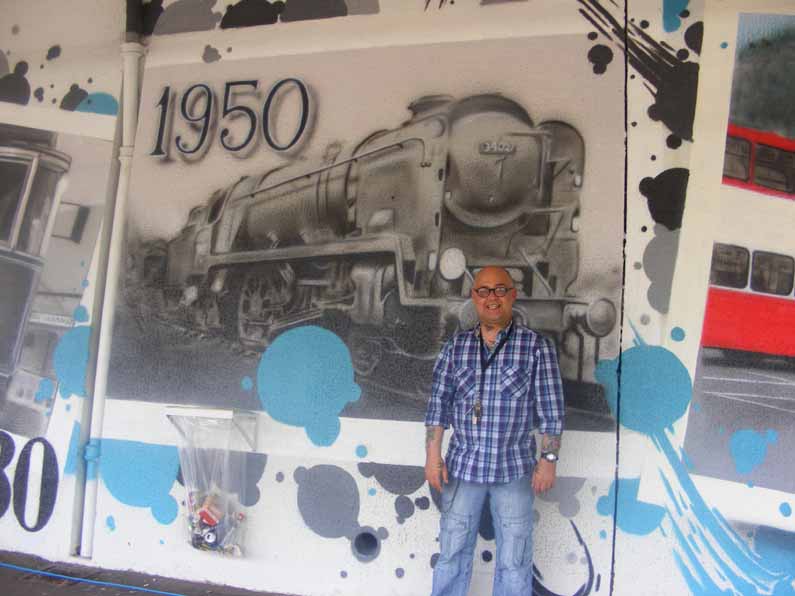 ---
Wendy Lugg requests:
My grandmother was a Bedford whose grandfather, father and uncle were all blacksmiths employed at the Nine Elms and Eastleigh works as coach spring makers. Her grandfather came down from Birmingham in 1840 to St.Pancras and then moved to Nine Elms and worked there all his life. His eldest son worked there until the move to Eastleigh and then he decided to stay in London and became self employed. His youngest son worked at Nine Elms and then moved to Eastleigh and worked there until he retired. I read the account about the man who asked if there were blacksmiths at Nine Elms and my father who is 94 said there were lots of blacksmiths at both of the works, some blacksmiths did various jobs but the spring makers usually only did that as it was a skilled job. I was pleased to find your website as I am doing a famliy history about my railway ancestors and it has been very helpful.

Can you tell me if there are any pictures available of the blacksmiths sheds and a desciption of their job as a spring maker?
---
Ray Smith asks:
I was born in Heath Road Clapham. I am trying to gain any information on Jack Edgeworth who was a driver in the 1950/60.
---
Derek Drage
Richard Flann has written: I am trying to trace Derek Drage, brother of Barry Drage, ex Waterloo and is or was at Gillingham in Kent. I was with Derek when he and I were Traction Instructors at South Side Waterloo before I moved as a loco Inspector at Gillingham. Derek was a driver at Ashford in Kent. If anyone knows were Derek is now please could you get in touch.
Andy Cook has replied:
I saw Derek at the Tonbridge Reunion a couple of weeks back. As far as I am aware he is still a volunteer Driver at the Kent & East Sussex Railway at Tenterden.
---
Question from Jim Rowe :
Do you or any of the team know why a sacking was tied over the chimney of a stored locomotive? This was common practice as locos were set aside waiting a decision on their fate and was applied across all sheds. My memory is that it was to prevent moisture entering the smokebox and causing erosion of the super-heater elements and the tube endings. Another school of thought is that it prevented tax payments........? How well either answer worked, I don't know.

Ron Petrie has replied:
Coal contains a small amount amount of sulphur. 0.5% mixed with water H2O producing sulphuric acid which is corrosive, hence waterproof covers on chimneys to stop rainwater. Average coal constituents are nitrogen=1.5%, oxygen=8%, carbon=75%, ash=10%, sulphur=0.5% and hydrogen=5%
---
Clive Fairchild of the Bideford Railway Heritage Centre asks:
I wonder if any ex-70A employees knows what was the reason for 34019's withdrawal in March 1967? Were 34019 and 34015 tripped to Salisbury on their way to South Wales for scrap or did they go via another route? When did she leave 70A on that journey? I note a report from Bryan Benn on the website about a run behind her. Does anyone have any other comments about her? Or even any photographs?

Dave Collins has emailed:
Not much info, I know, but I remember I and a school friend took a trip from Waterloo to Basingstoke (just to travel behind steam), in the school half-term, Feb 1967,and we were lucky enough to get an unrebuilt West Country both ways, 34102 Lapford on the outward, and 34019 Bideford on the return. I don't remember much of the run, but 34019 was very dirty with "Bideford" written in chalk on the firemans side, in place of the nameplate. I remember some kids (not enthusiasts!) waiting for the same train as us and when Bideford rolled in one of them shouted, "oh, it's Stephensons Rocket".......... We were lucky to get those two locos, as I think 34019 was withdrawn the following month, though dirty she seemed in good running order. (34102 & 34019 were the only original Bulleids we saw that day, plenty of rebuilds though, including an exceptionally clean 34013 Okehampton complete with nameplates and crest) (a Salisbury engine).
---
---
Return to News/Email index