EMAILS SENT TO THE NINE ELMS WEBSITE CAN NOW BE READ ON THE EMAILS PAGE
---
NINE ELMS REUNION 2017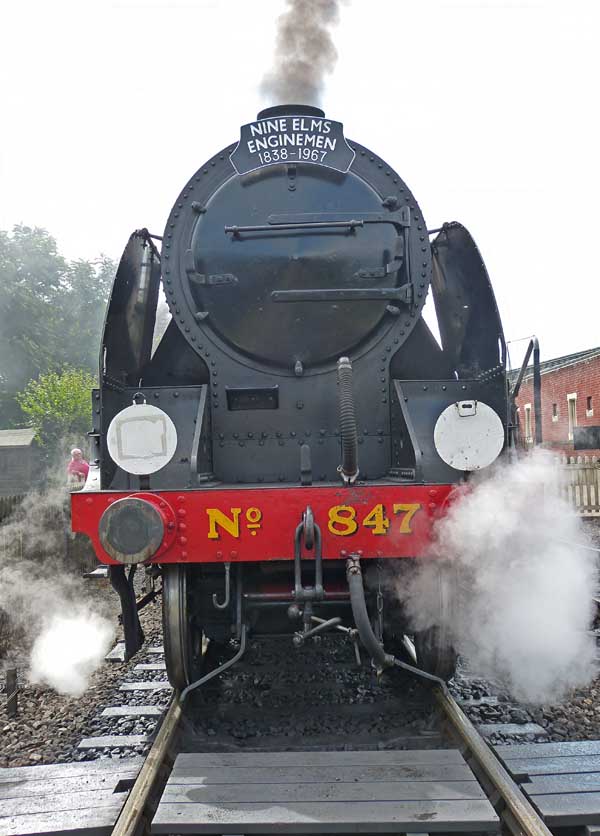 Maunsell 'S15' 4-6-0 847 carrying our Nine Elms Enginemen headboard at Sheffield Park, heading the 11.10 to East Grinstead on 9th August 2017.
Photograph John McIvor © 2017


---
GUILDFORD MPD PLAQUE
A plaque has been made to commemorate the 50th Anniversary of the closing of Guildford Motive Power Depot (70C) and the end of steam on the Southern Region. The design is very similar in style to other plaques placed at historic areas throughout Guildford and will be a fitting tribute to all men that worked at the depot over the past decade. Two of the etchings on the plaque, one showing two Class 700 locomotives and the other, U Class 31633 departing Guildford are from photographs taken by Richard Greenwood MBE (with his kind permission). The third etching of USA Class 30072 on the final day of steam is from a photograph taken by the late Dave Salmon.

The plaque was unveiled on Sunday 9th July 2017 at the Multi-Storey Car Park, Farnham Road, Guildford. Seen here are (left to right), Bill Moore, Geoff Burch, Richard Greenwood MBE and Pat Kinsella.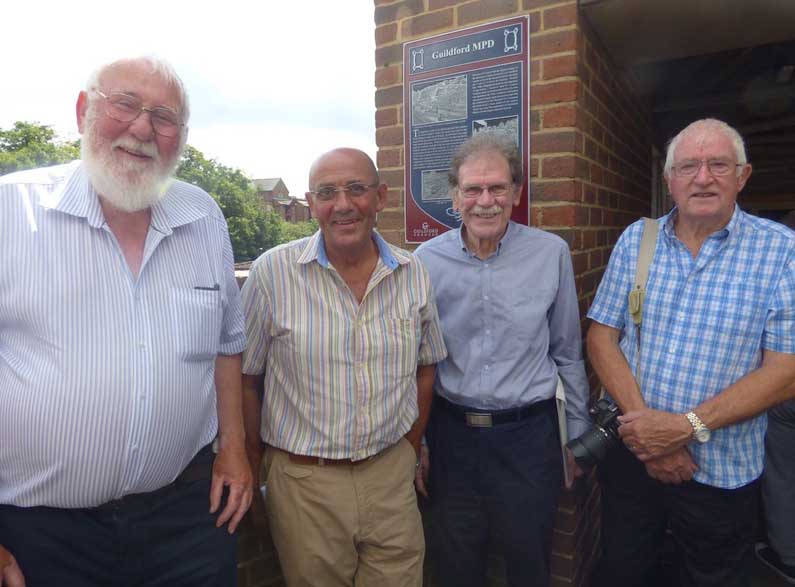 Photograph copyright David Rose
It was agreed that any money over and above the cost of the plaque would be donated equally to Woking Homes and the Phyllis Tuckwell Hospice, Farnham and in fact £153.13 was donated to both.
---
SPECIAL TRAIN IN MEMORY OF PAUL ANDERSON
A DATE FOR YOUR DIARY: "WATERLOO SUNSET"
On Friday 6th October, The 82045 Steam Locomotive Trust is running a special train in memory of Paul Anderson, who died on January 17th. As many of you will know, Paul was a fireman at Nine Elms in the 1960's, working out of Waterloo on everything from the big "Merchant Navy" Pacifics to the many 82XXX tanks that finished their days in and around the former LSWR terminus. One of the things he was most looking forward to was to fire 82045 when it enters service on the SVR, a solemn promise I'd made to him some years ago.
Paul was laid to rest at the end of January on a murky, drizzly afternoon at Halifax's Stoney Royd Cemetery. A native of South London, he had asked for Ray Davies's unforgettable 1967 hit "Waterloo Sunset" to be played at the simple ceremony, and so this is the name we have chosen for the train. The SR-style headboard will read WATERLOO SUNSET with, underneath, Paul Lawrence Anderson 1945-2017.
The special will consist of one round trip Bridgnorth-Kidderminster scheduled to be hauled by 34027 'Taw Valley', leaving Bridgnorth around 11.00, arriving back at about 16.00. There will be a three-hour stopover at Kidderminster, during which we hope to surprise you with some nice jollies.
Paul was one of our dearest friends and an exuberant character, and would be delighted that proceeds from the event are to kick-start the 82045 Future Account, a money pot which we are establishing in order to ensure that funds will always be available to look after the new loco's future wellbeing after it has entered service.

Ticket price has been fixed at £30, and you can reserve yours by sending a stamped addressed envelope, with your cheque payable to The 82045 Steam Locomotive Trust , to:
Mrs.Barbara Massau, 4 Southfield, Prestbury, Cheshire SK10 4XF.
Please remember to include your full postal address, telephone number and email address.
---
NINE ELMS REUNION 2016
Maunsell 'Q' 0-6-0 30541 carrying our Nine Elms Enginemen headboard at Sheffield Park, 24th August 2016.
Photograph David Redman © 2015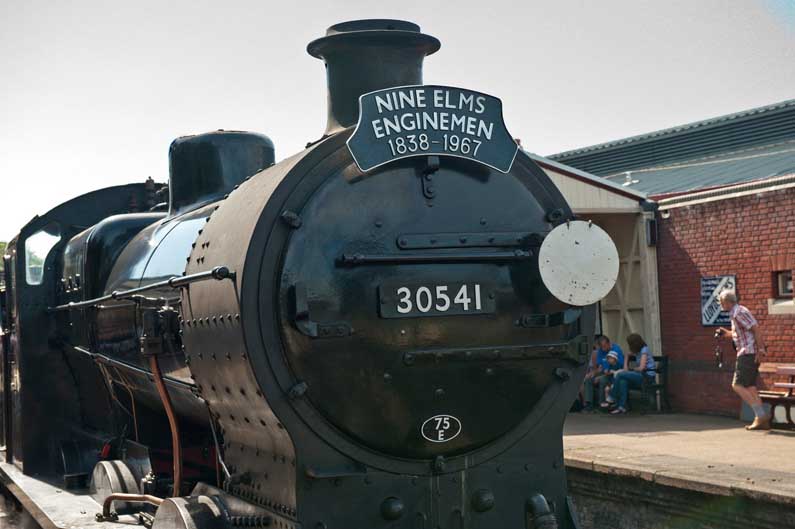 ---
NINE ELMS AFLOAT!
Kevin Wilkins (of the Battle of Britain Locomotive Society) recently spotted this vessel with a familiar name on the Thames.
Photograph Kevin Wilkins © 2016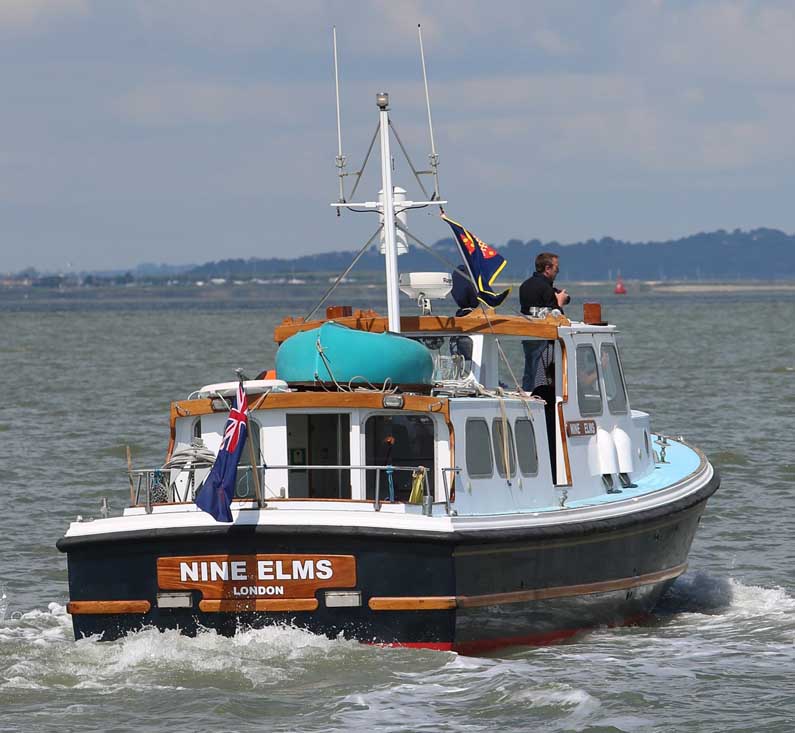 ---
LIMITED PRODUCTION - NINE ELMS POLO SHIRTS
Polo shirts are now available in limited quantities - for details please click here
---
NINE ELMS REUNION - 2015
S15 4-6-0 847 carrying our Nine Elms Enginemen headboard at East Grinstead on 11th August 2015.
Photograph David Redman © 2015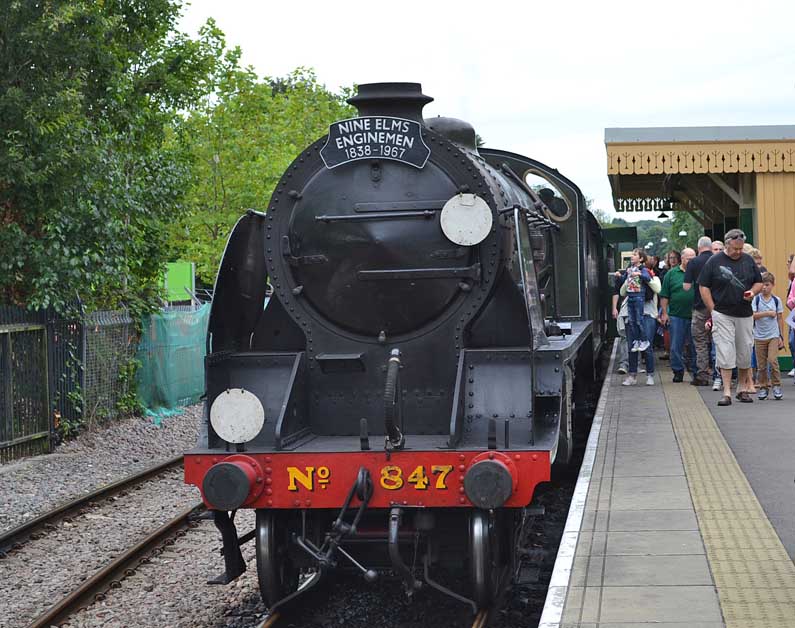 ---
NINE ELMS REUNION - 2013
Here is a photo of 9F 92212 proudly displaying our Nine Elms Enginemen headboard or arrival at East Grinstead on 31st July 2013.
Thanks to Richard Redman for the photograph via Tim Crowley. Richard Redman © 2013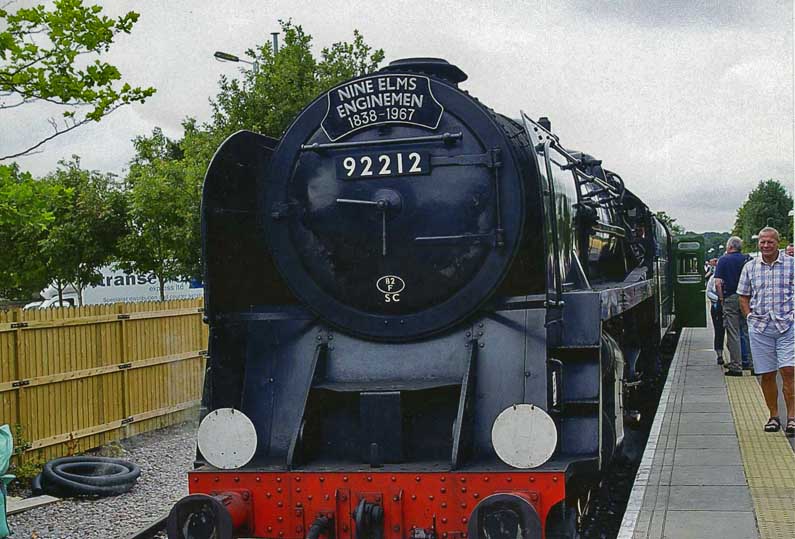 ---
Nine Elms friends
We were pleased to receive this photo from Jim Rowe: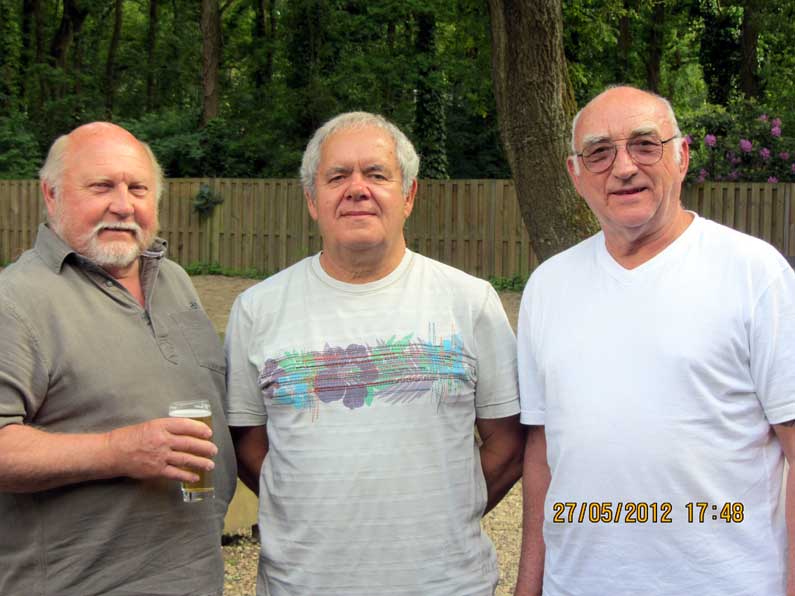 Nine Elms enginemen (left to right) Jim Lester, Peter Roberts and Phil Bassett in Arnhem over the weekend of 25 - 28 May 2012.
Photograph © 2012 Jim Rowe
---
TWITTER and FACEBOOK:
Click here to go to the Nine Elms 'Twitter' page.
Click here to go to the Nine Elms 'Facebook' page.
---
Photos and story from the 8th May 2010 special train to Yeovil and Weymouth
---
Nine Elms Enginemen Reunion 2010 - Photos and comments.
---
Nine Elms Enginemen Reunion 2009 - Steve West's and Andy Cook's photos.
---
Nine Elms Enginemen Reunion 2008 - Steve West's photos.
---
Nine Elms Enginemen Reunion 2007 - Steve West's photos.
---
Mid Hants Railway visit May 2007 - story and photos
---