svsfilm.com
---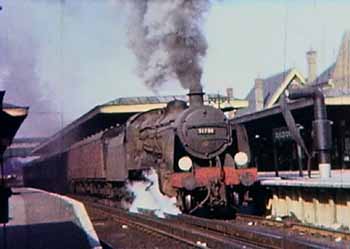 'Guildford - an Engineman's View'
This SVS Film production is available on DVD-R UK (PAL) and also US standard NTSC DVD-R.
---
Contents:
View a sample from the DVD:


Guildford - an Engineman's View features the unique collection of 8mm cine film shot by Guildford driver Lew Wooldridge between 1963 and 1966. Lew's films are special as they were mostly taken while he was at work or from viewpoints not generally accessible to the public. Often filmed in poor light and never with a tripod, they nevertheless give us a rare insight into the people and their lives at the steam locomotive depot - over 80 staff members are identified in this film. Lew also took his camera on some of the Guildford workings to such diverse locations as Woking, Weybridge, Walton, Feltham, Nine Elms, Aldershot, Reading and even as far as Salisbury and Redbridge. Nothing physically remains today of the Guildford steam depot which closed in July 1967 but its memory lives on in these rare films.
Railway sounds have been added to the silent 8mm cine film on this DVD.
Contents Summary
Introduction and Guildford scenes - 23 minutes
Rail staff around Guildford depot - 21 minutes
Visits to other locations - 38 minutes
Total running time for main feature - 82 minutes
Bonus scenes
Bluebell Railway visit in 1964 - 3 minutes
4472 at Woking, and railtour with A4 Pacific 60024 'Kingfisher' from Waterloo to Weymouth and Yeovil - 13 minutes
Previews of other SVS Film and 30939archives DVDs - 18 minutes
---
Some reviews of the DVD:
Surrey customer (via amazon.com)
This is an excellent DVD in beautiful 1960s colour. There are 44 minutes of Guildford steamshed and station, 38 minutes of other locations e g Woking, Aldershot, Reading and Walton, 16 minutes of railtours to Yeovil, Weymouth including a brief section on the Bluebell line, and 18 minutes of trailers for other SVS DVDs. Although there are longer rail DVDs in existance, the production quality of this one is very high. The commentary is very helpful and not overdone. The colour is glorious and there are long stretches of very atmospheric footage filmed by driver Lew Wooldridge. A classic document of local history.

The Southern Email Group has kindly published the following review, written by Peter Richards. It has also be reproduced in the Bluebell Railway magazine 'Autumn' page 6 which has been distributed to Bluebell Railway Preservation Society members in November 2011.

GUILDFORD - AN ENGINEMAN'S VIEW, DVD, Region 0, PAL and NTSC
SVS Film, approx 82 mins plus 16 mins 'bonus' footage, £15.95, $24.95 Canada & USA.
The first thing to say about this DVD is that it is quite different from the "run of the mill" railway DVDs. The film was shot by Guildford Driver Lew Wooldridge on 8mm silent cine film, mainly whilst at work, between 1963 and 1966. The silent film has then been enhanced by the addition of railway sounds and the producer of this DVD is to be congratulated on this as in almost all cases the sound is very well matched to the engine in question - be it a U class pulling out of Guildford station or an express thundering down the main line. Many of the clips are of places not normally accessible, though some are rather dark through being shot in poor light.

The DVD starts with an interview of Lew Wooldridge and Jim Lester (see our review of his book SOUTHERN REGION ENGINEMAN) after which the main film itself begins. There are a lot of scenes of Guildford depot and some of the engines shedded there with one or two "now and then" shots. Throughout the DVD various personalities captured on camera are named, making this a rather interesting DVD for anyone who worked on this area of the South Western line. The interview then continues, interspersed with a section dedicated to staff members at work or just walking around. In all some 80 men are identified.

The DVD then moves on to visit other locations (frequently filmed from the footplate) namely Woking, Weybridge, Walton, Surbiton, Nine Elms, Feltham, Pirbright Junction, Aldershot, Reading, Hook, Eastleigh, Redbridge (which includes a nice shot of Q1 class 33020 with its smokebox number "doctored" to read C20) and Salisbury, where this section ends with film from the footplate of 34007 Wadebridge leaving Salisbury towards Andover.

In addition to the main film there are a few "extras". There's a three minute section of film taken on the Bluebell Railway in 1964, a brief film of 4472 Flying Scotsman passing Woking and thirteen minutes of film of 60024 Kingfisher, mainly of the Waterloo-Weymouth-Yeovil Junction-Waterloo "Victory" rail tour of 26th March 1966 and a short clip of the "A4 Commemorative" rail tour passing Walton-on-Thames the following day.

Overall it is a well presented DVD with an informative but not obtrusive commentary, though a number of the clips are rather dark and/or short. As mentioned above, the addition of railway sounds to the silent footage has, in the main, been expertly done though on the review DVD there are a few places where faint background voices are included which seem a little out of place. I understand that these will be removed from the production DVDs. Consisting of nearly all steam shots, there is a small amount of electric and diesel traction included. If you are looking for a non-stop succession of expresses at full chat on the main line, then this is not for you. If you are interested in "behind the scenes" views of railway life on this section of the ex-LSWR route, and especially if you knew the men working there in the 1960s, then you'll probably find it very interesting.

The film does bring back memories of how run down the railway infrastructure became during the last days of steam - more than one shot would be worthy of being the subject of a David Shepherd painting!
---
Buy SECURELY online now with:
Please note that now you don't need a Paypal account to pay with your credit card.
---
PAL TV standard for customers in the UK:
DVD-R (DVD Region - all regions) - UK PAL standard - GB£15.95 postfree (second class mail) to UK.
Price GB£15.95 postfree - UK customers can order using Paypal, or send a cheque payable to SVS Film drawn on a UK bank in GB Pounds to:
SVS Film, 74a Firgrove Hill, Farnham, Surrey, GU9 8LW, England. Please remember to include your full postal address with your cheque!
---
PAL TV standard for customers in Europe and worldwide (except for US and Canada):
DVD-R (DVD Region - all regions) - UK PAL standard - GB£17.95 postfree Air Mail worldwide.
---
NTSC TV standard for customers in the USA and Canada:
DVD-R (DVDRegion - all regions) NTSC (US standard) - NOW AVAILABLE ! DVD-R (DVDRegion - all regions including USA) - ONLY US$24.95 postfree worldwide by airmail
---