A4 60024 'Kingfisher' excursions on the South Western, March 1966
---
The A4 Pacific 60024 'Kingfisher' headed two memorable excursions on the Southern in March 1966, and a series of emails have been received on the subject.

Andrew Britton asks:
Does anyone know the names of the footplate crews who drove and fired the special trains hauled by the LNER A4 60024 Kingfisher on A4 Locomotive Preservation Society 'Victory Railtour' on Saturday 26 March 1966, London Waterloo- Weymouth-Yeovil Pen Mill- Salisbury- Waterloo, and the LCGB 'A4 Commemorative Railtour' on Sunday 27th March 1966, Waterloo-Salisbury-Exeter and return?
Shedmaster - these tours will feature as 'bonus footage' in the DVD of Lew Wooldridge's cine films of Guildford now available.

Here are still images captured from Lew Wooldridge's cine film showing the locomotive crew of 60024 - the first two pictures are at Waterloo prior to departure on the Saturday 26th March 1966 train, and the third image is at Salisbury on the return journey. Any names please? - Shedmaster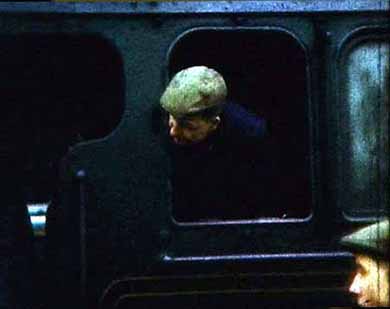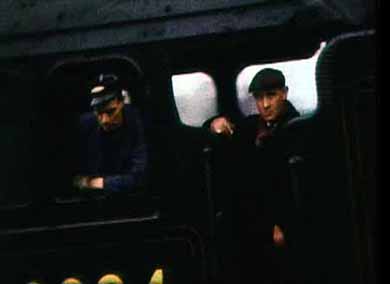 ---
We have now heard from Tricia Smith who has identified the driver at Salisbury seen in the third photograph above as Victor "Vic" Pratt of Guildford Depot. She writes:
I really enjoyed visiting your web site and to see my father in one of your still images from Lew Wooldridge's film taken on the 26th March 1966 of the Kingfisher at Salisbury taking part in the Victory tour was fantastic. Amazingly I wasn't sure the photo was my dad as he looked so young but following a visit by my uncle and my fathers brother in law Ted Wells who was also a train driver he spotted him straight away as my dad Victor "Vic" Pratt. The web site asks if any one can identify the driver so hopefully this now solves the mystery.
Ted recalled he was at Basingstoke that Saturday and remembered Vic coming through driving the Kingfisher from Salisbury to Waterloo. He couldn't remember who the fireman was and the photo unfortunately only shows a shadowy figure in the background so if any one knows who the fireman was on that trip we would be interested to know.
Family stories get a little blurred and we always thought dad drove the Sir Nigel Gresley on one of its Southern tours which was the following year 1967 but clearly we must have got it mixed up if he was on the Kingfisher or is it possible he could have been involved in the following years tour as well, if any one knows we would be interested to know.
Finally I have the hat my dad is wearing in the photo so have attached that for info, its nice to have a photo of him wearing it.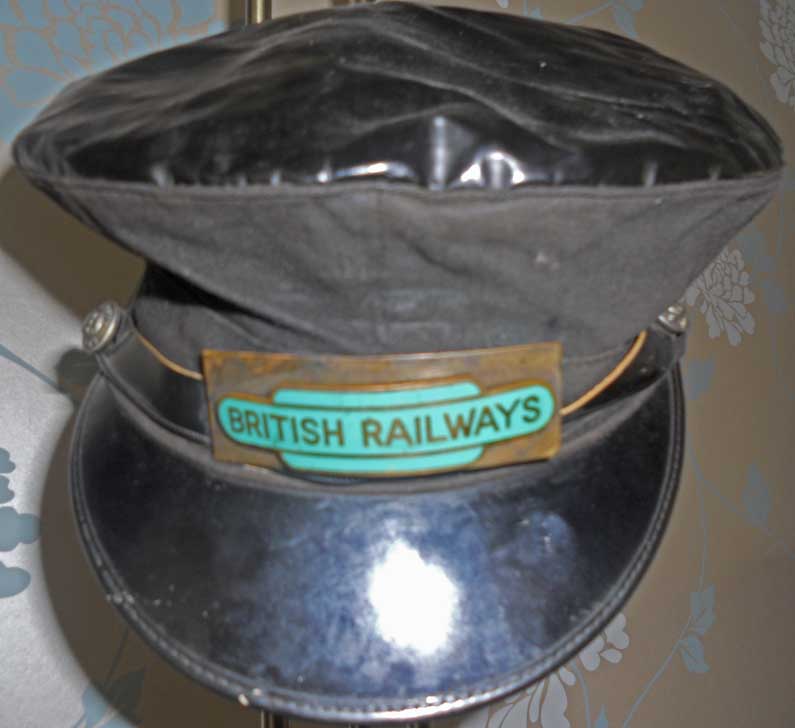 ---
Here is a log of the 26th March 1966 trip:

60024 log
Richard Hardy has written in reply to the question of the men on board 60024 arriving at Waterloo on the Saturday:
The man in the gangway is certainly neither an Eastern Region Divisional MP Inspector nor a HQ Inspector for in 1966, both jobs were held by Bert Dixon and George Harland, Len Theobald having retired. I think that it must be a Nine Elms man, maybe he is the fireman as there is nobody on the firemanís side. How did the engine get over to the Southern? On that morning, the driver that brought it may well have been having a ride back to London Waterloo from the Elms. But in 1966, steam had long gone from the GN main line and the Top Shed had been closed four years.
Ray McQuade has written:
I was the fireman on 60024 Kingfisher. The driver was Bert Hadley. This would have been on the Sunday.
Peter Austin has replied:
I know for sure the fireman from Salisbury to Waterloo (on the return from Exeter) was Ray Macquade, we had a chat about the run last year, being on the train it brought back memories! If I remember correctly Ray said his mate was Bert Hadley.
Bob Cartwright has emailed: I seem to recall seing a picture of ''My boy Jim''Robinson and Mark Thom on an A4 at Waterloo, which I think may have been Kingfisher.
Ralph Hornsby emailed:
In John H Birds book "Southern Steam Surrender" (p68), there is a photograph by Ray Ruffell of 4498 Sir Nigel Gresley, with Jim Robinson and his fireman on the footplate, this was on the 4th June 1967, perhaps it is this picture that Bob Cartwright has referred to in his recent e-mail.
Ron Petrie has added:
The picture of Jim Robinson Jnr. and Mark Thom on a A4 at Waterloo was taken by Ray Ruffell on 4th. June 1967, in LNER Livery No. 4498, BR No. 60007 Sir Nigel Gresley and was Kings X Bill Hoole's regular Loco, it was not Kingfisher.
---
Return to Locomotives index