Class 'T7' Wheel arrangement 4-2-2-0
Built in 1897 by Dugald Drummond, withdrawn in 1927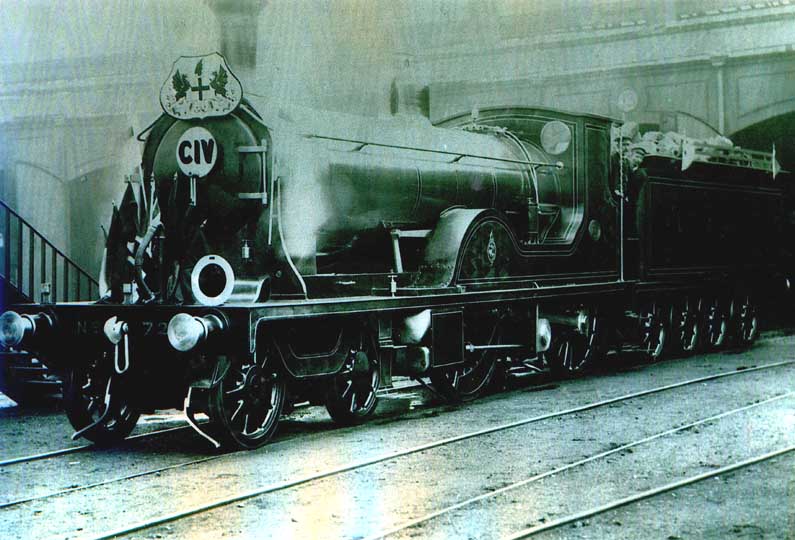 We are indebted to Maurice Hunt for this photograph that was in fact found by Dennis Randall, hidden away under some old linoleum in his lodgings in Battersea. That is a story in itself and one that we'll never really know the reason why. Might there have been a connection with the enginemen on the footplate?
'City of London Imperial Volunteers' are the origins of the 'CIV' headboard displayed on the smoke-box, it makes extremely interesting reading about such times dating back to 1899. The locomotive hauled a special train of volunteers down to Southampton Docks from where they sailed to South Africa to actually fight in the Boer War.
The old Nine Elms roundhouse shed of 1876 is evident in the background so all in all quite a scene from the past. The steps on the left of the picture I believe lead up to the old drawing office that features in previous correspondence.
Sad to reflect that the boiler of the engine was used to steam-heat the coaches in Clapham Yard in later years, a somewhat ignominious end to a grand old lady!
Jim Lester
---
Jeremy Clarke has provided further comments about 720:

May I add a note or two to my friend Jim Lester's comments on this engine? She is shown in the photograph in original condition though by this time the cylinders had been lined up. When first outshopped from Nine Elms Drummond had equipped her with four cylinders of sixteen and a half-inches diameter and a stroke of 26", that is of greater swept volume than on a GWR (ugh!) 'Castle'. Or, put another way, the equivalent of two cylinders of twenty-three inches diameter. Being allied to a boiler of 1664 sq ft heating surface, grate area of 24.7 sq ft and a pressure of 175psi no calculator is needed to show the engine was grossly over-cylindered - or underboilered if you prefer. Even before entering service the cylinders were lined up to 15" and not long afterwards to 14". Five similar class E10 engines were turned out in 1905 and two years later no 720 was equipped with a larger boiler having 1760 sq ft of heating surface. General opinion is that that wasn't much of an improvement.

Only rather later, when in the hands of a regular driver, could the engine be said to perform anywhere near satisfactorily. A very spirited run was published in the Railway Magazine in 1916, when no 720 was loaded to 260 tons from Waterloo to Salisbury. Woking was passed in 27 mins 2 secs and mp31 topped at 50mph. The train was through Basingstoke 2.75 mins early and Andover 3 mins up, the Salisbury stop also three minutes early on the 91-minute schedule. Unfortunately no speeds other than at mp31 are recorded though the averages are illuminating: Woking-Basing 57.8mph pass-pass, Basing-Andover, 59.2, Andover-Salisbury, 59.7 pass-stop. Not bad for an engine with a doubtful reputation. (As a matter of interest no 720 was the first Drummond engine to be fitted with cross water tubes in the firebox and equipped with a watercart tender).

One other point: when first put into traffic no 720 was finished in Stroudley's 'gamboge yellow' livery. The Directors, presumably having no wish to be associated with 'that other Railway' next door at Clapham Junction, insisted Drummond remove it though the engine ran in the livery for several months before returning to the paint shop.
---
Light to Loco (return to Nine Elms Index)