'Standard in Sussex'
This SVS Film production is available on DVD-R.
Buy SECURELY online now with:








Please note that now you don't need a Paypal account to pay with your credit card.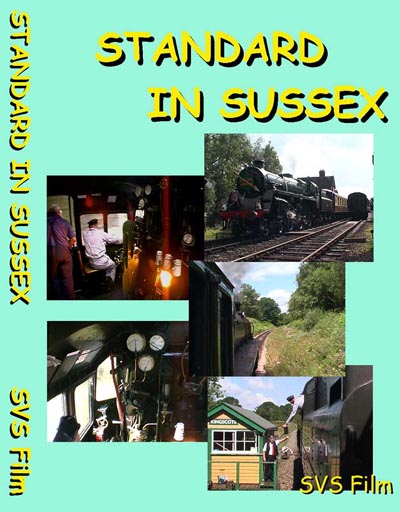 ---
Contents:
View a sample from the DVD:

The Bluebell Railway is one of Britain's finest preserved railways and runs through the beautiful Sussex countryside about 35 miles south of London.
Join British railways 'Standard Class 4' 4-6-0 number 75027 and watch the entire journey along the Bluebell Line from Sheffield Park to Kingscote from the footplate of the locomotive. One mobile and two fixed cameras on the engine plus another camera onboard the leading coach of the train all help to give a comprehensive and varied insight into the action. Expert narrative guides the viewer through the various stages of the trip. Archive cine film and still photographs from the steam era and early days on the Bluebell give glimpses of the 'Class 4MT' in action during the 1960's and 70's, plus 1967 footplate footage on 0-6-0T 'Stepney'.
Every moment of the thirty three minute journey is captured and features the Bluebell Railway's special 'Golden Arrow' Pullman train.
Total running time approximately 43 minutes. Filmed in digital video, stereo sound, except for the 1967 clips which are digitally remastered 8mm cine film. Informative maps and narration included.
The DVD also includes short samples from SVS Film other productions, 'Challenger on Tour 2003', 'Chama to Cumbres Pass - A Steam Classic' and the forthcoming 'Espee Xtras'.
---
UK customers only: please note that now you don't need a Paypal account to pay with your credit card. You can order using Paypal, or send a cheque drawn on a UK bank in GB Pounds payable to SVS Film.
If you wish to pay by a cheque, please make your cheque payable to SVS Film, and mail it to SVS Film, 74a Firgrove Hill, Farnham, Surrey, GU9 8LW.
---
PAL TV standard for customers in the UK:
DVD-R (DVD Region - all regions) - UK PAL standard - ONLY £12.99 postfree (second class mail).
---
Return to Books/Video index