BR STANDARD 9F 2-10-0's IN THE SW DIVISION LONDON AREA
We have received a few emails on the subject of 9F's working on the SW Division in the London area. Whilst not directly a Nine Elms topic, these notes may be of interest to our readers.
---
Peter Austin has sent this photo of 92211 passing Barnes: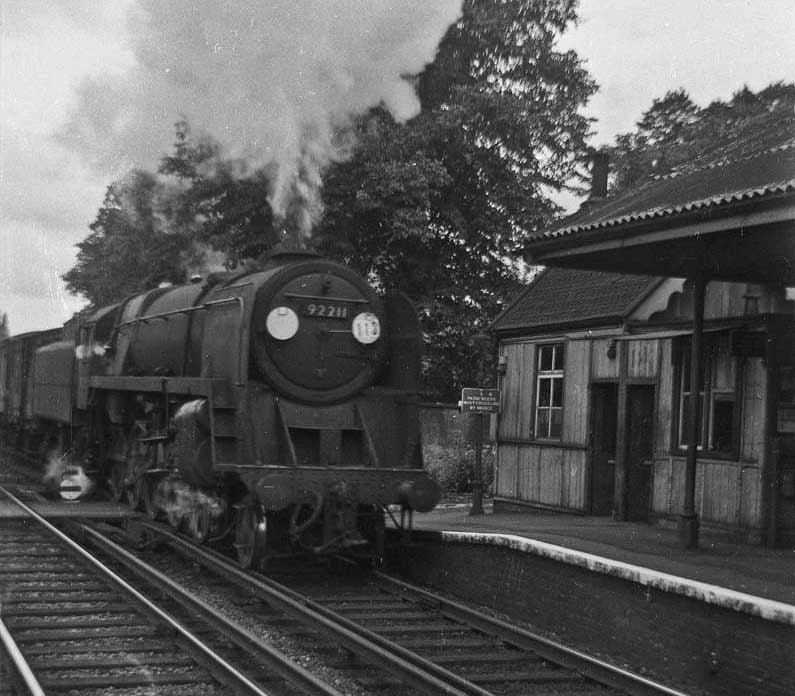 Photo copyright Peter Austin

Robin Edwards emailed the following:

I have read with interest various emails regarding the allocation of 9Fs to Feltham. As a Fireman at Feltham at that time I can confirm that during their short sojourn at Feltham they had a regular working to Wimbledon West Yard with a heavy coal train (all 21T hoppers) from Cricklewood. Charringtons had a coal concentration depot in the Raynes Park area at that time and this train kept them supplied with coal. Another regular Feltham working was an evening van train from Clapham to Southampton via the East Putney. It was worked by Feltham men as far as Woking and often had a 9F booked on it.
---
Derek Phillips has written: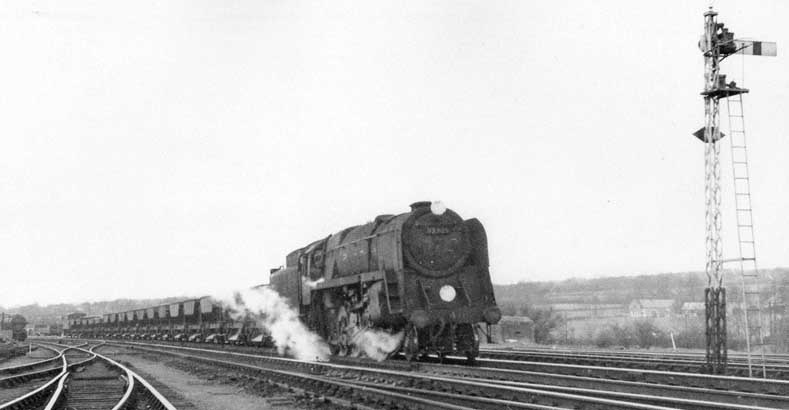 With regard to the correspondence regarding the 9Fs on the South Western division, the above photograph may be of interest, although it is out of the London area. No. 92205 is pictured standing at the Chard Junction up inner home signal on 2 February 1962.
This was a rare class of loco west of Salisbury on the main line, although they were a common sight at Templecombe working into the station or the upper yard from the Somerset & Dorset. The only two 9Fs I can remember on the South Western when I worked as a fireman at Yeovil Town 72C between Salisbury & Exeter Central was Evening Star worked a special train and another 9F on a railtour.
The loco in the picure is working an up ballast train from Meldon Quarry and probably hooked on and worked the train from Exeter Central, normally the up 'stoney's were worked by the 'blackuns' S15 4-6-0s which were superb for the job. The picture is from my book Salisbury to Exeter Central - Steam Memories.
---
Alan Dedman writes:
I would like to say that on one occasion working freight out of Wimbledon Freight Yard on one of these 9F's, we actually went into the bridge at Raynes Park I think, that was the station, as you headed south out of that yard. The Driver was a young guy from I think the South Coast area, Fratton comes to mind. If I recall his name I'll write back. That was my first and last firing experience on one of those engines.
Alan the Brit
---
Further notes from Peter Austin:
It's something of a coincidence as my long established friend to whom I referred to in the previous mails, who recalled 9F's in Wimbledon Yard phoned me over the weekend and came up with more interesting facts and detail. In essence he has managed to dig out a Route Availability book dated around 1962, from this he has gleaned a lot of info re 9Fs. Apparently they were completly banned from Waterloo and the only route listed where they were permitted around the Wimbledon/Clapham area was Point Pleasant Junction via East Putney to Wimbledon or vica versa. Effectively this would enable my sighting seen passing Raynes Park to reach Clapham Yard. This would also prove beyond any doubt that they were not permitted on the main line beyond Wimbledon onto Clapham Junction/Yard as a result of the extreme curves, I am promised a photocopy of this info and was holding on before contacting you again, as soon as I receive the copy I will get back in touch. As far as Matt recalling a 9F being dumped in Clapham Yard this must now be considered very possible, particularly as the class was banned into Waterloo, it may well have been that Control was twitchy as to how far do we let "an almost unknown" venture up to the outer confines of Waterloo ie Nine Elms Loco. Facinating stuff ! I will be back in touch.
Best regards Peter.
---
Recent email contact received from Matt Bentley:
On the subject of engine workings at Nine Elms, I have been trying to find out about 9F's. A few 70A drivers I've spoken to remember working them on a Sunday night freight that sometimes went down via Feltham and Wimbledon. I wondered were these 2-10-0's ever on shed at Nine Elms at all, or on the shed allocation.
Reason I am curious is that I understand it they were banned from the London side of Clapham due to the central driving wheel riding up over the point work there, thus increasing the risk of derailment.
Does anybody know the workings?
I have also been told they on some occasions they were seen at Wimbledon West Yard, but what surprises me is I have never seen a photo of a 9F there or at Nine Elms.
I have heard another story that one came up the Mainline, made it as far as Clapham and was not allowed to go any further and was dumped in Clapham Yard were it remained for at least a week. But again you would think that if this was the case a photo of it would have been taken.
All the best, Matt Bentley.
---
Jamie/Jim Lester replied:
Only on one occasion did I record a 'brief encounter' with a '9F' on the 21/06/63 when firing to Bill Turner in the 'Pilot Gang'. We worked a pick-up goods round to Teddington from Wimbledon West yard with Class Q1, No. 33027 and were relieved at 08h55. After travelling passenger to Feltham depot we prepared Class '9' No. 92206 and then worked a light freight at 10h25 from Feltham East End to Nine Elms Goods, thereafter light to NE depot, certainly no ban existed beyond Clapham Junction in those days!
---
Peter Austin wrote:
In response to email from Matt Bentley I may be able to throw some further light on this fascinating subject.

The 9F's in question were a batch of 6 transferred in from I believe the Western Region to Feltham (70B) circa 1962, the numbers of which were 92205/06/11/21/31/39. They may well have replaced early ex Southern Railway types of mixed traffic/freight locos. The 9F's worked one particular duty that I remember very well. My family were living in Putney South West London at the time, Putney being on the suburban lines out of Waterloo to Windsor and Reading via Richmond and Feltham. The duty was an up van train in the early evening about 7:15 pm consisting of no more than 8-10 vans - super power ! The intrigue being is that this working would have reached Clapham Junction on the "Windsor Lines" side thus avoiding the tight curves on the South Western main line mentioned in Matts email. I would assume that the van train terminated at Clapham Junction and the 9F have gone onto Nine Elms Loco for turning and back to Feltham or possibly worked another duty as there were a prolific number of cross London freights at the time. Obviously the 9F that Jim Lester encountered was one of this batch I mention and would have been shedded at Feltham during this period. The van train in question was to be relied upon to produce one of the Feltham 9F's and was a particular highlight of steam traffic through my local area at the time. The 9F's did not stay long at Feltham and were transferred to Eastleigh (71B) by August 1963 and were known to have at least one regular booked passenger turn. This turn was a working from Southampton Terminus to, I believe, Brockenhurst and Ringwood This turn used to produce Feltham S15's - could Eastleigh have taken over Feltham's duties? Hence the transfer to Eastleigh or was it part of a lengthy Feltham diagram?

These 9F's when at Eastleigh were also used on Fawley oil tank trains to Bromsgrove in the West Midlands. I assume that the Crompton diesels then took over from the 9F's as they in turn were transferred to York on the then North Eastern Region. In return for the 9F's the SR received a batch of 6 Standard Class 5's from the North Eastern Region these were 73166 - 73171 which were obviously more suited and versatile than the 9F's. These Class 5's lasted well into the final years of Southern steam as did the 9F's last right up to the end of steam on the North Eastern. The only other 9F's I can recall working into South London suburbs were 92046 and 92231 (when shedded at Eastleigh.) 92046 appeared on a parcels train mid morning just prior to Christmas 1963. This came up the main line from the West (I saw it at Raynes Park) and this may well be the 9F that Matt refers to being dumped at Clapham Yard. At the time the loco was allocated to Bidston Birkenhead a great 9F stronghold at the time. I rememeber this working hitting the railway press at the time and I seem to recall that much mention was made in fact that it got no further than Clapham Yard. Thinking on, I am absolutely convinced that I recall 9F's being banned from the Main Line at Clapham Junction but obviously not on the "Windsor Lines" this maybe is where the intrigue lies. Going back to 92231 this was sighted at Weybridge in August 1963 on a freight and would probably have been bound for Feltham Yard and could have been a regular working at the time, not coming any where near the inner London suburbs. As for a photo, I remember taking a shot of 92231 on the van train at Barnes on a Kodak Box Brownie which I shall try and dig out. It's not a great shot but its a record of an interesting and short lived working. I hope this is an interesting account of my personal recollections at the time - 46 years ago. This is an amazing Web Site it brings back so many vivid memories of the time - I was fortunate enough to share many exploits with enthusists mentioned on the site and be privileged to know many footplate crews in particular Ray MacQuade who was a fireman at Nine Elms and lived close to me. Ray, if you read this please drop me an email!

Peter Austin wrote again:
Since I sent my email I have spoken to a friend who lived in the Wimbledon area around the time in question. He can clearly recall 9F's working through Wimbledon on a variety of turns - parcels, vans, freight etc. Even one in Wimbledon West Yard (which Matt refers to) and interestingly this particular one had run through the buffer stops whilst shunting or marshalling a freight. Apparently a local newspaper at the time carried a photo. I have got him on the case and he is now in the process of collating his memories. One working he recalls very well is 92220 'Evening Star' working into Wimbledon from Victoria via Haydons Road on an enhusiasts special. This I recall went down the West of England main line, I have seen photos of it at Sidmouth Junction.

Peter Austin - Wilmington East Sussex
---
Dave Mortlock has written:
Terry Edwards took a 9F out of Wimbledon West yard heading to Basingstoke (0045 from Nine Elms goods), G Pack was the fireman. He miss read the old stop caution semaphore signal as clear to the main line, the engine ended up half way into the road after going through the catch points. Sorry can't remember the date must have been about 1963/64 when it happened. The week after, I Ieft him to go into link 3 with G Adams(chopper).

Dave Mortlock (Nine Elms 7/5/62 to 9/7/67)
---
Peter Austin also notes:
I have received a copy of the RA book from my pal. The facts are still sketchy as it does definitely state 9's were banned from W'loo but makes no mention of the main line thereafter! But does list Point Pleasant Jct to East Putney as being "passed" for the class. Maybe just maybe this is because this was THE ONLY permissable route out of London and onto the SW main line at Wimbledon. I am surprised by the amount of interest this topic has generated and am grateful to you for printing my memories. I shall have to recall some genuine Southern memories during these long winter evenings.

Peter Austin - Wilmington East Sussex
---
Brian Aynsley has written:
I only worked on a 9F once. At Guildford, we had a duty which involved working a stopping train from Basingstoke to Waterloo, being relieved at Woking. On this day, when we picked up the engine from Basingstoke shed, it was a 9F and had already been prepared which was unusual.

Such a big engine made light work of the four coach train and I didn't have much to do, very relaxing. Approaching Farnborough the steam pressure began to drop and I looked into the firebox, I was horrified as the fire was nearly out. Having not worked on a 9F before, I assumed that the firebox was deep like a MN or WC. It was not, it was very shallow and I just managed to get the fire going

When we arrived at Woking we were told to detach the engine and take it light to Guildford as it was not allowed into Waterloo, another engine came from somewhere to take the train forward.

I don't remember seeing any 9Fs at Feltham, but they did have some at Eastleigh which I believe worked the oil trains from Fawley to the Midlands.

Brian Aynsley
---
John Middleditch has emailed:
I have a record of all the Eastleigh 9Fs mentioned by Peter Austin except 92046 which was shedded at 6F Bidston, in the Chester area, although, having said that I do realise that Locos get re-allocated from time to time and stray far from home on other occasions. In particular I have a fond memory of a cab ride round Eastleigh yard with the shed turner on 92211.

My first sight of a 9F was late afternoon one Maunday Thursday when there was one in the yard at Romsey, pointing towards Eastleigh. This would have been in the very early sixties if not 1960 itself. Around this time one of the Fawley tank trains was dragged up the branch and put into the yard at Millbrook (pre container days). A Midland 8F then took the train back through Redbridge and on towards Salisbury. The 8Fs were from Reddish wherever that was. The empties used to pass through Romsey just after 4 and our school bus paced this train with it's 8F for several miles South of Romsey on many occasions. The 9Fs started taking the tanks up the Linger and Die. (The Didcot, Newbury and Southampton.) This traffic may have accounted for 92046 being so far South. I can also remember putting a penny on the line Salisbury side of Romsey station on the way home from school. This was well and truly flattened by a 9F on some tanks heading North which in later years had replaced the rare 8Fs, thus taking the lions share of the tank trains.
---
Roger Carrell has written:
After transferring to Basingstoke, I had two experiences with these engines; the first was an early morning run - light engine, tender first from Feltham to Clapham Carriage Sidings, thence to couple onto a train of parcels vehicles, push back then trundle down the Main Line home to Basing', being relieved by Eastleigh men on arrival there. The second occurred during my last month of employment (March '65) when I was being offered the regulator on a regular basis as a 'last fling' - something better to remember than the shovel! This involved a goods train from Basing' to Woking Up Yard and I can't recall if I was delighted or disappointed when my driver immediately gave up his seat to me, for these were indeed wonderful engines to both fire and drive. Likewise, I too, was surprised and nearly caught-out by their shallow grate (to clear the rear driving axle) and I never saw one east of Clapham. Aesthetically, I think that Cox's intended design of a Britannia boiler upon a 2-8-2 chassis would have looked much better and provided space for a deeper grate but, alas, all at the expense of adhesion. In the end, Riddles had his way and the 2-10-0 design won.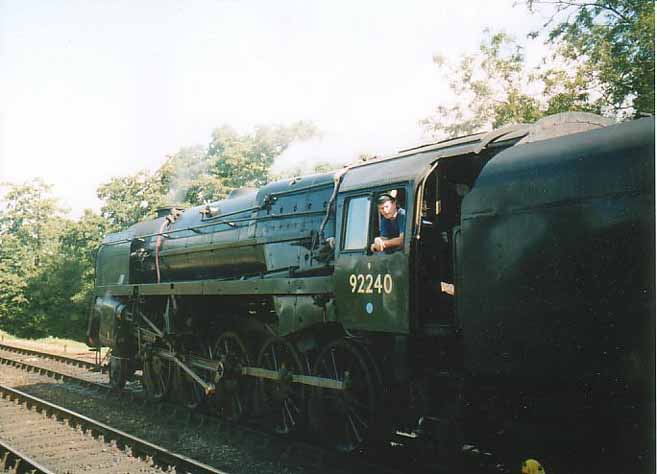 Roger Carrell having a deja vu at the controls of 92240 on the Bluebell Railway August 2000. Photograph copyright the late David Beckwith
---
Roger Hutton (ex 70B) has emailed:
In reply to a Peter Austin e-mail that I have recently seen on your website regarding 9F's at Feltham. Only 5 were shedded there. 92205/92206/92211/92231/92239. They were there from June to September 1963 when they were transferred to 50A York. He was right they did come from the Western on loan to Eastleigh between 12/60-7/61. I thought at the time as a 17 year old apprentice fitter what are they doing here. I far as I was concerned their was no work for them. In reply regarding Standard class 5's replacing them, 5 did come from the NE region. These were 73167/73168/73169/73170/73171 in 9/63. Except for 73167 which went to 6D Chester in 9/64 the others finnished their lives at Eastleigh from 11/64 and scrapped from there. So from the records I have 73166 and 92221 were never allocated to 70B.

Not really a Nine Elms subject but I feel with what I know I have to put the record straight.
---
Bob Cartwright adds:
I looked through my diary and found an interesting standard 9 number. On the 7th September 1963 Alfie Keens and I worked W.R 405 duty engine from Eastleigh to Basing. The engine was 92089 which was one of the Crosti boilered ones. By that time the boiler had been converted to a conventional condition. I had never been on a '' 9 '' before and relied heavily on Alfie for guidance. As I was not much of a spotter and didn't travel round much it was the only time I ever saw one. I understand that the actual boiler on this variant was smaller than the normal type. I don't remember much about the trip but, suffice to say, we got there.

Further to the comment re Crosti 9F's and their numbers, I may have mis read my notebook or it may have been my poor typing, further close investigation of my records shows that it was indeed 92029 and not 89.
---
Malcolm Peakman has emailed:
Bob Cartwright mentions a turn on 92089 and it being an ex Crosti - the Crostis were 92020 to 92029. Likewise, John Middlewitch mention 8F's from Reddish - Reddish was the electric traction depot for the Wath line. Lastly on a technical note, 9F's had a flangeless driver, and if the track had high check rails derailment was possible.
---
Roger Carrell has emailed:
While much emphasis has been placed on permission only over the East Putney route to Wimbledon, I am dead certain that after backing our parcels train out of Clapham Carriage Sidings, we took the Main Line through Clapham Station and onto Wimbledon, via Earlsfield, en route to Basingstoke.
---
Ralph Hornsby wrote:
In one of his e-mails, Peter Austin mentioned 92220 "Evening Star" working a special train on the South Western main line. This was on a Southern Counties Touring Society "Farewell to Steam Tour", from Victoria to Seaton, which took place on the 20th September 1964. Part of the route of this train was over the Mid-Hants line, this is highlighted in the "Mid-Hants News" magazine no 124, in an item written by Chris Small which relates to train workings over that line. The item also contains a photograph (by Chris Small) of the train departing from Alton.
---
Ray Broadfield wrote:
Whilst not being able to give times or dates I can recall on at least two occasions 9 F's working over Malden crossing towards New Malden on the Kingston loop.
---
If you have a photo of a 9F in the Wimbledon, Clapham or Nine Elms area, or any further notes about 9F's in the London area of the South Western Division please email it to the Shedmaster Nine Elms.
---
Light to Loco (return to Nine Elms Index)