ALAN - "ROCKER" - DEDMAN
I think I joined British Railways in 1962/3 got the normal position as an Engine Cleaner, along with a lot of other guys. Robert Lee, Pauley, and Roycroft his father was a Driver at the time along with young Holloway. His father was George Holloway a nice old guy and he had another son there I think Lenny Holloway. Not to be outdone I think he had a son-in-law also a Driver, I want to say George (Chopper) Adams if I'm not mistaken.

One character I always remember was Albert Preston the Shed Cleaner, as strong as an ox, but slightly retarded. I always remember getting him going on one thing or another, but we were lads then and Albert was fair game.

I can remember Fred Domm, who had 2 sons working there, and the irony of that family was that all 3, if I remember correctly lost the bottom part of their left or right legs in rail accidents. Fred and one son both lost theirs the same night by the same loco as they were walking up the tracks to a Station in the fog. It was Fred who dragged himself along to the signal telephone and called the signal box to get help for himself and his son, Tony, who was far more seriously injured.

When I got started as a fireman I think my first driver was Mick Donehey, followed by, Reggie Knight or Ron Hamlin then Reggie "Skillful" Skinner. Harry Boys was one of my favorite characters along with Ginger Bearham.

My favorite Harry Boys story was the time he derailed, I think it was around Hampton Court: he was asked by the Footplate Superintendent what he thought caused it? Harry replied "I blame Newton" The Superintendent looked at him and said "What do you mean?" Harry said it was "Newton's Law of Gravity that pulled the engine of the tracks" or something along them lines.

Harry Pope, what a case he was. I think he ran a guy over, or he threw himself in front of Harry's engine as he was leaving Surbiton, and Harry quickly stopped got off the footplate walked back and found the guy, still alive and said to him "What did you do that for you daft bastard?" If I recall also I think it was Harry who went through some cattle, killed them, but there was steak and hide all over the front of the loco, and they kept him from coming into his next stop, until they changed the loco out because of the mess.

I remember Alf Hurley and Bert Hooker, two well respected gentlemen in every sense of the word. Never got to fire with Alf but I did with Bert. Bert and I did a Woking Children's Home Special from Waterloo to Salisbury, 35027 I think it was, but what a great experience. We set a record from Worting Junction to the next station; I think it was at 102 or 104 mph but it was the station before Andover. I had never shoveled coal so hard in all my life What I do remember about the trip was leaving Waterloo and straightening up as I got off at Salisbury, I was head down and ass up for that trip. I was handed a fiver though by some grateful rail enthusiasts.

It took me years to get a copy of that run, because they wouldn't release it while Bert was still employed or something like that. I did eventually get a copy, but for the life of me I can't find it.

Another Driver that came to mind was Wally Snelling, I think he started out at Stewarts Lane Loco Shed. There was a jack the lad if ever there was one. I think he got written up more times than enough. I can always remember him putting the regulator up in the roof on an unconverted B.O.B. class and drop the steam cut to see the rockets go shooting up into the sky.

The Driver who was absolutely "gung ho" on the original West Country and Battle of Britain class locomotives was Alan Wilton, short in statue; beard and I would say quite an intellectual.

I'm sorry but my mind has drawn a blank at the moment, but I keep on thinking about the good times at Nine Elms. If I recall further info I'll drop you a note.

All the best.
Alan Dedman - San Bernardino, California.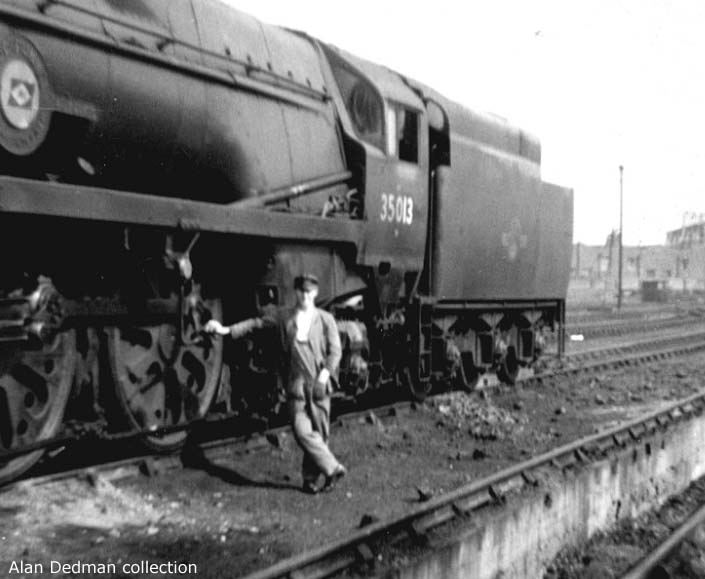 35013 and an unidentified driver at Nine Elms. (Photo Alan Dedman collection)

Copyright 2007 &copy Alan Dedman - Nine Elms - Southern Engineman
---
Light to Loco (return to Nine Elms Index)