'STEAM ALL THE WAY AT NINE ELMS'
by DAVID DAVIS
Introduction
Many years ago, back in 1958/59 I fired to Dave Davis at Nine Elms. He was a kindred spirit in many ways and as a young driver he would tell me of his experiences and I was eager to listen! This article, that he wrote in RAILWAY WORLD back in December 2003, sums up Dave and the 'enthusiasm' that he maintained throughout his career. The mention of my own name in his memoirs made me feel proud to be remembered by him and on that basis I now want to return the compliment and remember him! I know I'm not alone for there are numerous other footplate-men who will want to share the moment, a pleasant reflection of his company and camaraderie. I equally know that he would have been delighted to have subscribed to our 'Nine Elms website' so here he is, relating his own piece of railway history for you all, so sit back, read on and enjoy the experience!
Jim Lester -70A
---
'STEAM ALL THE WAY AT NINE ELMS' by DAVID DAVIS
For me, engines, trips and experiences have stayed in my mind quite clearly after all the years since steam working ended. I joined the railway as a cleaner in 1947 and did all my firing at Nine Elms shed (70A) London, in the early 1950s and was passed for driving in July 1958.
In the 1950s, with firemen going in and out of National Service, link promotions were made every six weeks, there being 12 main links at the depot at this time. I fired in every link at the depot passing in and out of the 'Tank Gang' and 'No. 6 Link' four times, working with a different driver each time. What characters the old drivers were! I remember everyone I was rostered with, from old Bert Sibley, wounded in the First World War and reduced to shunting work only in Nine Elms Yard, to Devonian - Sam Mills - in the 'Top Link' and poor Bill Eaves in the 'Short Road Goods Link'. Bill was seriously injured going home from work in the electric train involved in the Barnes disaster in 1955. There was also Bill Greenough who was in charge of LN No. 30854 'Howard of Effingham' when she went through the sand drag at Shawford and fell down the bank. What a job they had to get her back up as by the time the heavy lifters arrived she had started to sink into the soft ground.
There was no fast way to promotion in those days, link promotion was on a strict seniority basis so the climb to the top link was slow, starting in the bottom link, the shed link, turning and berthing engines. The next link was the 'Yard Gang', the one above that 'Clapham Yard' and finally into 'No. 8 Link'. Here at last you got to work on tender engines but only small ones such as 0-6-0's like Class '700' (Black Motor's) and the '0395' class (Jumbos) in Wimbledon West yard, plus a trip to nearby St Helier and a trip to Raynes Park to shunt the yards.
You had to wait until 'No. 5 Link' before you had any real running work and then only short road goods work, plus two Sunday turns to Basingstoke. I worked on about every class of Southern engines there was. One unusual engine was a big Class 'Z' 0-8-0T tank No. 30955 which was the regular engine in Nine Elms Goods 'Top Yard', also a couple or Drummond Class 'T14' (Paddleboats) were still running, one working the Saturday Only Waterloo - Lymington Pier. We worked this service as far as Brockenhurst where we had to come off the train as tender engines were barred from the single line; the train was taken forward by a 0-4-4T Class 'M7' tank. We would set back into the down yard for engine servicing: clean the fire, pull the coal forward, while the driver would put a drop of oil in the links and glands. Then we'd move onto the turntable, which would only hold a six-wheel tender engine. Even then you had to half fill the tender with water to balance the engine before you could turn her by hand.
One Saturday I was booked on one of these turns and we were given 'U' class 2-6-0 No. 31617, with the first stop at Winchester, what a rough ride it was! Another Saturday I had the pleasure of working to Brockenhurst with driver Jim Emms on a 'D15', No. 30465, one of Drummond's 4-4-0's. A first class little engine, she ran like a sewing machine. We also had quite a few former SECR engines, 4-4-0 'D' class (Copper-top) No. 31744 that was a regular engine on the evening Reading parcels that we worked to Twickenham. Here we would set back into the sidings where we had to wait for the up Reading parcels that would stop cab-to-cab. We stepped across and changed footplates with Reading men and then worked back to Waterloo. We also had GWR 0-6-0PT (pannier tanks) sent over to replace the worn-out 'M7' tanks. The first two '57XX' 0-6-0PT's were No's. 9770 and 4634 and they were strong little engines.
'No. 2 Link' at Nine Elms had 48 turns, but after a short time this was reduced to 36 turns, most of which were spare turns or the official name 'As Ordered' this allowed the List Clerk to book you on a time-order basis to cover all turns at the depot. One day I was booked to work with driver Ernie Hart, down with the 8.30am to Weymouth as far as Bournemouth where we were relieved by Dorchester men, we then had a break and worked the 1.5pm back to Waterloo. The engine was 'West Country' class No. 34005 'Barnstaple' and as we approached Sway the fire started to blow back badly. The driver put the blower hard on but this just made the situation worse. He then made a full brake application and we just managed to stop in Sway platform with both of us standing outside the cab on the top step. As the engine stopped there was a terrific roar and 'Barnstaple' was alight from the front sand box right back to the footplate. The fire brigade was called and started taking off the air-smoothed casing because all the packing underneath was well alight. After a long delay we had assistance from Bournemouth as far as Eastleigh, from where we had a spare engine on the front of the train and ended the trip with a 0-6-0 'Q' class No. 30541. We found out later that the blower pipe had snapped off in the smoke-box of No. 34005, so instead of creating a vacuum to suck the fumes out the opposite happened, thus blowing steam through the tubes and firebox onto the footplate.
I had a long spell in 'No. 2 Link' with driver Sid Kilford who was known as being heavy handed. One year, in the summer timetable, the 8.20am to Bournemouth was made a two-hour train. We were booked the turn on the first day with MN No. 35010 'Blue Star'. We had Chief Locomotive Inspector Dan Knight on the footplate and a Trip Recorder riding in the front coach, we suffered two bad signal checks at Woking, but even with our booked stop at Southampton, we still arrived at Bournemouth Central in 1hr 58min. Looking at the log of the trip, our fastest speed was 87mph in the shallow dip at West Wevbridge and a steady 85mph all the way down the bank from Lichfield Tunnel to Allbrook. When we had the new 'BR Standard Class 5' engines - notably No's. 73118 and 73119 - for the first time we had reliable speedometers. On this section of line with the 9.30am to Bournemouth we would unofficially try for 100mph as we entered Wallers Ash Tunnel.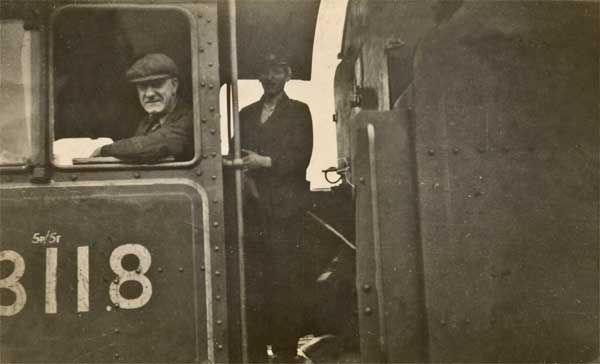 Jack Wicks and Dave about to leave Nine Elms depot Photo - Jim Lester collection
I would get to work early to prepare our engine and to 'knob' the fire up. Un-rebuilt 'Packets' (as we called the 'Merchant Navy' class) and 'West Country' class engines were well known for burning a lot of coal without having a heavy-handed driver. I would go to the stores and draw the keys for our engine, get the oil out for the driver knock the fire over the firebox with a nice touch of the blower, put a few shovels full of coal around the box, then while she made enough steam to move, put up the head-code and check the smoke-box door was shut tight. Then I would sweep the ash off the front framework, place the tail lamp, set the engine back outside the shed and test both injectors. Next, I'd open the tender door - standing well back to let all the large lumps of coal fall out onto the footplate - open the large Ajax fire-hole door and start to knob her up. If the lump could fit through the door I rolled it around the back corners or under the door.
This went on as long as there were lumps left or until the firebox back corners and the area underneath the door were full to the level of the door rim. The front of the box was left very light, then I'd close the tender door and shovelling plate flap, climb into the tender to shovel small coal forward into the hole I'd made, so no large lumps would get trapped in the hole when we took coal. We then moved back over the shed pit, put on the injector and washed the footplate down. Using the boiler front controls we'd blow the boiler down, reducing the boiler pressure to about 120lbs. This enabled us to stop the engine blowing off before starting time. After the oiling was done, we moved off shed to take coal and water before running light engine to Waterloo. After coupling to our train I had time to drain and oil the Ajax steam door and adjust the treadle to the right height. The fire was well burnt through so we were all ready for the start of our trip.
In summer 1956 I was booked for the week with 'Top Link' driver George Coward on the 'Atlantic Coast Express' the famous 'ACE'. At this time it was still a Nine Elms turn but we were soon to lose this to Salisbury shed. Our engine was the first converted 'Packet' No. 35018 'British India Line', what a engine she was, no fire tearing, no rough riding, good look out and no large lubricator just in front of the fireman's side window to hit your head on, the rebuilds were truly a great improvement.
In May 1958 I worked with driver 'Happy' Gordon on the 'The Trans Antarctic Expedition Express' from Waterloo to Southampton Docks and back, to bring the Dr. Vivian Fuchs back from his triumphant expedition. By special request of the society we had LN No. 30851 'Sir Francis Drake' all polished up with a special headboard for the occasion. I passed for driving in July 1958 and for the first time turned a complete circle, coming back to where I had started firing, soon finding myself rostered driving in Nine Elms Yard. Three of the yards were now worked by 350hp diesels (Class '08') and one yard by a 210hp Drewery diesel, what a useless tool she was!
I moved up into No. 6 link: all the links had been re-organised by now and this link had quite a lot of short road goods work and I had my first rostered fireman, Jimmy Lester, who now works for Eurostar. In 1961 I moved depots to Dorking North on the dreaded 'juice' and suffered nine years of suburban work, before being able to move to Wimbledon Park where we had some main line work to Portsmouth Harbour and Eastleigh. I had to wait another 19 years before I could move to Waterloo and into the 'Top Link', working on Class 50's and 47's to Salisbury and Exeter and to Weymouth on Class 442s 'The Wessex Electrics'. The new Class '159' DMUs took over the Exeter workings and Waterloo depot then lost its remaining engine work.
Some 30 years after I left Nine Elms, one day in 1992 a call went out for drivers who had passed for steam driving and who were fit enough to do firing. By now there was a limit on how far a man would he allowed to fire for. They would be required to work steam hauled specials with preserved engines and to my delight I was one of the six Waterloo men picked. We were given a day's refresher course on the Watercress Line at Alton with driver Tom Coles and myself being booked a day in December. We went as passengers to Alton to find that John Bunch and his mate had 'BR Standard 3' 2-6-0 No. 76017, ready for us to work on all day, up and down the line, taking turns at driving and firing. It was magic! It was as if the last 30 years had never been and we had never been away from steam, so I had turned another complete circle, a truly first class day, thanks to all the staff at the Watercress Line.
On March 20 1993 driver Dave King and I went as passengers to Salisbury work the last leg of a steam special from Salisbury to Clapham Junction with 'BR Standard Class 7' 4-6-2 No. 70000 'Britannia'. On the 5 September 1993 I worked the last leg of the 'Rougemont Ltd' with 'West Country' No. 34027 'Taw Valley' from Salisbury to Waterloo. I took No. 71000 'Duke of Gloucester' from Acton to Wolverhampton and on Saturday 1 April 1995 I worked my last steam trip, from Waterloo to Basingstoke with 'N15' (King Arthur) No. 30777 'Sir Lamiel' with fireman Ian Turner. What a first class job preservation societies do in restoring these locomotives to their former glory, they could not have been in better condition. Soon afterwards I retired, after 47 wonderful years on the railway.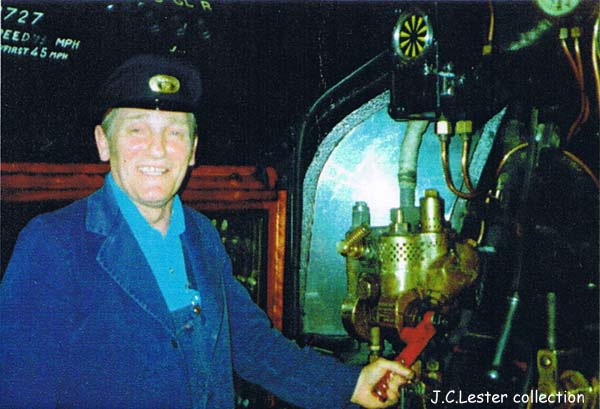 DAVID DUNCAN DAVIS (70A)
---
Return to Memories index