Jim Arkell - Incident at Queens Road with 21C160
I noticed that there was a letter in a recent issue of a Steam Railway magazine referring to a speeding incident with a WC/BB locomotive. The contents of the letter differ slightly from what I've heard before, and I also since noticed that there is mention of it on the Nine Elms site already. Albeit markedly different from both Bert's account and the letter. Different identity of the engine, and the manner in which it was stopped etc.

I've heard this story several times, notably from Bert Hooker very many years ago. He told me that the train in question was estimated by the control office to have reached over 120 mph somewhere prior to Woking and was speeding at well over 100 for some considerable distance, and they thought the train wasn't going to stop. So they issued instructions for the crew to be relieved at Queens Road and suspended. The driver in fact was never allowed to return to main line work, and his name is given in the letter in the magazine as Woofham.

I wonder if there any Nine Elms men still around who remember this particular incident? It probably happened in 1947 or 1948. Bert said the engine was almost new at the time, and also he was still out firing. He'd been on it himself and they all knew it was a particularly fast engine. Presumeably Woofham decided to have a go when he got the opportunity. I also remember discussing this with Bert and the late John Click - one of OVB's assistants - at John Click's home one evening, and John told us that OVB was well aware of the incident, being still on the Southern at the time.

I have also discussed this and the different versions of events with Tim Crowley. His opinion seems to lean towards Bert Hooker's version of events - Bert was not a man given to exaggeration. But it would be interesting to unearth some more evidence. I wonder for instance whether there is any surviving documentation concerning the disciplinary proceedings at the time. Perhaps Arkwright Road might even have something. Apart from anything else, it would be helpful to have the correct spelling of the drivers name. I've seen at least three different versions so far.
---
Bert Hooker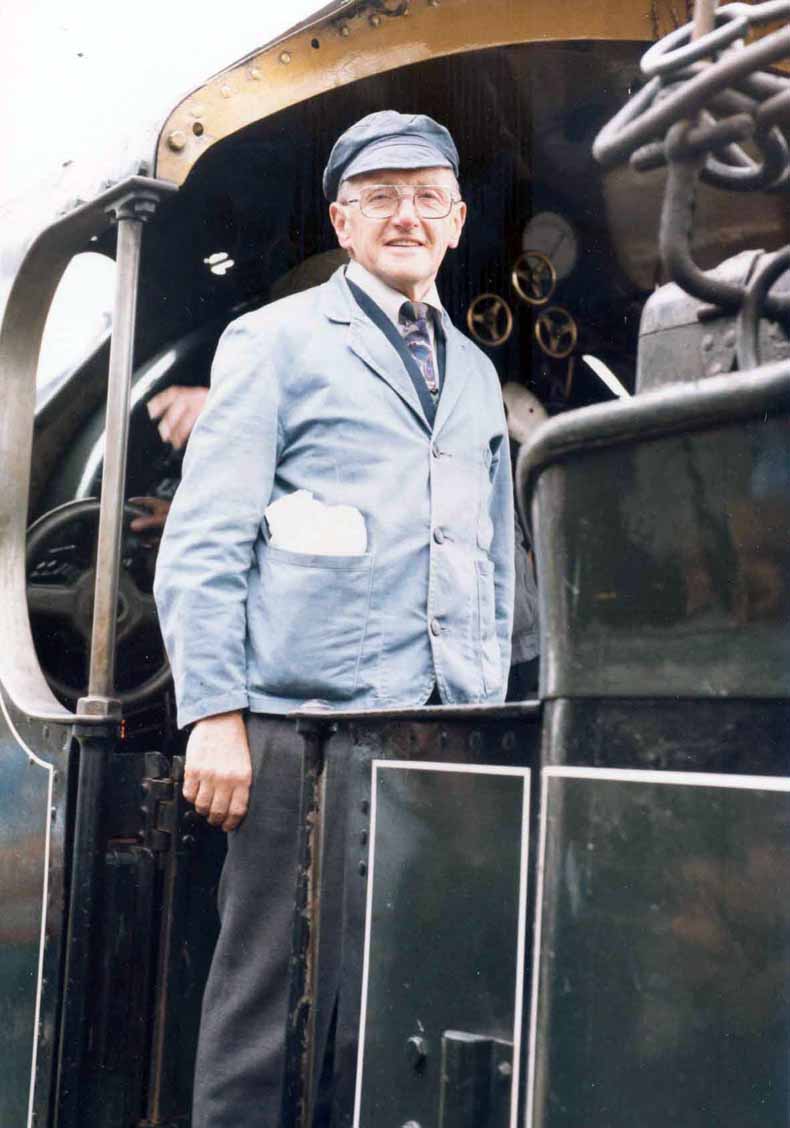 I just came across this photo that I took of Bert Hooker standing on the footplate of 777 in 1983. Roughly two years after he retired.
Copyright 2009 &copy Jim Arkell - Nine Elms - Southern Engineman
---
Light to Loco (return to Nine Elms Index)