ENGINEMAN S.R. CAP BADGE
After being reunited through the Nine Elms website, Bernie Tipping and I made arrangements to meet up with an old former footplate friend and colleague, John Unwin, after a gap of almost fifty years! It seems hard to believe that such time has passed us all by in reality, the intervening years individually having taken us along different routes in life since the last time that we shared a camaraderie that was intrinsically linked to our fascination with railways and steam locomotives.

J. D. Wetherspoons 'H. G. Wells' establishment at Woking provided the rendezvous point for this rather special get together and what an occasion it turned out to be, with photographs in abundance being produced across the table reminding each of us of the times that we shared as the 1960's approached that would eventually bring such unimaginable changes to the railway industry. John surprisingly told us that he was still in contact with Peter Steward, another old friend, who originally made up the foursome that travelled around the country as much as we could, observing the railway operation on the other regions. Scotland in particularly was indeed special, certainly when reflecting now upon the network of the former railway companies especially in the Highlands of the country that were still to be seen and savoured!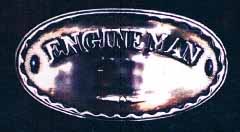 Since this meeting an interesting story concerning an ENGINEMAN S.R. cap badge that belonged to Tom ('Punch') Clark who started way back in 1912 has emerged. Apparently he passed the badge on to his regular fireman, Peter Steward, who then kindly passed it on to John. The story attached to it is that when it was originally issued, Tom, who was a staunch London & South Western man, was not much in favour of the changing times in 1923. Indeed by then he would have worked for the old L. & S. W. R. Company for over ten years at that time. It would seem that such was the degree of resentment of the new Southern Railway, along with others no doubt, that he attempted to remove the S. R. part of the badge as this photograph bears testimony. Tom Clark's nickname was 'Punch' and I am duly informed that it referred to the manner in which he drove his locomotives. Not too much in the way of expansion used, however whilst a more generous cut-off did mean more coal was shovelled into a lively fire-box it invariably resulted in better steaming. Whoever it was that first coined this 'nickname' we shall never know but for sure I recall that many other Southern Enginemen had similar associated nicknames that were used other than real names!

Whilst Malcolm Stevenson poses for the camera Tom Clark is seen here in sitting in the fireman's seat on Nine Elms MN No. 35019 'French Line CGT', at the top of platform 11 at Waterloo. Malcom Stevenson Collection.
Stature wise he was a particularly short, stocky chap and he would amusingly have both feet firmly placed halfway up the boiler front to apply suitable leverage when 'fully' opening a Bulleid pacific's regulator. As a fireman how he ever reached the steam injector valves located high in the cab roofs of the depot's allocated 'H15' 4-6-0's of 1913 I shall never know! Whatever, what another wonderful Nine Elms character remembered.
Copyright ©2010 Jim Lester
---
Light to Loco (return to Nine Elms Index)