Drummond's 'Bug'
Introduction:
LOCOMOTIVES were always a passion for me and the variety of different classes that were still to be found on the now Southern Region of British Railways was quite varied, even when I joined the railways in 1957, considering the LSWR, SE&CR, LBSCR were amalgamated in 1923.
Each of those railways had their own Chief Mechanical Engineers (CME) who had, during their period in office, produced some fine locomotives. Among these numerous engineers was one, Dugald Drummond, who hailed from Ardrossan in Scotland, a country where many of the finest men became CME's after many years of study and experience. However Drummond's eventual appointment to succeed his predecessor William Adams as the LSWR's CME in 1892 was not without its own problems as history records. Not every design was a success and modification and rebuilds were to follow. Whatever we are not here to discuss those matters as I really want to pay tribute to an unsung hero of mine from those times, namely WILLIAM EATON, a Nine Elms Engineman, now remembered here on our dedicated website.
Read the following account that he recorded so eloquently describing his fascinating times when firing to Driver James, the dedicated Engineman on Dugald Drummond's special saloon known as 'The Bug'. Learn all about this fine, unique little 4-2-4T engine that emerged from Nine Elms Works in 1898 and appreciate what life must have been like in those days, working in close proximity to such a formidable man!
'Driver JAMES – Fireman EATON - We salute you both'!
Jim Lester -70A
---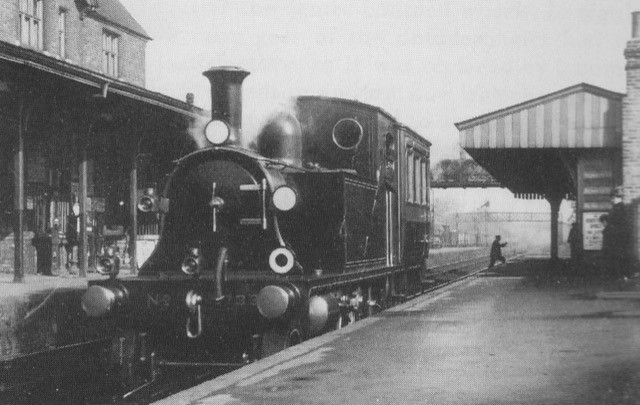 No. 733 is seen passing through Hounslow (photo - Lens of Sutton via Jim Lester).



DRUMMOND'S 'BUG' - WILLIAM EATON

In my younger days on the then 'London & South Western Railway' I had the interesting experience of being the regular fireman on Mr. Dugald Drummond's famous saloon, which was stabled at Nine Elms and known to all and sundry as "The Bug". The late Chief Inspector James was the driver, he was quite fearless, and he needed to be for his Chief had a pronounced taste for speed.

For the benefit of readers who know nothing of the subject of this article, let me say that it was no locomotive antique which had had some superannuated coach tacked on to it for inspection purposes. This unique combined engine and coach, specially designed by Drummond, appeared brand new from Nine Elms Works in 1898. The locomotive itself was a single-driver with driving wheels 5ft 7in in diameter; it had a leading bogie with 2ft 6in wheels, and a trailing bogie of longer wheelbase which supported the cab and the short saloon adjoining it. The whole thus made a 4-2-4T wheel arrangement; it measured 35ft 7in over butters and weighed 37 tons in running trim. Chimney and dome, the latter with safety-valves above, were typically Drummond; the boiler had a heating surface of 550sq ft. and the little firebox a grate area of 11.3sq ft; working pressure was 175 lb per sq in. This boiler was nicely proportioned to supply two outside cylinders 11.1/2in diameter by 18in stroke. About 1,000 gallons of water could be stored in the side-tanks, and the coalbunker, inside the cab, held a ton. "The Bug" was built for speed, and could certainly show its paces on the slightest provocation. Mr. Drummond, in his capacity as Locomotive, Carriage and Wagon Superintendent (as the Chief Mechanical Engineer was then known), used his saloon for visiting all the out-station locomotive depots, and in his journeys he covered every stretch of line on the old South Western system. It enabled him for instance, to travel from London to Eastleigh Works and back within a few hours, or to visit Exeter in a day with a comfortable margin of time to do business at that end of the line. The saloon was cleaned daily at Nine Elms, and an experienced cleaner was allocated to this work. Our usual orders were to arrive at Surbiton station at 9.0am sharp. Mr. Drummond would come from his residence nearby, settle down in the saloon, and off we would go, sometimes for a short trip to Portsmouth and sometimes to the far West. We were always well prepared with food, in case we should have to 'lodge' for a night. I remember one occasion when we had been down the North Cornwall line. We were on our way back to London and were held up by a goods train at Ashbury, near Okehampton. It was seven o'clock in the evening, and as it was so late Mr. Drummond decided that he would stay the night at Exeter. A message was to be sent forward to book him a room at an hotel. This was before the days of telephones, and Ashbury station had a single-needle telegraph instrument, which the only porter on duty was quite incapable of manipulating. Enquiries for the stationmaster or the booking clerk revealed that they had gone that evening to a Farmer's Hunt Supper. The "Old Man" started to read the Riot Act whereupon I suggested that, having had experience of telegraph instruments when a lad in the Traffic Department, I might be able to save the situation.

His comment to me was, 'You're not such a fool as you look'! Anyway, he got his room at the hotel that night, and James and I lodged in the enginemen's dormitory.

Talking of goods trains, there was a hatchway between the saloon and the engine footplate through which orders were transmitted to the driver. If our pace was too leisurely that was below 60mph - Drummond would shout out. 'What's the matter James? D'ye think this is a goods train'?

One day, an official of the old 'Highland Railway' was staying with him. We took them both to Eastleigh Works and afterwards to the South Western Hotel at Southampton for lunch. To give us a clear run back, it was arranged that our return journey should be made ahead of a Bournemouth express, which was due away from Southampton Central station (then called Southampton West) about 2.40pm. We therefore left at 2.30pm. Before starting, Drummond came on the footplate, looked at my fire with the remark. "That's verra good", and told James darkly that the Highland gentleman was to be given the run of his life. We went like a whirlwind. After racing up to Basingstoke, we ran the 23 miles from Basingstoke to Woking in 16 minutes by stop-watch, an average of 85mph! As both engine and saloon together had but five axles on a short wheelbase, the saloon seemed to skip across the points and crossings like a horse jumping a gate! Anyway, the sensation of passing over the junction at the west end of Weybridge station was the last straw for the Highland man. Coming to the hatchway, he implored James to moderate the speed. As we were then approaching Surbiton, his wish was gratified, but Mr. Drummond enjoyed the joke hugely.

In my time the saloon was fitted with two brake blocks only, on the driving wheels. This meant that the brake power was none too good, and in a tight corner it was necessary to put the engine into reverse. Once when running down into Ilfracombe we nearly came to grief. James had stopped at Mortehoe to examine his sand gear, to make sure we should be able to keep the saloon safely under control down the 1 in 36 gradient into Ilfracombe: but after we started away a shower came on, and we just could not avoid giving the buffer-stops a hearty smack!

"Drum", who had risen from his seat to alight, was bumped down again by the impact, and we expected a storm. However, when he saw that no damage had been done, and remembered that James had stopped as a precaution at Mortehoe he said little. But on the next trip to Ilfracombe he ordered a vacuum-braked coach to be attached in rear on the journey, for additional brake-power, although on the climb to Mortehoe this nearly stalled the little single-wheeler, which was not used to being harnessed to other vehicles!

Drummond had the reputation of being something of a tyrant, and slackness he could not stand. However, he was always very kind to me, possibly because I was 'the boy', and when he observed my overalls in a filthy state – "from raking out the ash-pan", I told him, he gave me a golden sovereign with instructions to buy two new pairs at once. A similar sum came my way when he heard that I had become the father of twins, with instructions to "put it in the bank".

The fireman's duties on 'The Bug' were very exacting. Everything had to be just right. No coal dust was tolerated, and every piece of coal was hand-picked, broken into convenient lumps and carefully stacked in the rather inadequate bunker space. This part of the preparation work would often take me two hours, and I used to be on duty early for the purpose. On the road I also acted as 'steward'. Those were the days of luncheon baskets, which one could order in advance, to be available at certain principal stations. 'Drum always had two baskets: one had to contain a bottle of lemonade and the other a bottle of 'Bass'.

There was also a carafe of water in the saloon and in the Exeter area this had to be filled from a particular tap that supplied spring water. One day he saw me returning from the tap and as I held up the glass to the light the water was pure and clear I ventured to remark that it would be "nice with a drop of something in it", knowing his liking for 'Scotch'. He said, "You don't want any of that, do ye"? To which I replied. "No. I'm teetotal Sir." He could be affable with those he knew would not disrespect his position, but woe betide any man who tried to argue with him!

Occasionally 'The Bug' was used by various traffic officers, I remember we were taking a few of them to Salisbury when two springs broke with a loud report underneath the saloon while we were approaching Andover at high speed. These springs had broken before, so we carried on knowing that we should come to no harm. What the occupants thought we never discovered, probably it was put down to loose ballast or something similar. But I think they preferred to travel by ordinary train after that!

Mr. Drummond died in 1912 and that was the end of the saloon's meteoric career, although it survived to become a Docks Inspection Car at Southampton, and only in the 1940s was it broken up at Eastleigh Works.

William Eaton – Nine Elms
---
Return to Memories index