RESTORATION OF 35005 'CANADIAN PACIFIC'
We have received the folowing information from Dr. Becky Peacock at the Mid Hants Railway.
---
CANADIAN PACIFIC PROJECT
Canadian Pacific is the oldest and fastest surviving 'Merchant Navy' class locomotive. Currently, under overhaul at Eastleigh Works she will be the pride of the Watercress Line when she returns to steam in 2018.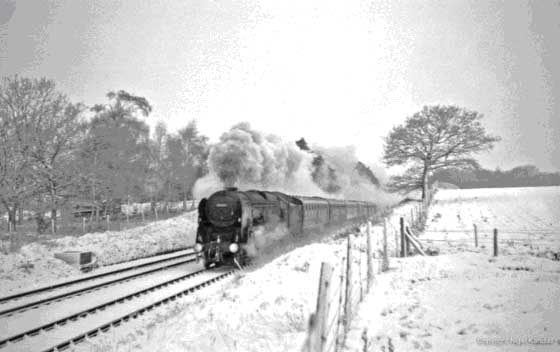 Copyright Nigel Kendall
The Project:
The Heritage Lottery Funded Canadian Pacific Project centres on 'Merchant Navy' class locomotive, Canadian Pacific. Bought by the Mid Hants Railway in 2006 for £300,000, it will become the Line's flagship locomotive once its restoration back to working order is complete.
The project will see the restoration of Canadian Pacific (35005) in Eastleigh works and two Bulleid designed carriages in Ropley. In conjunction with and alongside the restoration work there is a large outreach programme. This covers a variety of activities and measures that aim to reach out and involve more people with our railway's preservation work and collect people's knowledge and memories of the steam era. This will help to create and develop a new generation to be involved in heritage railways.
In 2015 the project was awarded £895,000 from the Heritage Lottery Fund to aid in the total project cost of £1.5m. Some of the funding gap is being made up by volunteer input, but we still require further donations to complete the project. To find out how to donate and other ways you can support the project, please go to:
www.watercressline.co.uk/canpac
The Locomotive:
Canadian Pacific is a 'Merchant Navy' class locomotive designed by O.V.S Bulleid. It was built in 1941 at Eastleigh Works and entered traffic in January 1942. It was the fifth of the first 10 Merchant Navy class locomotives to be built at the works.
With its 4-6-2 configuration and 6ft 2in driving wheels, the class were most suitable for hauling express passenger trains, but were officially designated as mixed traffic. Although fantastic performers, the class had numerous reliability issues. As a result, there was a major rebuilding scheme to R.G. Jarvis' conventional design. Canadian Pacific was rebuilt in Eastleigh Works in 1959.
In 1965 Canadian Pacific was withdrawn from Weymouth and sold to Woodham Brothers Scrapyard, Barry in 1966. In 1973 it was brought by Steamtown Carnforth. It was then sold to Andrew Naish in 1990 and restored back to working condition. In 2001 it was acquired by Steam Dreams and formed the backbone of the Cathedrals. On the 19th October 2002 during a Cathedrals Express from London to Canterbury it blew a small tube near the firebox crown, filling the cab with steam at Paddock Wood Station. This resulted in Canadian Pacific being withdrawn for 2 ½ years to be fixed. The incident resulted in her confinement to preserved railway operation, based at the Mid Hants Railway.
Record Holder:
On the 15th May 1965, Dave Wilson (Fireman) was rostered to work the 21-20 ex-Waterloo with Gordon Hooper (Driver). During this run Canadian Pacific reached 105mph on the run from Waterloo to Basingstoke was done in 43 minutes 48 seconds. Canadian Pacific nearly matched the class speed record of 105.88mph, set by the since scrapped Royal Mail (35003). The notable aspect was not the speed but the 41-minute net time for the run.
Carriages: Part of the project is to restore two rare Bulleid designed carriages – semi-Brake Third carriage S4367 and Open Third carriage S1456.
Outreach:
There is a large outreach programme as part of the Canadian Pacific Project which aims to:
Increase people's knowledge on the locomotive, engineering works and the railway
Increase visitors to the railway
Provide activities encouraging more women to choose a career in Science Technology Engineering or Mathematics (STEM)
Teach a younger generation the skills to restore a steam locomotive and its carriages
Provide the opportunity for 6 new apprentices
Provide work placements for college students and people from the Job Centre
We have a number of new mini projects:
Women's Work Project – The role of women on the railway
Oral History Project – Collecting people's memories of Canadian Pacific (35005), Eastleigh Works, trainspotting, the railway during WWII, the railway during 1940's-1960's, women's roles on the railway, going on holiday by rail, immigration and commuting.
'A Different Eye' Film Project – Filming of the restoration of the locomotive and events by local students
Along with a variety of new volunteer roles:
Tour Guides – Based at Ropley and Eastleigh Works
Costumed Interpreters – Bring to life the stories of the railway
Oral History Collectors – Help record oral histories
Researchers – Research the social history of railways and women's roles on the railway
Administrative Roles
Restoration Team – Take part in restoring Canadian Pacific at Ropley or Eastleigh Works
The team will be working with schools and communities within the local area and London on a variety of topics. There will also be talks provided for interested groups and a number of events attended by the team. We will also be providing workshops for schools, teacher Continuing Professional Development (CPD) workshops and STEM/ Women into Science and Engineering (WISE)/ CREST events.
Donations:
We need your help!
In 2015 we received £895,000 from the Heritage Lottery Fund towards the overall restoration cost of £1.5m. However, we still need to raise almost £200,000 to finish the restoration of Canadian Pacific. If you would like to donate money to the Canadian Pacific Project, please pick up a donation form or go to: www.watercressline.co.uk/canpac
Thank you.
If you would like to be kept updated about the project:
Each month we send out an email newsletter documenting the restoration process, news and events. Please email: outreach.mhr@hotmail.com putting newsletter in the subject.
If you would like to volunteer:
To be part of the restoration team please email your details to canpac@watercressline.co.uk All other volunteer roles please email outreach.mhr@hotmail.com
If you wish to take part in our Oral History Project by sharing your memories, please contact: outreach.mhr@hotmail.com
We are looking for any photographs or film footage of Canadian Pacific. If you are happy for us to use your material as part of the project, please contact: outreach.mhr@hotmail.com
Website: www.watercressline.co.uk/canpac
Some of the events this year:
27th May - Open Day at Eastleigh Works 2pm – Booking in advance
22nd July - Open Day at Eastleigh Works 2pm – Booking in advance
19th August - Open Day at Eastleigh Works 2pm – Booking in advance
17th-18th September - Open Weekend at Watercress Line
21st-23rd October - Autumn Steam Gala at Watercress Line
18th November – Canadian Pacific 75th Tour at Eastleigh Works 2pm – Booking in advance
---
Return to Locomotives index