---
NINE ELMS ENGINEMEN TRIBUTE - Locomotive headboard dedication
---
ENGINEMEN S.R.

Welcome to the 'Enginemen' section of our Nine Elms web site. Before you continue viewing some of the many faces of Enginemen who worked at the depot let me explain the background to the various characters that you are about to meet. These are but just some of hundreds and hundreds of the footplate crews that were historically associated with working on steam locomotive hauled trains from both Waterloo and Nine Elms Goods Yard to numerous destinations in the South West of England between 1838 and 1967. The wonderful arch to be seen at Waterloo station bearing the stain glass Coat of Arms of the 'London & South Western Railway' is surrounded by the names of the counties that the company served. Those lines in many of these counties were part of the extensive route miles over which Nine Elms Enginemen had an intimate working knowledge over many years. Unusually 'Engineman' was a term almost specifically used by the Southern Railway that was formed in 1923 when the 'big' four railway companies were created following the nationalisation of numerous private railway companies after the First World War.

A specific brass cap badge was produced during this period somewhat similar in many ways to the rather handsome copper badge of the old 'London Brighton & South Coast Railway'.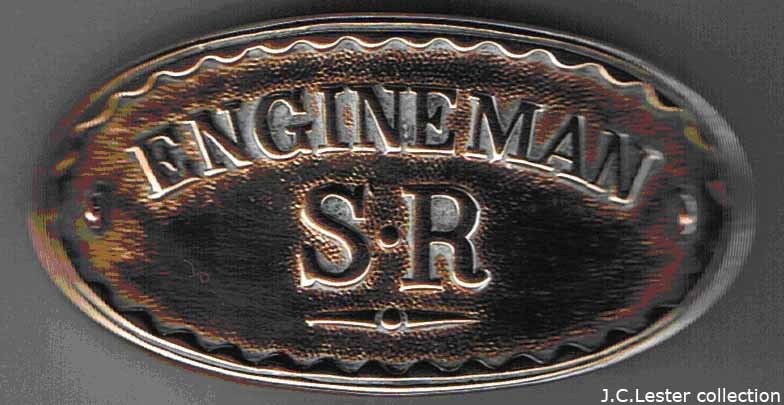 Many of the older more senior Drivers at the depot still wore these badges, no doubt issued to them in early Southern Railway days, as such these badges became quite a coveted possession for many and as the years went by they became extremely difficult to obtain. I became the proud owner of one at the tender age of seventeen and wore it with immense pride. Sadly I lost it one day whilst working on Class M7, No. 30245, when running past Nine Elms depot with empty coaching stock to Clapham Yard. It was actually consumed by the locomotive's fire when drawn into the firebox when accidentally knocked off my head in the cab, in the aftermath of this incident I remember how I felt at the time, devastated! The use of the term 'Engineman' within our fraternity, certainly when speaking of senior men, was a genuine token of the high esteem in which they were held by their subordinate colleagues. There were indeed some fine men, 'masters of their craft' and as a Fireman in the late fifties and early sixties it was an education and a privilege, to work with such men. It was equally interesting to observe during these times that there was a continued rivalry dating back decades between many of them. I can certainly remember the banter between Alf Hurley and George Holloway when firing in the 'Top Link'.
The photograph above is of my 'second' 'Engineman S.R.' cap badge that was kindly given to me by an old friend, it restored my pride once more and I am eternally grateful to have to this day.
---
21st May 2018: Mike Lee has emailed:
I have recently acquired a chrome plated SR Engineman badge, it looks identical to the original brass SR Engineman badge I have and was wondering if anyone could tell me who was issued with this type of badge?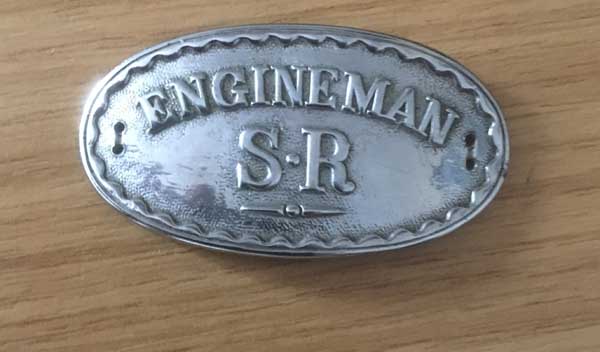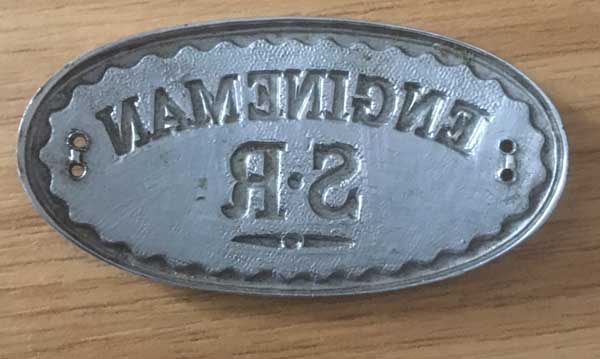 Jamie Lester replied:
The chrome S.R. Engineman badge was more than likely to be the work of NineElms Engineman Richard (Dick) George Thomas. Always smartly turned out, he epitomised an era of loco-men that maintained an immense pride in their work, craft and appearance right to the end of their long footplate careers.
With the assistance of Bill Smith, an old friend of his, they produced these chrome versions of the badge that then had a green background added. They were very professionally produced and were limited in terms of the people that Dick considered worthy to own one. Years later Bill Smith actually gave me the last of brass versions that he had made for Dick, normally they would then have been sent away to be chromed and coloured.
The photograph below is of Dick Thomas and his fireman, Bill Ellery, who is wearing one of the badges.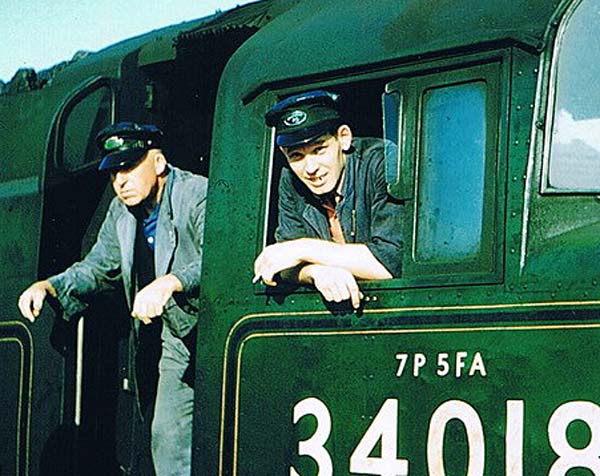 Bill Smith photo from Jamie Lester collection.
James (Jim) Lester - 70A Engineman
---
Go to 'Enginemen'
---