Nine Elms visit 2nd August 1964
Mike Coulson visited Nine Elms on 2nd August 1964 and observed:
4672
30053 30111
30545
31616 31624 31793
31912
33001 33030 33040
34006 34007 34024 34027 34031 34060 34064 34077 34081 34087 34090 34094
35002 35015 35017 35018 35019 35024 35028 35029 35030
41225 41227 41228
73074 73081 73082 73110 73114 73117
75079
76082
82010 82011 82013 82014 82015 82016 82017 82018 82019 82024 82025
Also noted: 35014 10.30 ex Waterloo; 35020 10.45 Waterloo-Basingstoke 73113 11.30 ex-Waterloo 35001 Down Belle, 34082 34093 34071 34003 73169 on down unidentified passenger trains ex-Waterloo 82012 on ECS.
Here are a few photos taken by Mike Coulson during his visit: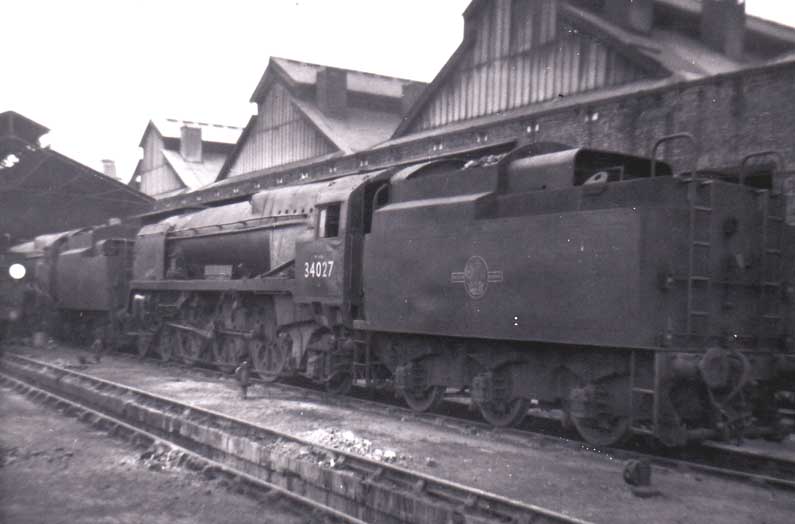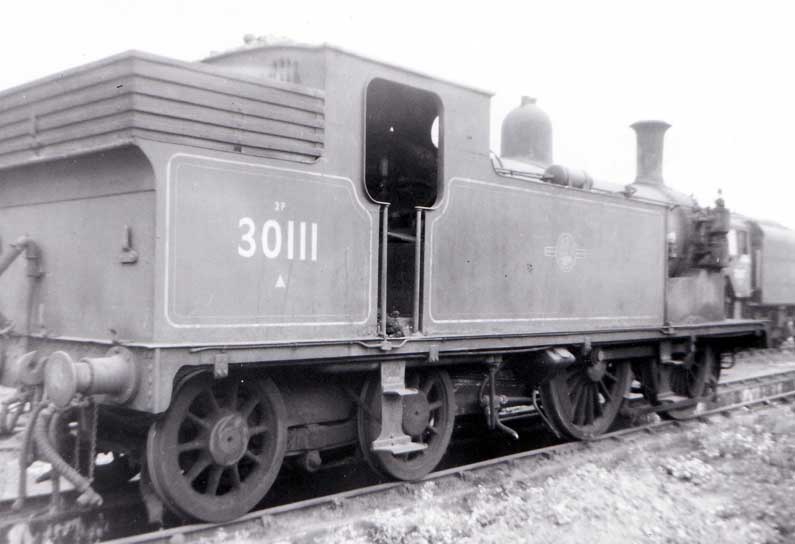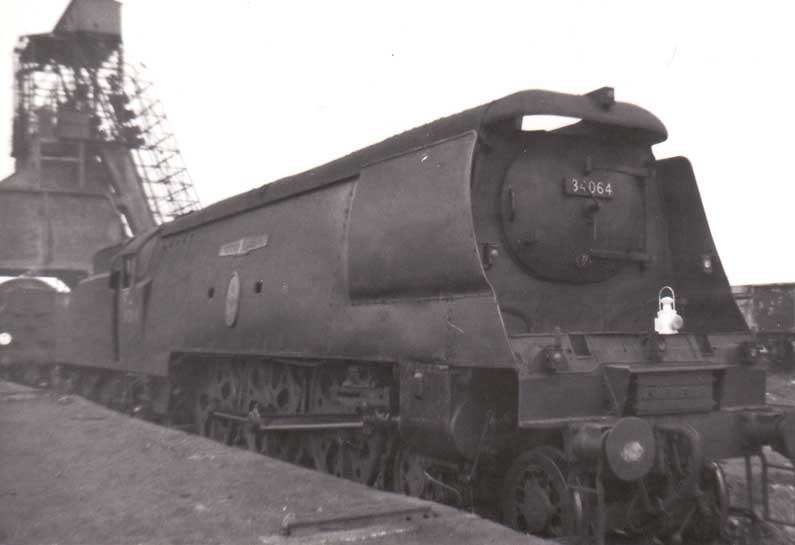 He had travelled up from Southampton earlier in the day behind 34064 diverted via Guildford.
Mike also sent this photo taken at Waterloo of 35022 on the 10.30 on Saturday 31st July 1965. It was taken either by Mike or one of the lads he travelled with - so long ago. He asks - any idea who the crew are?
Dave Bryce has written: they could be Fireman Vic Spillett with the Disc Board and Top Link Driver George Holloway approaching the engine from the right.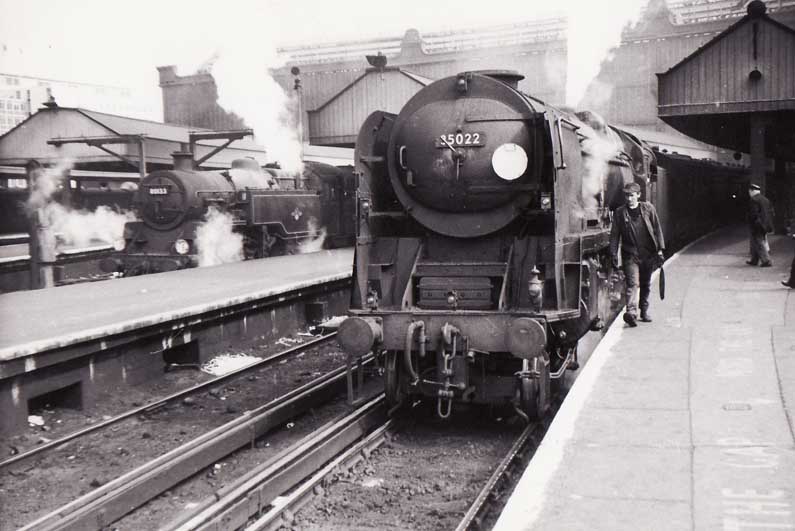 Mike commented:
"My main interest was timing and recording speeds - and I also took a few snaps with a Brownie 127. Looking back, I'm amazed at the interest most of the Nine Elms crews took in me and their kind words. I particularly remember Frank Matthews, Reuben Hendicott, Mr Hawkins and Harry Pope - great guys."
---
Geoff Kerr wrote:
I happened to look through the list of locos seen at Nine Elms shed on 2nd August 1964 by Mike Coulson. One of those listed is BR class 4 2-6-0 76082, which I thought wasn't a SR loco. A trawl through my list showed it as allocated to 24D Lower Darwen (Blackburn), moving to Sutton Oak (St. Helens) in March 1965.

I thought it must be a misprint but then tried googling 76082 and several photos of it came up around this time, at Basingstoke shed (one in the company of 4472 Flying Scotsman), and working local trains at Worting Jn and Vauxhall. So clearly the SR was using it and Mike's entry was correct. But how did it get there from Lancashire and didn't Lower Darwen want it back? The SR had around 40 of the class on its books at the time. Maybe it had gone for overhaul at Eastleigh.

Richard Greenwood replied:
About this time an Eastleigh (71A) 76, number 76065 (I think) came up to Lancashire for overhaul at Horwich presumably to compare the repair costs and time taken of Horwich and Eastleigh works I suspect. And a member of the class usually overhauled at Horwich went to Eastleigh for overhaul there. This must have been 76082.

I think the people at Horwich knew the writing was on the wall because they seemed to give 76065 a super overhaul which probably pushed their comparative cost up. 76065 stayed in the Lancashire area working for a few weeks and did not go south immediately. Horwich did the LMR and ER and NER 76oxx.

Geoff Kerr wrote again:
I've been in to the NRM library today (27/8/15). It's somewhere I try to avoid during school holidays but there was no queue to get in.

The RCTS volume on the Standard 4-6-0 and 2-6-0 Classes states that "from February 1964, the LMR allocation (of class 4 2-6-0s) was overhauled at other regions' works; known examples are - Eastleigh - 76022/39/44/77/79/82/88/89."

Several are listed under Swindon, Crewe, Darlington and Cowlairs but none under Horwich.

The engine record cards are held at York and I had a quick look at these, although getting short of time.

76082 was at Horwich 15.5.61 to 16.6.61 for HI repair (Heavy Intermediate) and at Eastleigh 19.5.64 to 24.6.64 for "light casual". This was before Mike's Nine Elms visit and the dates of the photos I found on-line, so it evidently stayed on the Southern for a while. I wonder if the other "foreign" locos listed as going to Eastleigh went straight back to their home region.

76065, a 71A-based loco, visited Horwich between 12.3.63 and 16.4.63 for a "General". So you had the right loco, Richard, although the dates don't seem to match up very well.

Does all this suggest a straight comparison between repair costs or was something else going on?

Richard Greenwood emailed in response:
The last loco was outshopped from Horwich on 6 May 1964, -- 48756. I think they only did 8Fs for a period before that.

I photographed 76063 at Rochdale on 22 April 1963 having worked a stopping train from Liverpool Exchange.
---
Return to Locomotives index