CROSS LONDON FREIGHT WORKINGS
I know this topic is more than likely to produce non-Nine Elms responses, but I hope it will be of interest nevertheless - Shedmaster
---
16th March 2015: Roy Gould asked:
A question has been posed on RMweb (Railway modellers Forum). What locos would have worked cross-London freights to Feltham in the 1960s? There's been a bit of a discussion as to what Midland/Eastern/Western locos would have worked there, what sort of traffic, and where would the Southern men have worked to cross-London?

Jim Lester replied:
After starting as Engine Cleaner at Nine Elms in 1957 I became a Passed Cleaner, having passed my examination at Guildford, in 1958. In fact I never did clean another locomotive and was constantly up-graded to Fireman every day thereafter. Due to the promotion 'policy' adopted at the depot I decided to seek a Fireman's position at Feltham and was duly appointed there in March 1960, I later returned to Nine Elms in February 1962. On arrival some of the earliest work that I performed was to Willesden (South West Sidings). This employed the two remaining 'G16' 4-8-0T tank engines on this route, and that of Neasden, it became their regular work after their earlier removal from their 'hump' duties. The 'H16' 4-6-2T would also be used on such turns, these two classes were extremely strong locomotives, true Urie locomotives! Work performed to Brent (Cricklewood) varied in terms of locomotives, certainly 'Q1' 0-6-0 were the engines that could handle virtually any train, whilst the occasional 'S15' 4-6-0 would be used. The Hither Green and Stratford Temple Mills exchange freights were the domain of the 'Q1' locos, however sometimes an old (Dubs & Co 1897) '700' would be pressed into service. Oddly enough we had several 'C' class 0-6-0 at the depot at this time but I don't recall their use on this work, neither that of our two 'C2X' class engines. In respect to the other regions, certainly LMR '8F' 2-8-0 and LNER 'J69' 0-6-0T were often seen in the yard and would come on shed to turn. WR engine sightings I don't remember however a 'WD' 2-8-0 was not uncommon!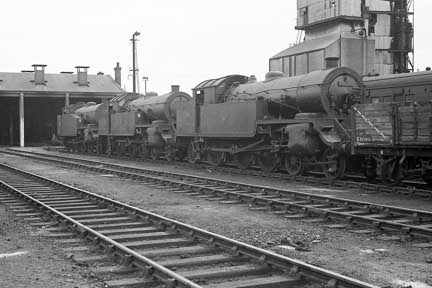 Photo copyright Richard Greenwood
James (Jim) Lester -70A
Nigel Whitwell said:
In answer to Roy Gould's question, and to add to Jim Lester's response, it will all depend on what part of the 1960s we are talking about. From around 1962-4 'W' 2-6-4Ts were around there on transfer freights of course too and as several were shedded at Norwood before it closed at the end of 1963, I expect they were fairly frequent visitors. I don't know if Hornsey's 'J50' 0-6-0Ts reached Feltham but they were regulars through to Hither Green until the very early 1960s, as were Willesden's '8F' 2-8-0s occasionally even until around 1963, the latter also went to Norwood too of course. I'm not sure what other Regions' locos reached Feltham in the 1960s but 'J17', 'J19' and 'J20' 0-6-0s certainly worked cross London freights until about 1960. The last freight I saw leaving Feltham was behind a Standard '4' 2-6-0 tender first but I don't know where it was headed.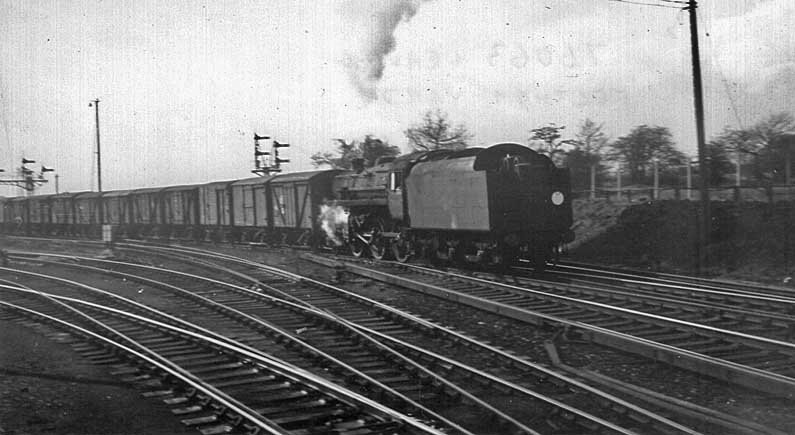 Photo copyright Nigel Whitwell
Derek Gribble has emailed from California:
The subject of cross London freights was discussed here recently and brought to mind something I have wondered about for a while. I'm sure you are aware of Paul Edwards' excellent website "The Sussex Motive Power Depots":
http://thesussexmotivepowerdepots.yolasite.com/
From that website, not long ago, I was reading Ron Terrill's fascinating reminiscences about Newhaven MPD.
http://thesussexmotivepowerdepots.yolasite.com/ron-terrills-stories-from-the-shovel.php
In his wonderful article, he has a section dealing with his times out on loan and writes:
"In the early 55, I went on loan to Nine Elms on a pilot job and saw a cleaner called Joe Brown who became a pop singer (with his bruvvers). The job was the Lambeth Pilot taking coal into Battersea Power Station!"
I'm not one to doubt Mr. Terrill but when I googled Joe Brown, it showed only that he worked on the railway at Plaistow in East London. "He worked for British Railways at their Plaistow Locomotive works for two years in the late 1950s, becoming a steam locomotive fireman"...
So, my question is, did Joe Brown actually work at Nine Elms? Or was he, perhaps, a Plaistow man who had worked over to South London on a cross London freight? Did such workings occur and, if yes, which engine(s) would that have involved?
Thanks again for your great website which has at least 2 dedicated fans here in Southern California, right Alan? :-)
Nigel Whitwell has added:
I can't see how Joe Brown could have reached SR territory as he was, I believe, only ever a Passed Cleaner at Plaistow (he has made some lovely comments of his experiences on verbal record that the NRM should still have in their archives). Therefore, I can't see how he would ever have reached SR. Most of the coal that supplied Battersea Power Station, in my recollections, arrived by sea and river (flat irons), and South Lambeth was, I think, a WR domain (I only ever saw Panniers there in the 1950s).
I accept that Joe Brown may have reached SR territory via the East London Line and it would be nice to have his reminiscences first hand.
BTW I last saw Joe Brown and his Bruvvers (or 'Bruvers' as it appeared on the label of at least one of his singles) live in 1964, but he does, occasionally, still perform live throughout the UK.
Ralph Hornsby has emailed from Thailand:
With regards to the discussion on Cross London Freights, particularly with the mention of Joe Brown, he was a Fireman in BR days at Plaistow Shed in East London. Based at that shed, it was highly unlikely that he would have been involved in working on cross London freights.
There is a short video on YouTube, in which Joe describes where he worked and talks about a couple of characters who were footplatemen, there is also a short sequence of cooking on the footplate using a shovel as well. The video is entitled Joe Brown Railway Fireman and is at www.youtube.com/watch?v=JP9UABXzM0o
---
Return to Locomotives index