34052 - 'Lord Dowding'
If you have any photos, stories, or further information about the locomotive 'Lord Dowding' 21C152 / 34052, please email them to the Nine Elms website Shedmaster at shedmaster@nineelms.svsfilm.com
---
David Whiting, from Fréjus France, has sent these notes and photos:

I was still at school when my mother and I took the early morning steam train from Tunbridge Wells Central to Charing Cross. On arrival my future stepfather, who used to help me with my Hornby electric train layout on his visits to our home, was waiting for us. We went by underground train to Waterloo Station - an exciting first experience. On arrival we made our way to platform 11 where the first 3 Battle of Britain class locomotives were to be named. My stepfather named the first two 21C151 and 21C152 and after the 3rd naming he was invited to go for a short ride on the footplate down the track. To my dismay, I was not invited as well.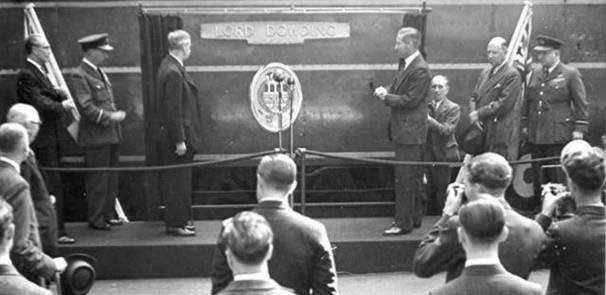 Lord Dowding officiates at Waterloo naming ceremony. Photo David Whiting collection.
I wonder if 21C152 / 34052 was a Nine Elms locomotive?
Shedmaster - yes it was certainly a 70A locomotive in 1950. The naming was on 11th September 1947 according to the Bulleid Society website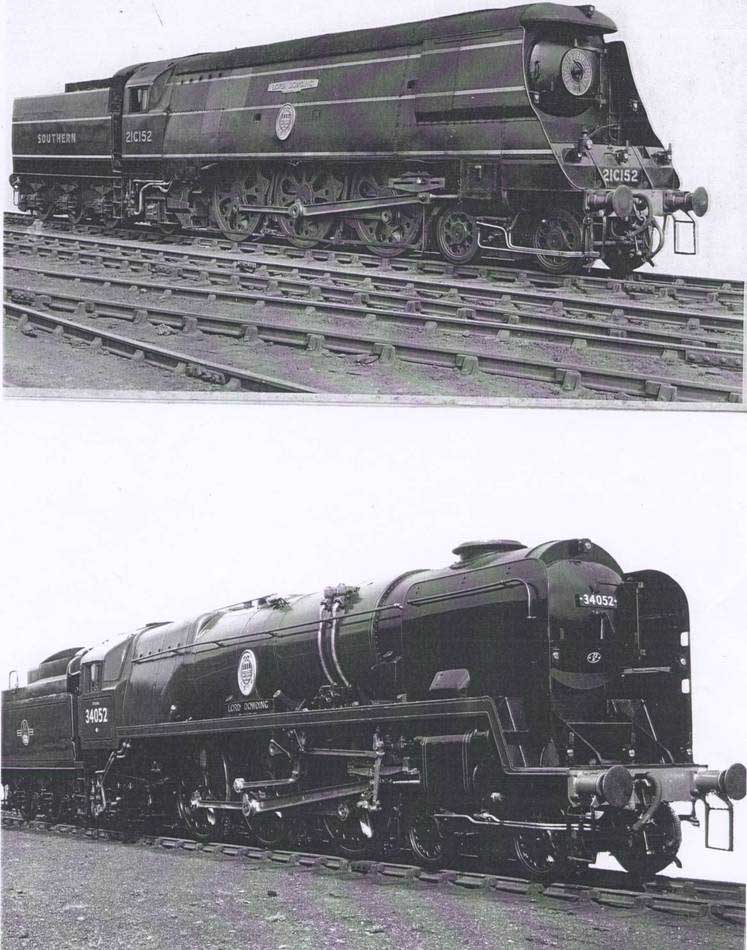 'Lord Dowding' in original and rebuilt condition. Photo David Whiting collection.


Modern '00' gauge model of 34052. Photo David Whiting collection.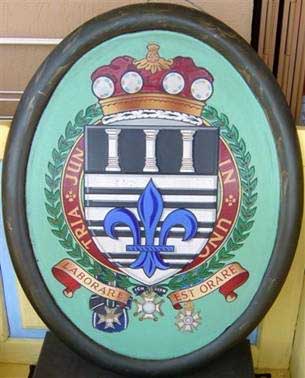 'Lord Dowding' locomotive coat of arms. Photo David Whiting collection.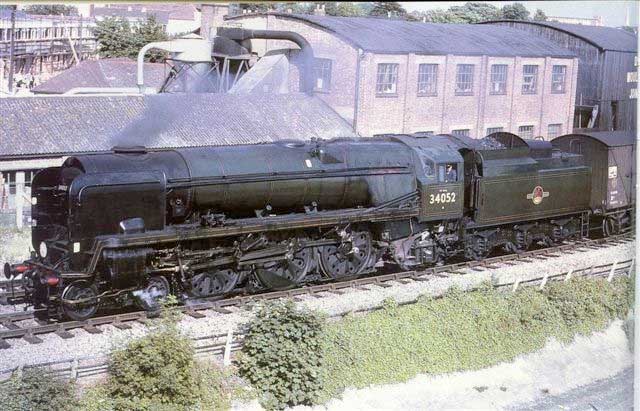 34052 just 5 days before its 9th July 1967 withdrawal at the end of Southern Region steam. Photo David Whiting collection.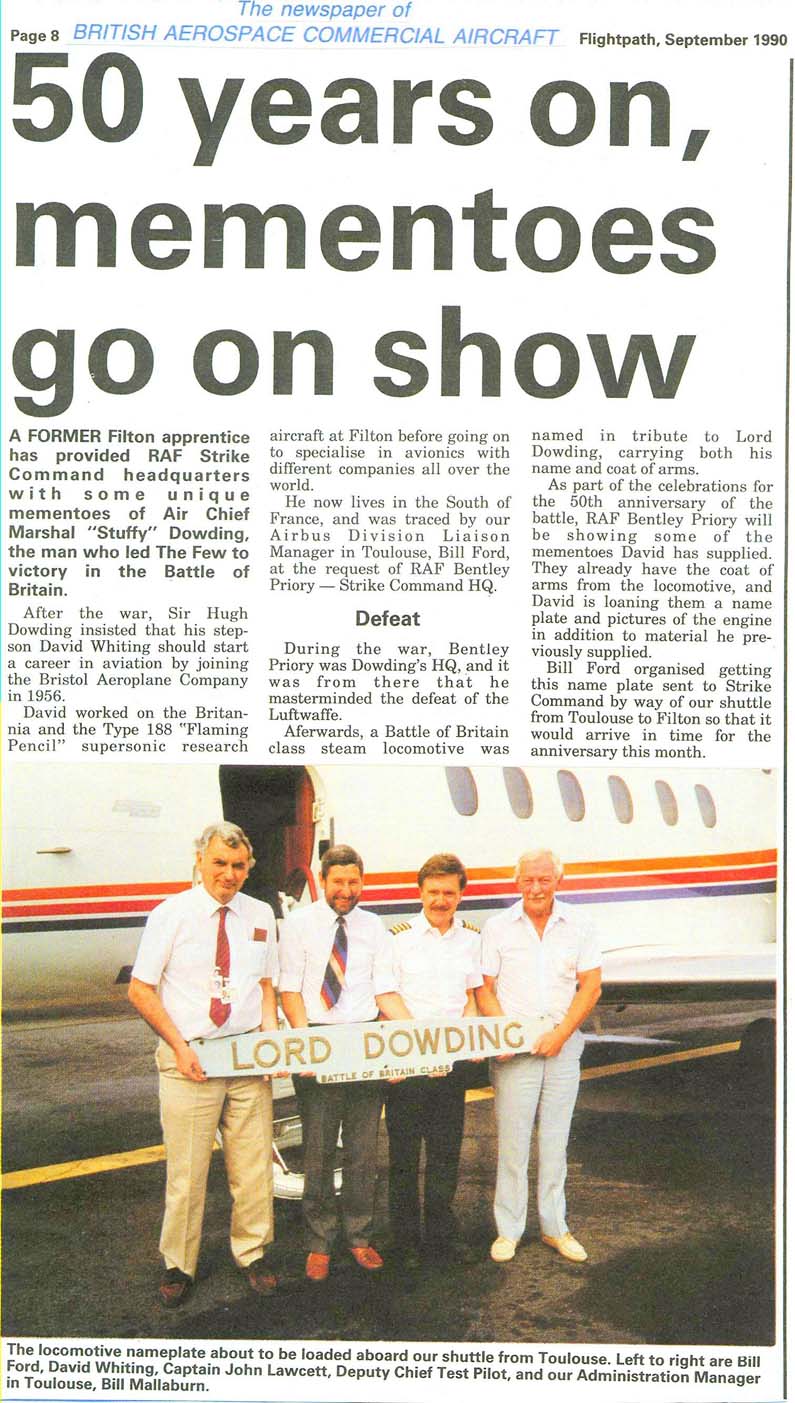 Article about the return of the nameplate. From 'Flightpath' the newspaper of British Aerospace Commercial Aircarft, September 1990 - David Whiting collection.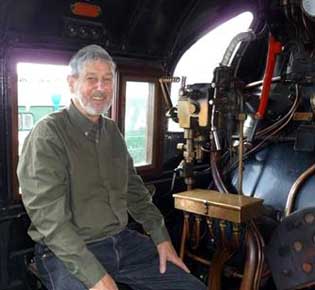 David Whiting
---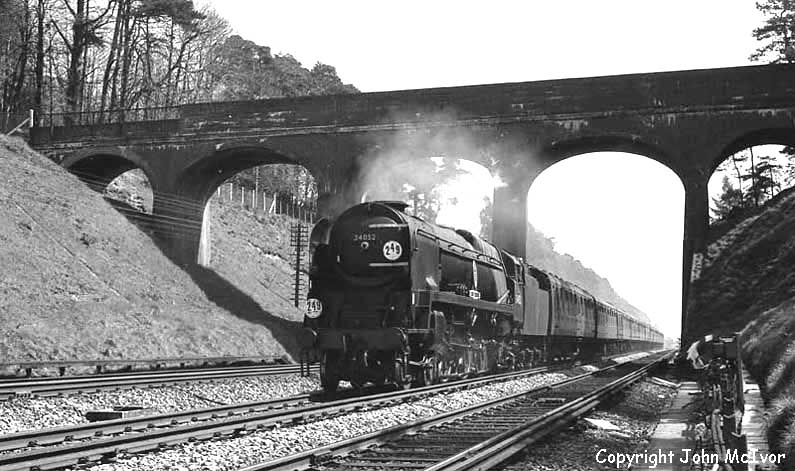 34052 heading 1130 Waterloo to Bournemouth through Deepcut at milepost 31, 30th April 1966. Photo © 1966/2010 John McIvor
---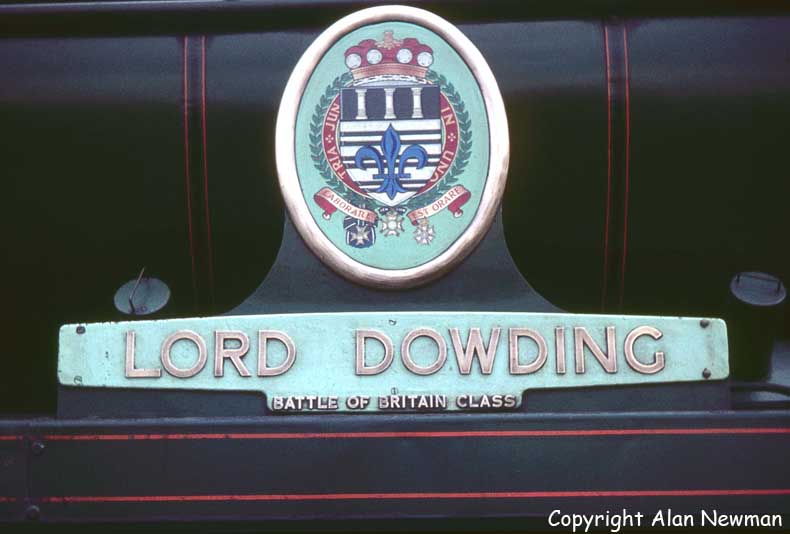 34052 nameplate at Nine Elms. Photo © 1966/2008 Alan Newman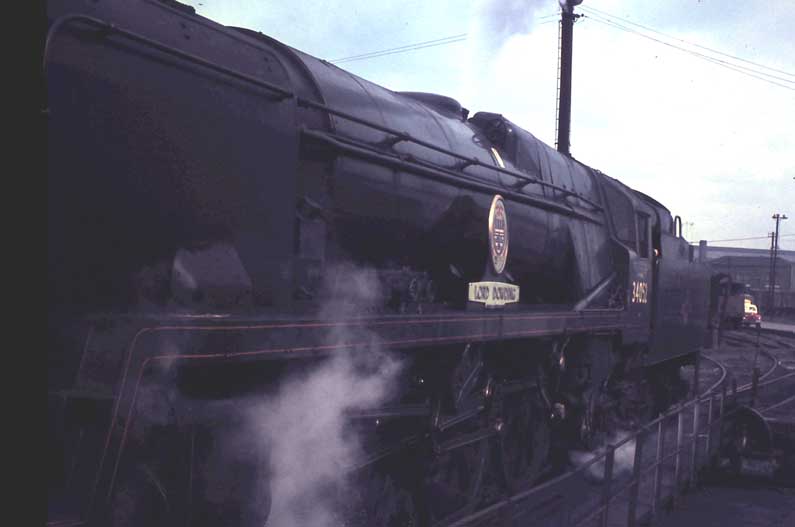 34052 at Nine Elms. Photo © 1966/2008 Alan Newman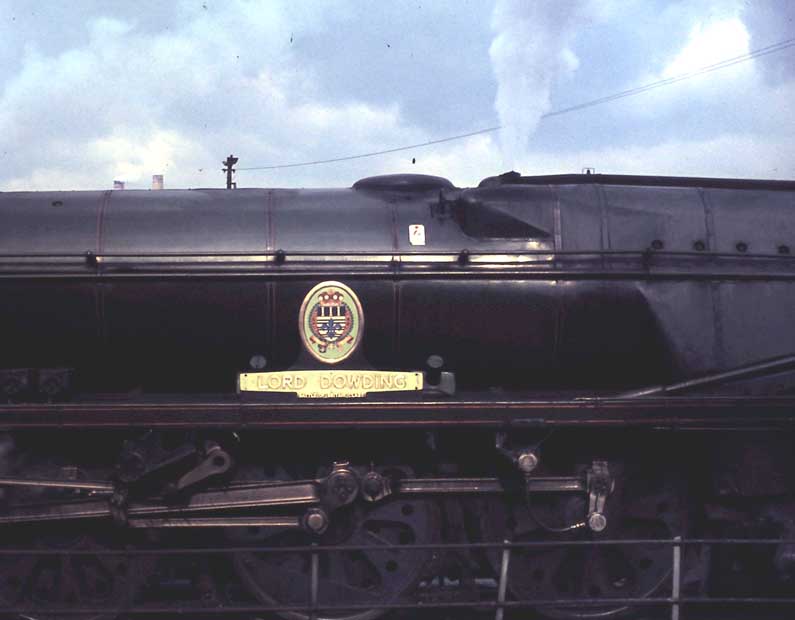 34052 at Nine Elms. Photo © 1966/2008 Alan Newman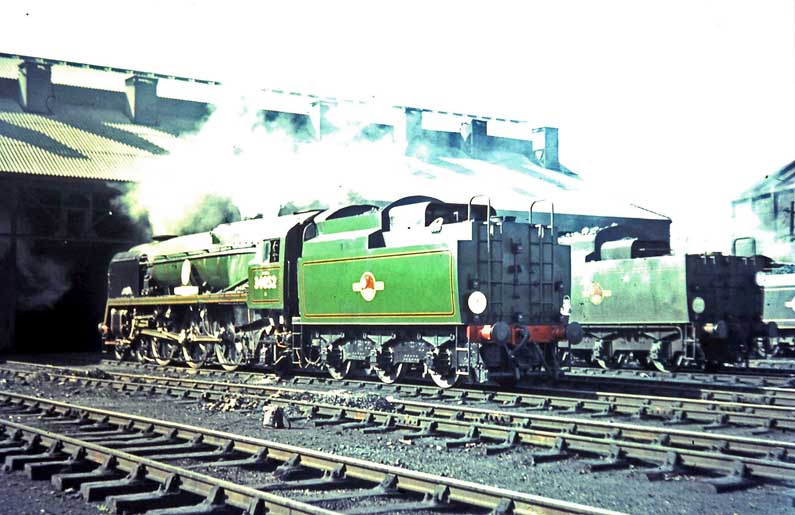 34052 at Nine Elms with 35030 in the background in July/August 1966. Photo © 1966/2014 Alan Newman
---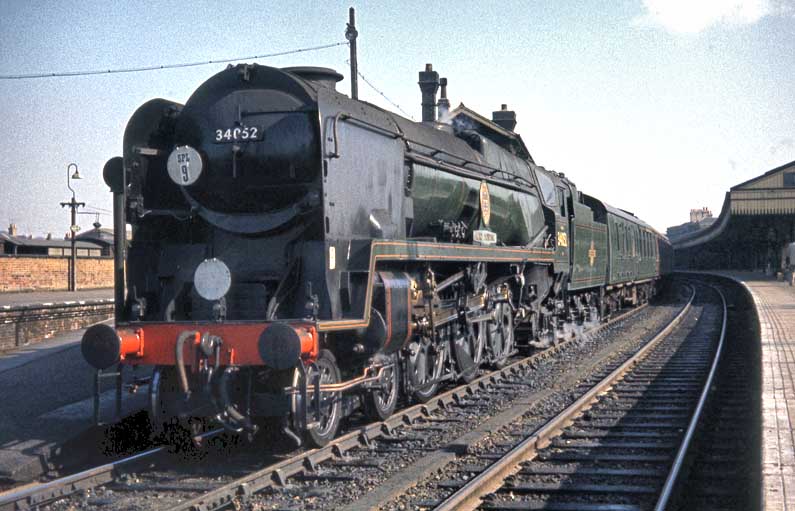 34052 at Salisbury, 8th March 1964. Photo © 1964/2010 Barry Austin

Barry Austin writes:
After forty-six years my memory is somewhat vague but my other slides from the day do help - 70020, Mercury, a Willesden engine at the time was working the South Western Rambler from Waterloo to Salisbury, where she was replaced by 92209. My usual stamping ground was the West Coast between Watford and Euston but a trip on the Southern with "strange" engines seemed an interesting idea, especially as I could not get a ticket to ride behind the Brit. I left Waterloo with 34030, Watersmeet, bound for Salisbury stopping at Basingstoke for water and probably a passenger or two. An hour or two at Salisbury saw the special arrive and depart, 34052 is also carrying a special code but I have no idea why, interestingly the loco is in reverse, suggesting its coupling onto the train as I don't remember the starting problem that Bullied's are famous for. Other engines seen include 35010 and 34099, while my return to Waterloo was behind 35003 obviously showing off as it was a most exhilarating run. 34072 sat at Waterloo waiting to depart as I arrived.
---
Jim Arkell has sent the following information:

34052 was one of only six rebuilt light pacifics to be given a general repair (and boiler change) subsequent to re-building, and the only BoB. The others being 34001/4/13/21/25. It was the last one to get a fresh boiler, and that boiler was number 1379. The last but one to be made and as far as I know had only been on one other engine. Boiler 1380 survives and is now on 34101, having previously been on 34044, but I don't have the information to hand at the moment regarding the exact history of 1379. These two boilers were made as spares to bring the spares float of WC/BB boilers up to ten. This being the minimum requirement to avoid delays in shops waiting for fresh boilers. There were five spare MN boilers.

The last time I saw it, 34052 was in Cashmores scrap yard in Newport on 20th August 1968. It had already been stripped of fittings, and was about 3rd or 4th in line for final cutting up. At that time the firm was doing about one engine per day. So it would have ceased to exist by the end of that month. There is a photograph of it in the yard in one of the steam for scrap series, taken on its day of demolition, but no exact date. I have heard recently that Cashmore kept a very detailed record of the locomotives that passed through their hands, and that this will be published. So further information on this morbid side of the engines history will probably emerge in due course.

If there had been a fund in 1967 to preserve a rebuilt lightweight, I should think 34052 would have been a prime candidate - along with 34021. These two seemed to me to have been in about the best condition at the end, but I suppose the real enginemen would be able to confirm that or otherwise. To the casual observer both of them seemed reasonably well maintained, and the paintwork was good.
---
Light to Loco (return to Nine Elms Index)