EMAILS RECEIVED IN THE SHEDMASTER'S OFFICE For the sake of individual privacy, I do not publish the email addresses of correspondents to the Shedmaster. HOWEVER, I am more than happy to forward messages when requested, so people can get in touch with each other if they wish.
Nine Elms 'Shedmaster'
Contact the Shedmaster Nine Elms if you want to get in touch with any of the writers you see below.


---
---
27th August 2018: Mike Burden from Dorset asks:
I have waited for a long time for "Trainsimulator" to produce the greatest London station. At last we now have Waterloo. The closest station to me is Gillingham Dorset, and it was from there I always got the train to London arriving at Waterloo from the age of 10 in 1950. I was always fascinated with Nine Elms and how Waterloo was serviced with engines and rolling stock.
I would like to create a scenario where Nine Elms is active and full of Bulleids. I spent 6 years going to Bodmin to restore 34007 Wadebridge, which is out of ticket presently and I am worried about for how long that might be.
Why I am contacting you is I have been searching for maps that show Nine Elms at around the end of steam so that I could recreate an accurate track layout. I have found several maps of the area dated around 1960, but none show clearly the access lines into and out of Nine Elms. Unfortunately my recreation will have to include the ex-Eurostar platforms, mainly because I do not know how to delete them and what to replace them with. But I hope I can recreate Nine Elms.
If you could point me in the right direction regarding the maps I would be grateful.
---
16th August 2018: Simon Pascoe from Dunedin, New Zealand asks:
I'm in the process of investigating my partner's family tree and I've come across the 1855 Wedding certificate of William Samuel Parker, who is described as a Railway Engine Maker. His father James Parker is described as a Locomotive Superintendent. William lived at 1 South Lambeth Road at the time of his marriage. I think he went to Egypt in 1861 as an Engine Builder.
Do you know if there is any way that I can find out if he worked at Nine Elms? I'd be very interested in any possible suggestions for information?
---
10th January 2018: Michael Day writes:
I was a fireman at Feltham MPD in the 1960s. I remember that on one duty I went pass wth my driver Reg Gray to Woking then to the yard to bring a freight back to Feltham. I cannot remember what the number of the engine was but was struck by the sheer size of it. Climbing onto the footplate one of the first things to do was to rake the fire over imagine my surprise when pushed the dart into the fire to find out that it was a very shallow box only did it once - ouch !! The reason I heard as to why these engines didn't stay to was that the yardmaster at Feltham banned them because they were spreading the road at the west end. I'm sorry that this is not about Nine Elms but we were two Big Depots in the London area.
---
3rd July 2017: Thomas Chambers asks:
I am doing a research project into the type of graffiti that was often written on locomotives by railway workers and others towards the end of steam on British Rail and other systems. This was often chalked (sometimes painted) and could have been a phrase such as 'Don't let me go' or 'Steam forever' or a more specific reference to a particular loco class or line. I have also seen pictures of other types of messages, sometimes just humorous and sometimes political such as 'Plaid Cymru' on a tank engine in south Wales. I am interested in seeing photographs of any examples and would of course respect the copyright of any that I was sent. I am particularly interested in contacting anyone who actually wrote or drew on locomotives.
Contact the Shedmaster Nine Elms if you can help.
---
26th June 2017: John Bird asks:
It has been puzzling me about the Waterloo 'Sunset' - I wrote in one of my books how Jim Evans took 35030 back to the Elms and said he thus fulfilled his ambition to drive the last SR steam loco (well apart from 77014 on a parcels as it turned out) but I have just been thinking, when the last Brush hauled 'Belle' arrived, how did the stock get back to Clapham, obviously normally a 70A tank job. Was it so on July 9th, in which case that was the last steam departure from Waterloo, or was there a Class 33 or maybe even a Warship to hand that was used? I have never seen any reference to that possibility and wondered if somebody who might know?
Contact the Shedmaster Nine Elms if you can help.
---
13th June 2017: Kelly Smith (John Taylor's daughter) emailed:
Dad has asked me to send you this link to Swanage Railway's Facebook page because today is a very special day as the main line has been reopened to Wareham after 45 years so we can now get a service on British Railways. This is a 2 year trial and if they don't get enough passengers through they will terminate the service again.
Swanage Railway Facebook page
Swanage Railway website

---
17th April 2017: Josh Hamilton has asked:
What was the arrangement for stabling locomotives on shed at Nine Elms, i.e what roads were used for what?


7th January 2017: Mark Arscott has emailed: Does anyone remember, or have any information about 35004's high speed slip on 28th October 1965, between Basingstoke and Hook whilst working the 0724 Bournemouth to Waterloo? I have just seen a couple of 3/4 rear photos of each side (taken at Eastleigh I think). Sticking regulator? Seems to have done a lot of damage, wouldn't have thought a 'carry over' would have done that much damage to both sides, and the middle engine was probably a bit of a mess! I'm guessing only the crew would really know, anyone still around that remembers.

This all came around because someone asked what happened to 35004's tender, which as far as I can make out was deemed still serviceable and transferred to 35029, which ended up together sectioned at NRM. I'm guessing that T3121 attached to 35011 was not in the best of health and so swopped the tenderless 35004 (presumably sold to Cohen's as 'Locomotive AND Tender').
Any answers ?
---
24th November 2016: John Bird has asked:
I have been doing some research on H15's and have got very confused about their alleged nicknames! A lot of modern sources call them 'chonkers' but no one seems to know why or where that name came from or when. As far as I can glean footplatemen referred to them (or some of them-original ten perhaps or the rebuilds maybe) as 'Cathedrals' or the 'City Breed'. All very confusing and then yesterday I was rereading Jim Lester's book and found him talking about the H15's on page 23 where he reveals they were known as 'Tavys'- a completely new name to me. Can anyone put the record straight?

Alan Newman replied:
The H15's had all gone by the time I started, but basically they were a mixed traffic locomotive by Urie / Maunsell that sat between the S15 heavy freight and the N15 King Arthur. In their hey day they were the regular motive power on the two Tavistock - Nine Elms Yard freight services, the earliest train in each direction was fully fitted and timed to run at 60mph. These services always conveyed a bogie (Queen Mary/Gondola) brake van. Hence the H15's became known as Tavy's. Fred Prickett told me they were very ordinary, and were not particularly special at working any train.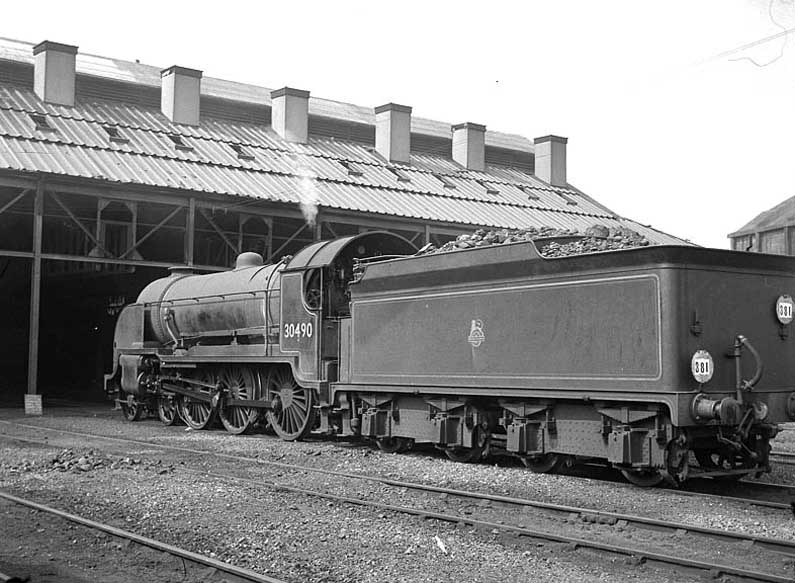 Photo courtesy of John Bird, copyright Railwayimagesuk
---
14th July 2016: Alex Fisher has asked:
I've just found your site having been trying to find more info about the time when the diesel locos were allocated to Nine Elms. Would you happen to have much info on those LMS and Southern 1Co-Co1 locos that were allocated there in 1955?

Bulleid's diesels were based at Nine Elms for periods between 1951 until 1955 when they were reallocated to Camden. Nice article can be found at http://www.semgonline.com/diesel/bull_1coco1_01.html Shedmaster
---
29th September 2015: Geoff Burch has written:
I've had an enquiry from a lady at one of my talks asking me if I knew her uncle (David Wateridge) who was a driver at Nine Elms. Apparently, he died of a heart attack at a relatively young age (40 – 50) whilst shunting at work. Do you remember him at all?
---
28th September 2015: Graham Hallett asks:
I have in my possession a vacuum gauge plate stamped LNER which is purported to have come from 34052 'Lord Dowding'...does any Nine Elms staff recall such gauges being fitted to Bulleids in the final days of SR steam?

Jim Lester replied that if it is genuine, it's pre-1948 from an LNER locomotive or Guards brake van for that matter, more likely the latter! Certainly not from a 'Battle of Britain' class engine as these were fitted dual gauges that showed both the 'Train Pipe' and the 'Reservoir' vacuum levels side by side.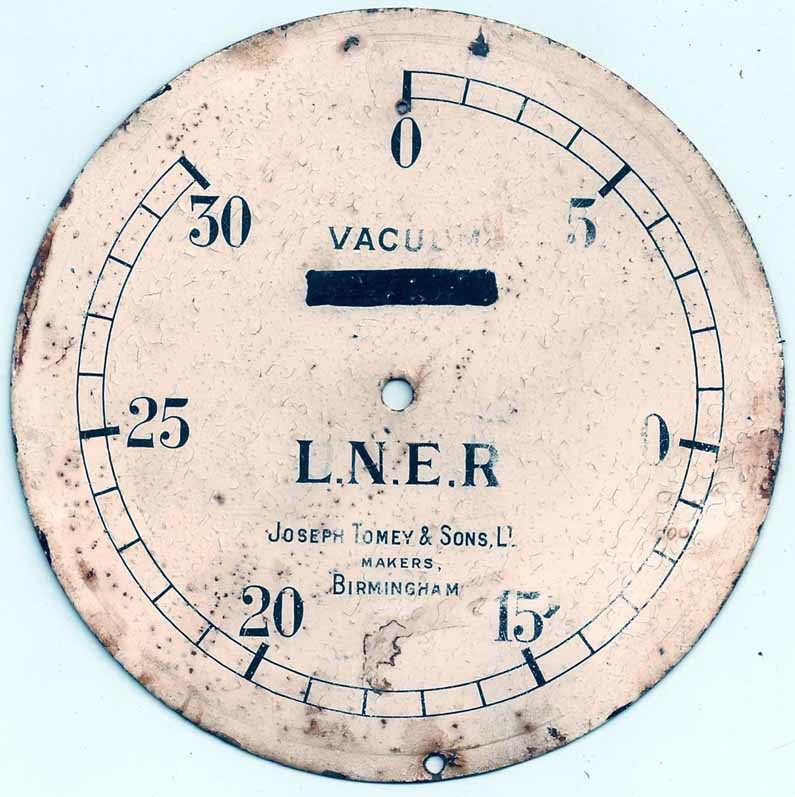 ---
30th August 2015: Mark Wyatt requested some help with photographs (off topic I know, but we try to help - Shedmaster):
My father, who died in 2012, was Bob Wyatt, a Guildford fireman in the late 50s/early 60s.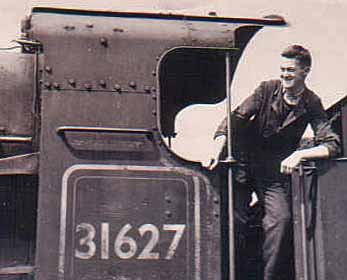 Guildford fireman Bob 'Lofty' Wyatt.
He was also known as 'Lofty'! My oldest mate's dad was Fred Hill, I know him well, he was a driver on the Southern. I am 55 now, I live in Bude and run a little gardening business, partially inspired by Fred who did the same after leaving the railways in the late 60s/early 70s. One of my favourite gardening clients down here in Bude turned out to be a retired railman, and we hit it off straight away! His name is Michael (Mike) Panter. He used to drive the Brighton Belle and loved his job. I would love to be able to track down a photo of him to give to him and my friend, his daughter. A bit of a long shot, but somebody out there just might have photos etc of at least one the 3 men.
---
17th August 2015: Glynn Thompson commented on Nine Elms Facebook:
Hi my name is Glynn Thompson, I was at Nine Elms 1966 link 8 regular fireman to Freddie Thomson. Does anyone remember me?
---
14th August 2015: John Lynch has emailed from Melbourne, Australia:
Firstly let me thank you for a great site abou the steam days at Nine Elms. I was a loco fireman at Dover 74C so was in Stewarts Lane often with boat train workings. I was at Dover for ten years from 1956 to 1966, the last two years of service was as a second man, two years of boredom. I had my own taxi in Dover for a few years, after this time we sold up and moved to Australia, we have been here since 1975. The fact that I had steam experience I obtained work at a Melbourne brewery, tending boilers(oil fired) plus pumps and turbines. However I missed the footplate, so joined a preservation railway society, I was a fireman and a driver for 27 years, and now I am retired I have a 7/1/4" gauge loco to keep my hand in and give kids a ride, but I look back at those BR days with very fond memories.
---
27th June 2015: Brian Aynsley asks:
During the 1950s and 60s one of our turns at Guildford was the "Angerstein", which we worked from Woking to Redhill, usually with a full load (=65) and usually with a Q1. Does anybody know the route taken from Redhill to Angerstein Wharf? Although this was one of our regular turns I had no idea where Angerstein was at that time. Recently looking at a London railway map it would appear that the branch has to be approached from the 'country' direction, how was this achieved?
---
21st June 2015: Nick Givens has written:
My neighbour worked on the SR then BR from the 1930s until the 1980s, always based in Devon (Exmouth Junction). As he becomes more frail and less well, I visit him more frequently and we talk more, often about his railway years. (I am an enthusiast, but have never been employed on the railway). He has recently mentioned several things that I would like to know more about than he can remember and so would be grateful for any insights that that users of this site can offer.

1. He mentioned a scheme under which fireman were invited to volunteer to fire for a short period - a fortnight?- on Belgian Railways; several of his colleagues had done so, but the scheme ended just after he had submitted an application, so he did not. Do any readers of this site know of this?

2. He was very impressed by a team (might just have been a couple of men) who visited his shed to experiment with the number of worsted threads in various trimmings to see whether they could reduce oil usage without risk of bearings overheating. Apparently they could: as a result the number of threads used in several different trimmings was reduced by one and lube oil consumption was reduced without an increase in bearings running hot. Does this sound familiar to anyone?

3. He spoke of being interviewed with his driver and observed on the footplate by men who visited the shed annually to look at timekeeping; from my neighbour's comments I got the impression that these' inspectors' (no idea what the offical name of their role was) picked a crew at random, had acess to that crew's timekeeping records, and appeared to be genuinely interested in what that crew had to say about factors that hindered or aided good timekeeping. Again, does this sound familiar to anyone?

Jim Lester has replied:
Just had a lengthy chat with Ted Crawforth about the issues raised by Nick Givens! Ted was at Exmouth Junction shed in the late fifties and certainly doesn't recall hearing anything about any of these matters from the men he worked with at the depot. It begs the question why would they want volunteers to go to Belgium? What about the language spoken, both French and Dutch depending on what part of the country you were in? Firemen would have been responsible for applying rules and regulations, based on these factors I find it highly unlikely to be true.

As for saving oil by reducing tail trimmings and increasing plug trimmings, which is what would have been required, surely this isn't correct, this method of bearing lubrication had been devised years previous. I can hardly believe that they would go to such lengths having to change all the locomotive's trimmings throughout the Southern and then to inform all the depot staff and footplate crews of the changes, plus the instructions to be reissued. Hydrostatic lubricators were normally set by the driver, so many drops per minute, whilst the mechanical lubricators were preset and the responsibility of the shed staff, so no saving there!

Bad time keeping I recall was usually monitored by the main office and the area 'Locomotive Inspectors' would soon be dispatched to ride on specific engines or with the crews involved if anything of the likes was reported. They would soon get to the bottom of the problem and in a personal manner that met the approval of all concerned. I had a firsthand experience of this when BB No. 34090 had lost a lot of time coming up from Exeter on a Saturday afternoon and Inspector Plummer duly rode with Alf Hurley and I on the footplate the engine the 'next' day, a Sunday at that! Incidentally the bad steaming problem was down to contamination of the spark arrestor grills around the blast-pipe!
---
15th May 2015: George Prot has asked:
I wonder if you can help/ point me in the right direction of obtaining a copy of the track plan of Stewarts Lane (Battersea) depot. Any help and advice will be greatly appreciated.

31st May 2015 Adrian Daffern has replied:
George Prot can find the track plan for Stewarts Lane is available in 'An Historical Survey of Southern Sheds' by Chris Hawkins and George Reeve. Copies available from Amazon. Also www.old-maps.co.uk can be helpful.
---
15th May 2015: Peter Starks (Merchant Navy Locomotive Preservation Society - operations) asks:
Does anyone have a copy of the dining menu from the 'Bournemouth Belle' as used in 1967?
---
15th April 2015: Christopher Noulton emailed:
Anthony Dawkins who left an interesting post about the local streets next to the gasworks and railway sidings in Battersea.

My family, the Noultons, lived in Arden Street just around the corner from Tweed Street I believe where his family once lived. My father, George, and his eight siblings lived there at numbers 3, 5, and 6. His father didn't work on the railways but was a parquet floor fitter. Older family members who can remember the street say it was pretty rundown and the houses were simple two up two down with a very small backyard which overlooked the railway lines. Arden Street doesn't get a good review from the booth poverty map around the turn of the century as it states there are lowlife types and drunkards living there. It seems strange however that my family were intelligent and quite classy people? I visited the street that now sits over where Arden Street once stood - it's called Ponton Road. I was shocked to hear a rumour that it was all bulldozed to make way for new Covent Garden market. I have a few questions in case Anthony may know a little more about these streets. Exactly when were the streets knocked down? I believe my father moved away around 1930. I am doing research for a book and would love to know if he has any photographs or any other interesting information about these streets! As I find out more about the streets from other sources I would be more than happy to send new information on his way as well. I have several copies of maps of this area as well.
---
23rd March 2015: Derek Castagnetti emailed:
I used to live Armadale, Western Australia in the 1970's. I think in the 1950's I drank with an old driver, I think he was at Nine Elms by the name of Charlie Watts - does anybody know him? He was a great bloke and always had tale to tell. As a train nut I would sit and listen to him for hours.
---
6th March 2015: Phil Ralls emailed:
Michael Clemens, a good friend of mine, is a local author of many fine railway books and is working on his next book - Devon & Cornwall - and is stuck with a Bulleid query. I am aware of Bulleid locos being equipped with tender sprays but as to whether they were all so equipped and if so how successful they were, were they popular, how were they operated etc, I don't know. Because I read your website daily I thought I would ask the question to the men that used them.

Michael is trying to get to the bottom of the steam/water spray visible over the coal bunker in the photo below. He can only find one reference to it where it says - 'the operation of the slaker, jets of water squirted from a perforated pipe'.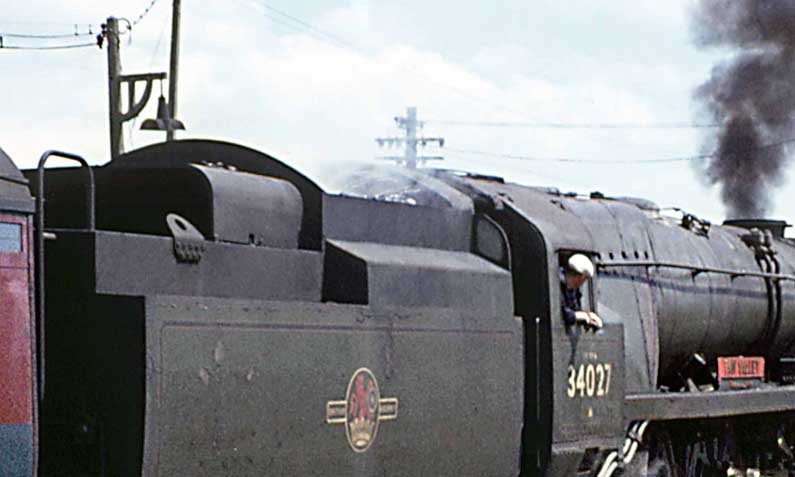 Image edited from photograph copyright Michael Clemens. 34027 at Sidmouth Junction 1964.
Alan Newman replied:
All the Bulleid pacifics were so fitted. They worked of the No 1 injector via the Pep pipe valve. I am not aware of any other loco's that were fitted, with the tender spray they all had pep pipes for slacking down the footplate, and of course the pep pipe could also be used to slack down the tender by leaning out the side directing the spray over the tender. I do not recall any other type of loco fitted and I certainly do not remember any of the locomotives I worked in the eighties having tender sprays.
Jim Lester emailed:
In answer to Phil Ralls and Michael Clemens enquiry in respect to Bulleid pacific's tenders this is what I recall of the spray system that was fitted to all of them. As the photo shows the spray comprised of a arched shape pipe with a series of outlets for the pressurised water to damp the coal. Like the footplate 'Pep/Slaker' pipe the tender spray could only be used when the injector was operational. It had its own individual operating valve, situated in the floor area just in front of both injector water and steam valves on the fireman's side of the cab. When used they were quite efficient in keeping the coal dust at bay. However, if left on too long water would soon accumulate in the shovelling plate and further use of the shovel was indeed something else, what with sodden coal and water slopping about in a Lucas shovel it was a pretty messy affair!
---
20th February 2015: John Johnson asked:
Does anyone happen to know roughly when BG's took over from the Pullman Parlour Brake's on the Bournemouth Belle? The last photo I can find of them still in use is May 1966.
---
8th January 2015: Ray Gould emailed:
My son, Vince Gould, is following in my footsteps and those of his maternal grandfather. He's now taken the first practical part of his firing exam on the Bluebell Railway, working a "big engine". He was given three trips on the S15. On one trip the driver "had some grit in his eye" so son had to fire AND drive; later the bobby gave him the token the wrong way round in the pouch so he had to make an unscheduled stop to check the token; then the board was thrown back at him, this time genuine, someone left the door on the jar! All in all he coped well and passed that part with flying colours. He now has to take another practical test on a small engine!
Otherwise he's Assistant Fleet Engineer (New Trains) at Selhurst.
---
20th December 2014: Mel Cox recently emailed:
A friend of mine has recently acquired this photo, and he thinks that the person (Fireman) in the foreground could possibly be female. I've told him that there were no female Fireman to my knowledge. You can just about make out the Driver too. Can any of my old colleagues recognise the individuals please?

Alan Newman has confirmed that the person visible beside 82019 is, in fact, Nine Elms fireman Gary Pauly.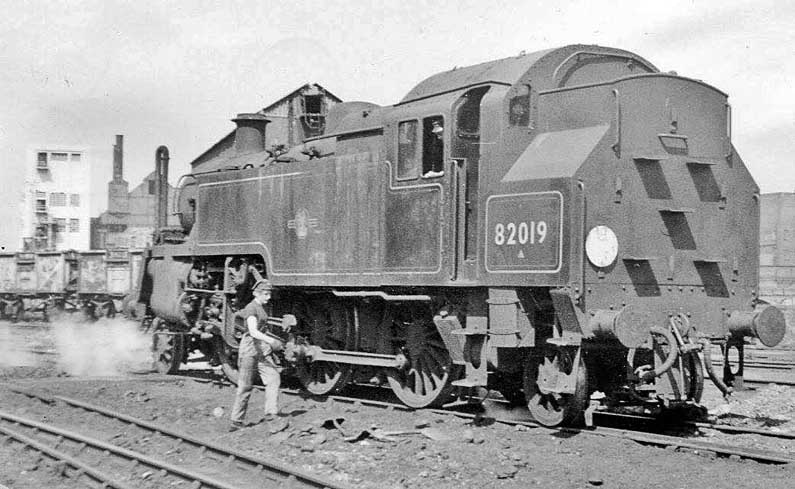 (Photographer/copyright unknown)
---
9th November 2014: Alison Hill emailed:
My grandfather Sidney Sprague was an engine driver with the Southern & Great Western Railway and I believe he was involved with this journey (Winston Churchill Funeral Train). I sadly have no photos of him on footplates. He worked for the railways between late 1920's/early 30's retiring in or around 1966 (very approx.). He passed away many years ago sadly. My dad also worked for the railways as a fireman, I believe they often worked together and I am trying to find out more. I am very proud of them both and I know the railways was everything to them! My grandfather was from Exeter and met my grandmother because of his job, she was from Cornwall. Incidentally my mother's family made the coffin handles/components for Sir Winston Churchill - they were based in Birmingham. May I just say I think your web site is wonderful and has brought to life for me what it must have been like for my grandfather and father working on the railway in that golden age.
Shedmaster : Jim Lester (fireman on the Churchill Train) wrote that he could not recall a Mr. Sprague in connection with that train operation. W. Neale was the chief inspector on the footplate, Royal Train guard W. H. Horwill was onboard the train. From Reading Spur WR driver P. Talbot acted as the conductor driver and WR guard H. F. Simmons provided the same duties in the train at the rear.

11th November 2014: Mel Cox emailed:
I've been reading with interest the email from Alison Hill regarding her Grandfather Sidney Sprague. We had a Reggie Sprague at Bournemouth who originated from Devon and retired in 1966. Often at work, men were known by one of their other christian names, and perhaps it is the case here. Just a shot in the dark, but who knows?
---
28th October 2014: Len Clarke emailed:
On looking on Nine Elms Memories, Derek 'Hori' Hall mentions about Abbe not being a cleaner. If he goes onto Gallery and looks at my photos he will see Abbe shaking hands with me (Len Clarke) and the rest of the gang of cleaners outside the mess room. I remember the long table and the benches, the charge hand for the cleaners was Bill Clifton. Hope this jogs Derek's memory.
---
9th October 2014: Stefan Lorett emailed:
Reading Len Deighton's thriller SS-GB.... And there is Brunswick House, described as small and dirty, and a German SS officer rides his motor bike into Nine Elms Yard!
Bit late to make a film of the book,  the market isn't quite as atmospheric.
---
2nd October 2014: Nigel Whitwell asks:
Middle cylinder head blown off at Woking. There is a current query on the SEmG website regarding an alleged incident apparently on an Up service from the West of England (has been suggested it was the 'ACE' and that the locomotive was an 'MN'). Nobody seems to know whether it is true or when it may have happened. The locomotive was examined at Waterloo where the cause of the 'bang' heard passing Woking was discovered (literally!). Do any of the ex-footplate crews know of this or have heard the story?
---
21st September 2014: Barry Witham has written:
I'm engaged in research centred around the Express Dairy milk traffic to and from Morden South in connection with a modelling project. I can see on Wikipedia a reference to SVS Film, which implies that there is film/DVD titled as above, but I can't find anything on your website. I found a chat thread entitled 'The Torrington Milk Train', which deals with this subject, but that's about it. Is there anything you have that might help me?

Shedmaster : The article Barry mentions is on the Nine Elms website at The Torrington Milk Train . Can anyone add any more to this topic which might help?
---
28th July 2014: Richard Green emailed:
I am trying to find anyone who remembers my brother in law Bill Stanley, fireman at Nine Elms until just before the end of steam. He fired for Ruben Hendicott quite a lot I believe. He always said 35011 'General Steam Navigation' was his favourite. I would like to hear from anyone who remembers him.
---
5th July 2014: Andrew Bennett emailed:
You've created an excellent site - full of nostalgia even for me: never at The Elms but on the juice then mixed traction at W'loo (1974-1987).

Just a couple of notes on Glynn Thompson's photos -
View towards platform 15 shows the office & messroom block. This was known as The Village and dimly visible immediately to the left of the letter 'G' can be seen The Crow's Nest where the station announcer worked and which was included in John Schlesinger's film "Terminus". The "Warship" on platform 9 (D828) was "Magnificent".

Good to see some blokes I knew as Old Buggers were actually sprightly young men! I never visited Nine Elms but there are a lot of photos here oozing atmosphere & emotion and they emphasise that beautifully turned out locos on preserved Railways are all very well (they're bloody marvellous) but Oh! To see a grimy one: looking neglected, but not actually.
---
29th May 2014: Steve Campbell emailed:
I was a Box Boy at Waterloo signalbox before becoming a Secondman at Waterloo from 1985-1989, and have great memories of my time there and the fantastic characters I meet. I remember secondmen such as Martin 'Bomber' Harris, Kevin Lawless, Glenn Walters, Ivan Wilson, John George, and Drivers Alan Wilton (who taught me so much), Ray Benton, Freddie Freeman, Frank Mathews, Tony Jackman (thank you Tony for getting me through my first day on the job), John Westgate, Maurice Mace, Billy Hughes, Len Gillard, to name but a few. Great to hear from Barry Brett who I remember well and Richard 'Dick' Flann. I was so sad to have left the railway, but have never forgotten my time at Waterloo and the men that I had the pleasure of working with. Even though I embarked on a new career, I always consider myself as a railwayman at heart, and I would love to hear from anyone who remembers me.
Steve Campbell
---
1st April 2014: Don Hayward emailed:
Having been List Clerk at Nine Elms, I was particularly pleased to have your web site forwarded to me by John Wickham who I knew later from my days in DMO Engine Diagrams and Rosters. I went to Nine Elms in 1954 to join John Parsons. John was subsequently succeeded by Doug Bridger who was previously the List Clerk at Guildford. It was good to see some of the names of enginemen that I remember. Mr.Gilchrist was the Shed Master with Drivers Harry Male, Chrlie Poole and Frank Saunders as the enginemens' Local Departmental Committee representatives. Thank you for a brilliant web site.
---
30th March 2014: Richard Derry (railway author) emailed:
I have 'young' Percy staying with me. The former 70A man had a ride on 34007 on WSR today (29/3) - his first time on a Bulleid since the early 1960's. Actually Philip Charles Blake is still living in Woking. He has been a close friend for a number of years and says "hello" to all involved in 70A web page.
---
30th March 2014: Tim Puffett emailed:
I never got to visit Nine Elms as I was only 10 in the mid 60s but it didn't stop me visiting Weymouth MPD, or spending as much time as possible on Weymouth station, where no doubt I made a thorough nuisance of myself 'helping' the porters and others, unloading freight, releasing what seemed like millions of pigeons and driving the electric parcels wagon around the station.
Having accessed the shed I was often allowed to spend time on the coaling stage, filling the small loading trucks from the coal wagon and helping top up the tender water. I've also got happy memories of driving various MN and BB/WC on my own (yes!) up to the turntable while the shedman walked in front sorting the points. I recall that getting a MN onto Weymouth turntable was a bit tight, Standard 5s and others were OK though. Memories also of Clun Castle, Flying Scotsman, Kingfisher and Sir Nigel Gresley hauling various specials.
---
Clive Fairchild has written, asking:
I have a particular interest in 34019 'Bideford' and have researched her history over the last few years. She was withdrawn from 70A in March 1967 and I have often wondered why she didn't survive to the end. Does anyone know why she was withdrawn and whether her record card might still exist? Secondly, I saw her with 34015 at Severn Tunnel Junction in August 1967 on her way to Cashmore's. I have always assumed she went via Salisbury but can anyone confirm when she left 70A and what was the consist?
---
Alan Rawlings has emailed about his recent trip behind 70000 'Britannia'
I was lucky enough to be on the Steam Dreams trip on 15/3/14 when former Bournemouth locoman Mel Cox brought us back from Salisbury with 70000 'Britannia'. Although I suspect he would have preferred a Bulleid, he certainly made the Brit talk, especially as we had a Class 47 diesel in tow. The full load behind the tender was around 500 tons. The old ACE schedule was 34 min to Worting and with that load we would have done well to match that. It was, understandably, a slow start taking nearly 11 minutes to Porton but speed built up gradually and we topped the climb before Grateley at just under 60 mph. Running down towards Andover we kept well within the 75 limit and then followed a true blast up Enham Bank. The speed only fell away by 6 mph from passing Andover to going over the top. Good running followed till the speed restriction of 60 around Battledown and we were passed Worting in 36½ minutes, six minutes inside our schedule. This was a nicely judged lively run and it was also a bonus for us to get a non stop pass through Woking (stop all junction), albeit on the slow line.
---
John Besley has emailed:
I have just found your web site, my particular interest is and always has been Southern Steam - being born in 1959 I can only just remember steam out of Waterloo - remember sitting in the cab of a MN about to leave with an express to Exeter (we lived in Paignton and still do) being fascinated by the electric arching from the points as the suburban trains rattled out past the box, somewhere in a collection resides the picture of a grinning 8 year old siting in the driver's seat.

My current interest is in documenting the history and stories of the 82000 tanks - I started the 82045 project in 1997 when a fireman on the SDR, one fact that I have struggled to find is who were the crew on the last working of an 82000 on the last day of SR steam, 82019 deputised for a failed 80000 tank on a Salisbury stopper and 82029 left the same day for Salisbury shed in the company of another 80000. Is there any way you could help fill in the last details, I have put together as much as I can find to cover these last movements and would be happy to share them with yourselves to get the facts straight.

I see my old mate at the Torbay Steam Railway / Dart Valley Railway Colin Harmes has been in touch, had some great trips with Colin and Brian Cox in early 1974 on 4588 - one of the first engines I drove while still at school in the holidays those where the days.
John Besley
Please email any details you have of the final workings of 82019/29 to the Shedmaster Nine Elms

Ralph Hornsby has emailed from Thailand:
With reference to the recent E-mail from John Besley regarding the last day working of 82019, the links to these photographs may be of some use to him.

http://www.docbrown.info/docspics/ArchiveSteam/ArchiveSteam.htm

Doc Brown took some photographs at Nine Elms on the last morning of steam, in photograph 11, 82019 is seen taking water, the crew are preparing the engine before departing for the last time. In photograph number 12, 80152, 82019 and 82029 are shown, and are described as being the last three engines to leave Nine Elms.

In John H. Bird's book 'Southern Steam Surrender', page 110, there is a photograph by Derek Buckett, which shows 80015 and 82019 passing Durnsford Road at 1133 on that morning according to the photographer, the engines running to Salisbury Shed to await their eventual fate.

Alan Goodwin has added:
I am unable to shed any light on the crews that worked 82019 and 29 to Salisbury on the 8th July 1967 but I think I can add more information regarding the last movements.

Clive Groome, in his excellent little book "Notes and Sketches from the Steam Age," reproduces the locomotive working list for that Saturday. If I read it correctly 35008 was originally booked to work the 07.18 Waterloo to Salisbury in place of a diesel, probably a way to get the Merchant Navy to the scrap line. However, there may have been a problem with "Orient Line" as it never left Nine Elms under its own steam and I guess that 82029 was selected to deputise, perhaps the only one left fit enough to work a passenger train.

With regard to Doc Browns photograph, I believe that the caption is partly wrong. 80152 was in the Southampton area at the time and the loco behind the Standard 4 is one of the Ivatt 2s. The locos are almost certainly 80015, 41312 behind and 82019 on the next road. It would appear that 80015 moved over to pick up 82029 and then left for Salisbury together (the picture in Southern Steam Surrender), with 41312 following behind alone.

Incidentally, five more locomotives that I know of left Nine Elms after these three. 34037 went to Waterloo in the evening to work a boat train to Southampton Docks and 80143 ran light to Salisbury around the same time. 76067 ran light to Salisbury on the Sunday morning, and then 73029 and 34021 came in to turn before going down to Salisbury in the early afternoon.
---
David Gaff has emailed details of his Grandfather (see also Enginemen section):
He was Leonard Frederick Gaff born 1885 in Guildford died 1960. The facts known are that he worked out of Nine Elms sometime, my Grandmother telling me that he shovelled 6 tons of coal on a Bournemouth run. He was allocated his own loco at some stage which was an Arthur 'Morgan le Fey' and he also worked on the Windsor line. He certainly lived there for a period, during which my father was born, as my Grandmother came from Old Windsor. In the early thirties I believe, they moved to Guildford to Testard Road which is just above the Guildford shed where he ended his career as a motorman driving electrics. He would have retired sometime in the early 50's I think. I remember him taking me into Guildford shed on occasions and round the coaling stage. He had an allotment near London Road station and now and then would take me onto the platform, where again I am assuming if he knew the driver, we would get a ride into Guildford in the cab of an electric. I would love to hear of any further information mentioning him.
---
Len Hughes has emailed about his brother Brian Hughes:
My name is Len Hughes the older brother of Brian Hughes who worked at Nine Elms as a fireman in 1960/61. He has often told me of his happy experiences there and the great friendships he made. He was often called "Digger" or "Aussie" there at work, and he would like to make contact with the couple of mates he made that he can remember like.... Phil Bassett and Brian Mercer.
I have seen them mentioned in your web pages. My brother Brian was even interested to maybe attend a Reunion over there, but to initially make contact with someone from the old Nine Elms Locomotive Shed.
He is not computer savvy so I am helping out. Maybe an address he could write to? Brian is a happily retired bachelor living on Bribie Island Queensland.
Thank you for any help you can offer.

Please email any message for Brian Hughes to the Shedmaster Nine Elms
---
Michael Peace has emailed:
Re trip of A4 60024 KINGFISHER on Sunday 27th March 1966, I was the fireman on the down trip on this day, along with Gordon Porter. I can't remember what time we booked on, but my driver, one of the older generation at the time whos name escapes me, was leading off in the cabin about "B***** spotters" and " Foriegn engines" and Gordon, who was booked, I think, on one of our regular Bournmouth turns, offered to change turns, which to everyone's surprise, he agreed.

So it was with Gordon that I had to get the A4 ready and take it up to Waterloo and work the special to Salisbury and home on the cushions. Although it was a very wet morning, I still remember us being black as the ace of spades on arrival at Salisbury as the tender spray wasn't working. I still have the booklet given us on the day by the LCGB.

Lots of memories in that roster list, many names that I can still bring a face or manerism to mind, but suprisingly a few I don't remember at all. What a shame a few more things like that didnt survive, the amount of stuff that got thrown away would bring in a small fortune today.
Mick Peace, Nine Elms 8/62 to 10/67
---
Jeremy Clarke has written:
I saw the 'News' item about a collision at Waterloo in April 1961 raised by Alan Newman and Brian Aynsley and the question as to whether there's some muddled thinking. I've come across two accidents that might fit the bill, one in particular, though both are way back in time.

The first took place on 5th April 1904 - significant? - when a lineman working in the approaches trod on a signal wire which pulled off a shunt signal. 'M7' no 108 started away - quite legitimately - and hit Adams '415' class no 494 arriving with the 1.45 from Reading. Much telescoping but only one fatality.

The second was actually outside Vauxhall. 'T9' no 312 was running tender first from Nine Elms to take out a Boat Special from Waterloo. The driver thought he was on the up main local when he was actually running on the up main. (At that time of course the tracks were paired by direction and not by use.) He thus took the wrong signal and overtook the 6.37am from Aldershot, punching his laden bogie tender into the rear Brake Third. Telescoping again, and two fatalities.
---
Nigel Whitwell has responded to Keith Chambers' note:
Regarding Keith Chambers' query, I don't personally recall any black drivers at Nine Elms but vaguely remember a black fireman or two. Others with more personal knowledge will no doubt be able to confirm. London Transport had black drivers and firemen employed on their pannier tanks and I rode with a few of them towards the end of steam on that system in 1970 and 1971.

Brian Aynsley wrote:
I do not remember ever seeing a black driver at Nine Elms, I can't remember seeing a black fireman either. There was a black driver at Waterloo after the steam had finished, he was not there long and I don't know where he went to. There were a lot of Caribbean people working on the railway as Shunters, Guards, station staff and shed staff but not on the footplate for some reason. Some time after steam, I went to Wimbledon yard to relieve a Norwood man and was surprised to find a black driver on the loco. I was even more surprised when I asked him what his next job was, he replied "Och I'm away haem" in a broad Glasgow accent. So there must have been a black driver on the Central Division.
---
Keith Chambers has emailed:
Firstly I would like to state that my association with Nine Elms is tenuous. I was 15 years old when it closed & visited it a mere four times as a spotter, the first in 1963. It was, like many locosheds, a magical place for an impressionable teenager.

I recently met a retired driver from Brockley in London who told me that he worked on steam when he first immigrated to Britain from Jamaica in 1961. He went to Lancashire and got a job as a fireman at Lostock Hall and became a driver in March 1968 just a few months before the end of steam. He thinks he may have been the first black engine driver on BR. He finally retired about 3 years ago.

I discussed this with my brother Colin Chambers who is chairman of the Mid Hants Rly. He tells me that one of their volunteers who once worked on the Southern met a black driver at Nine Elms in 1966. Could you shed any light on that?
---
Brian Aynsley has emailed:
I was interested to read the e-mail from Alan Newman regarding the accident at Waterloo in April 1961. I seem to remember being told that there was a similar incident, when an electric train started from the Windsor side platforms and collided with an engine that was backing into the station. Does anybody know anything about this incident, or was it perhaps a mistaken story referring to the 1961 incident.
---
Malcolm Willis asks:
As a young lad living in Salisbury from late 1951 to early 1953, I clearly recall spotting from the up side early one afternoon and being amazed to see an extremely clean engine with smoke deflectors arriving on an up express. As it crept in, its number began with a 7, a Britannia!
I have in mind that this was Britannia itself but am concerned that I might be convincing myself which one it was. I have researched and did find a reference saying that 70000 paid a visit to each of the regions before going to Stratford. I moved away from Salisbury before the Crewkerne crash brought borrowed Brits to the Southern. Can anyone throw any light on this, please?
---
Jon Wagstaff has emailed:
I have a number of photos of Nine Elms depot and along with this website a very good idea of the turntable area including the boundry walls and what also looks like to be a wooden fence erected at some point, a temporary measure maybe. However I have now noticed that the turntable was changed at some time as the picture I have showing 35005 in original condition shows a turntable with sloping plate girder frame and a massive cylinder on the side (vacuum). In which year was this changed to the turntable shown in later pictures, and did this turntable come from another depot or was it a newly built.
---
Frank Lewin has emailed about George Butler Payne:
I'm looking for any information associated with George Butler Payne - Engineman - who worked out of Nine Elms and sometimes worked the Bournemouth Belle. Just a few directions to look would be most helpfull. Period would be 1900 to 1925. He hailed from Dorset.
---
Roy Gould emailed about a three generation railway family:
I've just seen the reference to the possibility to the 9F working through to East Grinstead on the Bluebell.

Well, to add to the family connection, my son Vince (now Assistant Fleet Engineer, New Trains) at Selhurst, has recently passed out as "passed cleaner" at the Bluebell and may well be working the 9F that day! He's not only following my footsteps as a railwayman, but also his grandfather's footsteps as a fireman!

His maternal grandfather Cyril Ireland (late railman at Earlsfield 1963-1980something) was a fireman on the Southern Railway of India at Trichy Junction (Tiruchrapalli) on the metre gauge steam. So here we have another 3rd generation railway family!

Vince also works on the Isle of Wight Steam Railway as trainee fireman and in the workshops.
---
Chris Wilkinson of the Worcestershire Locomotive Society has sent us these fascinating photos from his collection including 30851 'Sir Francis Drake':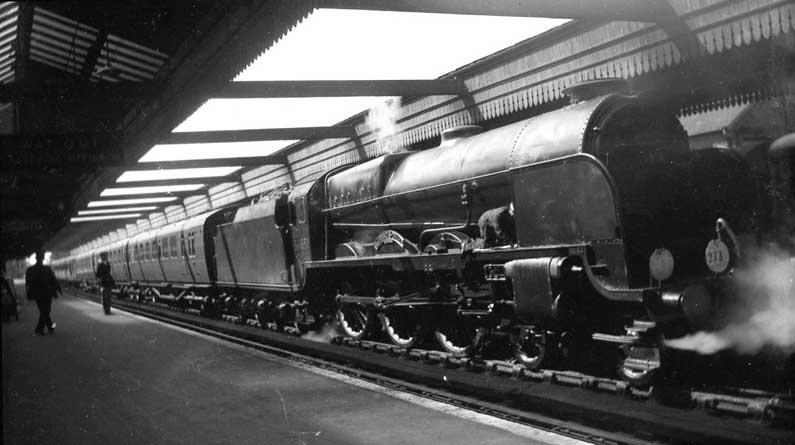 where was the photo taken?
Several emailers agreed it is at Bournemouth West. Mel Cox says it looks as if it has just arrived at Platform 5.
Ralph Hornsby sent this photo of Bournemouth West from the other direction, but clearly showing the cross-struts between the platform canopies.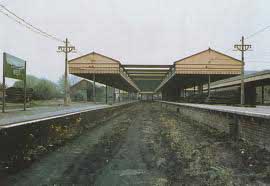 and a T9: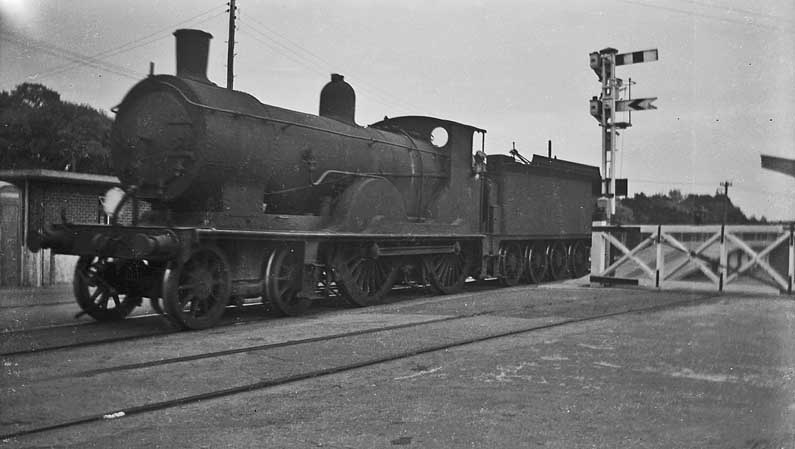 - where was it photographed and what loco is it?
Richard Courage writes: the T9 shown on your website - am pretty sure it is at Lymington Pier station - the number I'll leave to someone else to sort out. Enjoy your website from across the world in Western Canada.

Mel Cox, Iain Shorthouse, Jim Lester and Nigel Whitwell all agree. Richard Bentley also added that "the T9 is seen backing onto its train at Lymington Pier. Whilst we could narrow down the number (i.e. narrow cab and watercart tender) I can't make out which one it is. It is definitely not 30119 (the Royal engine) as that had a hooter, rather than a whistle.

Also photos showing Lord Garnock's wedding train at Waterloo taken on 31st October 1953 with Lord Nelson class 30852 'Sir Walter Raleigh'. Can anyone suggest who the crew might be standing on the front of the locomotive/ in the lower photo?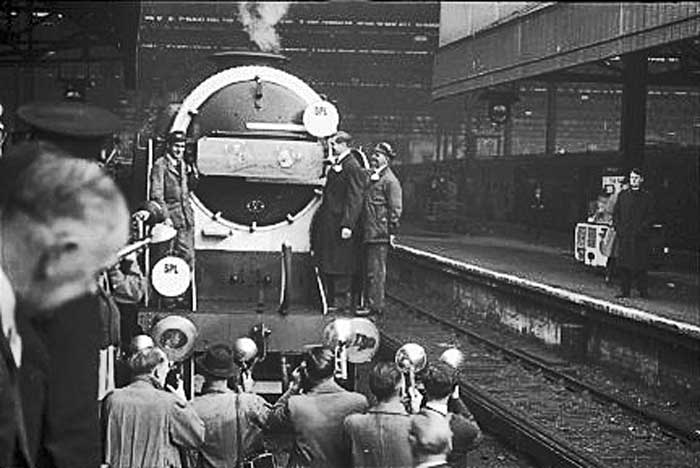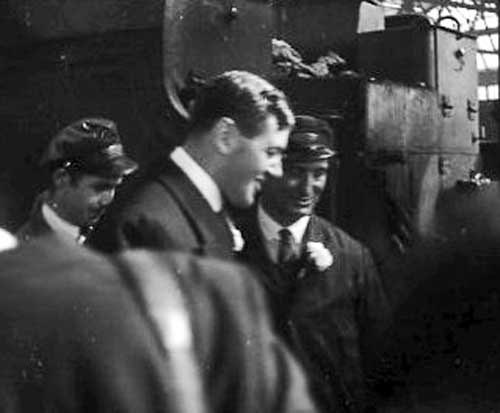 ---
Tony Ginman has asked:
I have a few ancestors that are described as 'shedman' at both Nine Elms and New Cross. Is there anyone that can explain exactly what this job may have involved.
---
Dave Godfrey has requested any information about the clerical office work done at Nine Elms. Stories and descriptions might help his mother as he outlines below. I look forward to publishing some tales from the 'office' - Shedmaster.

My mother worked at Nine Elms in the Nine Elms 'office' for about 3 years around 1950. She is starting to suffer from dementia and is much better at remembering past events than what happened yesterday. For this reason I started to look around for information about Nine Elms that I could chat to her about. I can find lots of train pictures but nothing relating to the 'office' side of the work. As far as I can tell my mother used to deal with large quantities of lists of goods carried on trains. These had to be added up and someone else checked the results with a 'comptometer'. She remembers being intrigued by the seasonality of items - why was much more toilet paper carried in the summer?

So what I am looking for is any information about Nine Elms which might relate to my mothers side of the work. Where was the office? Are there any pictures of it? Does any one remember how this side of the operation worked ? Anything that might trigger the odd conversation would be welcome.
---
We have received this request from Brian Fletcher :
Please can you help me find out information about my Grandad Stanley Arthur Holdaway?
Stan was born in Andover Hampshire in 1912 and lived in the Andover district all his life. He joined the railway on leaving school as an Engine Cleaner and then progressed on to Firemen and then finally a Driver. If he was not based at Nine Elms he certainly would have visited on a daily basis with the South West to Waterloo trains. I know that he was based in and around Kent during WW2. He remained an engine driver after the war and managed to obtain his 25 year ASLEF badge (he gave this to me). He resigned from the railway in the 1960's due to poor eyesight, but many a time afterwards he would use the train between Andover, Basingstoke and Waterloo and each and every time he was recognised by the crew and he and I were invited onto the footplate/cab for the duration of our journey.
Please could you ask if any of your readers remember him? I would dearly love to hear from them.
---
We have seen the following note written by Bill Beresford which we hope will be of interest:
I am writing to let you know that my father, William Frederick Beresford, passed away on the 15th October at the age of ninety one. Dad started at Nine Elms in the 1930's, firstly as a cleaner then fireman then a short time as driver before moving onto electrics. As a fireman he regularly worked the Bournemouth and Devon Belle's out of Waterloo. During this period he was involved in the 1948 exchange trials, his log book of this time shows him working on the Mallard and Seagull. Both he and his driver acted as route crew for the purpose of signalling etc. He finished his career at Orpington Depot as motive power foreman.
---
Gill Carter emailed:
Was a Waterloo passenger train ever driven into the Nine Elms Goods yard in about 1950? I've always been told that my great uncle George Spicer was the train driver who did this? Is this correct?

Bob Cartwright has replied:
With regard to the passenger train going into Nine Elms yard :- The Driver was indeed the late George Spicer of Eastleigh. As so often happens people are remembered for the mistakes they make rather than the good they do. This was certainly a 'Humdinger'. George and his regular mate Johnny Haynes were 'Up Boat' and I seem to recall that they were put over from the 'Up Main' to the 'Up Windsor' at Queens Road, a very unusual move with a steam hauled passenger train, whereupon the Signalman 'wrong routed 'them into the yard and George unfortunately took it. I did not record the date but it must have been between 1963 and 65. George was a true 'Gent' and was the Eastleigh Aslef branch secretary until he retired. His regular mate Johnny Haynes was the assistant secretary and between them, I seem to recall did a pretty good job. I remember, when I was a Cleaner boy, waiting on St Denys platform with one of my mates on our way to work one morning the preserved T9, 120, with George and Johnny in charge stopped in the platform, picked us up and took us to the shed. Now George and Johnny were both big men and 120 had the narrow cab so there wasn't a lot of room but we were 'right chuffed'. George was a contientious, caring lovely old fellow and I'm sure he took the Boat Train incident very seriously.
---
Brian Aynsley wrote:
Looking through Bob Payne's pictures I noted that 60024, Kingfisher, was at Nine Elms for some reason. If my memory serves me correct there was an incident in the depot involving the turntable and Harry Ranger, the foreman's runner, can anybody throw any light on this?

Jim Arkell comments:
Bob Payne's photos of 60024 would have been taken in late March 1966.

Dave Snape emailed:
A bit of info on 60024s visit to Nine Elms, from Dave Snape ex Saltley fireman. 60024 came down from Scotland via Leeds, Rotherham, Derby, Birmingham, Banbury and Oxford. It came onto Saltley loco for water and its Derby crew were relieved by Saltley men. This was about 3 am. It was taken forward, light engine, to Banbury by driver Basil Bloore and fireman John Bloore (his son) they were relieved by a Western Region crew at Banbury.

Shedmaster - 60024 worked a railtour in March 1966 from Waterloo to Weymouth, returning via Yeovil Junction. This trip is featured in Lew Wouldridge's cine film reproduced in the DVD - 'Guildford - an Engineman's View' .

Doug Richards has emailed:
Brian Aynesley rightly recalls an incident with the turntable at Nine Elms. I remember this happening, the assistant running foreman (runner) Harry (Tex) Ranger was moving a pacific toward the turntable because of a shortage of available drivers, a not un-common practice at this time at the shed. As the loco approached the table he was pre-occupied talking to someone on the ground. The table was not set for the road and consequently the leading bogie ended up straddling the edge of the pit wall causing some damage to the brickwork and minor damage to the loco. I do not recall that this affected the Gresley A4 but it did result in a couple of days without the turntable which meant that loco's had to be turned on the triangle that lay within the yard near the goods. Tex Ranger had to visit Wimbledon HQ for a talking to about the incident for his future guidance but not much more I'm pleased to say as he was a first rate chap.
---
Mike Laws has emailed us about his father Ivor Laws:
As you may recall my father (Ivor "Titch" Laws) passed away in mid November last year. Those of you who met him since his retirement may be aware that he enjoyed a second career working at racecources in and around the Ascot area.

As a fitting tribute to him I have been able to sponsor a race at Windsor racecourse on Monday 8th October. It will be the 3:50 race, a 5 furlong Nursery entitled the Ivor Laws Memorial Stakes. So for those of his former colleagues scanning the racing pages over their breakfast on that day then, yes, it does relate to the Ivor that you knew.

Whilst I am able to include some details about him in the racecard I am very limited as to the amount of narrative that I can include. I have therefore just mentioned when he started with the Southern Railway and retired from British Rail and included an anecdote that he often told about getting an 18th birthday present from the Southern Railway - when the Foreman told him that he could now be put on nights. In closing I also mentioned his total admiration for those locomotive crews from times past from whom he learnt his trade. Many a time when I had the good fortune to be out and about with him on the rail network he would mention some convoluted nickname of an old driver and how that driver overcame some operational problem with an ailing loco or partly disabled train. From the manner in which he recounted the events it was clear he had nothing but admiration for them.

Mike Laws
---
---
Return to News/Email index