Nine Elms Football Team
The Nine Elms football team was formed sometime after the Second World War. It wasn't just footplate staff that were solely involved in the team selection but many other railwaymen from various grades in and around the Battersea area. Fitters, Shunters, Clerks, Guards were all part of the post war team. During these times rationing still existed and it was a period of continued austerity that lasted well in to the fifties. As such much of the team's kit was hand made, the shorts seen in the photograph being made from redundant 'black-out curtains'!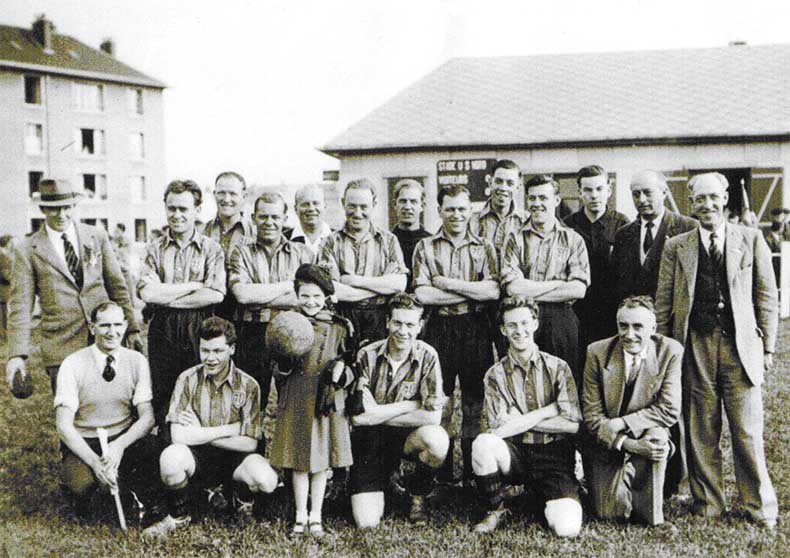 Some of the loco-men to be seen in the team photograph taken in France at the 'Stade du U.S. Nord', Drancy, Paris, during an exchange football match in 1951/2 are as follows; Dickie Budd, Pat Burgess, Maurice Hunt, Sid Oull, Reggie Reid, Bill Turner and Albert Wright, plus Ted (Dutch) Holland who became one of the depot's Running Foremen. Jim Simpson bottom row, extreme left (Boilermaker and Crane Driver on the Breakdown Gang)
The team continued to thrive and play competitive football for many years after this event such was the enthusiasm of those involved. The Southern's Sports Ground at Raynes Park alongside the SW mainline provided the venue for the 'Home' matches for the Nine Elms team and in order to make players available for games a lot of shift changes were required to field the strongest team on many occasions!
Maurice Hunt - Nine Elms Engineman

---

Here are two photographs of the Nine Elms Football Team provided by Mrs. Hazel Hedgecock, Reggie Reid's daughter.
Les Hoath has kindly identified some of the players. If anyone can fill in any of the gaps in the names, please email the Shedmaster Nine Elms

Dick Wheller emailed us to say he thinks he has spotted his father, Leonard Wheller, the bald man third from the right in the standing row.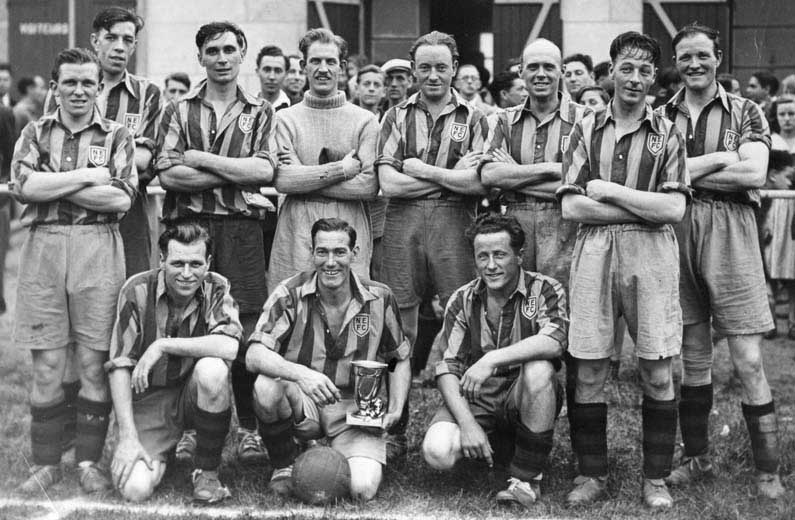 Standing Row: Tom Turley - Sid Cull - Arthur South - Hayes - Alan Gale - Leonard Wheller - X2 - Bill Turner
Kneeling Row: Reggie Reid - X3 - X4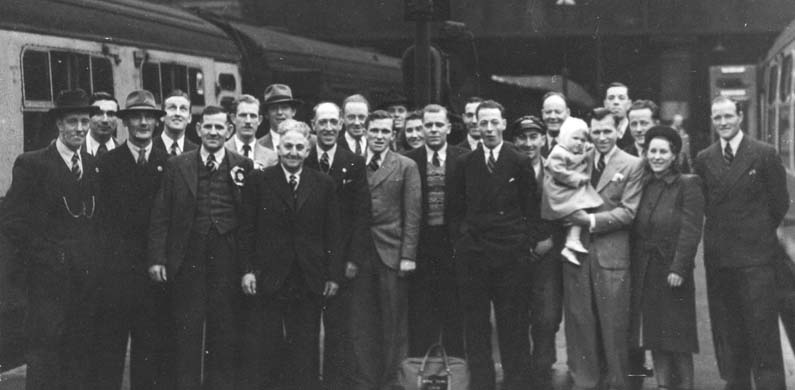 Here is the team at London Victoria Station in 1949.
Arthur Kelly - X1 - X2 - X3 - Harry Pope - Hayes - Ted Holland - X4 - Woods - Alan Gale - Tom Hurley - X5 - X6 - Dickey Budd - Arthur Symes - X7 - X8 - X9- Hazel Reid - Reggie Reid - Sid Cull - X10 - Olive Reid - Bill Turner


---
Return to Memories index