THE GIESL EJECTOR AND 34064 'FIGHTER COMMAND'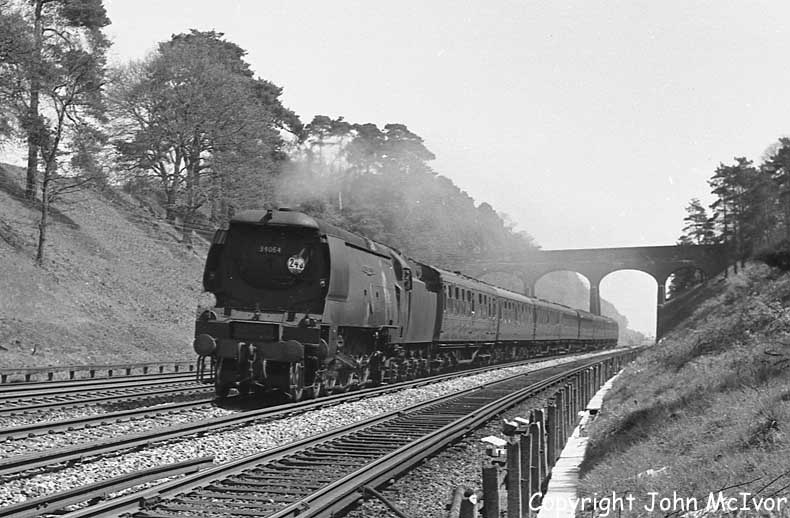 The Giesl Ejector fitted 34064 'Fighter Command' just past the 'summit' at mp31 in Deepcut between Brookwood and Farnborough, 30th April 1966.
Copyright John McIvor 1966/2009
---
Having recently unearthed a 1960's booklet for East African Railways enginemen about the Giesl Ejector, I thought it would be interesting to share with you some notes about 34064 'Fighter Command' which was also fitted with that device.

The ejector was invented by the Austrian Dr. Adolph Giesl-Gieslingen in 1951 and was designed to improve blastpipe suction draught and make better use of energy with a claimed coal saving of around 8% and increase in power of as much as 20%. The existing locomotive blastpipe was replaced by several small fan-shaped diverging blastpipes giving the diffuser its distinctive long, thin shape. Many railways including the East German Deutsche Reichsbahn, Austrian OBB, and Africa, China and Japan adopted the design in many of their more modern steam locomotives.
(Shedmaster - Nine Elms website)
---
Here is the East African Railways booklet from 1960 (of course this described the firing techniques of Giesl equiped oil-burning locomotives):
(John McIvor collection)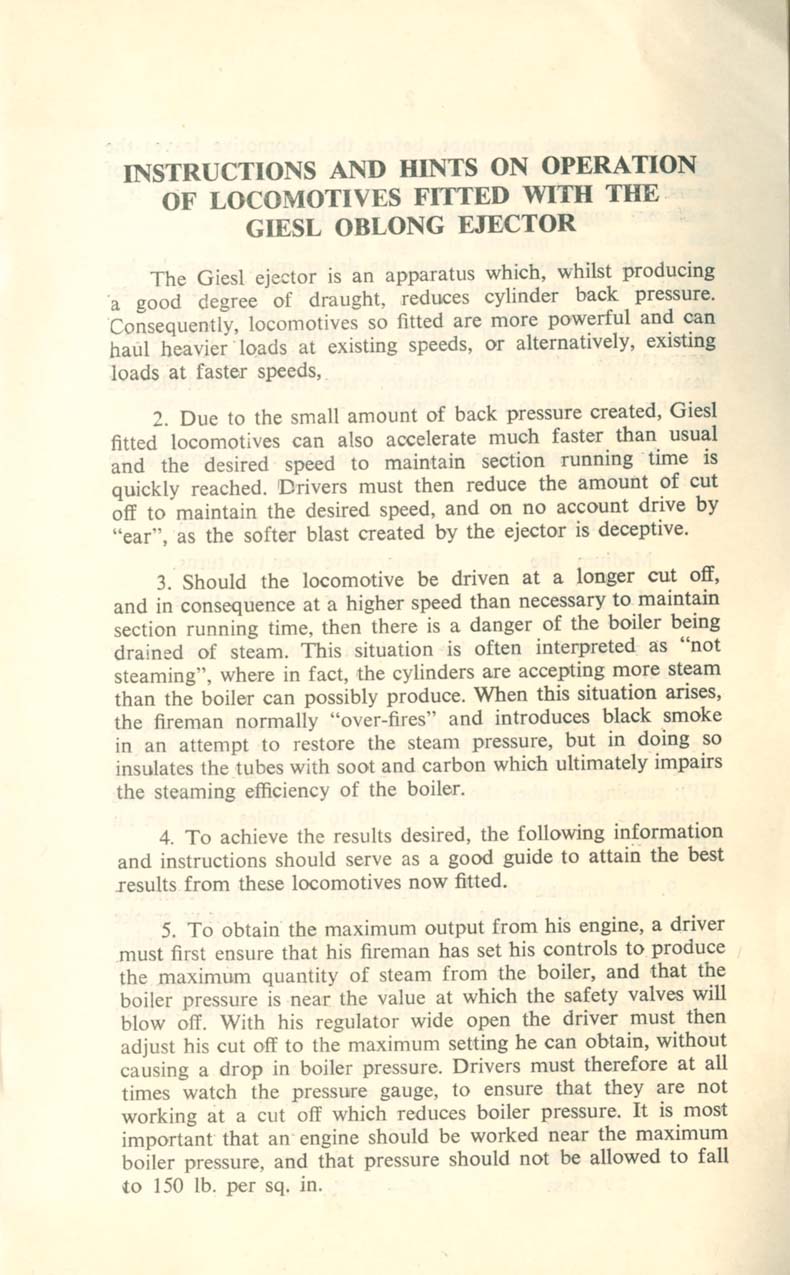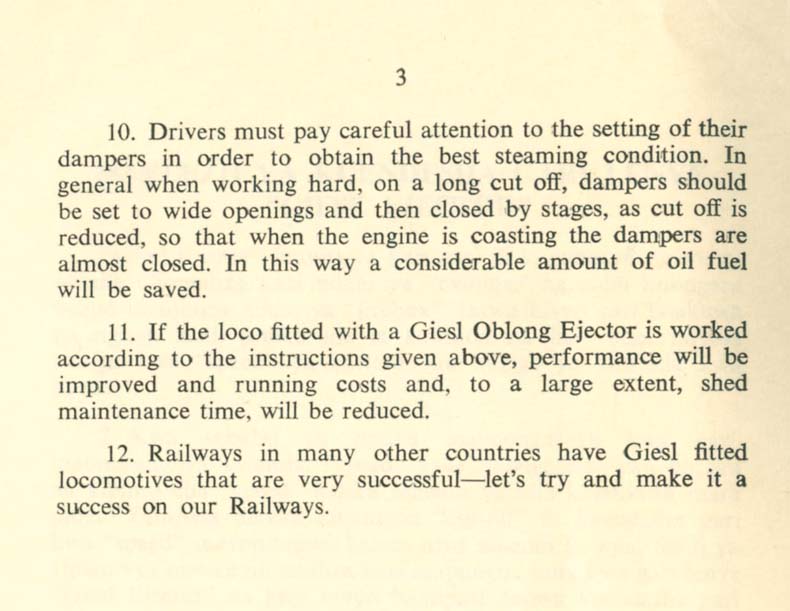 Giesl ejector builders plate and top view of an ejector from Kenya Railways (photos copyright Trevor Heath 2009)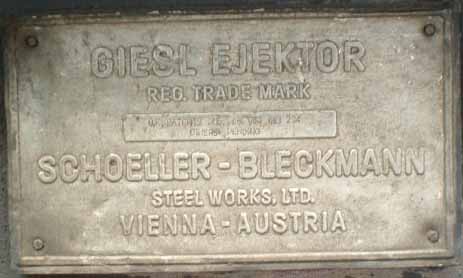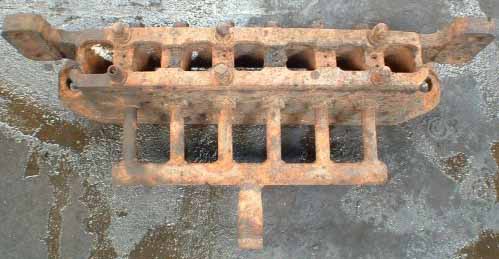 ---
The text of the Nine Elms firemen's handout was as follows:
(This is a verbatim copy from the original document - document from Jim Jester collection)

9th May, 1962.

Locomotive No.34064. Notes on Giesl Oblong Ejector, fitted with Spark Arrester.

The numerous experiments carried out in the past on unmodified "West Country" and "Battle of Britain" class locomotives to prevent spark emission have failed beacuse the addition of a spark arrester has always ruined the engines' free steaming qualities. The reason for these failures has been that the multiple jet exhaust arrangement could not be made to produce enough draft to overcome the extra resistance to gas flow through the boiler caused by the spark arrester plates or mesh. Sharpening the blast did not solve the problem and led to a reduction in the locomotive's power output. A more efficient exhaust device obviously had to be sought.

Recently a new, highly developed design of blast pipe and chimney of Austrian origin has become available known as the Giesl (rhyming with diesel) Oblong Ejector. Its application to No. 34064 is expected to finally overcome this difficult and important spark arresting problem.

The Giesl Ejector's greater efficiency compared with the multiple jet exhaust arrangement (itself an excellent one in many respects) makes it fully capable of overcoming the resistance caused by the mesh of the spark arrester. It is adjusted so that it does this without spoiling the steaming, which remains at least as free as before. The locomotive is less prone to make black smoke and now does its job with a slight reduction in the blast pipe pressure (or back pressure on the pistons).

Seven nozzles, with blower jets placed between them, are arranged in line to exhaust into a narrow chimney round which a hinged fine wire mesh spark arrester is fitted. A valuable feature of the design is that the chimney is fixed in perfect alignment with the blast pipe, thus eliminating one frequent cause of bad steaming. The chimney is also made into three sections and can be simply removed for access to the superheater tubes and can then be just as simply replaced with its alignment guaranteed to be correct. The main and blower nozzles need cleaning at each 'X Day' examination.

In the Giesl design the exhaust leaves the chimney top with much greater velocity, so that this, combined with the narrow frontal area of the chimney and its extended height, is likely to make a far greater improvement to the smoke lifting of these engines than any of the earlier alterations made with this object specifically in mind. This special advantage is quite incidental to the main purpose of the experiment which is to avoid spark throwing.

Theoretically the ideal locomotive chimney is tall in relation to its choke and early locomotive engineers realised this and proportioned their chimneys accordingly. This ideal was departed from as boilers grew larger and larger until it was lost sight of altogether and good accepted practice became far from theorectically correct. The Giesl Oblong Ejector may be considered as being seven correctly shaped chimneys "rolled into one" so that ideal proportions are retained and adequate capacity is ensured. In any exhaust arrangement there is bound to be some waste of energy and the principal losses occur during the mixing of exhaust steam and gases and at the chimney top as kinetic energy or energy of motion. The total losses are much lower with the Giesl compared with the multiple jet chimney but whereas the mixing losses are lower with the Giesl and much higher with the multiple jet, the reverse is true of the chimney top loss and it is this fact that makes the exhaust pass clear of the locomotive with the Giesl chimney though it often tends to hug round the locomotive with the existing arrangement.

The Giesl Oblong Ejector may be considered as the ultimate solution to the exhaust problem on steam locomotives, combining, as it does, the best of theory and practice on a subject upon which a great deal of effort has been concentrated in the past.
---
Jim Lester wrote:
Yes it was actually, all the firemen at the Elms were given a handout at that time explaining the principles of the ejector and basically what to expect! A trip down to Salisbury with an Exeter bound train on '64 was quite enlightening, particularly with dreaded ovals (aka coal) in the tender which were 90% cement and 10% something else, however had a job to hold it back for steam, that ejector really worked. From a stop at Andover Junction we passed through Grateley at 60mph, remarkable, although I must say I certainly shifted masses of those miserable little excuses for coal. Digestion wise '64 wasn't complaining!
---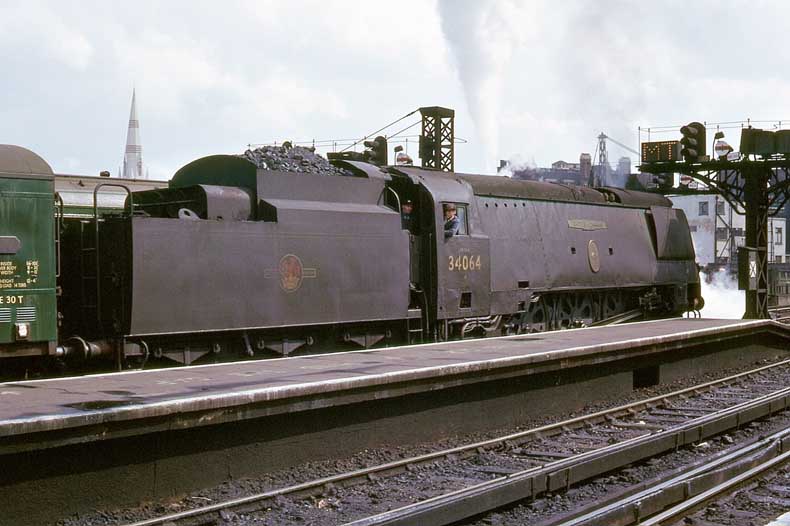 34064 awaiting departure at Waterloo. Copyright © 2010 Bill Wright
---
Robin Bell has kindly added the following notes of his experience with 34064.
As Jim Lester says, with the Giesl ejector this was some engine, it was a pity that it was given the equipment so late on, and so near to the demise of steam to be really effective. When first fitted there were some problems with the equipment, as there was too much draught which caused the Brick arch to burn away along with the Superheater ends, and the steel fire hole rim protector to melt. These difficulties were solved by nothing more than a minor adjustment of the height of the actual blast pipe. One other benefit of this equipment was that 34064 would get you past Clapham in less than the 7 minutes allowed, some achievement!
Like Jim, I too remember it well. Not long after the Giesl ejector was fitted I was along with George Bowen on Wednesday 24th.October 1963 on the 10.30 am 2 hour Bournemouth, book on @ 9.50 am at Vauxhall No.35 duty pass to Waterloo relieve and work. I have to say that I was a bit dismayed to see 34064 at the head of the train of thirteen coaches. Not only that, when climbed aboard there was a representative from CM&EE Department suitably attired in dust jacket with clip board and stop watch in hand to record the journey. So we set off and nothing out of the ordinary occurs. Matey was putting it all down, speed, boiler pressure, cut off etc. From what I can remember at this distance in time was that the pressure hovered around the 220 lb. mark, not bad for a novice I suppose. The most eventful moment of the trip was that George stopped short for water at Southampton, but rather than wait for the Guard and all that mallarky, I unhooked the engine we went forward took water, and back onto the train, all in 4 minutes. The Guard never knew anything about it.
So we set off again on time, and as we were going over the River Itchen at Redbridge there was a rumbling noise from the tender and down came what Jim so wonderfully described as briquets and briquette dust. The CM&EE bloke said something like, "your in trouble now"! Me being like I am, puffed out my chest and said "d'you reckon", and started ladling this rubbish into the firebox, and have never seen steam like it - 240lbs all the way, and we did the 28 miles from Southampton to Bournemouth in 28 minutes not bad with 13 "tinnuns" on.
All in all 34064 was vastly improved with the Giesl ejector and that's saying something!
---
Jim Arkell has sent us these interesting comments about the Giesl experiment:
John Click, at the time the assistant works manager at Eastleigh, was the prime mover behind the fitting of it. He was previously Bulleid's assistant on various projects, including the turf burner in Ireland. BR had to pay a licence fee for it and that was a major factor behind the decision not to fit any further engines with the ejector. The original idea was to fit 40 of the unconverted's. The reason, or rather excuse, for fitting it was to fit a spark arrestor and improve exhaust lifting.
The unit was made in Austria, and initially it was overdrafted because Giesl hadn't taken into account the lack of dampers. The nozzles were subsequently increased in size at Eastleigh. John Click said that he'd made a specific request for them to be careful not to overdraft it, but they still did.
When they first tested it, which was on 3rd May 1962, they stopped at Wallers Ash. Dr.Giesl very nearly got hit by a passing train as he walked around the front of the engine, and he hadn't heard it coming. He'd just been up a signal post to take a photograph of the engine, which has been published in a book called 'The power of the Bulleid Pacifics'. I heard Bert Hooker say many times that it was the best of the pacifics in that form. I've never heard of anyone disagreeing with that.
John Click and Dr Giesl were involved in the fitting of the ejector to 34092. It was done to exactly the same design as 34064, and again a licence fee was paid. Dr Giesl used his commission out of that to pay for a visit to the K&WVR to see the engine.
The engine - 34064 - was withdrawn at Basingstoke in 1966 after a high speed slip which bent its coupling rods somewhere along the stretch between Farnborough and Basingstoke. It stood in the yard for several weeks before going for scrap. It was a bit like what happened to 35004 some months earlier at Hook. I wonder if anyone remembers the details of those incidents i.e. dates, who was driving?
---
Alan Newman has replied:

I do not know who was working 34064 but I certainly know who was in charge of 35004 - Jim Evans had the dubious honour of condemning 35004 to the scrap man.
---
David Maidment has sent in two timings logs he recorded of 34064:

34064 Giesl Ejector loco runs;

8.8.64: 09.10 Llanelli - Brockenhurst between Dorchester Jcn and Bournemouth Central.
34064 'Fighter Command' 70D
10 chs, 318/345 tons
Dorchester Jun 00.00
Dorchester South 02.40 61
Woodsford Xing 07.22 59/71
Moreton 08.50 70/77
Wool 12.35 75
Worgret Jcn 16.00 72/60*
Wareham 17.04 65/69
Holton Heath 19.00 68
Hamworthy Jc 21.46 63/35*/48
Poole arr 25.14 Arr 1early
Poole dep 00.00 Dep 1late
Parkstone 04.25 42/36
Branksome 06.40 42
Gas Works Jcn 07.13 56
Bournemouth Ctl 10.28 Arr on time

Spring 1962 (Unspecified date around April/May I think)
19.45 Woking - Waterloo (20.23 Waterloo arrival ex Bournemouth)
34064 'Fighter Command' 72A
12 chs, 408/430 tons
Woking 00.00 Dep 3late
W.Byfleet 04.25 64
Byfleet & New Haw - 69
Weybridge 06.50 67
Walton 08.44 75
Esher 11.02 76 / sigs 5*
Hampton Crt Jcn 13.23 44
(Surbiton) sigs to dead stand outside station
Surbiton Arr 17.32 (13.30 net)
Dep 00.00
New Malden 04.29 57
Wimbledon 07.18 63
Earlsfield 09.00 67
Clapham Jcn 10.57 44*
Queens Road - sigs 40*
Vauxhall 16.02 sigs 15*
Waterloo 20.08 (17.00 net) Arr 6late

I commented in my logbook: "34064 was ex works, accompanied by an Inspector - the Giesl ejector was on trial. 34064 was described by the driver as 'very strong, with exhaust clearing coaches and giving the driver a good view ahead, and countering the loss of efficiency caused by a spark-arrester."
---
If you have any further information/comments about 34064 which you would like to add please email the Shedmaster Nine Elms.
---
Initial 34064 article copyright John McIvor 2009
Light to Loco (return to Nine Elms Index)