MEMORIES OF A RAILWAY PAST - BUT NOT FORGOTTEN!
by VERNON HOWARD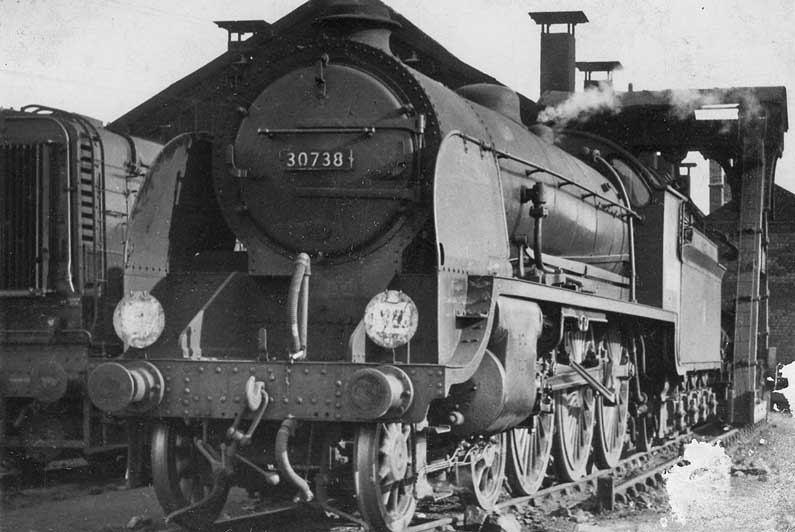 Class N15 King Arthur 30738 'King Pellinore' seen at Basingstoke mpd 27/10/1957. Copyright © Vernon Howard
My interest in railways started from a very young age, no doubt from the fact of having a family background of working within the industry since around 1910. I think it may well have led me down the same path having heard many a story of my great uncles who were North East Enginemen, one based at Sunderland and the other a 'Top Link' Driver at Gateshead, indeed my father was also a railwayman.
Like most youngsters that interest later led to train spotting, which kept me out of trouble, or did it, I'm sure many a Shed Foreman thought otherwise including those at the Nine Elms. During this period a number of us, when we could not afford to go to distant places like Waterloo, we would gather on the cycle shed roof of Mayfield Road Girls School, this was a great vantage point and was located a couple of hundred yards on the downside approaching Walton-on-Thames station.
I well remember one lad that was always there who stood out from the rest of us, he was different in as much he had an outstanding ability to recall from memory, every S.R. named locomotive and it's corresponding number. A lot of us tried to copy him but never could, for he also had a far greater knowledge of the railway than anyone else. Little did I know that in time to come we would be working alongside each other, many of you will know him or know of him as he has a number of entries on this website and his name is one that I have 'not' forgotten, and I trust he will not mind my telling you, in fact it may help to boost his profile, it was Ron Petrie.
In 1955 having just left school I became a junior porter at Walton for a couple of months then again in the same grade as a 'runner' at Woking, this was while I was awaiting acceptance into the motive power department at Nine Elms. Later, after passing the medical at London Bridge I took up my position as an Engine Cleaner.
MY FIRST MEMORIES OF NINE ELMS
Later in 1955 and now in the cleaning gang and deep in dirt and oil, but full of pride and enthusiasm, we were in awe of those who were senior, 'that was about everyone'! Having been initiated, that of being greased from head to toe and thrown into a tender and shut in for half an hour or so, I was then considered as one of the boys. Being of small build I found myself selected for the inside motions but at the first opportunity I asked to work the steam cleaner known as the 'Weever Plant', however I still ended the day as just as dirty! Whatever it was better than being underneath in between the motions with the fearful thought of the engine being moved whilst you were there, and equally being aware that such things had happened did not help! During the months that followed time was spent doing a mixture of cleaning and with the Charge-hand out of sight a lot of 'tom-foolery' and many a laugh followed, it all helped to pass the day and many a friendship made.
In May 1956 it became exam day for two of us, myself and the younger brother of the MacArthur family (sorry Christian forgotten), unfortunately he was later involved in an accident having slipped on an ash heap and lost the lower part of a leg.
I met him a couple of years later when he was at Woking M.P.D office and he was hoping to obtain a Motorman's position. Can anyone complete the story? However we got through the ordeal and became 'Passed Cleaners' and got on to the first step of the footplate, I'm pleased to say I never had to return to cleaning again. I've read that the same exams were later held at Guildford, but I'm sure we sat ours in the Clock House building in the old road shed at Nine Elms. Can anyone confirm?
TURNTABLE GANG
The next move was to the turntable gang; my first Driver was Donald Pheby, bow tie included! What a gent and a typical old Engineman, he could always find the time to explain the workings of a loco if you showed an interest. Many a pleasant moment were spent with him during this period. He would often allow you a chance at the regulator whilst shunting the dead loco's and, after a short period of supervision, he would then allow you to bring the engines off the pits to turn and shed them, 'what more could a 16 years old wish for'! But of course this was not to last, as movement within the 'links' at Nine Elms was rapid at this time and it was soon time to leave Don, and move on.
On our last shift together he presented me with his pocket chronometer and two lovely books that described the complete workings in every detail of a locomotive inclusive of pull out pages showing a loco with cutaway sections in great detail, a gesture that I shall always cherish.
I recall that one day whilst working the turntable and as a youngster short of money and tobacco, having blown all my wages gambling and chasing young ladies, no doubt, I asked the turntable fitter for one of his rollups. I had never smoked Nosegay before, by the time I had smoked half of it I realised that the turntable had stopped turning but I had not and soon felt very sick, this taught me a lesson and I never asked for another. Also remembered was the café, just outside the gate, famous for his hot pies heated up on top of the water boiler and covered with a tea towel. I also remember the pink iced cream slices and I can still taste them.
It was not long after, when age allowed and under protest of course, I was dragged past the café into the next-door establishment, the 'Brooklands Arms', another place of memories! Not least forgetting of course, the Cider House, located a little further up the Wandsworth Road where many a light head was inflicted but soon sweated out! Also under the bridge there was an Army Surplus Store where many a bargain could be bought, in fact I purchased a thick leather test meter bag there which withstood my footplate days and a number year longer, for five shillings, it was a bargain.
COAL ROAD LINK
The next link was the Coal Road the loco an Adam's 'O2', I believe. My Driver was now Jack Roberts another good Engineman to be with. I found him very much a fatherly figure and again, just like Don, would be keen to share his time and patience in helping to understand a loco and how to fire to it. Jack loved to do the Football Pools and 'Useless Eustace', does any one else remember? Jack also taught me to do the pools coupon and after a few weeks, upon checking my coupon he got very excited and informed me I had got the magical twenty one points, our minds were far away from the coal hopper and in minutes the word got around the shed and we were inundated with everyone asking what I was going to do with my fortune, the winner the week before had received £75,000 but that week there were so many others with twenty one points the dividend was £21 so back to 'earth, shovel and clinker'. This was equal to three to four week's wages, so all the same it was a nice win. It was soon spent on four tyres for my Ford Mk 2 Consul. The following weekend after a night at the Wimbledon Palais, I came out to find them all slashed and beyond repair and a further £21 spent to replace them. I was never too keen to bother with the pools after that, but Jack and I had many a small win with 'Useless Eustace'. Once again it was time to move on and say goodbye, and once more I considered myself very lucky to have been with another fine Engineman.
PROMOTION

Class LN Lord Nelson 30854 'Howard of Effingham'. Copyright © Vernon Howard
The next 'promotional' move was into a link that seemed to be nothing more than P&D work, this was harder and dirtier than anything I had imagined, but of course you knew to get ahead it had to be done. My biggest fear was that of disposing of a 'Lord Nelson' class engine and its 11 feet of firebox but you just had to put mind over matter and complete the job. I cannot imagine a 16/17 year old of today completing the task but we did, and got the reward of job satisfaction. Why I feared the Lord Nelson's I don't know, for later I experienced the most difficult and hardest disposal and that was of a 'M7' tank, but that's another story! Other memories associated with these times was the duty of collecting from the stores oil, paraffin, wicks etc: and having to carry it all in the darkness of the night across the yard and through the tunnel and into the Nine Elms Goods Yard. How we ever got there with everything intact I do not know after tripping up on sleeper edges, point levers, debris etc: and at times the 'pea soup' fogs, then having to avoid the shunt movements to find the diesel shunting loco's and then having to fill and check their lamps, whilst shunting continued, 'Health & Safety'?
The next move or was it part of the above was into the 'Dual Link' where you had a regular Driver if you were lucky, if not you could have a different Driver every day almost, on reflection this was not such a bad thing as you could learn a lot from them. It gave you the chance to prove your worth and put yourself in good stead with other Drivers and be accepted without a problem as it was not unknown for a Driver to refuse taking a young unknown Fireman with him that he was unsure about. Having seen this occur I made sure I did everything possible to avoid this happening! The one thing that was disliked in this 'Link' was the hours of duties, I believe it was a cycle of either 13 or 26 weeks and almost every one of the duties had you starting very early, mid-day or late evening, so any social life was almost non existent. But of course as young fellows and aware that there were such things as young ladies we would have burnt the candle both ends and many a time dismissed any thought of sleeping. On one occasion after the evening out at a local hop and being of a 'kind nature' I took a young lady home and the last thing on my mind at the time was Nine Elms. Later around 1.30 am and having said goodnight and the fragrance of perfume diminished, my senses returned, I then became aware duty calls, I raced home changed and collected Mum's prepared lunch box and 'yes' she was still up to scold me.
As I had an early start around 3 am I set off for work from my home in Hersham, well I got as far as 'The Robin Hood', a large public house on the Kingston By-Pass, before I had to stop, I just could not keep my eyes open so decided that a little rest in the lay-by would not be a bad idea, not so! I awoke at around 3.30 am, now wide-awake and shocked I drove as fast as I could to the Elms! On arrival I was told to report to the 'Running Foreman', on doing so I was asked by this very irate gentleman why I was late? Deciding the truth was the best answer I calmly told him the reason. To which he asked me as to whether I could find my way back to the same lay-by, I replied 'Yes'! In his authoritative manner he then suggested that I returned to it and continue my sleep as he had covered my duty and had no need of me! Furthermore, I was to take the following night off too! What a blow, the thought of the short wage packet the next week, but even worse would come if I dared to go home as Mum's bite was far worse than any Foreman's for sure, so I had to sleep in the car and hang out the time. I returned home at after what seemed a normal time at work and gave her some flimsy excuse as to why I was off the following night! So another lesson learnt, plus a blot on my copy book, however I do not recall ever being late again! There's a lot to be said for old fashion methods.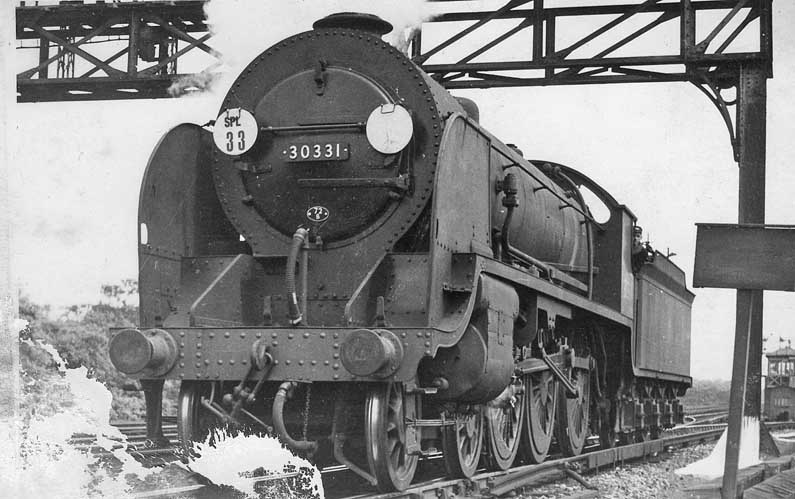 Class H15 30331. Copyright © Vernon Howard
During the time I spent in this 'Link' there were some 'running' duties, giving me the chance to experience the main line on many a summer weekend, and some weekdays there were 'Specials' and 'Boat Train' workings that I often found myself booked on. I then started to find out what it was all about and experiencing the exhilaration of speed and power, something never forgotten. Indeed I was very lucky in having Ken Lewis as my regular mate and I enjoyed every worked duty that I spent with him. I believe at the time he was then one of the youngest drivers, about 28, and he extended his friendship to include his family and his home. I learnt a lot from Ken and he would often leave his driving seat and take the shovel and say 'that's your side today'! I remember one day he did this whilst we were going 'hell for leather' down the bank from Worting Junction with a 4-6-0, 'King Arthur' or an 'H15'. I was feeling a bit concerned at the footplate ride this loco was giving, the worst I could remember, and imagined us leaving the track at any second however I was able to dismiss my fears 'a little' by assuring myself that Ken knew what he was doing! After checking the next signal, which I was able to see before him, I gave him the 'two finger' sign to say we had the road clear, he then checked the regulator to ensure the engine had no more to give, it didn't, thank God! But unknown to me I would be shaking in my boots a few seconds later when he left his seat and said, 'It's all yours'! My immediate thought at that moment was 'I don't want to be an Engine driver anymore' and I would like to get off!
I really did not know what to do but Ken soon assured me all was well and explained the road ahead and told me to do exactly as I thought was best. I soon calmed down enough to continue but was greatly relieved when it was time to reduced speed and the locomotive returned to riding normal and then thinking, 'I still want to be an Engine driver', yet another cherished memory!
On one particular duty we were in Eastleigh and I burnt myself badly when my wrist had given way whilst using the clinker shovel. I had a burn blister about one inch wide and six inches long and it hurt like the devil. Ken, after climbing onto the footplate, saw what I had done and forced me to exposed the burn in front of the fire hole door, holding me there! It was a painful experience for a moment or two and I was thinking, 'What the devil's he doing', then the pain faded and the blister had gone, what's more it caused me no further problems on the return journey and healed without leaving a scar. Again, another old-fashioned remedy!

Class Q1 0-6-0 33029. Copyright © Vernon Howard
On another occasion early one morning we had 'Q1' class engine and worked the milk tanks from Clapham (Kenny) Kensington sidings over to the dairy at Morden, then we returned to Wimbledon West Yard to shunt during the night. During which time I was in agony with toothache that I had had all day being too afraid to go to the dentist to have it treated. Later on in the morning Ken asked me to do some shunting for him whilst he attended to something and off he went. Eventually he returned with our relief crew and with the changeover completed we walked back to the station. However, instead of going onto the platform Ken ushered me out of the station and into the town, passing a few shops then down a side street, through a door and up a staircase!
I had to ask him 'where are we going'? His reply was something like 'nowhere, we are here and we're not leaving until you've had that bloody tooth out'! It soon became evident as to where he had been earlier, he'd booked me an appointment with the dentist, there was no escape, but I was certainly relieved once the tooth was removed! On the same duty on a later date I was bent down checking the lubricator when I received an almighty crack on the head that almost knocked me out, I could literally see stars! At that moment Ken had opened up the regulator, now on the 'Q1's the other end of the long regulator extended halfway across the other side of the boiler and it had come down and struck me on the head! Ken was most apologetic but could hardly contain his laughter and had to keep looking away for fear of doing so!
SHORT OF STEAM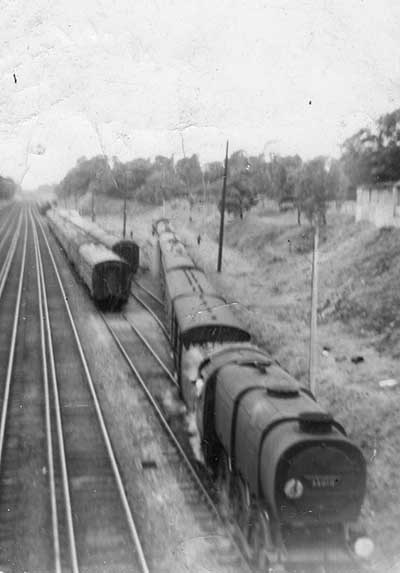 Class Q1 with Vernon Howard on board at Oatlands Siding near Walton-on-Thames. Copyright © Vernon Howard
Ken and I had a duty one day to relieve a Feltham crew on an 'M7' tank at Weybridge after which we ran light to Oatlands carriage sidings for an empty carriage working to Waterloo via Wimbledon then onto the East Putney route. We soon noticed the loco was not steaming too well and the further we went the worse it became so I decided to pull the pricker through the fire to liven things up, but it just bounced across the top of the fire!
It was then I became aware that things were not well at all and the dart would be required the next time but again this just bounced off. The fire was about two to three inches below the fire hole door, I had taken it that we had almost a full fire box as nothing had been said when we relieved earlier for me to think otherwise, but what we really had was a fire box full of clinker. I had never seen anything like it, but we had set off and Ken decided to make the best of it, we struggled to make steam and were losing time every minute until we were rounding the curve on the viaduct to drop down hill after East Putney station. Then the steam pressure had dropped so low the vacuum brake applied itself and we came to a stop and with very little water showing in the gauge glass and a very unsympathetic guard, it took us a further twenty minutes to raise enough steam and water and attempting to break up the clinker. What little I had broken up was about two or three shovels full this was thrown out alongside the track, we got away and what fire we had was almost to the brick arch, before too long things got bad again and we eventually crawled into Waterloo and of course we were welcomed by the Waterloo Motive Power Inspector who in his 'own way' asked what our excuse was for being so late, followed by a equally very unhappy guard who thrust a lost time ticket into Ken's hand and without a word disappeared.
We returned light engine to Nine Elms and Ken went to see the Shed Foreman and report the condition of the loco. He returned to say the fire was to come out, just as well really as there was by this time little fire left to save. I found this disposal the hardest I had ever encountered, with the sweat rolling off me and constantly running into my eyes! After only an hour and a quarter I was nowhere near halfway complete and the clinker was like toffee. On seeing the Running Foreman in the yard I asked him to have a look at it and with some embarrassment asked if I could have some assistance, he said he had no one spare and left me to it, completing it took another hour and a half, the hardest days work I can remember yet one of the smallest loco's.
Lord Nelsons were a bit of cake compared to this one. We later found out that the loco had been out almost twenty-four hours and had not had any 'engine requirements' during all that time, sorry Feltham I've never forgiven you!
WIMBLEDON
Other duties we often had to perform was to act as 'secondman' on the 'Snow and Ice' and 'Weed Killer' trains. I used like these duties as you were dry and slightly warm during the night in the old 'nutcracker' cabs and again many a driver would let you have a go. Furthermore you would venture over roads that we would not use with steam, thereby seeing something different. Often on my rest days 'dressed in overalls' or after a shift I would meet up with Ken to learn more about electric multiple units and again have a go on the 'Dead Man's handle, but I couldn't take to it wholeheartedly, although it was a lot cleaner but I found that it was not for me and that steam was my future.
LEISURE TIME
During what little leisure time or on rest days there were a number of us would meet up at Kingston swimming baths. I cannot recall everybody's name however those that I do remember were Mike Evans, Willie Rush and Alan Domm. Those I can't recall, one was a lad who transferred up from Exeter and became a friend of Domms, he actually lived in Kingston. There were two brothers who also lived in Kingston and I believe a few others whom I have completely forgotten. On these occasions we would enjoy an hour or two swimming and the pleasure, or should I say the need, of a Turkish bath and see the dirt that came off us, especially from around one's neck. Even after this you could go out for the evening at the hop and have a dance or two wearing a clean white shirt, returning home to find the collar as black as a used floor cloth. It's hard to believe the job was that dirty!
WEDDING SPECIAL
Recalling the two brothers who lived in Kingston that I mentioned before, could these have been the MacArthur brothers? One of them had plans to marry and either I had offered or I was asked to use my car for the wedding, whatever it was agreed! They had both at some time previous booked the day off but I was rostered to work! As such I made out a request form to have the day off too, however my request was returned 'Declined' stating that due to it being a Saturday and the shortage of staff my request was refused. I decided in my wisdom to ignore this, and I would be at the wedding. I remember looking at the Saturdays sheet on the Friday and noting I was booked on a Southampton Docks 'Boat Train', a duty that I would normally have enjoyed and looked forward to so I was a little disappointed at missing out. Needless to say the wedding went ahead with me in attendance!
As expected the next time I signed on I was summoned to report to Mr. Gilchrist. On entering his office he pleasantly asked, 'Did the wedding go well'? Sheepishly I replied that it had, his next words were not so pleasant, he tore into me and I no longer felt the whole 5'5" I stood, by the time he had finished I felt 2'5", he was certainly not in the mood for taking prisoners!
I knew then that if I got away with it this time I could not afford another confrontation with him, as he had put the fear of God into me! I did get out of his office intact and still had a job, but only just and he had definitely made it clear that I had been very close to being dismissed, he also informed me that the next and only wedding I could attend would be my own, with permission of course and further remarked that he had noticed that I had been booked on the Special that day and said that it would be a while before I could be trusted to turn up for another. For a number of weeks I was overlooked, then things returned to normal but another blot on my book, and another lesson learnt.
DERAILMENT
The next time I had dealings with the Shedmaster I really feared the worst! Having disposed of an original 'West Country' as usual I had been entrusted to turn the loco and put it up the shed, however I found that a wagon full of ash and clinker in front of the loco blocking the way to the turntable. Well I moved the loco steadily forward towards the wagon when a shunter appeared, he asked me if I would push the wagon up to the staff crossing and then drop back allowing him to shunt the wagon into the road alongside to which readily I agreed. In the attempt, bearing in mind this was on a rising gradient and on a sharp radius, it was difficult to avoid slipping and not wanting to draw attention to myself, I carefully moved the wagon forward without falter.
All was well until the wagon reached the foot-crossing then things went wrong! The wagon derailed and who was waiting at the side to crossing, none other than Mr. Gilchrist! My heart sank and I thought I'm in trouble now and what's more my mate would be in for it as well, this would spoil his game of cards somewhat! Worst of all I had blocked the road to the turntable that I could foresee would cause even more delays and I had thoughts of just walking out the gate 'Never to return'!
However within minutes the breakdown crew and fitters were on the scene armed with bars and jacks, etc! It took no more than 20 minutes and the wagon was back on the rails and had been moved clear. It was at this moment that Mr. Gilchrist approached the cab and addressed me, 'Howard'! I thought then this is it - I'm on the carpet again and I'm about to be derailed - but surprisingly enough he informed me, the line was clear and to carry on, and go steady. I never did find out what had actually derailed the wagon and neither my mate or myself heard another word about it!
IDLE MOMENTS
Many an hour was spent at Waterloo Station at the buffers and we often idled our time watching the passengers passing by and of course the young ladies were the most interesting, even more so should they stop and chat as some did, of course there were the regulars. We would often get a nod or a smile from such as Alma Cogan, singer of the late fifties and sixties who would always smile and say good evening. Zoe, the blond girl who featured in the milk marketing advertising of the fifties was another, it all helped pass the time away. A big event that took place at Waterloo, at which we 'almost' had a front seat to view, well that of looking through the carriage window alongside our loco and out the other-side, to actually see the arrival of Bill Haley of rock music fame. The station was packed and the screaming was deafening but we were able to see him, a lot of those there on the day never got the chance!
SIX FIVE SPECIAL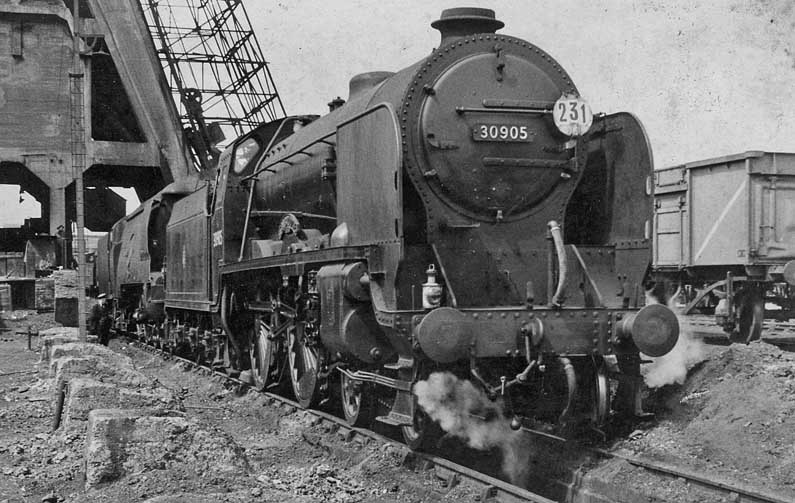 Class V Schools 30905 'Tonbridge'. Copyright © Vernon Howard
Certainly not to be forgotten were events on the 3rd September 1958 when I came on duty one day as spare and was told to get a 'Schools' class ready for Waterloo. On reaching the engine I was confronted by this beautiful looking loco, No. 30907 'Dulwich', there was no other way of describing it, for it looked a picture, it had been cleaned and polished from top to bottom and had recently returned to Nine Elms from the South Eastern section where it had worked for many years. Shortly after a Driver turned up and we prepared the locomotive for Special 6, we then took water and coal and were away up to Waterloo. On arrival we backed onto a train on platform 1, I believe, which was most unusual and indeed to find cameramen by the dozen awaiting for us! Having coupled up I was still none the wiser as to what was going on or where in fact we were going! My mate had hardly said a word, so I had not asked! Then we were given a headboard to put on the front of the engine that read 'Six Five Special', then within a few minutes we were introduced to the two lovely ladies by some P.A. One was the famous Hollywood film star Cyd Charisse, known for her legs and dancing with Fred Astaire, whilst the other was a blond English actress whom I did not know? It was then arranged to have a photo shoot with both of them and ourselves on the engine. This started well but it was evident that the English actress, who I thought was rather rude, was trying to steal the limelight in every photo. Cyd Charisse, who was very friendly and ladylike was fully aware of what was happening, she just smiled and raised her eyebrows to us, I must add that she was dressed in a very nice yellow dress. On the other hand the English girl was in a white dress that had puffed out panels, somewhat like a quilt.
As the shoot progressed and still claiming the limelight she leant out of the cab arch and she found it a little difficult in getting into the position she wanted so she lifted the Fireman's seat to the upright position and was then able to lean out further, a big mistake!!
Although the engine was spotless no one had thought of cleaning the underneath of the seat and when she stepped back there on her dress was this large square greasy patch imprint, no doubt the dress had cost a fortune but it was ruined now. We dared not to say anything to her but it only took a few seconds before Cyd Charisse and ourselves were trying to withhold our sniggers! She of course realised what was amiss, she was no happy bunny I can tell you, she certainly wasn't acting when she went into a rage and ran off and into the first carriage, and Cyd Charisse wasn't acting the smile on her face either! Somewhere in the London newspaper archives I'm sure a photo or photo's exist but as yet I have not been able to obtain a copy, maybe one day! Just as things were returning to normal I found out that this 'special' was bound for Southampton or the Docks and I was thinking 'a nice one to get my teeth into', a fast non stop run! It was obviously for a film event of some sort, but I never did find out as another more senior crew namely Driver Len Rickard and Fireman John Cant, who had signed on at Vauxhall, climbed onboard and relieved us. I certainly wasn't expecting that and I returned to the Elms quite deflated, spending the rest of the shift spare.
ROYAL STANDBY
One day having signed on we prepared another very clean and polished 'Schools' that we had inherited from the Eastern section, which was splendid and a credit to them. Our instructions were to run light engine to Surbiton and then back into the down to the goods yard where we were to stand by at the ready. My mate was Fred Domm and we kept ourselves busy keeping everything clean and tidy, not that there was much to do as the engine was spotless and not the usual. It was a nice warm sunny day and it was pleasant just sitting there until the Royal train had passed by, if somewhat late. Then we were released but it took at least a couple of hours to get the road to run back. When we did rush hour had restarted so this would mean a brisk run back tender first! Having wet down the coal we set off, but it being a warm day it was not long before it had dried out and it became another coal dust pelted ride, disposal was easy but the cab and backplate looked nothing like it had all day, with coal dust everywhere, it had certainly made a mess of her. What looked to be a short day at the start had taken a whole shift, but one of the easiest I can remember.
PLAYING CARDS
Another pastime of course was playing cards, although gambling was forbidden it went on and many serious games were played and at times the kitty would be on display depending on who the foreman was on duty. Solo seemed the most popular game and many a man would go home penniless and another time win a weeks wages or two, I for one could not resist the temptation. On one occasion I was in a game of solo for a number of hours and the game was one of the best I could ever wish for, the hands were getting better all the time.
Then something happened that I and I do not think anyone else had seen in their lifetime and I have never seen it happen since, that is when after the cards had been dealt, thirteen to each person, each player had been dealt a complete suite Ace to King, a million or more to one chance of this happening. I had the Hearts suite and the call, you could hear a pin drop in the lobby and as the game started I had to show my hand. What the winnings were I do not recall but the hand and everyone else's for that matter could never be forgotten.
TANK GANG
For some reason or other I can not recall much about my time in this link apart from the fact that my driver was a very well known character for numerous reasons including his freedom of speech 'a spade was a spade', to most a very rough and ready sort of guy and as hard as nails I found working with him was a laugh a moment and that was' Jacko' also known 'Spider Webb'! I shall never forget we were in Clapham Yard shunting and he had 'one' of his many bad teeth giving him hell and during the course of the night had put up with it until he could not bear it any longer.
He told the shunter that he would have to stop awhile, having done so he went into his bag and withdrew a 6" nail and said "this bloody thing is coming out boy" and did no more but to force the nail between his gum and the offending tooth, by this time I was feeling quite sick and squeamish and had to look away where possible. This went on for about ten minutes or more and during this time I do not recall him making a sound, in fact I'm sure he didn't but I'm sure I must of and then when he did speak I had to turn and face him, only to see he had blood streaming down the sides of his mouth and the double tooth in one hand and the nail in the other and mumbled something to the effect, "that's cured that bugger boy" the tooth went into the fire box the nail back into his bag, within minutes we were back shunting, as if nothing had happened. I on the other hand was still feeling unwell for some time after. As 'hard as nails' was an under statement!
NEAR DISASTERS
We were stopped at the signal on the down platform at the end of Queens Road Battersea station on the Windsor side with an 'E4' class 'radial' tank and a train of empties, we then got the road and indicator lights, we started off and had got an engine length or so forward and I was looking out to check all was well when I noticed ahead of us and on the same track an EMU which was descending upon us at an alarming speed, I shouted at Ken and he dropped the vacuum brake, I believe he was preparing to jump off onto the end of the platform whilst I was having difficulty in opening my door the sliding catch that was fitted was stuck delaying my intention of jumping off! Within seconds the EMU thundered by and I believe at this time I had one leg over the door, had the door catch opened at the first attempt I would not be here today!
It took us both some time to recover from the ordeal and Ken reported the matter. We later learned that there was a restriction on allowing this movement as a fireman had jumped some years back, into the path of the train and was killed. Obviously there would not have been a collision as we were both crossing to the opposite sides of the track but there was such a short distance between the points that it could take you unaware. After the report I believe it was brought to the attention of the signal box to continue applying the restriction.
It's frightening to think about what could of happened and it was a just a little brass catch that had saved me, had we of had an 'M7' with a safety chain, who knows what the result might have been?
LANDSLIDE
A very prominent memory that I still have, which on reflection could have been a major disaster at the time, it occurred on a Thursday evening on the 27th December 1960 after we left Waterloo with the 7.54 pm stopper for Eastleigh. We had one of the pea soup fogs to contend with, it was so bad that we were running late within no time, I believe it was in the Brookwood area that my mate informed me that I would have to climb the signal that we had stopped at to confirm whether it was 'On' or 'Off.
How he knew exactly where we were at the time never ceases to amaze me, whilst climbing signal ladders was not an uncommon thing when these fogs descended! Sometimes just after climbing a few feet and you were above the fog and it was crystal clear, but not on this occasion! Finding the signal 'Off' we continued but very slowly and after leaving Farnborough visibility improved a little bit and we were able to crack on until we were somewhere between Winchfield and Basingstoke when suddenly we exploded several detonators. My mate, who I believe was either Dickie Budd or Fred Domm, (maybe someone will know) reacted immediately by making an emergency brake application, having seen and hearing the fogsignalman, displaying a red lamp and frantically shouting! Naturally not knowing what was amiss, we feared that we might run into the rear of a train ahead or something, however we came to a standstill without mishap. When the fogsignal man eventually caught up with us he informed us that the culvert and embankment ahead, which was very high in this section, had collapsed and that we would not be able to proceed any further! At that time we could only imagine the scene down the line and prepared for a long cold and damp night ahead. The next morning as daylight came the fog lifted so we ventured ahead on foot to get a look at the problem, on arrival at the scene we were more than shocked at what we did find. All our imaginations during the night had not prepared us for the scale of things which confronted us, we were looking, at I guess, to at least one hundred foot of rails and sleepers suspended in the mid air, no embankment and what there was left of it below, about 10,000 tons, had been washed away into the culvert. One could only imagine what could of happened had we and those on the up line had not been stopped in time, it could have been one of or the worst disasters on the Southern I'm sure, I do not know who had become aware to the landslide first and given the alarm they certainly averted a major disaster but they have my thanks and I'm sure that of many others! Hopefully someone can comment further and complete the story and let us know did he / they, receive recognition in any way?
Later that morning arrangements were made for 'wrong line working' to allow trains through to Waterloo using the down main through as an up line. Passengers alighting at Winchfield had to use the old disused, grass covered, centre platforms and the foot crossing until the line reopened on the 13th February 1961. Meanwhile a train eventually came alongside us with a relief crew and to take our passengers to wherever. So we traveled back on the cushions to Nine Elms. On signing off my mate informed me that we were not to come in that night as by this time we had been on duty twenty hours. A long and memorable shift!
PINSTRIPES AND TWEEDS
One morning having been relieved we caught a train at Surbiton for Vauxhall as passengers, it was during the rush hour and we had to scan the compartments in order to find a seat at last we found one with space for two and jumped in. The usual thing happened everyone shuffled up close especially those alongside being aware of our soiled attire. We were, as usual, given more space than anyone else, almost like being in first class, which amused us as usual and of course we nodded our thanks, as you do, to our fellow passengers, city gents dressed in pin striped suits, with bowler hats, rolled umbrellas and briefcases and of course an opened Times newspapers. On this occasion two middle aged ladies dressed in their tweed costumes, within a minute or so of being seated, I became aware of a very horrible smell that was soon realised by the others were as well, by the way they were going red in the face trying to hold their breath and the way their top lips were quivering, 'some dirty devil had coughed in their underwear' it was vile. My mate was also affected and showed disgust and opened the window as a city gent did likewise at the opposite window, knowing that I was not responsible I found myself looking at our fellow passengers in turn and thinking, 'was it you'? I did not exclude the tweed costumes either, the air was still thick when we pulled into Berrylands.
The moment we stopped my mate opened the door and said, "this is our one" and stepped off and I was very, very close behind him. We had walked a short distance out of earshot and I said "God I'm glad to get out of there, but why did we get off the train", he replied "I could not abide the stink either and decided that we would catch the next one"! He then said "I hope my guts are better by then", we could not stop laughing, and on the next train I dare not look him in the eye and prayed that he was feeling better. I can only smile and wonder how the rest of the journey to Waterloo went with the pinstripes and tweeds? The driver shall remain nameless!
NEXT LINK PROMOTION (Number 3B)?
I do not recall anything much of this link other than I was pleased to be moving forward and having more interesting duties. Again I was fortunate to be with two good Drivers Dick Budd and Fred Domm, one of whom I believe was involved in the incident (near disaster) at Winchfield.
It was whilst in this link my parents moved to Farnborough (Hants) but some months later I found the travel and the hours difficult and reluctantly transferred to Basingstoke.
BASINGSTOKE - BIG MISTAKE
On arrival at Basingstoke I had to wait for a vacancy in a link and was booked spare for about three months and most days covering some interesting duties including a lot of passenger work, although only stoppers. It was pleasant work and something completely different was the introduction of firing to the Western Region, 'Hall' and 'Grange' class locomotives. These to my mind were beauties to work on, an exceptional comfortable ride and a good visual outlook. Having had no previous experience of them, I had asked around for advice and told to fire to them light and often, and found doing so they would barely drop a pound or too at anytime even with the injector on. I cannot say what they steamed like with a heavy train on a long run but on the stoppers to Reading and back, they were a pleasure. Also something different there was the 'N15X' 'Remembrance class' No. 32333, by now there was only one loco left and it was of that name, the other six having been previously withdrawn. After having fired to it a few times I found it disappointing and not a free steamer no matter how you fired to it and I could fully understand why they were not particularly liked when at Nine Elms in earlier years.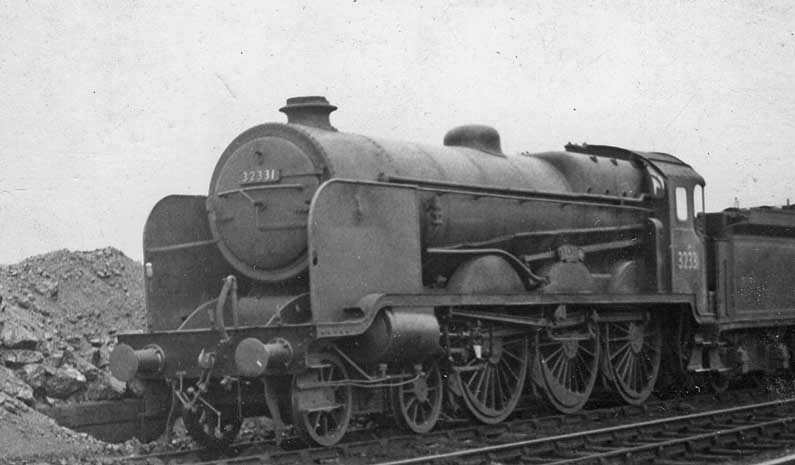 Class N15X Remembrance 32331 'Beattie', last of the class, seen at Eastleigh mpd 11/7/1957 awaiting scrapping. Copyright © Vernon Howard
Another aspect that I also enjoyed was visiting different places that we did not cover on Nine Elms duties. The different branch lines including those that serviced the Army camps like at Ludgershall on the old Andover Junction, Swindon and Cheltenham line. This seemed so quiet and peaceful giving the impression that time had stood still for the past sixty years or so! The day came to take my place in I believe Link Three, having previously looked at the duties it offered there was a good variety of work that looked interesting as it had some of the Western duties too. Unfortunately the luck I had experienced at Nine Elms had deserted me as I was paired to a Driver of a sort I had never met whilst at the Elms! Granted some were a bit grumpy, but never like this man and he soon deflated me of all interest and esteem and in time had me doubting my abilities to do the job. The reason for the way he was towards me I shall never know, I did hear from others that he was known to be a cantankerous old man but thought, in time he would accept me and by doing my job I would win him over, but after a year I was no further forward. Each day and every day was the same as the man would watch me constantly and as I would stoop to lift a damper he would then say, 'lift the damper', or should I pick up the shovel he would then say 'pick up the shovel' and put a bit more around and I could be opening the injector and I would then be told, 'I think you should put the injector on'. During the first couple of days I thought he might be joking, but unfortunately I learnt he was not, apart from that he barely spoke other than stepping off the footplate at the shed.
He would remind me that I was not to move the loco and he would be in the lobby awaiting a lift home up to the top of the hill outside the Depot. This was something that I had started in the first week or so in the attempts of getting to know him. He did offer me in for a cup of tea one day and to meet his wife and I thought I've cracked it, but the next day things were back to normal, there seemed nothing I could do and of course unlike today where one could complain and the Management would sit up and have to take notice for fear of being found guilty and sued of numerous things such as, Unfair Dismissal, Human Rights, Harassment, Stress causing long term sickness! Whatever in those days none of these things existed and to make a such an accusation about a Driver was unheard of, in fact unthinkable and I'm sure that if one had it would have been regarded as a mutinous act and no matter the reason one would have been ignored by everyone in the depot and sent to Coventry! Having worked with this Driver for a year and knowing it would be some time before the next move and the fact that the end of steam was already taking place, redundancies looming and Depots closing, I felt everything that I had worked for was to be denied and the future uncertain.
I decided it was time to jump ship and in 1961 I said 'farewell' to my railway career! Whilst I shall not name the driver in question he will always remembered for the worst reasons!
Little could I imagine that the memories of those six years would remain with me for the rest of my life and what's more become part of it again today?
Vernon Howard – 70A
---
Return to Memories index