Robbie Lee - Memories
I joined the railways as a cleaner at Nine Elms on 18th November 1963. Like a lot of the guys I did not realise the significance of the era - it was the beginning of the end of steam on the Southern side. I doubt many of us ever kept a diary, I certainly didn't but here are a few of my recollections.
During my time there I reached No.2 Link, Clive Groom and Peter Steward were among my regular drivers. I also fired to Gaffney, O'Dell, Dente, Gee, Hamblin, Aplin, Gyles, Adams, Boyce, Bearham and Burridge and others whose names escape me. Cleaners that I recall were Tom Moult, Dave Bryce, George Ward and a guy named Martin Jonathan Valentine Hole.
When the depot closed we all went to Waterloo, and I became a 'second man'! Alan Wilton asked everyone for a donation to acquire a steam engine, I coughed-up 5 quid and got a receipt which has disappeared but I guess somewhere there would still be a record of such? Amazingly, I managed to keep a couple of photos taken at Nine Elms!!
I was going to work one night and, having walked the short distance from home to Earlsfield Station, I was informed by the porter that the signal box at Clapham Junction had collapsed(!!!). Usually I'd get the train to Vauxhall then walk to Nine Elms. I rang Nine Elms to explain my predicament and the foreman got a driver to pick me up on the way to work in his car.
I remember Alan Dedman breaking a finger going through Earlsfield. The carriages seemed to be extra close there on the fast up and down lines, most of us would sit at the window with our hand or arm slightly exposed and a train going the other way clipped his finger and busted it.
On the way back from Bournemouth at a pretty good speed my driver (Ron Hamblin I think) was vomiting out of his window. When he turned to grin at me later his front teeth had gone . . . 'gone with the wind'!!
The day Winston Churchill was buried I was told to clean the fire (square-up) 34051 when it came back to the depot.
Driver 'Ginger' Bearham was always joking and having fun. He enjoyed a drink and a game of cards. He drew his fortnight's worth of holiday pay one time and went straight off to the pub just outside the gates. For about a week he commuted between the pub and the mess room to play cards. Finally his wife, who was fraught with worry, arrived at the shed to drag him home, we were pretty certain he'd blown all his pay!!
One time I was firing on the 06.30 Basingstoke to Waterloo semi-fast which stopped at all the stations to Woking then fast to Waterloo. The driver had a reputation for being a bit heavy-handed; we had a West Country so I put in a really good fire - filling up the fire-box right to the the back corners etc. When the fire was built up as much as I could get it, I said to the driver (whose name eludes me), "try and knock that lot out!!" He smirked but I never had to pick up the shovel all the way to Nine Elms. The engine had steamed away perfectly and there was about 8 inches of fire remaining, just right for cleaning!!
There were some very sombre moments, the Dommes from Putney were going home over the tracks one night and father and son were bowled by an engine leaving Nine Elms en route to Waterloo. Both men lost their left legs below the knee; so now there were three amputees in the family - as one of the other sons had suffered the same fate in an earlier incident. Then there was the truly ghastly accident involving a driver by the name of McCarthy and fireman Eric Wiltshire, they were going tender first through Clapham Junction en route to Nine Elms traveling a bit fast when Eric turned to query the speed. To his utter horror the footplate was sprayed with blood and the driver was slumped over with the top of his head missing. Eric managed to keep his wits about him and stopped the engine at Clapham Junction.
The 0230 paper train would be relieved at Basingstoke and I was with a Scottish driver named McLayen. We were approaching Wimbledon and I called to the driver we had green lights - the lights going into Wimbledon from Waterloo were seen from the fireman's side. The track was being up-graded and unbeknown to us we clipped one of the workers with the steel ladder under the buffers. We just caught his backside and he couldn't sit down for over 2 weeks with severe bruising, but he was very lucky not to be run over. The driver and I were called to the resulting Enquiry, the findings totally absolved us as the lookout had not been alert, plus he did not warn the workers of our approach.
My driver and I were at Bournemouth Station, he was a little Irishman who copped a torrent of abuse from the porter. He chased the porter all round the platform to smack him, none of that PC stuff back then!! Later that afternoon the same driver stood in the middle of the tracks at Bournemouth with his hand up to stop the train which was sneaking through. The crew were hoping we were not there to relieve them - they wanted to be relieved at Southampton but they were ordered off the footplate, and I scored a nice fire in the firebox, much to their chagrin!
There was one memorable trip on the Southampton fast to Waterloo, we arrived at 2230!! We 'd reached a speed of 110 mph with our Merchant Navy; I can't recall the turn or driver but I do remember there were 10 carriages including a buffet car crammed with passengers, and half of them were steam enthusiasts!
When I left Nine Elms on 31 October 1967 and our steam engines had been replaced by diesel and electric traction, I soon got fed up with them, so I went to sea, ending up in New Zealand for over 30 years. I was with the Wellington Harbour Board which became Wellington Port Company for 16 years before going back to sea on the Kiwi coast. Then it was time for a further change, so my wife and I moved to Perth, Western Australia. I'm still at sea, working in the oil and gas industry off the NW shelf of Australia but I still hold fond memories of my time at Nine Elms. And it was through this site that, after a mere 45 years, Roger Carrell and I met up again!!!
© February 2011 Robbie Lee.
---
Steve Diamond has written:
Fireman Robbie Lee's Memories state that he left Nine Elms on Oct 31 1967. It is already on record that the mobile steam crane worked until Oct 27 1967. Robbie can't have been based there all on his own and, page 77 of Southern Steam Surrender by John H Bird states that 'the clerical staff stayed for a few weeks and were then transferred to Feltham. The drivers moved up to Waterloo.' So, it would seem that 70A remained as a traincrew depot until 31-10-67.

Doug Richards, list clerk, may have been one of those who remained there for a while longer. The crane, which was used to shunt and to clear the coal out of tenders, must have been operated by the drivers and fireman who were still there, as it finished work just 4 days before they left.

Total and complete closure then was Oct 31 1967. The last locos left in Dec 67. Track was lifted in Jan/Feb 68. Demolition was Sept/Oct 68.

Robbie Lee has replied:
Well spotted Steve, what a gem of an observation, thank you. As I stated in my memoirs I had no diary during my time with British Rail but this site has on record the 1967 Locomotive Diagrams (Doug Richards) which includes "The Final Alterations Nine Elms" dated Sunday 9th July 1967. That was the final day of steam on the Southern and my name is included on that roster. I somehow managed to keep my reference dated 31st October 1967 (reproduced below) and I mistakenly dated my leaving Nine Elms from that time, in fact I went to Waterloo and terminated my employment with British Rail from there about the end of October 1967.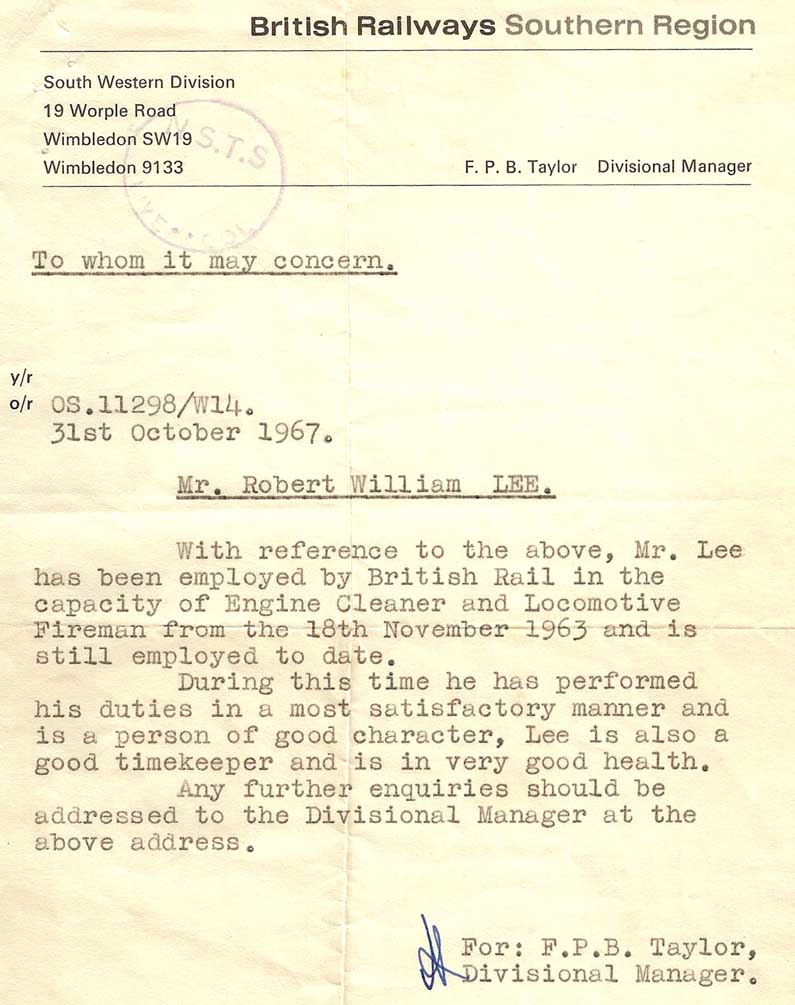 ---
Return to Memories index