Mid Hants Railway Visit May 2007
On Wednesday the 23rd of May this year a visit to the Mid-Hants railway saw a reunion of a slightly different nature between our Nine Elms Enginemen's Reunion 'Patriarch', Tim Crowley, and Class 'West Country', 4-6-2, No. 34007 'Wadebridge' as they met again after many, many years.
As a young Fireman at Nine Elms Tim fired to his then regular Driver, Len Rickard, whilst he was in the 'Pilot Gang'. Len actually hailed from Wadebridge in Cornwall before moving up to Nine Elms and the connection with the Nine Elms allocated locomotive, for obvious reasons, was founded. If the Running Foremen at Nine Elms could they would ensure Len and his mate had No. 34007 on their turn of duty.
Tim remembers well the time, when during a somewhat heated exchange of views with an Exmouth Junction Driver at Salisbury, Len was derogatorily referred to as a 'cockney' to which he took great exception as a 'Cornishman', thus reminding his protagonist in no uncertain terms that as a 'Devon' he was far more of a 'cockney'!
In additon to Tim, many other well known Nine Elms men also fired to Len over the years such as George Hawkins, Les Pitchell, Tim, Clive Groome, Ginger Bearham and Roger Caple to name but a few. Like everyone who knew Len they all paid the highest of tributes to this exceptional Engineman, a true gentleman. Jim Lester
Here are a few photos from the visit (thanks to Steve West):
34007 'Wadebridge' can be seen carrying the Waterloo to Weymouth Boat Train head-code. At the end of steam, as Enginemen, we could never have imagined that we would be able to experience the sight, sounds and smells of the locomotives that we worked on in the fifties and sixties so many years later. It is a tribute to those who have made all this possible for us to enjoy.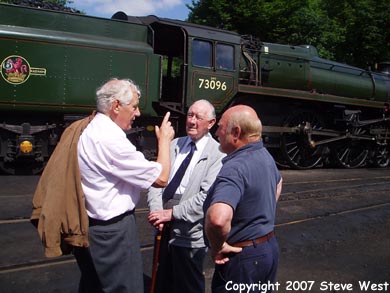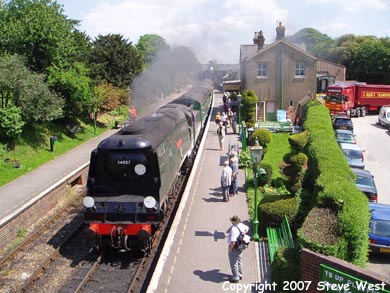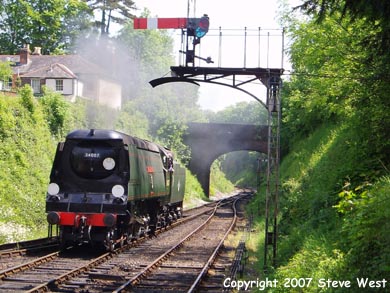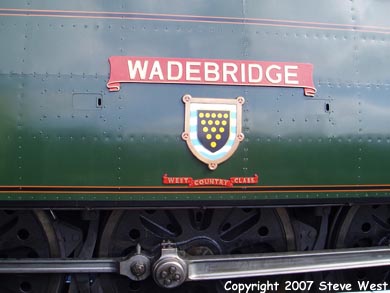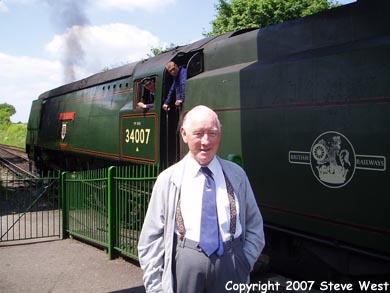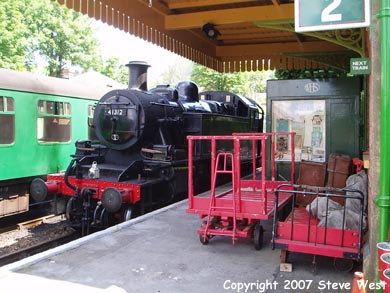 ---
Return to News index