Alan Newman Nine Elms 1st January 1962 - 8th July 1967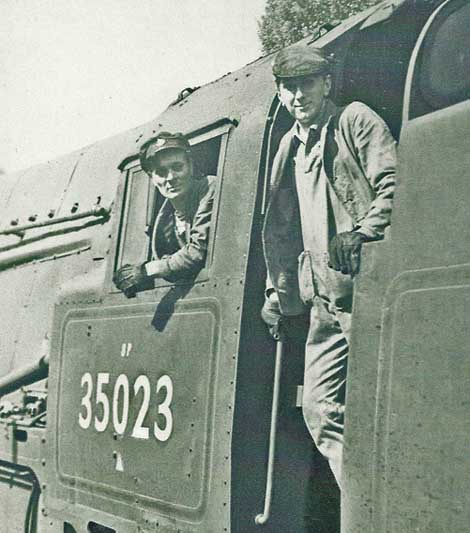 Driver Bill Hughes and Fireman Alan Newman with 35023 at Winchester.
Photo copyright Les Kent - Alan Newman collection
My last firing turn at Nine Elms was on Saturday 8th July 1967. My regular Driver was Bill Hughes and we were in the Top No 1 link our roster on this day was to work the Brush (type 47) hauled 08.30 Waterloo - Weymouth as far as Bournemouth.
We were told on Wednesday by the roster clerk that we would be required to sign on duty at 06.00hrs Saturday due to the late arrangement for the train to be steam hauled.
On Saturday we booked on at 06.00 35023 was allocated to Spl 1 duty, the engine was in the new shed. I had started to prepare the loco when Dave Snelling who was the spare Fireman on the day came around and helped me make up the fire. Bill was busy oiling the motion and checking all the running gear. We moved back to the turn table and were put on No 1 pit road where we filled up the tender with water prior to going under the coal hopper coal. We departed Nine Elms at 07.55 running tender first to Waterloo.
On arrival at Waterloo I coupled up to our train which consisted of 11 coaches. We were booked to work the train as far as Bournemouth calling at Winchester, Southampton Central and Bournemouth. Just before departure time we were given a Special Stop Order for Woking to pick up passengers. We were told that a large group of passengers who were returning from Southampton having been on the 02.45 Waterloo - Bournemouth paper train were running late and would not reach Waterloo in time for our departure.
We left Waterloo spot on time and by passing Earlsfield 35023 was steaming well once past New Malden, Bill really pushed her along. At Woking Bill gave me the regulator and he had a go the shovel. I expected this to be very last time to drive a Merchant Navy. We left Woking only to get stopped at Woking Junction for a Up Portsmouth electric service to cross in front of us. But such had been our progress to Woking we still passed Woking Junction 3 minutes early! We had a good run down to Winchester where arrived several minutes early. We put the pipe in to refill the water and Bill shovelled coal forward. Bill now took charge with me back on the shovel and we had an excellent run to Bournemouth where we arrived as expected ahead of schedule.
Copyright 2015 &copy Alan Newman - Nine Elms - Southern Engineman
---
Light to Loco (return to Nine Elms Index)