Driver Jim Sullivan, Nine Elms Engineman
by Alan Newman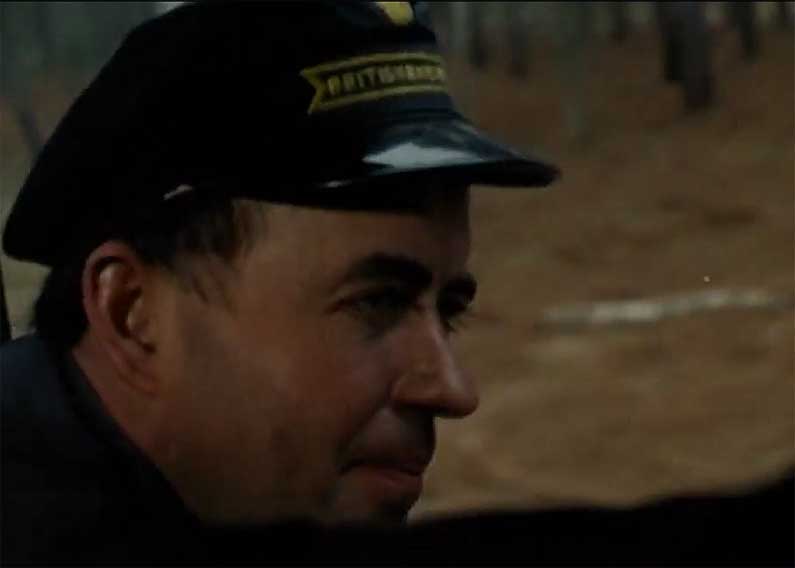 Jim Sullivan (Photo British Transport Films)

My first main line link was 3B where I was paired with Jim Sullivan. My stay with Jim was only to last 2 months, but what a couple of months it proved to be. Jim was great and taught me a lot about team work and how to get the best out of any situation.
The best job in the link was the 8.35am Waterloo Ė Bournemouth. I worked this train with Jim in the last week we were booked together. Mick Knott was road learning the route to Bournemouth with us (Mick was taking Jimís place in 3B the following week due to Jim moving to 3A link). The trip down to Bournemouth with 34087 went with out a hitch.
The return was a different story. The train arrived from Weymouth with 35018 British India line at the head. Jim was told by the Bournemouth driver that the intermediate steam heat pipe between the loco and tender had split, and therefore we could not steam heat the train.
We left Bournemouth on time and stopped at all stations except Boscombe to Brockenhurst. After we departed Brockenhurst with Mick at the regulator, Jim said he would have a go with the shovel. Jim built up the largest fire I ever saw on a Merchant Navy. On arrival at Southampton we were informed that 35018 was to be taken off at Eastleigh, because the Guard had complained it was cold in the train. This was a bit of a shock because we had enough fire in the box to reach Waterloo!
After passing Northam Jct, Mick worked 35018 very hard, 40% cut-off with regulator fully open, in an effort to get rid of some of the fire. This proved to be a waste of time, as when we arrived at Eastleigh 35018 had become really hot, with all three safety valves lifting. The Eastleigh crew were not impressed, but their moaning was cut short by Jim, with just two little words!
We were given a West Country to take the train on to Waterloo, when we got on the footplate the engine had 180 psi with the fire barely covering the bars, what a contrast to 35018 we had just got off. Mick helped me with the fire, while Jim worked the engine to Winchester.
The next day we were in the lobby at Nine Elms and Dicky Budd approached Jim, he told Jim that he had been at Stoneham with the football team, when we passed yesterday. Dick told Jim he had never heard an engine worked so hard in all his life, the noise was unbelievable. Jim in his usual way smiled and just blamed poor Mick Knott. He never bothered telling Dick why the engine was worked the way it was. I later asked Jim why had not told Dick the reason for working the engine in that fashion. Jim smiled and replied by the time the story has done the rounds it will get more and more outrageous.
When ever I met up with Jim after Nine Elms closed I always reminded him of the fact he sold me his AJS motorcycle combination, Jim rode it to my home at Chessington and parked it out side my house. The problem was, I was never able to start it up, and I ended up giving it to my next door neighbour. I always ribbed Jim and told him he had taken advantage of a poor fireman. Although my time with Jim was relatively short, he made a lasting impression on me.
Alan Newman Nine Elms Engineman 1st January 1962 - 8th July 1967
---
Light to Loco (return to Nine Elms Index)