NINE ELMS ENGINEMEN'S REUNION 2010
With over 160 participants, the 2010 Reunion held on Wednesday 11th August was a great success, with special thanks yet again due to Tim Crowley and Jim Lester for their huge efforts in making the day one to remember for everyone and making so many people happy.
Vernon Howard wrote:
I am writing to thank you for the invitation to the 2010 Reunion and what you have achieved by giving so much pleasure to us all. Sadly, as you know I have only recently known of the existence of the Nine Elms website but hope to make up the years lost, and finding the pleasure the site offers and the Reunion is helping immensely, "a great day" and one I shall never forget. I find myself checking every day for more news and that I have not missed anything, so again thanks, and I hope to add some memories to it shortly.
Alan Newman wrote:
Thanks for making yesterday possible, every one agrees that it was another great day. I really enjoyed the day, it was good too see some younger lads who spent their early years at Waterloo turn up. As one put it "It was sad to attend John Gaffneys funeral, so thought it would be good to have pint and chat now instead of waiting 'till they have gone" We all appreciate how much work is involved in making the day the success it was.
---
Here are four of Geoff Chandler's photos of the Reunion © 2010 Geoff Chandler.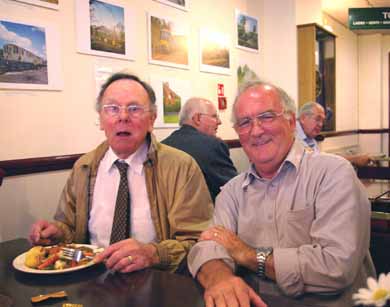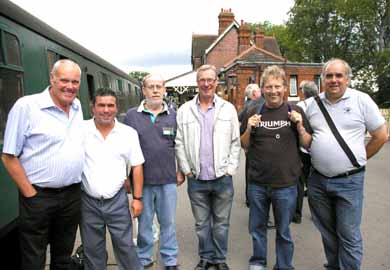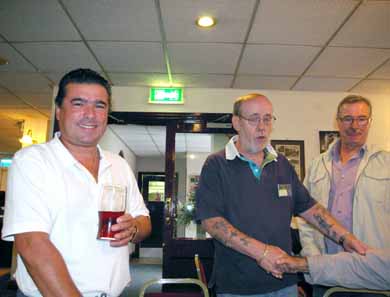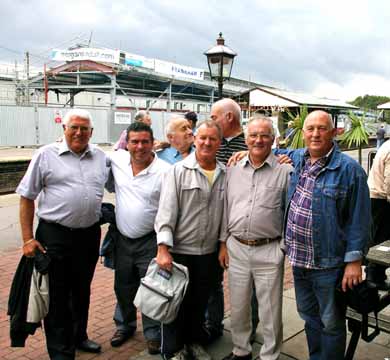 ---
Peter Austin also wrote to the Shedmaster:
Thank you, Jim and Tim for a really enjoyable day, I am sorry I did not manage to introduce myself to Tim and thank him for the invitation. It was such a pleasure to see and speak to the Guys who made my youth so enjoyable, namely Gordon Hooper who I have for so long wanted to speak to and personally thank him for the fireworks all those years ago!! I can only commend you, Tim and Jim for creating what you have on the website, it is truly unique, but Nine Elms deserves it's rightful place in history, and you have made sure that this is the case for posterity.

Here is Peter Austin's photo 34059 with the Nine Elms headboard © 2010 Peter Austin.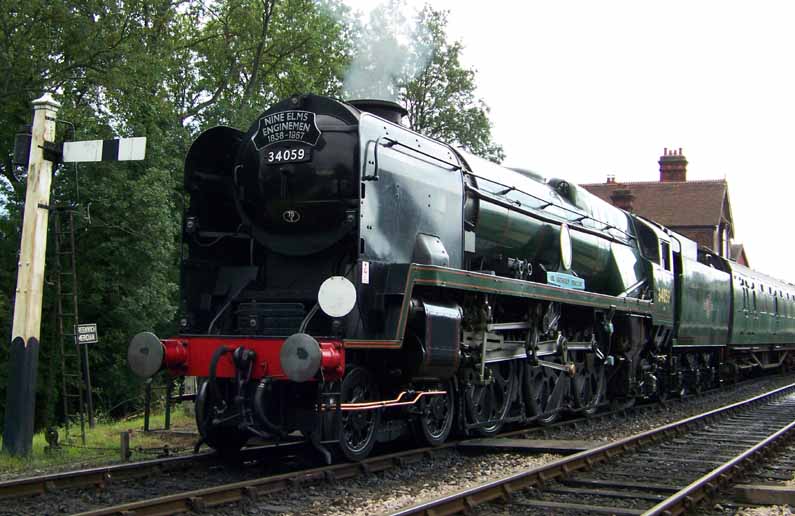 ---
Tony Harper wrote to the Shedmaster:
I would personally like to thank all who organised the Nine Elms Enginemens reunion which took place last Wednesday at the Bluebell Railway. I had a great day there and it was good to see such a turnout and wonderful to see the pride and camaradarie of all the former enginemen. Everybody had a story to share and I was able to meet many old friends and colleagues and I wanted to make a special mention that it was good to see Dick Hardy there who is now in his eighties. It really was refreshing to see so many of the old brigade still as enthusiastic and full of pride as ever. A wonderful day and a great tribute to all of those old enginemen , may there be many more days like this to come.
Tony Harper (Driver FCC Brighton)

Here are three of Tony Harper's photos of the Reunion © 2010 Tony Harper.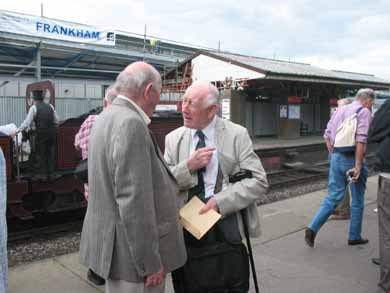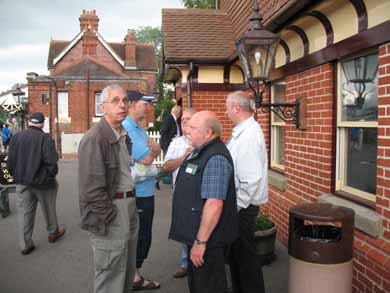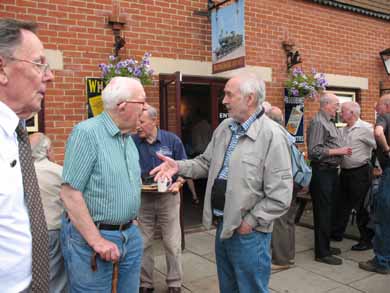 ---
Two of Geoff Burch's photos of the Reunion © 2010 Geoff Burch.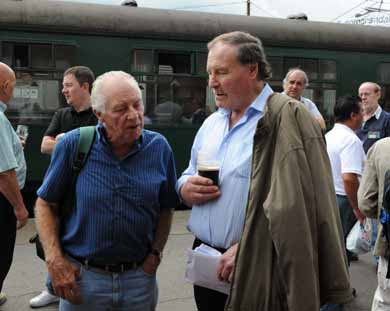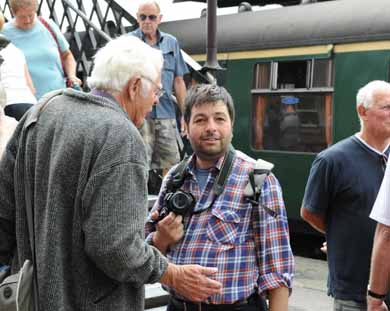 ---
Here is a selection of Steve West's fine photographs of the event.
All the following photographs are © 2010 Steve West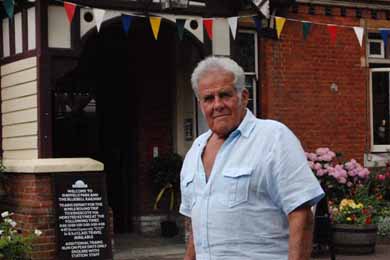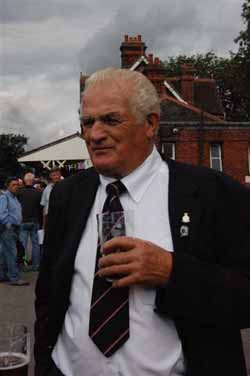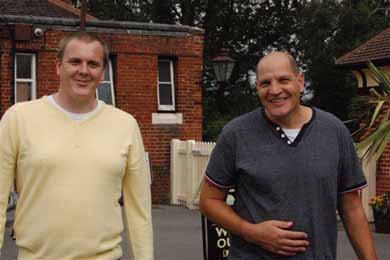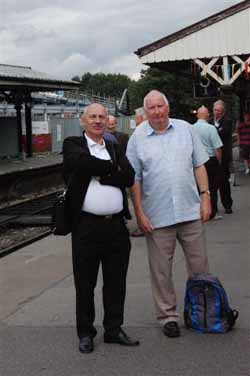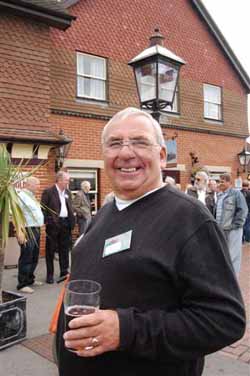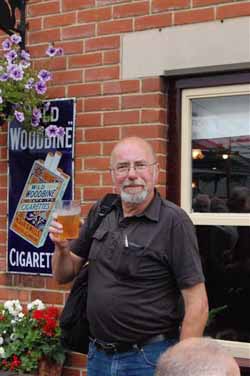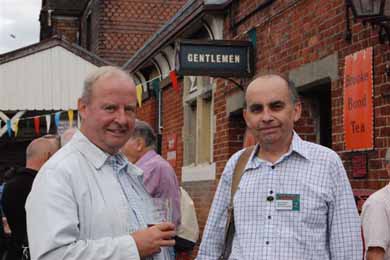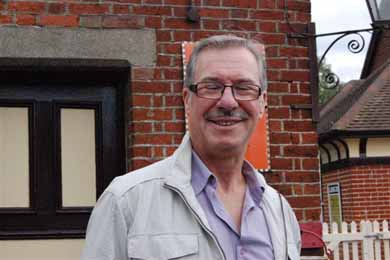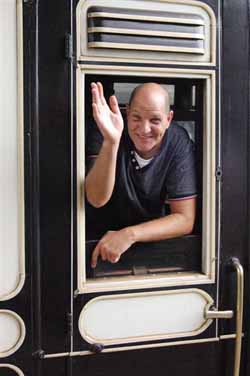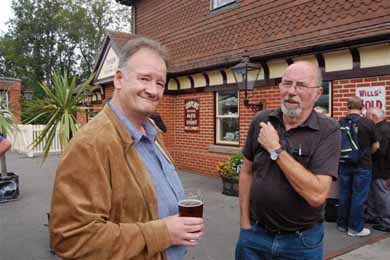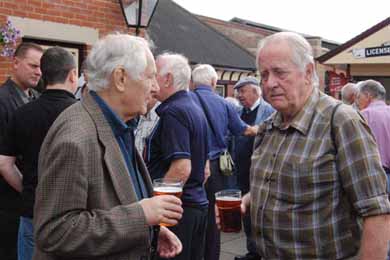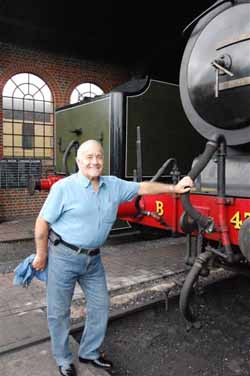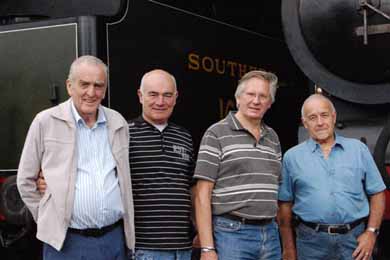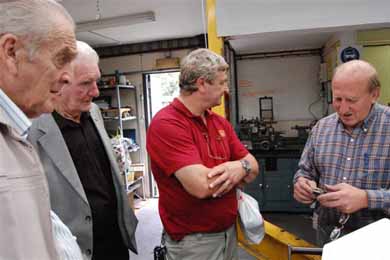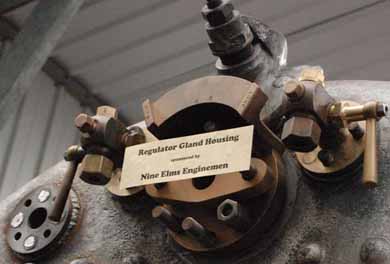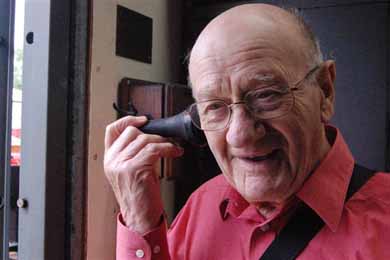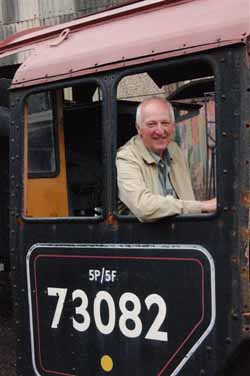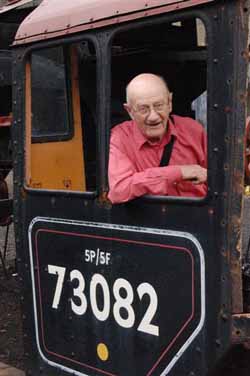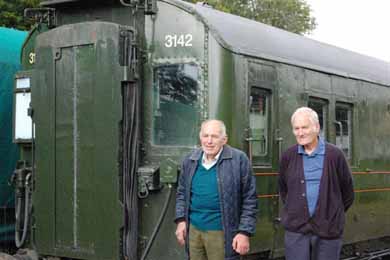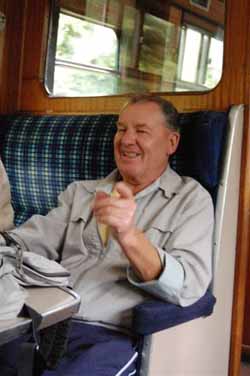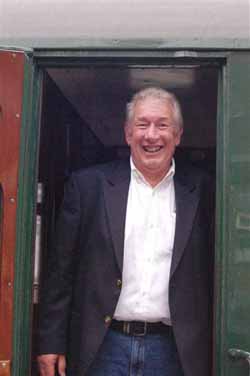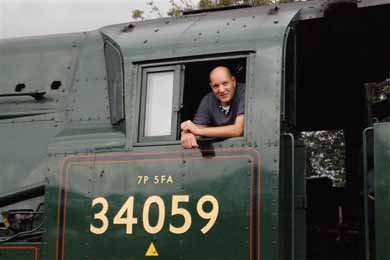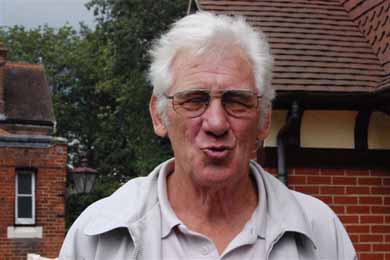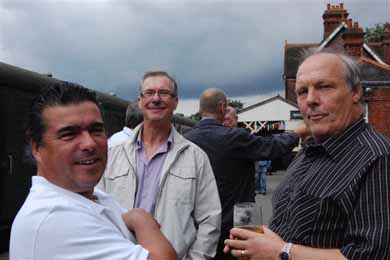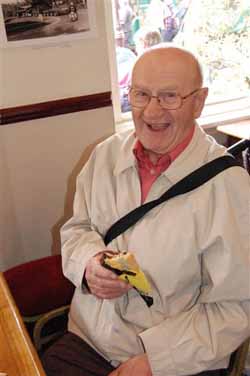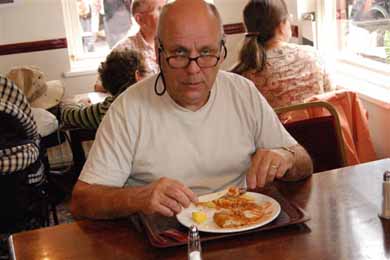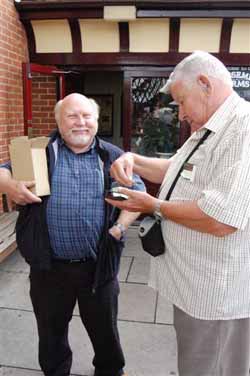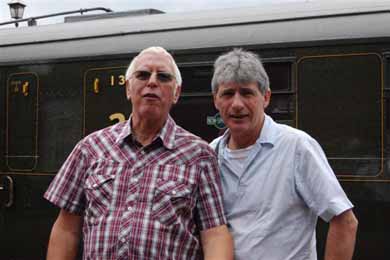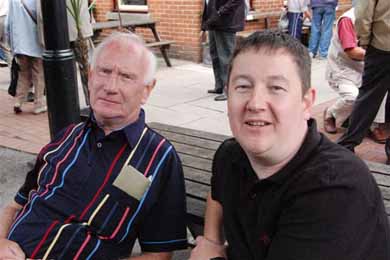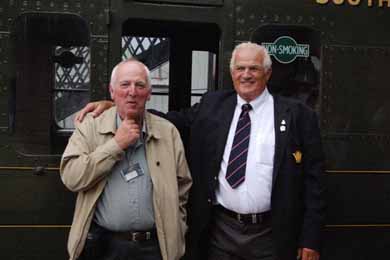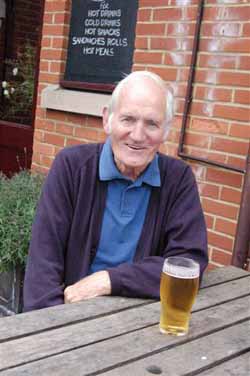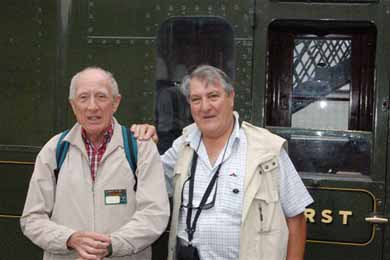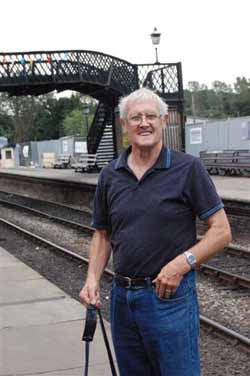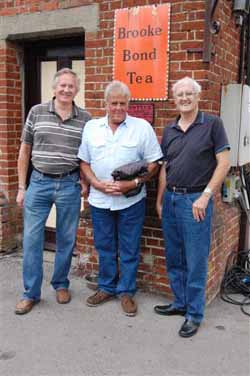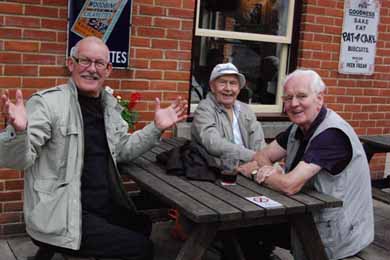 ---
Two of Jerry O'Sullivan's photos of the Reunion © 2010 Jerry O'Sullivan.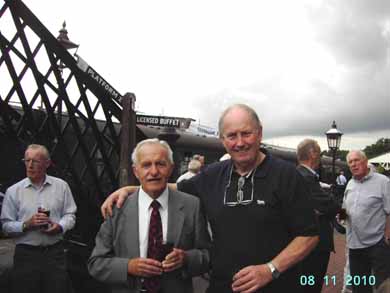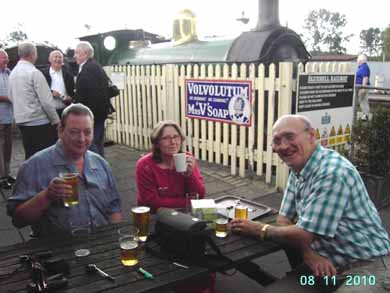 (Left) Tommy Coles on left and Jerry O'Sullivan. (Right) Dave Bryant on left with Bob Aubrey with Dave's niece.
---
Return to News index