Nine Elms Clock Tower
Peter Clift wrote asking:
Does anyone know what the old Nine Elms clock tower building was used for in its final days? It appears to have lasted to the very end.
---
Alan Newman wrote the following:
The Clock Tower at Nine Elms was the home of the Nine Elms Mutual Improvement Class. There was large library of books on all topics of the steam locomotive. The largest exibit was a large working model of the Walschaert's valve gear. The model was fixed to the wall and was about 4' tall and approximately 16' long. it was operated by a crank handle and used to demonstrate where the engine was taking steam on each revolution of the the driving wheel. There was also a rolling chassis of a Schools class V complete with wheels and valve motion. The large Walschaerts' model was presented to the NRM when located at Clapham. The Schools chassis went to Bressingham after being presented to G Sands. I last heard that a boiler had been built and and it is now fully working model.

Tim Crowley emailed:
The clock tower was utilised for evening meetings of the Nine Elms Mutual Improvement Class S/Group F.E.MIC and used also by the examining Inspector when passing senior firemen to act as drivers. As far as we were made aware, the building was the old Nine Elms Locomotive Works drawing office.

Jim Lester has written this item:
Seen below in this painting by Hamilton-Ellis is the original building that sat alongside the clock tower and is described in his book on the London & South Western Railway as a Drawing Office. Clearly its original central location between the two 42' turntables that served the 26 roads in the semi- circle roundhouse shed built at that time in 1876, provided a view of all the associated locomotive movements. Then the last Nine Elms sheds were built to accommodate larger locomotives, the first one in 1885 with 15 roads that was extended in 1889. This was then followed with the building of yet another adjacent shed in 1910 with 10 roads, together they then remained operational until the depot's closure in 1967. These developments eventually brought an end to the older and the now defunct 1876 depot that was subsequently demolished after 1910, leaving the old Drawing Office in a somewhat isolated position, the ornate clock tower had been removed much earlier before it too was eventually demolished at the end of steam. Quite remarkable that it survive the changes that took place all around it and without any 'listed building' status protecting it!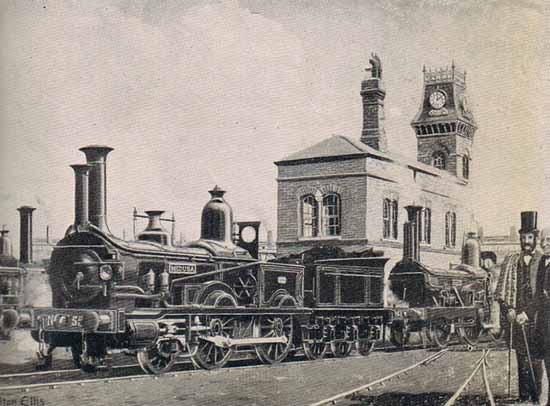 Original painting by Hamilton-Ellis
I can remember an occasion one Saturday night, Sunday morning in the early 'nineteen sixties' we were temporarily transferred there to take our meals and wait orders from the Running Foreman. Our normal abode was next to his office and was having some essential heavy cleaning applied and unwanted guests removed!
As such we had to cross the tracks near the coal hopper and then use the steep steps to reach the first floor that can be seen in the picture. In those early hours there were usually plenty of men coming and going however about 03h00 I woke with a start having nodded off. I sensed immediately that it was the stillness and quiet at that moment that had roused me from my slumber! I equally realised that I was quite alone and instantly felt that I just had to get out from my perceived gaze of unseen, watching eyes in that old historic building, I can't remember if my feet touched the steps in my haste! Makes me shiver again all these years later just thinking about it!
In respect to a fried breakfast on the shovel it most assuredly did happen, Jim Evans must have had a sheltered life eating his sandwiches if he can't recall such gastronomic events! Those Southern 'Lucas' shovels were like Teflon frying pans and, with a knob of lard sizzling away, I've cracked many an egg surrounded by bacon whilst standing in a yard with time to spare. Certainly not to be attempted with a full regulator and 40% cut-off for sure!
Jim Lester - 70A
---
Return to History index