svsfilm.com
---
'Surrey Railway Archive'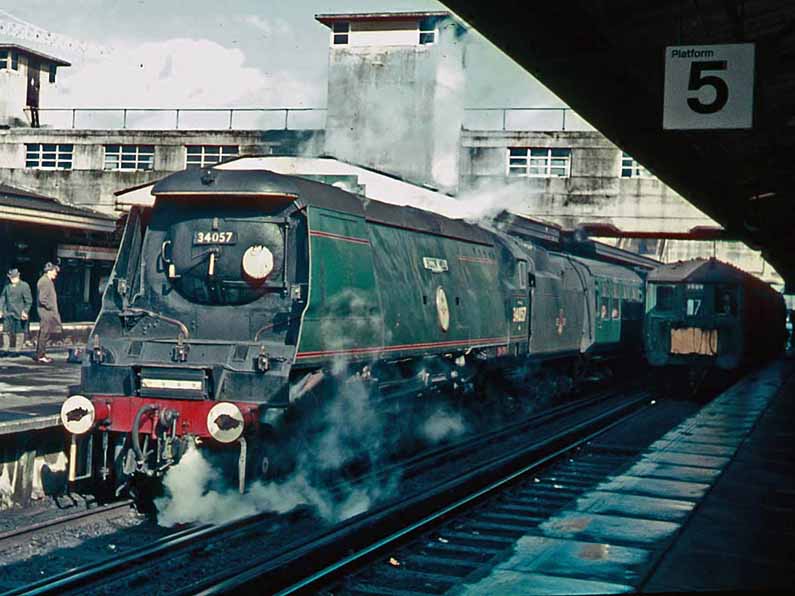 Battle of Britain 4-6-2 34057 'Biggin Hill' at Woking 13 May 1967 - photo R.W.Bridger
This SVS Film production is available on DVD-R UK (PAL).
---
Contents:
View a preview of the DVD:


If you are familiar with the County of Surrey and have an interest in trains, then this silent DVD will allow you a fascinating look back to a lost period of Surrey's railways. The programme is compiled from a broad array of still photos dating from 1867. Colour slides, black/white and colour prints illustrate almost every station and railway line within the modern boundaries of Surrey. In addition, where possible, archive silent 8mm colour cine film from the 1960's and 1970's has been included. The latter part of the steam era in Surrey is well represented in this DVD. Details about the photography are shown on captions within the programme. In addition a printed guide is enclosed, giving details of each picture and cine film sequence. Where known, the date, place, photographer and observations are noted to better explain the scenes. A narration is NOT included - the pictures speak for themselves!
The DVD was researched, produced and edited by Bob Bridger. Copyright © 2013 SVS Film
---
Contents Summary
Surrey Railway Archive - main title - 1 hour and 40 minutes (silent - no narration)
Followed by short features showing the Old Kiln Light Railway, the Great Cockcrow Railway and the Surrey History Centre
---
Buy SECURELY online now with Paypal:

---
PAL TV standard for customers in the UK:
DVD-R (DVD Region - all regions) - UK PAL standard - GB£15.95 postfree (second class mail) to UK.
Price GB£15.95 postfree - UK customers can order using Paypal, or send a cheque payable to SVS Film drawn on a UK bank in GB Pounds to:
SVS Film, 74a Firgrove Hill, Farnham, Surrey, GU9 8LW, England. Please remember to include your full postal address with your cheque!
---
PAL TV standard for customers in Europe and worldwide:
DVD-R (DVD Region - all regions) - UK PAL standard - GB£17.95 postfree Air Mail worldwide.
---
NTSC TV standard for customers in the USA and Canada:
SORRY - not available in NTSC format at present
---