svsfilm.com
---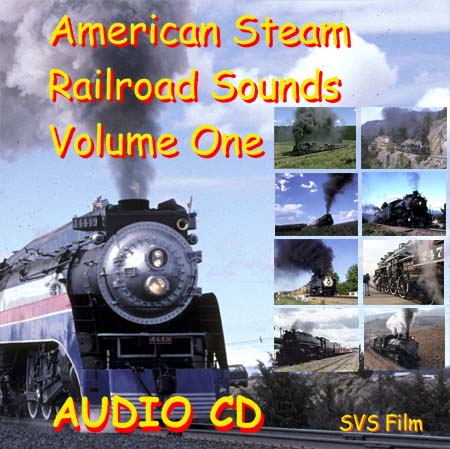 American Steam Railroad Sounds Volume One
Audio CD
---
Contents:
Enjoy a full hour of contemporary American Steam Railroad Sounds on this audio CD. Locomotives featured include ex-Rio Grande narrow gauge 2-8-2's, 2-8-0's on Utah's Heber Valley Railroad, Grand Canyon Railway 2-8-0 and 2-8-2, SP 4-6-2 #2472, #261, #4449 and #844 4-8-4's, and the Challenger! Lineside, on-train and even some footplate cab sounds are featured - turn up your sound system - close your eyes and you're there amongst the railroad action!

Format: Audio CD - total running time 62minutes 2 seconds.
---
Customer Comments:
WOW!!! Magnificent sound. Recordings are all of the highest quality. A MUST HAVE for any Steam Train Nut. THANK YOU, THANK YOU, THANK YOU!!! - Steve from Texas

"I must say that I had my car stereo turned way up and when that shotgun exhaust cracked on track 3, I thought for certain I had heard a gunshot (I was travelling in ******, so it could have been a very real and distinct possibility), and then another crack, and then another. WOW! And track 9 has really got me also. That is a Southern Railway 3 chime that they were blowing, and it sounded goooooooood." - M.P., Maryland USA.

"Incredible CD - after listening, went to his website and bought everything..." - W.J., Minnesota USA.


---
Audio Track List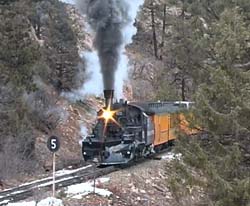 Track 1 - 1min 41sec
Ex-Rio Grande 2-8-2 K27 #473 leaves the Animas Canyon and struggles and slips up the short 1.4% grade towards Rockwood on its homeward winter journey from Cascade to Durango, December 2002.



---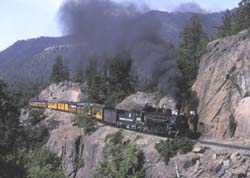 Track 2 - 1min 55sec
Ex-Rio Grande 2-8-2 K36 #486 climbing the 2.5% grade towards Rockwood on a morning Durango to Silverton train. July 2003.



---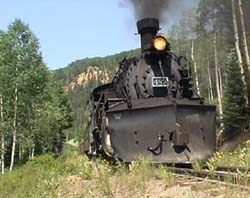 Track 3 - 2min 11sec
487 stands at Cresco taking water with the air pump working for over a minute, then the locomotive bursts into life as the train restarts and charges past within a few feet of the listener on its climb to Cumbres Pass. Cumbres & Toltec Scenic Railroad - July 2003.


---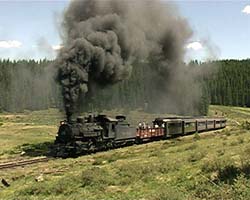 Track 4 - 3min 42sec
Ex Rio Grande 2-8-2 489 approaches Tanglefoot Curve, gives a whistle warning of the train's approach to Cumbres, and then rounds the curve to pass the listener again before finally disappearing round the last curve into Cumbres station.



---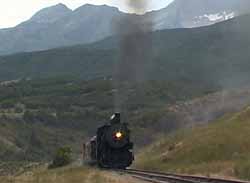 Track 5 - 2min 29sec
Heber Valley Railroad's ex Union Pacific 2-8-0 #618 digs into the sharp gradient nearing Dear Creek Dam. A 'speeder' follows close behind watching out for any lineside fires. July 2003.



---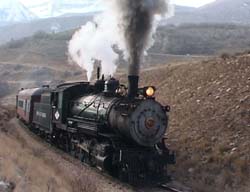 Track 6 - 1min 43sec
Heber Valley Railroad's ex Great Western 2-8-0 #75 makes steady progress up the gradient towards Deer Creek Dam. December 2002.



---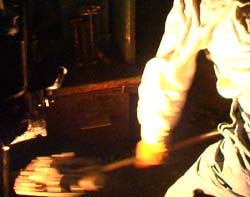 Track 7 - 10min 53sec
Sounds on board the locomotive as Heber Valley Railroad's ex Great Western 2-8-0 #75 makes the journey from Soldier Hollow to Heber City with a 'Polar Express' Christmas special. December 2002.



---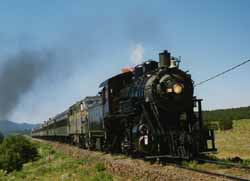 Track 8 - 1min 40sec
Grand Canyon Railway 2-8-0 #18 sounds on board the train as #18 climbs the grade from Anita to Apex on a northbound train from Williams to Grand Canyon - then we are lineside just north of Williams as #18 storms past up the grade near milepost 5.



---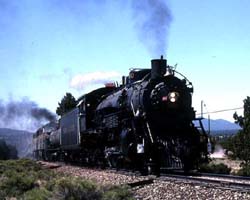 Track 9 - 3min 12sec
Grand Canyon's much modified ex Burlington 2-8-2 #4960 roars past milepost 5 northbound from Williams. Then we are lineside just south of Grand Canyon as the #4960 climbs the last few yards through the pine forest before reaching its destination.



---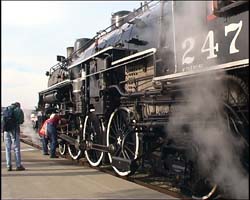 Track 10 - 1min 01sec
Ex-Southern Pacific 4-6-2 #'2472 makes a dramatic photo runby at South San Francisco en route to Redwood City in December 2002.



---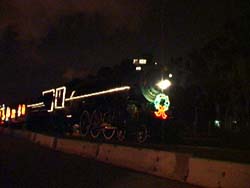 Track 11 - 2min 21sec
SP #2472 this time at night makes an atmospheric start from Millbrae with a Christmas 'Trains for Tots' Bay Area special, December 2002.



---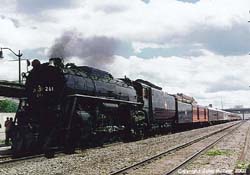 Track 12 - 5min 26sec
Milwaukee Road 4-8-4 #261 is on the 'Nebraska Safety Express' round trip from Lincoln to Omaha. Here are three on train sequences recorded from the leading passenger car - first leaving Lincoln, then climbing Melia Hill north of Ashland, and finally leaving Ashland heading for Lincoln at speed. June 2000



---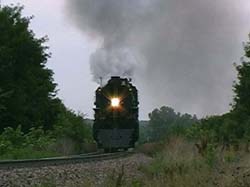 Track 13 - 1min 33sec
Now we on the lineside on Melia Hill north of Ashland as the #261 4-8-4 roars by at full throttle. June 2000.


---
Track 14 - 3min 18sec
Ex Southern Pacific 'Daylight' 4-8-4 #4449 repainted in American Freedom Train colours is on a two day tour from Portland to Bend Oregon in March 2002. In this sequence, we are on the lineside on the Gateway grade north of Madras where the Oregon Trunk line leaves the Deschutes River Canyon and climbs onto the high plateau country. The #4449 rounds a series of reverse curves with the 17 car train without any diesel helpers. March 2002.



---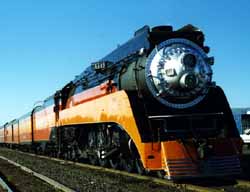 Track 15 - 3min 16sec
The 'Daylight' 4-8-4 #4449 is recorded from the leading passenger car on the 'Stampede Pass Daylight' two day tour from Portland in June 1997. In this sequence, the train having turned on the wye in Pasco, is now leaving Kennewick Washington on the Northern Pacific mainline up the Yakima Valley .



---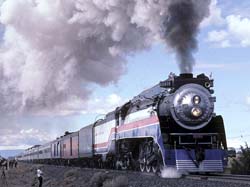 Track 16 - 3min 37sec
SP 4-8-4 #4449 is heard on the lineside at Madras in March 2002, firstly gaining speed on a spectacular photo runby with its air horn blowing. The second lineside sequence features the #4449 restarting its train from Madras on the way back to Portland - the haunting sounds of the 'Daylight's whistle can be heard as the train fades into the distance.



---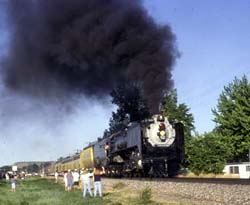 Track 17 - 1min 28sec
The Union Pacific's 4-8-4 #844 makes a stunning sound approaching Canon City Colorado near the end of the first day of a three day trip from Denver to Salt Lake City in June 1997. The steam locomotive heads three E9 passenger diesels, needed for the severe grades of the Tennessee Pass.



---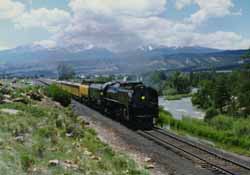 Track 18 - 0min 35sec
This brief lineside recording features #844 and the E9 trio gaining speed entering Brown's Canon north of Salida Colorado on the now closed Tennessee Pass Route, June 1997.



---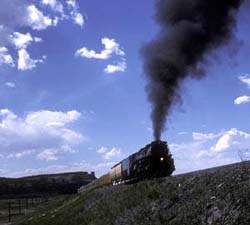 Track 19 - 1min 23sec
Union Pacific 4-6-6-4 'Challenger' #3985 is heard from the lineside near Sherman with the return leg of the July 2003 Sherman Hill Model Railroad Club Cheyenne to Laramie excursion. The trip was unusal for these days not having diesel assistance .



---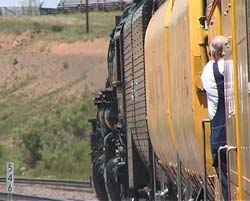 Track 20 - 1min 38sec
Earlier the same day, we are onboard the leading passenger car listening to the sounds of #3985 during the final stages of the climb to Hermosa Tunnel - towards the end of the sequence you can hear the throttle being closed slightly in readiness for the tunnel.



---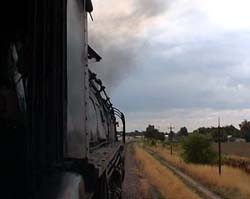 Track 21 - 3min 14sec
Now we are sitting behind the engineer in the cab of the #3985 (renumbered as #3967 for the day) at the train crosses the South Platte River at La Salle Colorado, then the throttle is reopened and speed picks up again heading towards Cheyenne, July 2003. Rocky Mountain Railroad Club's 40th Anniversary excursion from Denver to Terry Ranch.



---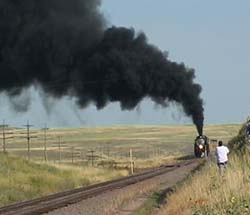 Track 22 - 2min 51sec
The final track is recorded on the lineside as the #3985 (3967) makes a spectacular departure from Terry Ranch, heading back to Cheyenne, July 2003.



---
---
Audio CD - US$17.00 including airmail postage worldwide
---
Audio CD - GB£8.75 including second class postage for UK customers
or pay by cheque drawn on a UK Bank in GB Pounds for GB£8.75 payable to SVS Film at:
SVS Film, 74a Firgrove Hill, Farnham, Surrey, GU9 8LW, England.

---
Updated June 2 2021
---
SVS Film Index