RON PETRIE - Guildford and Nine Elms
The funeral will be held at 15h45 on Friday 17th May 2019 at the Isle of Wight Crematorium (Wooton Bridge). Any queries, please call 01983 882288.
---
Sadly yet again an old 'steam' friend has left us following a declining battle with his health. He is understood to have passed peacefully on Monday evening 29th April 2019.

Living at Walton on Thames his early railway footplate days started at Guildford shed in the mid-fifties that then progressed after he transferred to Nine Elms where he fired to such Enginemen as Alf Hurley in the 'Pilot Gang' and then with Fred Streeter in the 'Top-Link'.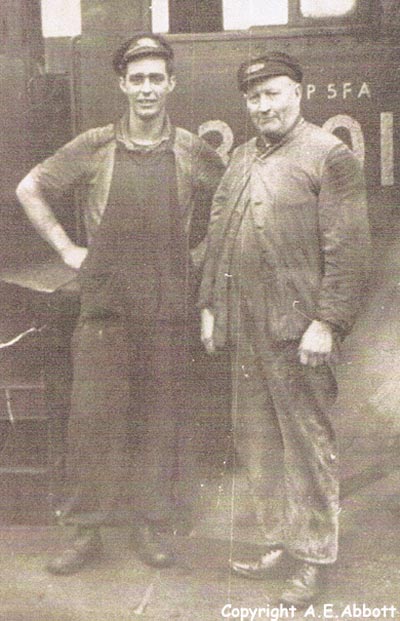 Ron Petrie (left) is seen with his driver Fred Streeter at Salisbury in 1963. (Photo A.E.Abbott)


They were a good combination by all accounts and he often recalled a number of incidents and trips during the period he was along with Fred. Despite leaving the railway before taking on a full time role as a driver Ron never forgot his roots and maintained a contact with many old friends throughout the years. His attendance at 'Nine Elms Enginemen's Reunions' was always an opportunity to talk 'shop' and Ron's knowledge of locomotives never waned in all the time that I knew him!
On behalf of the 'Nine Elms Enginemen's Reunion' and the numerous friends and colleagues over the years we offer our sincere condolences to Ron's wife Ann and their two daughters following their sudden loss.
They are in all our thoughts during this extremely difficult time – 'God Bless'.
Tim Crowley & Jim Lester
02 May 2019
---
Return to News index