STEVE WEST
It is with deep regret we have to report the passing of Steve West (retired Farnham driver) on 12th November 2019. 'Westie' was a great friend to all at the Nine Elms Reunion.

The funeral will take place at 1330hrs on Tuesday 10th December at Aldershot Crematorium, Guildford Rd, Aldershot GU12 4BP.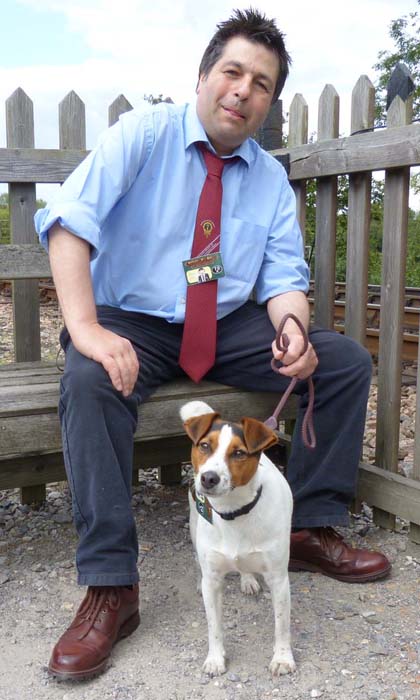 Steve West with his Nine Elms Reunion member pal 'Barclay' at the 2014 Reunion.
Photo copyright John McIvor
The recent news of the passing of a special friend is sad beyond belief. Although his railway service did not go back to the days of Nine Elms he was a great support to the small team that organised the Nine Elms Enginemen's Reunion annual event. His photographic collection recording such times without doubt captured the spirit and camaraderie through the years and his assistance in its promotion was invaluable.
Steve we shall all miss you immeasurably, to be in your company was always a pleasure old friend, I know these words will be echoed by everyone that knew you. Thank you for some wonderful memories during your lifetime, never forgotten.
Our heartfelt condolences are offered to Steve's wife and family.
On behalf of the 'Nine Elms Enginemen's Reunion'
Jim Lester, Tim Crowley, John McIvor
---
Return to News index