Nine Elms - Sunday 9th July 1967 by Geoff Catlin:
The Final Day
Sunday 9th July 1967 - the final day of steam traction on the Southern Region, the last day had finally arrived when locomotive depots along the south western mainline would play host to working steam locomotives in regular British Railways service. The most notable among the motive power depots scheduled for complete closure was 70A Nine Elms, other motive power depots including Guildford, Salisbury, Bournemouth Central and Weymouth awaited the same fate at the end of that warm summer day.

At the time I was working as a Police Cadet, in training at the Metropolitan Police Cadet Training School in Hendon. Therefore my journey to the "Southern" commenced that day at Colindale Station on London Transport's Northern line, anticipation was not high in terms of being able to observe much in terms of steam working, the previous day had only presented the opportunity to watch rebuilt West Country class No 34037 "Clovelly" depart Waterloo during the afternoon with the final steam hauled Down Boat Train for Southampton Docks. Later on in the day as evening approached one of Nine Elms "finest" Merchant Navy class No 35023 "Holland Africa Line" returned to the capital from Weymouth with the last steam hauled up working of the Channel Islands Boat Express, the locomotive's smoke box door was adorned with a chalk marked slogan proclaiming it to be "The End - The Last One".

My plan for the final day, without the benefit of any inside information, was to photograph the final down "Bournemouth Belle" in the vicinity of Vauxhall station, take a wander from Vauxhall to Nine Elms depot and take some final photographs in and around the shed. Verbal permission to visit the shed was sought and granted, unofficially but the affirmative response offered the opportunity to have one last opportunity to soak up the unique atmosphere of Nine Elms steam locomotive depot before it was closed and demolished to become nothing more than a mere fruit and vegetable market. My last visit to the depot a week or so earlier provided the local knowledge that some of the most interesting locomotives would be found inside the shed building rather than outside in the shed yard, so a small tripod was acquired for this particular trip. As a sixteen year old there were limitations in terms of the photographic equipment available to me at the time, my camera was a Yashica J (About £25.00 to purchase at the time) it was fitted with a 2.8mm lens and featured a fastest shutter speed of 1/300th second.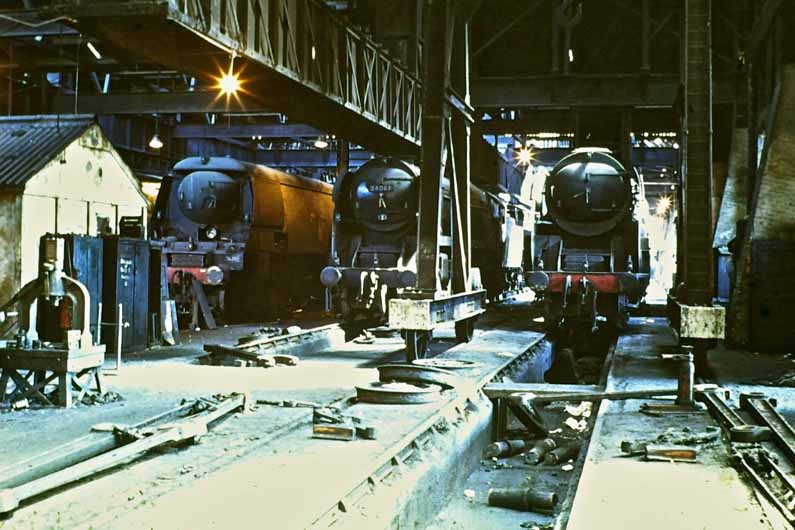 WC 34002 "Salisbury", BB 34088 "213 Squadron" & WC 34018 "Axminster" at Nine Elms 9.7.67 © 1967/2011 Geoffrey Catlin
The first job was to photograph the down "Belle", it surely had to be steam hauled on this final day of steam working, I positioned myself on the roof of an old Victorian Era tenement block south of Vauxhall Station and remember the whiff of "Sunday Lunches" being cooked per mutating from the various flats as I climbed the stairs to access the rooftop. Things did not look good as no light engine locomotive movement were observed heading from Nine Elms to Waterloo at the time when the locomotive scheduled to haul the Belle would back down to the terminus. No - despite the enthusiast rumour mill working overtime word had trickled down that the expected use of steam traction on the final down working of the Bournemouth Belle was to be a diagram for diesel haulage. On time Brush Type 4 (Later Class 47) No D1924 appeared on the down main with a BR Mark 1 Baggage Car in Maroon Livery followed by the rake of immaculate Pullman Cars, the maroon brake vans never looked as good accompanying the Pullman cars as did the brake vans painted in the Western Region chocolate and cream that adorned the Bournemouth Belle in 1964.
I decided to wait on the rooftop for the next mainline arrival or departure, just in case. The disappointment of the diesel hauled "Belle" was soon lifted when shortly after the passing of the diesel hauled "Belle" a final up working appeared in the distance, I believe was a Boat Train working from Southampton Docks to Waterloo however the outline of a rebuilt light pacific at the head of this train was in no doubt and 34021 "Dartmoor" appeared in fine fettle as it coasted past on the final couple of miles of it's last revenue earning journey. By this time all nameplates had been removed from the steam locomotives along with smoke box door number plates and shed plates, however these locomotives were named for all but the final weeks of their working lives and it seems only appropriate to record them with original names restored.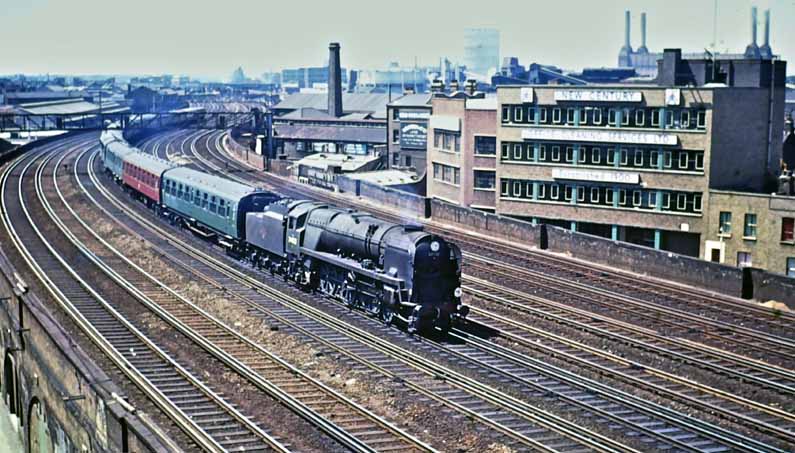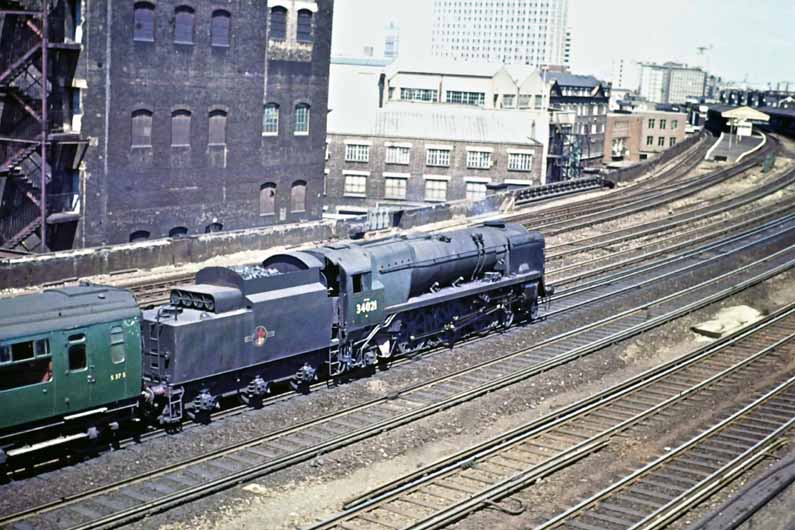 Rebuilt WC 34021 "Dartmoor" nears Vauxhall with the last steam hauled Up Boat Train from Southampton Docks 9.7.67 © 1967/2011 Geoffrey Catlin
Next objective was to visit Nine Elms and photograph as many locomotives as possible as no other opportunity would ever be available again. As usual a polite request to "look round" was greeted in an affirmative manner. I always visited the shed office to ask permission prior to each visit and the response from the staff was always positive and accommodating. (This was not the experience in some BR sheds - Nine Elms railwaymen were alwaysaccommodating - I also found a similar welcome in Western Germany some years later). Like many other lay people, with an interest in railways, I remain grateful that the professional railwaymen of Nine Elms MPD in 1967 saw fit to share their unique workplace, warts and all, during those last weeks of steam traction.
Photography on the last day demanded a small tripod as I wanted to photograph as many un-rebuilt Bullied Pacific's as possible and they were all located inside the building the tripod was a necessity. The atmosphere by the last day was quite sad with piles of ash had accumulated virtually everywhere in the shed yard and routine maintenance on the building was no longer the order of the day.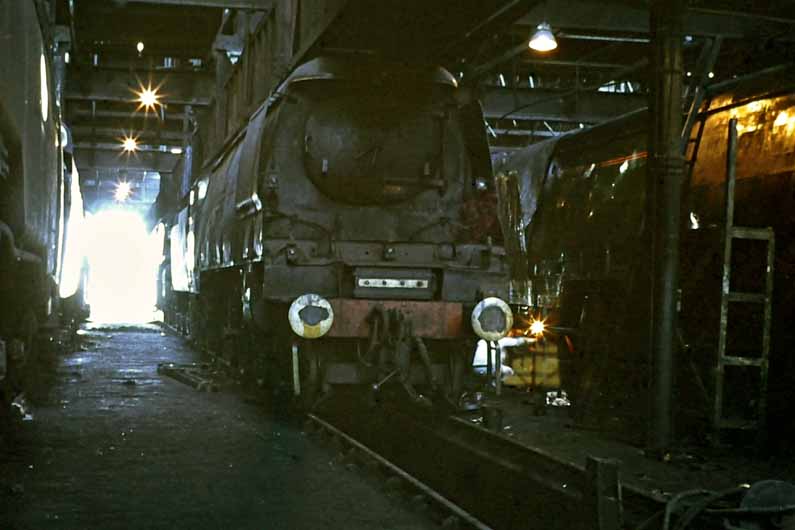 WC 34015 "Exmouth" and 34023 "Blackmore Vale" at Nine Elms 9.7.67 © 1967/2011 Geoffrey Catlin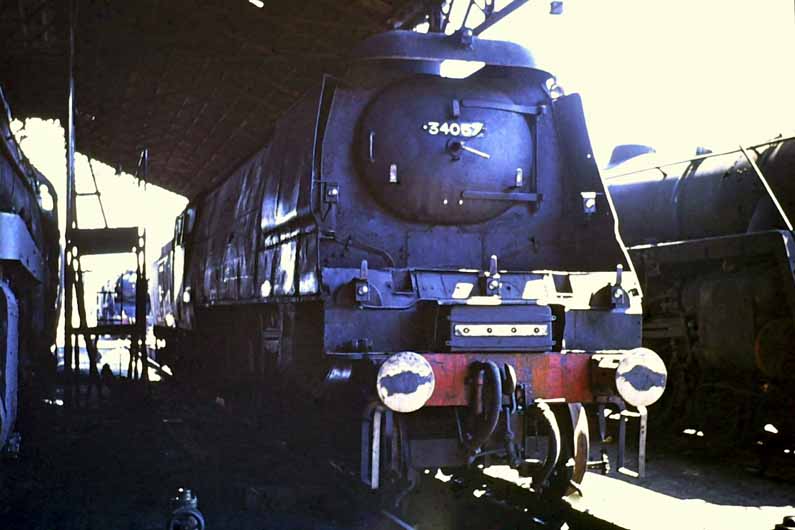 BB 34057 "Biggin Hill" at Nine Elms 9.7.67 © 1967/2011 Geoffrey Catlin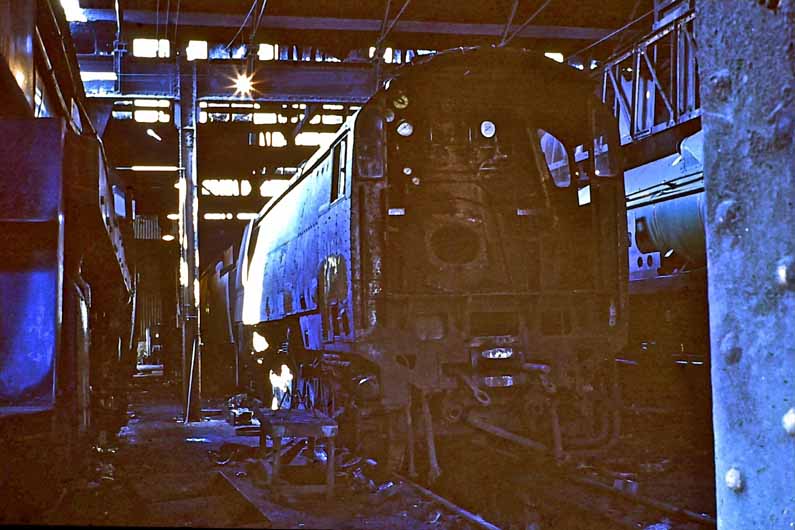 WC 34019 "Bideford" at Nine Elms 9.7.67 © 1967/2011 Geoffrey Catlin
The depot featured a few locomotives in steam including 34021 having just arrived on shed after it's final, 35023 languished inside the main shed building still in steam from it's exploits to and from Weymouth on the previous day. Holland Afrika line appeared ready to answer the call should it come, but alas that call would not be made. Despite her grubby external condition she could certainly have achieved one more dash to the South Coast. Standard 4MT was also in steam (Does anyone know what train she worked into London on that last day?)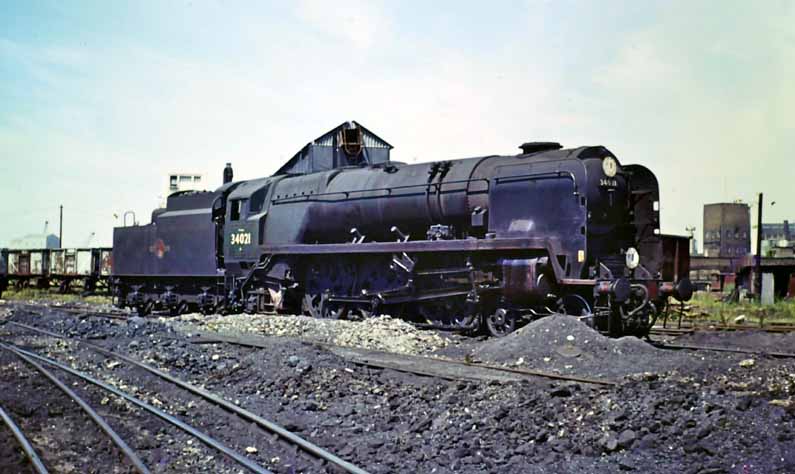 Rebuilt WC 34021 "Dartmoor" at Nine Elms 9.7.67 © 1967/2011 Geoffrey Catlin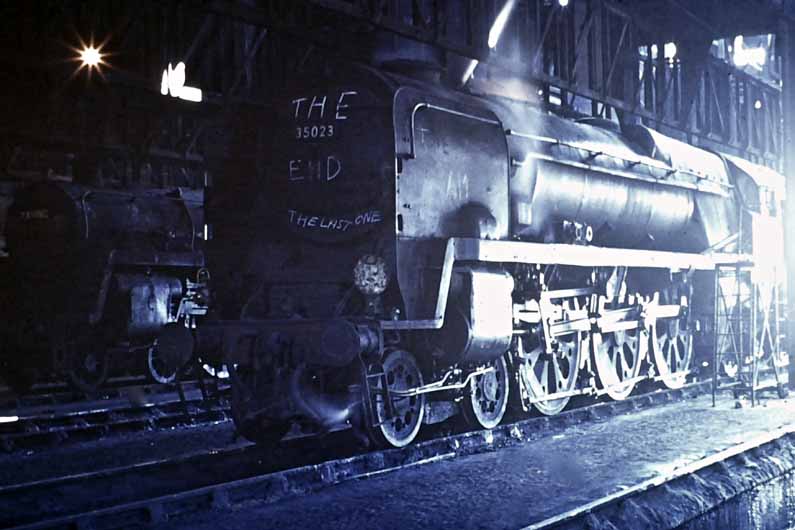 MN 35023 "Holland Afrika Line" in light steam at Nine Elms 9.7.67 © 1967/2011 Geoffrey Catlin
Outside in the shed yard 35007 was cold and stored where she were last disposed of just a couple of days earlier. It was just a week after 35007 worked alongside 35028 and 35008 on the Southern Region's farewell to Steam specials. Aberdeen Commonwealth assisted 35008 on the climb from Weymouth and on the first part of the return journey to Bournemouth Central. A week later she lay cold in Nine Elms yard still looking good for many years more service but no call to traffic would ever come. There were machines which occupied the shed yard and were cold, but still looked clean, well maintained and good for years more active service included BR Standard 4MT Tank 80145, Standard 4MT (Pocket Rocket) 2-6-0 No 76064, WC 34008 looked a little more work stained but again fit for traffic, Rebuilt BB 34087 "145 Squadron" completed the line up of locomotives in the yard which would never receive another call to duty but were fit for many years of active service.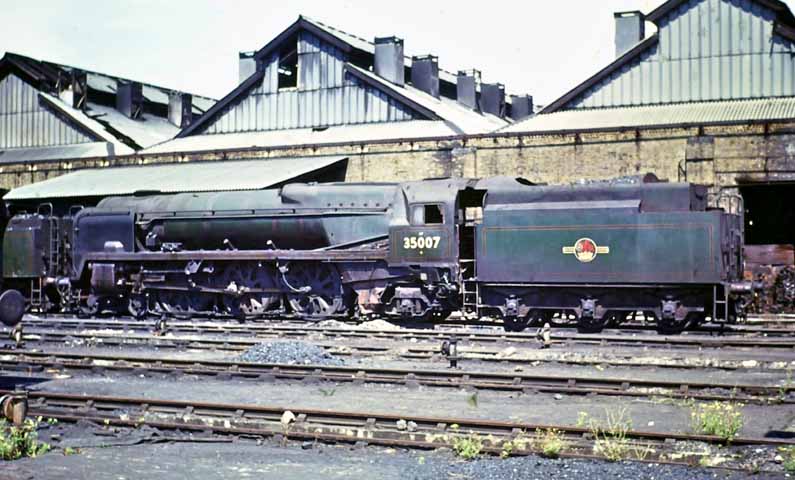 MN 35007 at Nine Elms 9.7.67 © 1967/2011 Geoffrey Catlin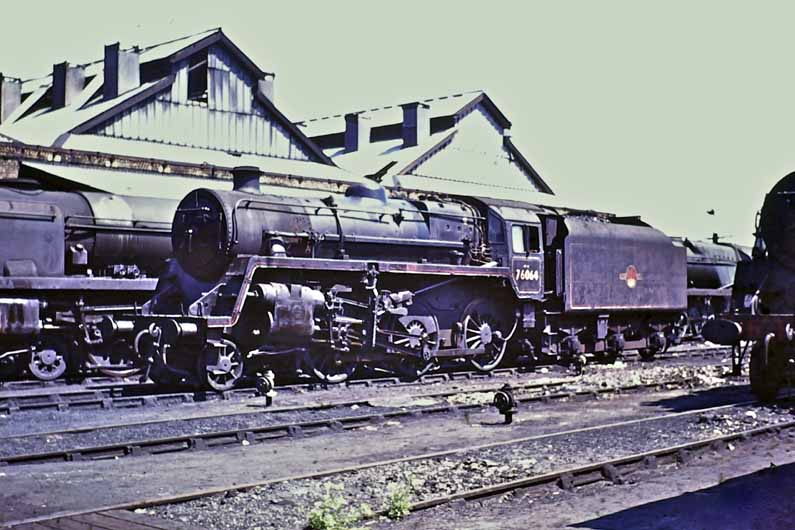 BR Standard 4MT 76064 at Nine Elms 9.7.67 © 1967/2011 Geoffrey Catlin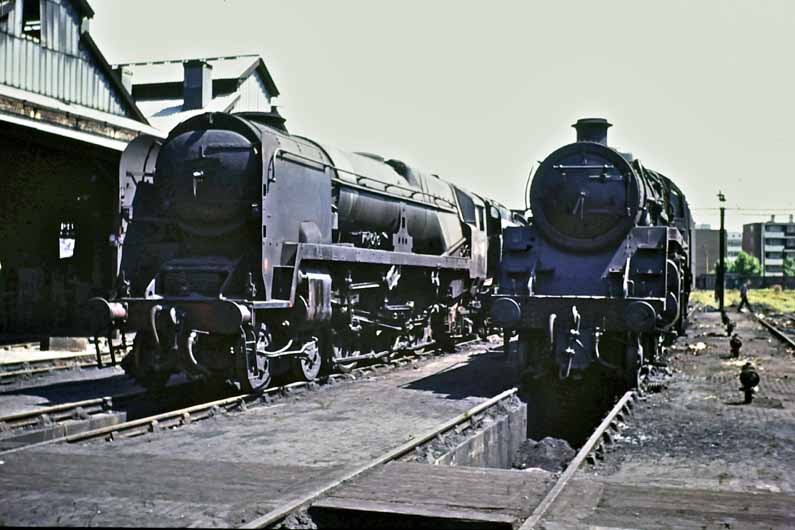 34009 and 76064 at Nine Elms 9.7.67 © 1967/2011 Geoffrey Catlin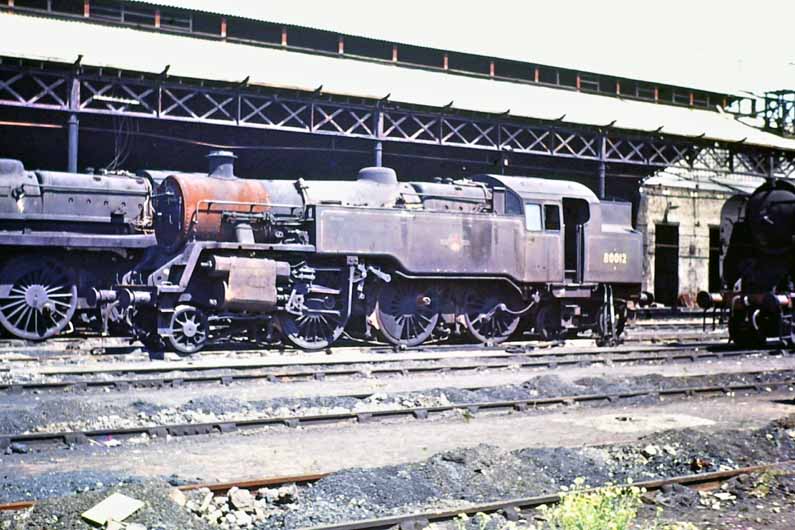 80012 at Nine Elms 9.7.67 © 1967/2011 Geoffrey Catlin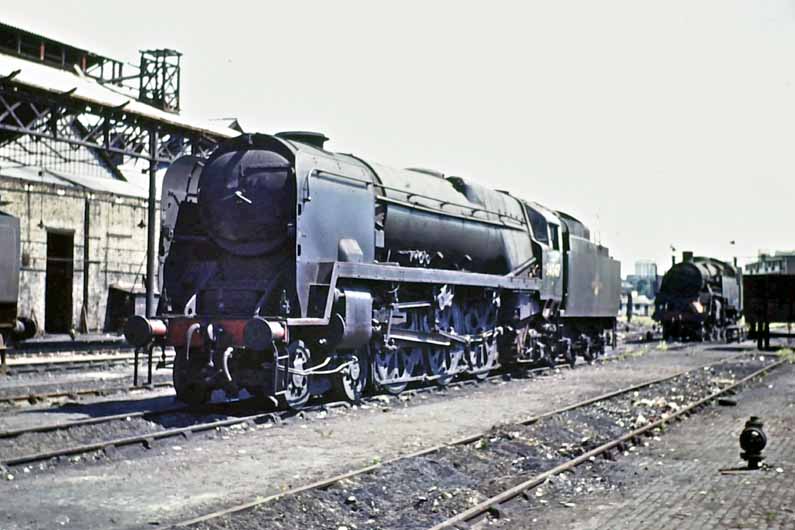 34087 "145 Squadron" at Nine Elms 9.7.67 © 1967/2011 Geoffrey Catlin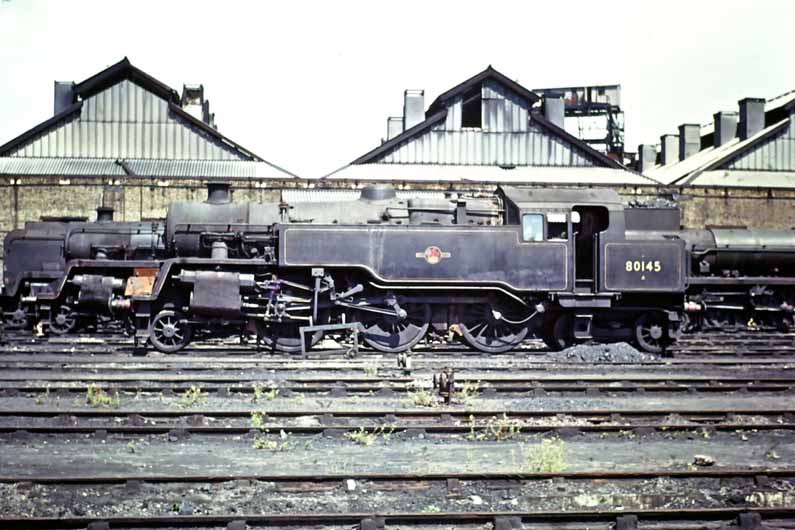 80145 at Nine Elms 9.7.67 © 1967/2011 Geoffrey Catlin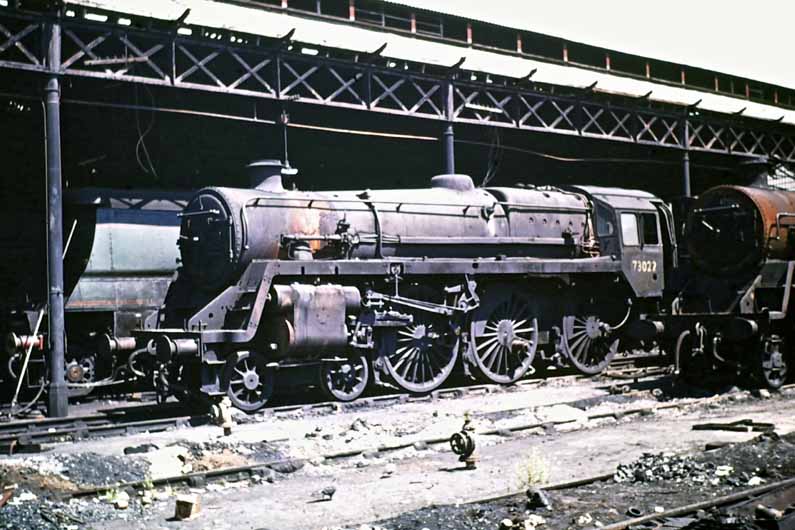 73022 with 34057 in background at Nine Elms 9.7.67 © 1967/2011 Geoffrey Catlin
It was interesting to observe withdrawn locomotives strewn around the yard, which looked as if they had been used as a source of components to keep their active sisters running until the end. After Eastleigh Works had completed the last overhauls in 1966 it was all down to Shed Staff to keep the show on the road. Hopefully the pictures will give some indication of the tremendous work undertaken by the railwaymen of Nine Elms who toiled in some very harsh working conditions to keep the trains running during 1966 and 1967. Did it really have to be like that - No! Other railways such as the Norfolk and Western in the USA and a number of European railways had shown how steam could compete and be comprehensively maintained up to the end given top level managerial backing.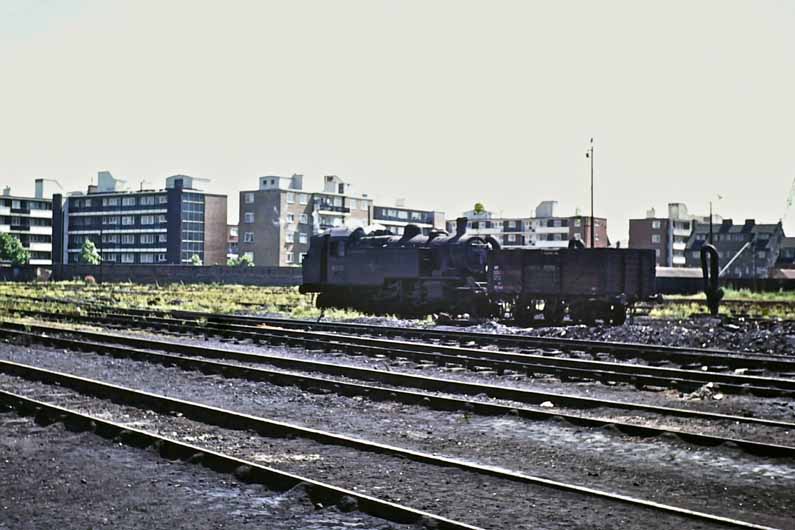 41287 Ivatt 2MT at Nine Elms 9.7.67 © 1967/2011 Geoffrey Catlin
Nine Elms was a sad place on 9th July 1967, many staff would lose their jobs and the railway would lose some valuable men, others would transfer to Waterloo. The Shed would close and be demolished and the ex LSWR mainline would never be the same again.
The replacement plain "Rail Blue" liveried 4REP electric multiple units and two sets of TC trailers offered little or no upgrade in passenger comfort on their "one size fits all" standard services. Passengers who patronised the luxury Pullman services would soon find the replacement electric trains to be inferior in both comfort and service.
Southern steam in 1967 was certainly a case of modern standard steam locomotives drawing the final curtain, although two un-rebuilt Bullied design Pacific's remained in traffic until the final days, it fell to the British Railways era Ron Jarvis designed rebuilt Pacific's and the BR standards to close the curtain on the final act.
After leaving Nine Elms, knowing it would be for the last time, I travelled to on to Clapham Cutting in the hope that the final up working of the Bournemouth Belle would be steam hauled, alas it was not to be, Merchant Navy 35030 "Elder Dempster Lines" brought an up working from the Dorset Coast which turned out to be the actual "Waterloo Sunset", the last Merchant Navy to be built was destined to work the last steam hauled passenger train to the capital - it was a fitting end.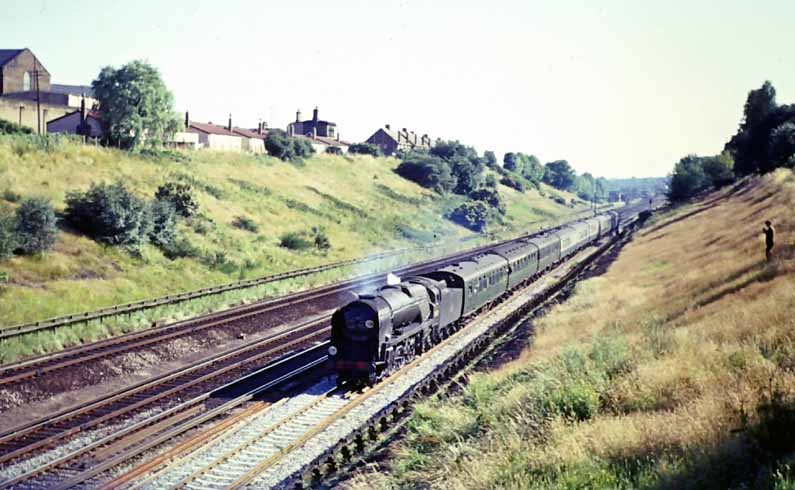 The last up working MN 35030 "Elder Dempster Lines" heads north through Clapham Cutting 9.7.67 © 1967/2011 Geoffrey Catlin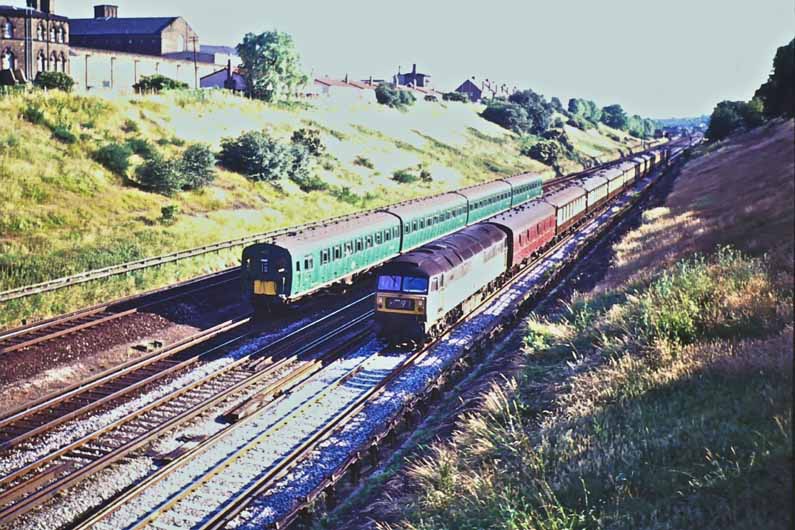 The final up "Bournemouth Belle" D1924 - Clapham Cutting 9.7.67 © 1967/2011 Geoffrey Catlin
© 2011 Geoffrey Catlin
Alan Goodwin wrote : Geoff Catlin wants to know about the Standard 4MT that was in steam at Nine Elms on the last day. This was 75075 which John Bird and others recorded as working on Friday 7th as follows: 10.43 Southampton to Bournemouth, 13.08 Bournemouth to Weymouth, 16.46 Weymouth to Bournemouth, 18.51 Bournemouth to Woking. It would have then worked the 22.10 empties from Woking to Clapham Junction and light engine to Nine Elms. This is the whole of Guildford 166 diagram - a busy day! As far as I am aware it did not leave the shed again and, as John Bird speculates in 'Southern steam Surrender', was probably kept in steam in case the breakdown crane was required.
---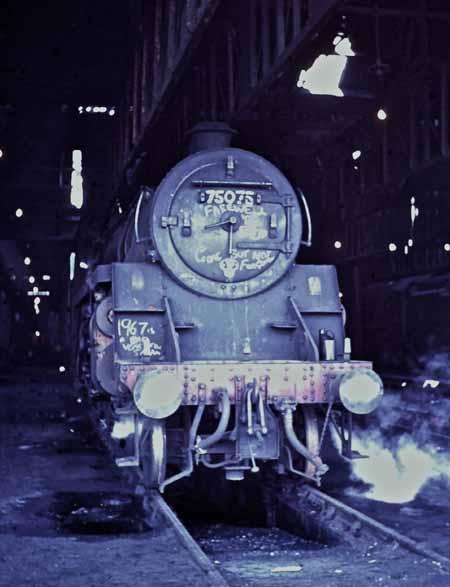 75075 in steam in Nine Elms shed during the afternoon of 9.7.67
(Photo &copy 1967/2011 Geoffrey Catlin)



---
Return to Gallery index