Here are some of Doug Richard's photographs
Doug Richards was a List Clerk at Nine Elms up to the end of steam and the depot's closure in July 1967. Here is a selection of his photographs.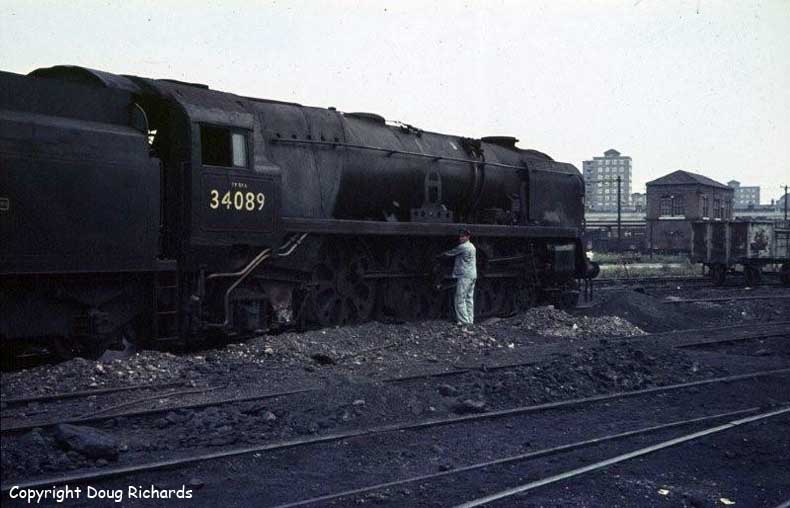 34089 with Pat Arbuckle oiling. Nine Elms 1967.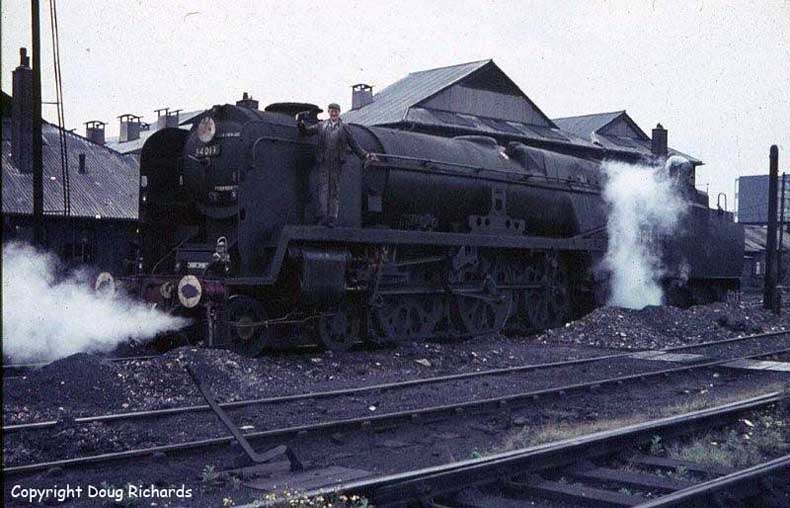 34013 with Driver Ron Bennett with feeder in hand. Nine Elms 1967.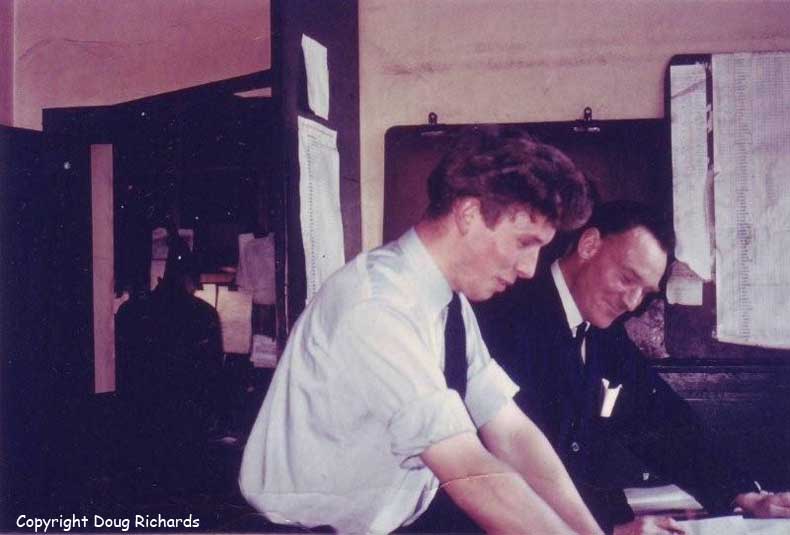 Picture taken by the late Bert Hooker in 1967. It shows myself - Doug Richards - and the senior list clerk George Rowe in the list office which used to face out to the store road and was adjacent to the running foreman's office. In the background can be seen the back view of running foreman Len Trigg.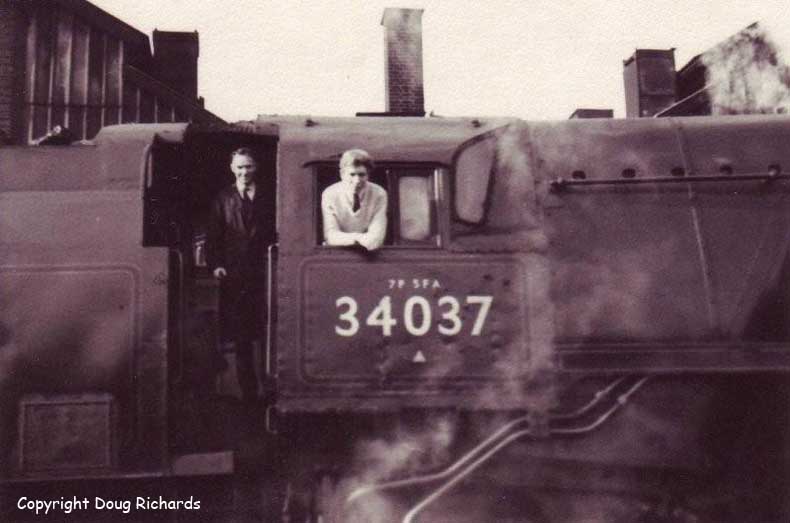 George Rowe and myself on 34037 'Clovelly' which was stood on the store road as the 'spare' engine - taken 1967. .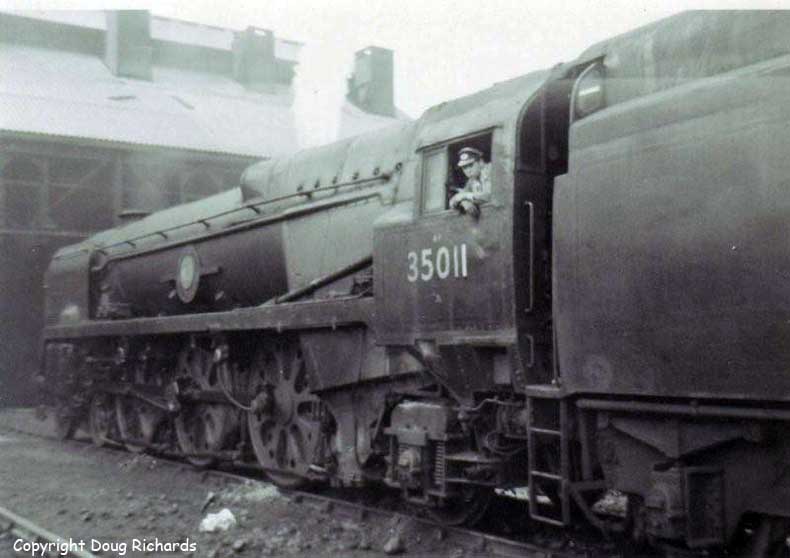 Fireman Mickey Thomas, had just prepared 35011 - taken autumn 1964.



Bill Plumb at regulator of the Bournemouth Belle engine as she leaves shed to go light to Waterloo on a Saturday in 1966. .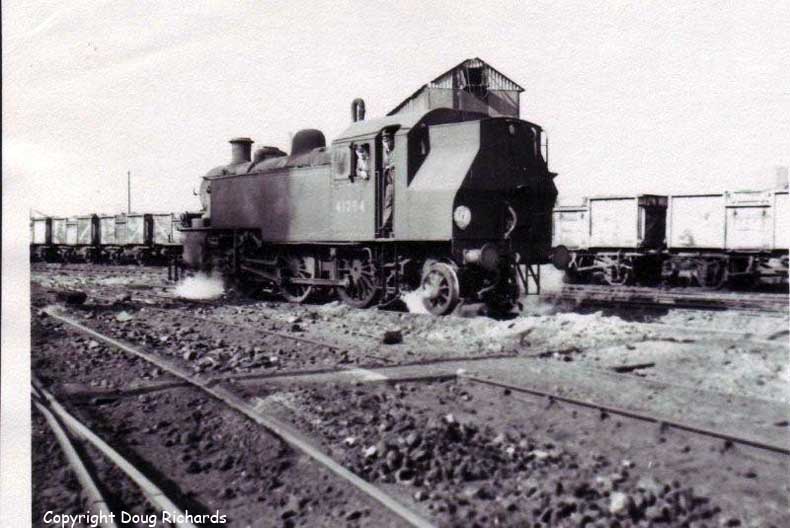 41284 - Jim Twyman & firemen un-identified arriving back on shed after coming back from Clapham Jcn - 1966.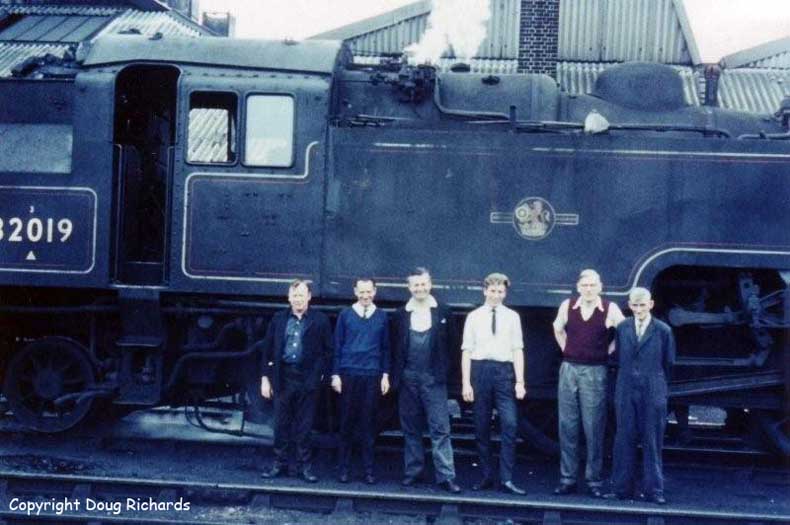 82019 - Kenny Belle engine leaving coal hopper road - 1967 .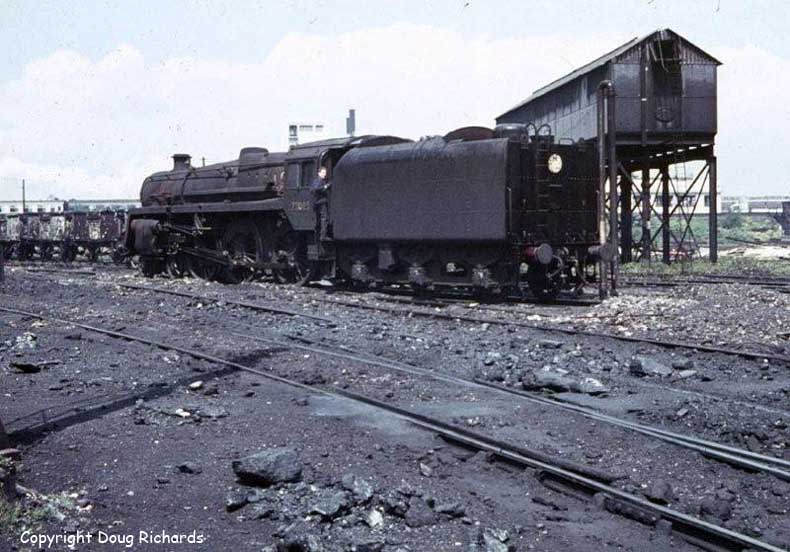 73085 - arriving on shed, Driver Peter Gammon alighting - taken 1967.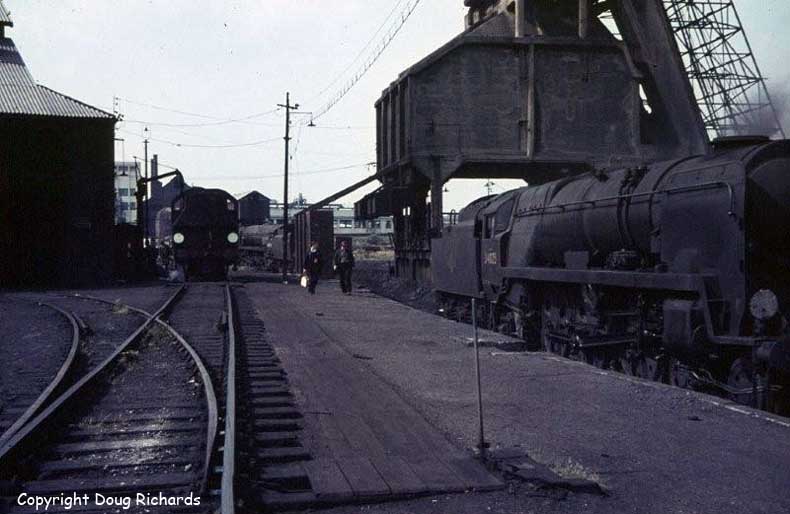 34025 - a look towards the exit roads and coal hopper - taken 1967.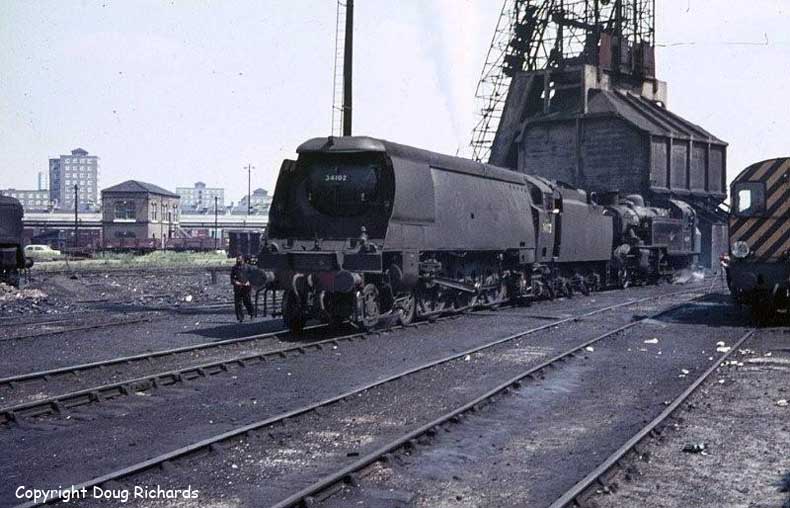 34102 - outside running foreman's office waiting to go off shed - taken 1967.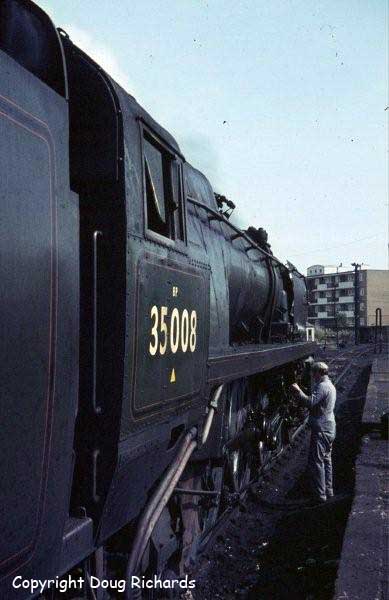 35008 - oiling up, from my memory this was Eddie Ball - taken 1967 in the final few weeks of steam.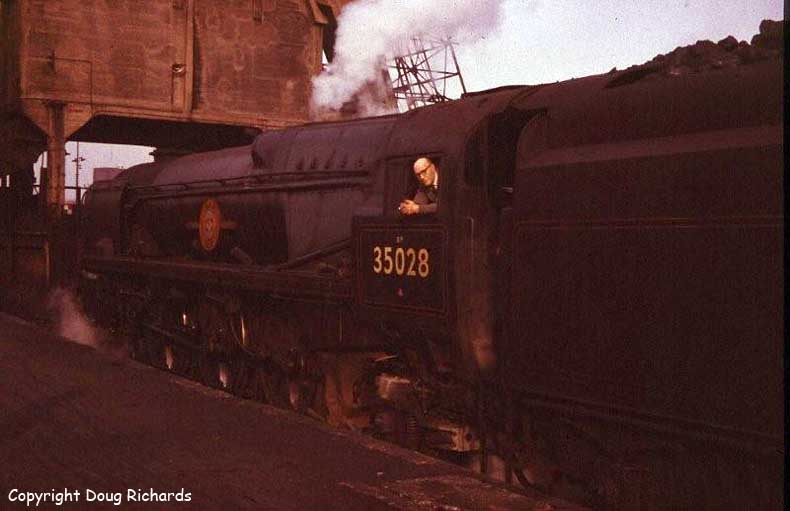 35028 - likeable character running formen George Bignell posed for me with this one in 1966.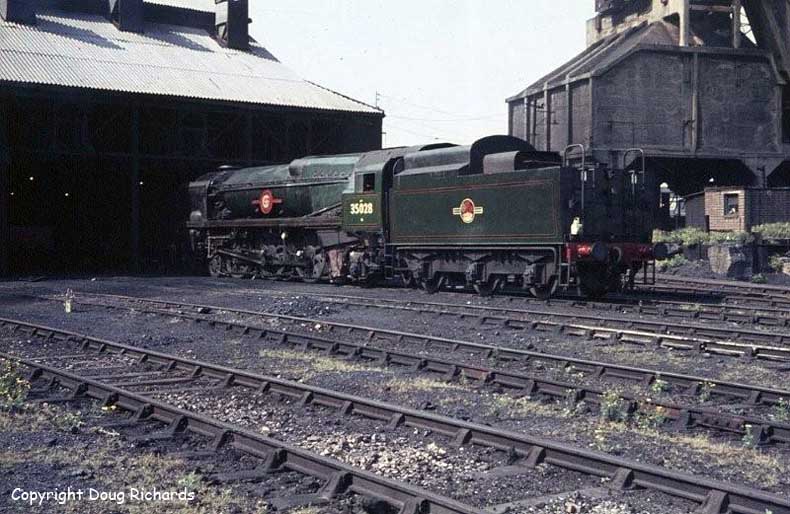 35028 - just had a spruce up for a special June 1967.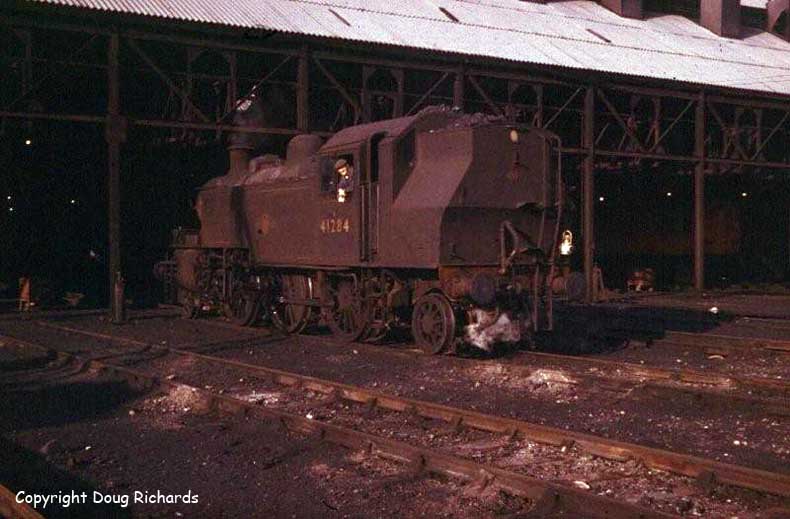 41284 - another character of the depot, assistant running foreman Ted Edgington whose favourite item of discussion was dog racing I remember - taken 1966.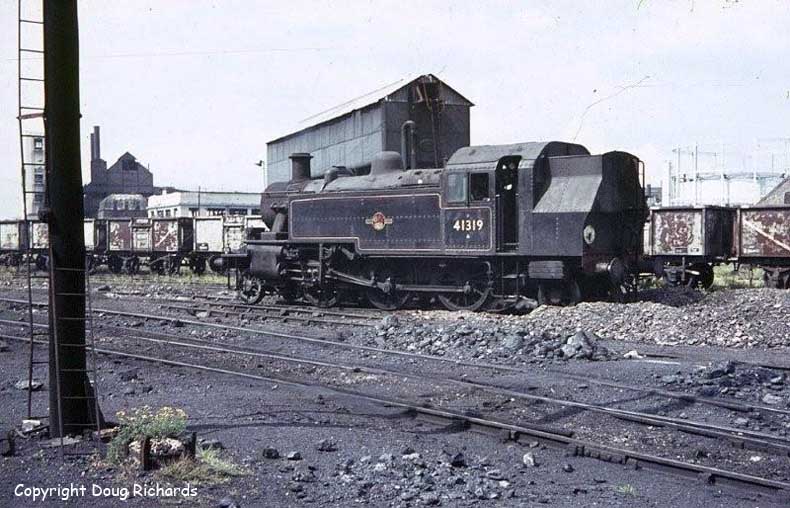 41319 - a reasonably clean loco for Nine Elms just arriving on shed - taken 1967.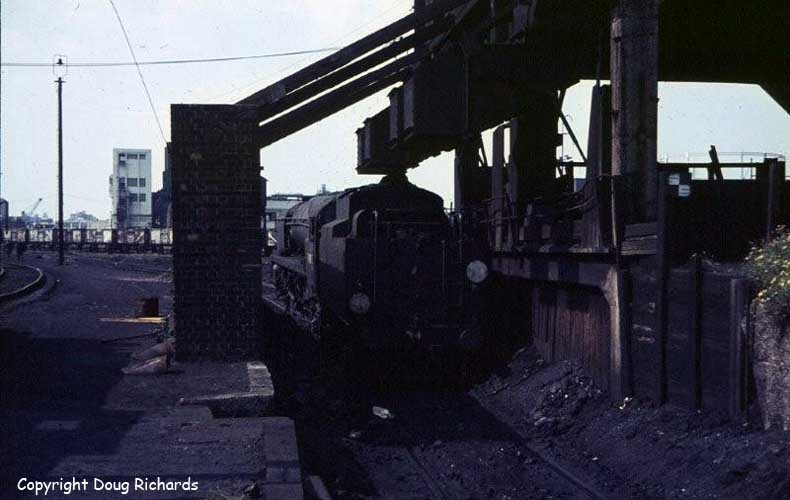 Taking coal - the coal hopper at Nine Elms re-plenishing a Bullied pacific in 1967.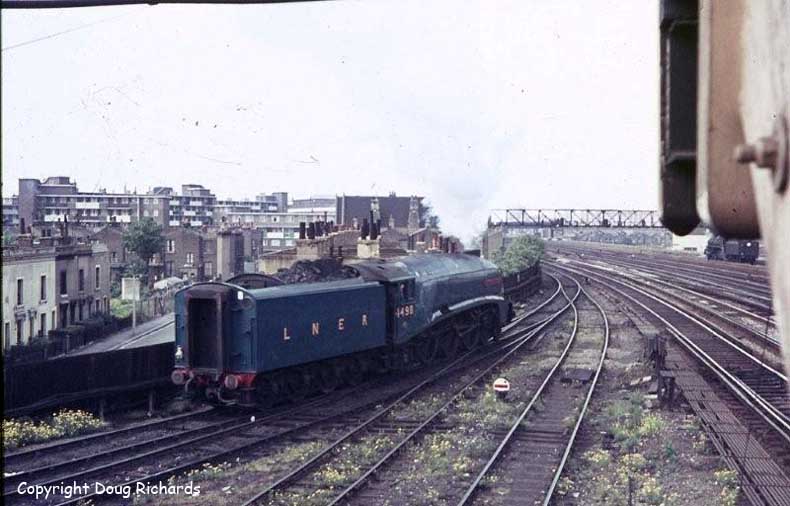 4498 Sir Nigel Gresley departing the shed past Loco Junction signalbox on a Saturday prior to working a special train from Waterloo in 1966.



34004 - reasonably smart 'Yeovil' waiting to leave shed in 1967.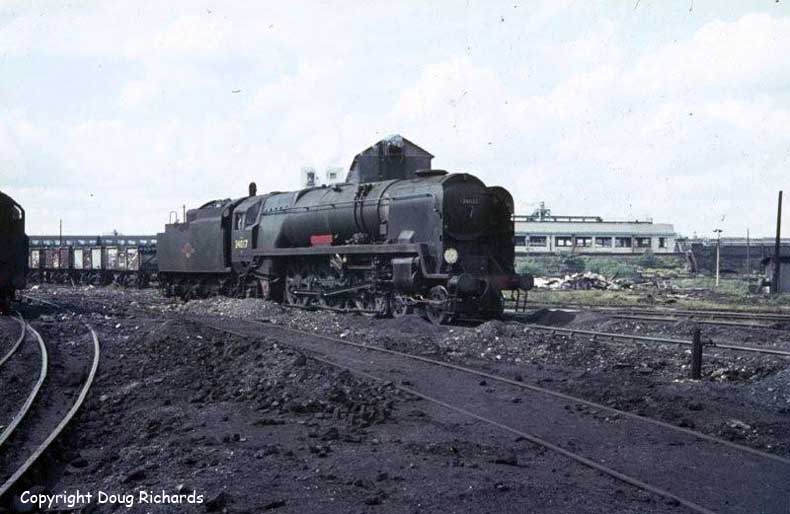 34037 - 'Clovelly' drops in from Waterloo in 1967.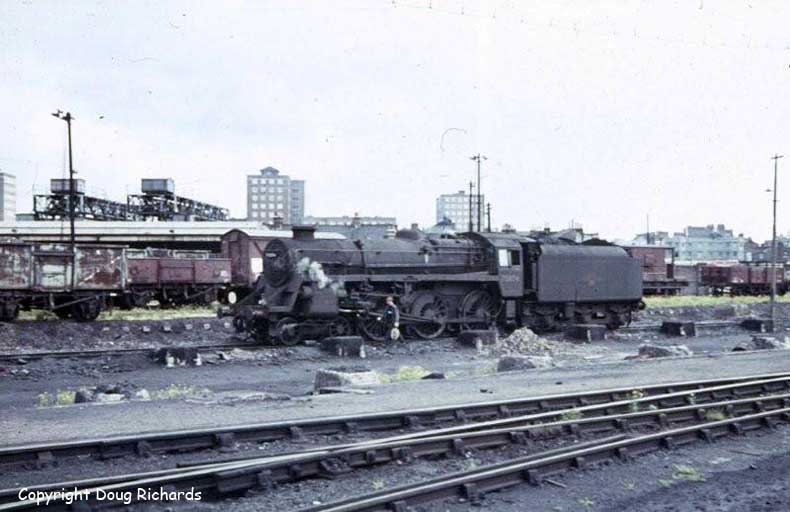 75074 - disposal on the long pit, Guildford men had arrived with this engine in 1967.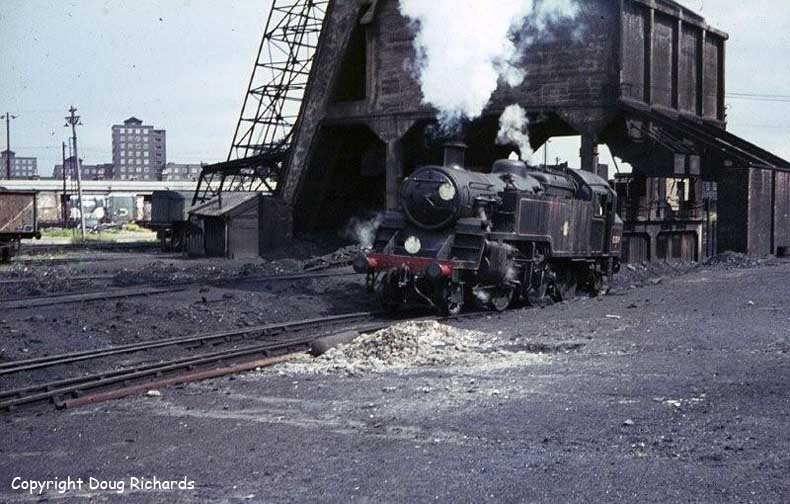 82019 - engine leaving from coal hopper road light to Clapham for Kenny Belle diagram in 1967.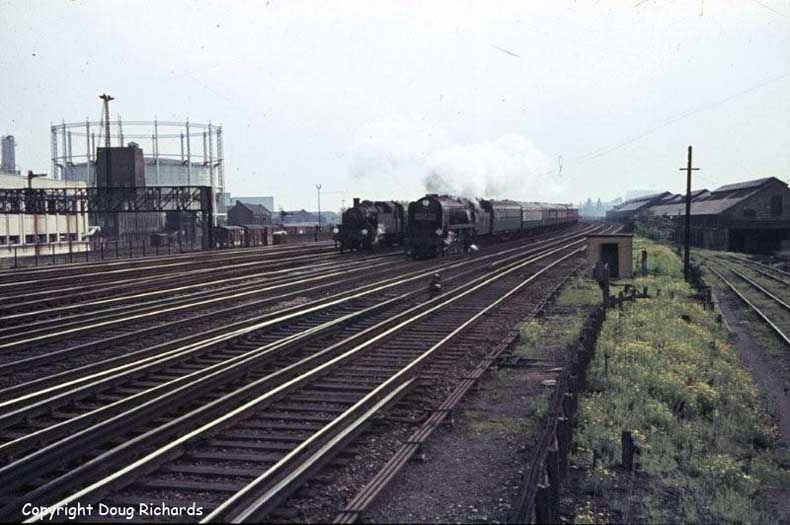 Boat train - the 'down Cunarder' overtakes empty stock as it approaches Loco Junction signalbox in 1966.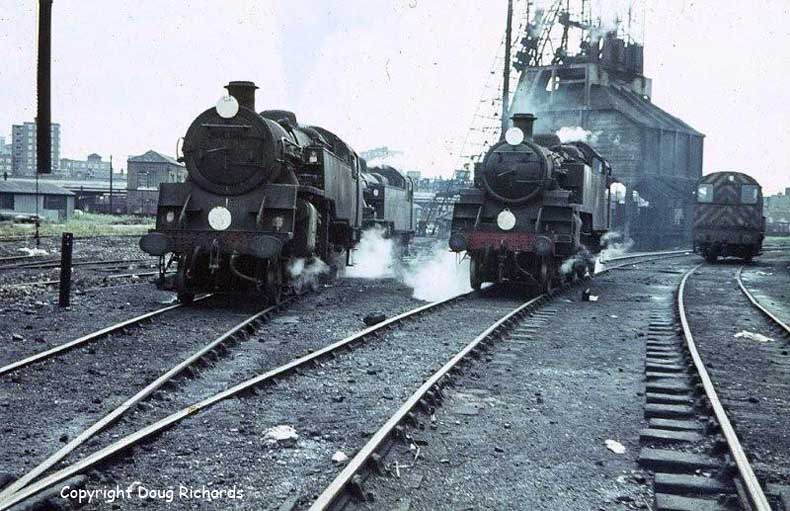 Store road line up - the end is near, engines being made ready for the journey to Salisbury on the final Saturday at the shed - 1967.


---
Return to Gallery index