Here are some photos from Gavin Lawrence from Australia:
Gavin Lawrence has emailed again and included a couple of new photos:

I have, after a long break finished another painting. 34066 in early BR livery (not sure if she ever wore this style!!!!) and wanted to share it with you and the site.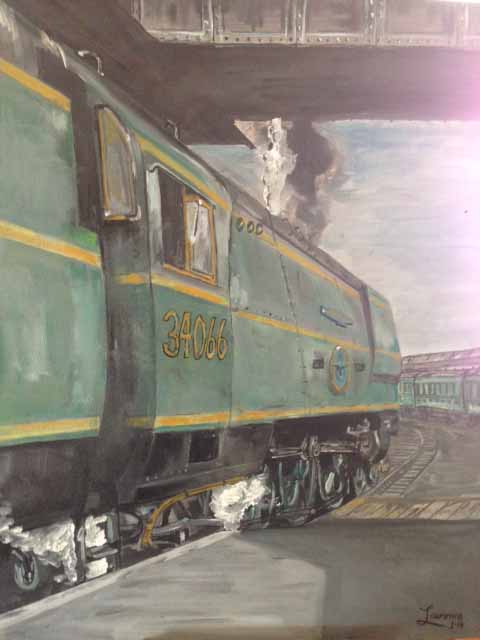 I have also very luckily acquired 35015's smokebox plate. I know she and 35002 were the first to be withdrawn. I'd be delighted if anyone has any memories of this engine, good bad or otherwise and why she was withdrawn so early??? Was it due to the dreaded WR AT EXMOUTH JCT? I have looked at all the info I have and 15 seems to have been withdrawn at the Elms?? Again if anyone can remember anything, she was new the the Elms so who were her regular crew at the time??? or has pics of "my" engine I'd be so grateful.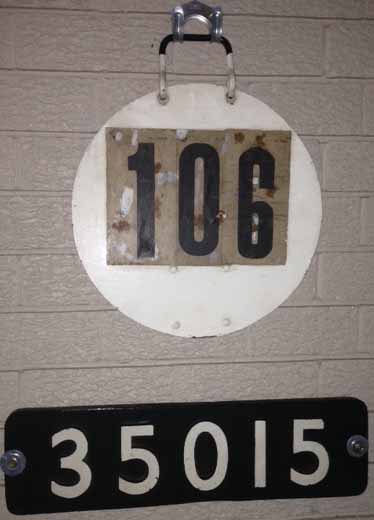 ---
Firstly what a great web site. It's a credit to, and a wonderful tribute to all of you enginemen who toiled at the 'Elms' over the years.

Sadly I was born too late (1970) to experience steam prior to end in 1967. My father Chris Lawrence worked at Feltham 1959-60 as a cleaner and fireman. We all live in Australia now and both have steam in the blood!

I was thrilled to meet Bert Hooker on a visit to the UK in 1986. I was invited to his home and have a picture of Bert and I in his back garden. I read his Nine Elms Engineman book and being keen on drawing - I sent him several letters and a couple of detailed line drawings of unrebuilt Merchant Navy's. I was thrilled to receive replies and some photos with the invitation to meet him. Being only 15 at the time I was a bit in awe of Bert despite him being a real gentleman. I did manage to get him to sign my copy of Nine Elms Engineman though! I wish I could sit down with him now for a chat and a brew!

Anyway I hope you like the 2 pictures that Bert had sent to me. The first is of Bert at the Clapham Museum in 1969 on the footplate of SECR 'D' 1737.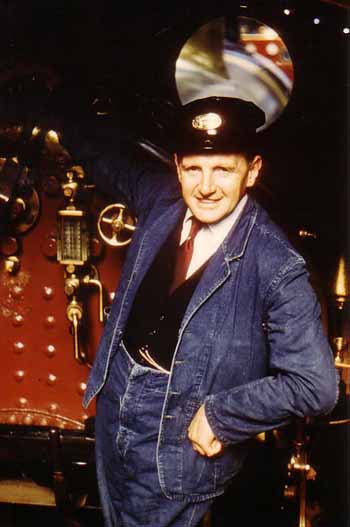 I often wonder what ever happened to that 'Engineman SR' cap badge.
The second picture was taken by none other than RHN Hardy at Bournemouth West (date unknown).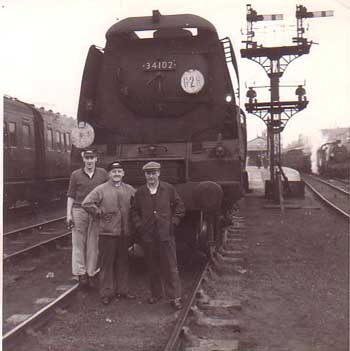 The engine is 34102 Lapford on the 1-0pm to Waterloo. The fireman is Bill Hutchinson and a footplate guest Major Harry Moss.
I love looking at the photos and reading the many good yarns on your site. There is always a certain pride and purpose in the faces of the enginemen that seems to be lacking in most forms of employment these days.
Here are six oil paintings I have recently completed:
Paintings © Gavin Lawrence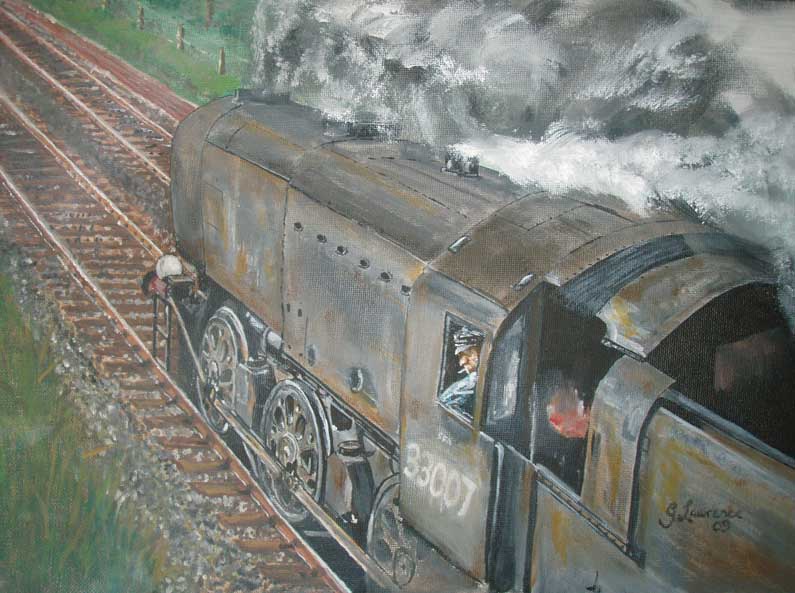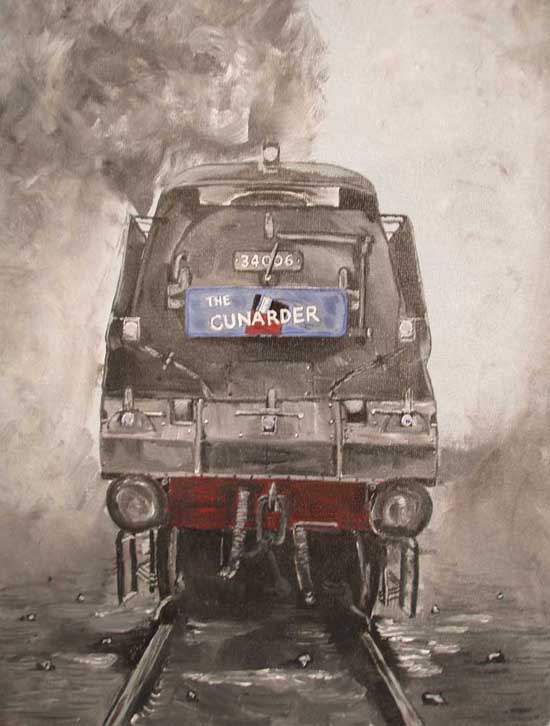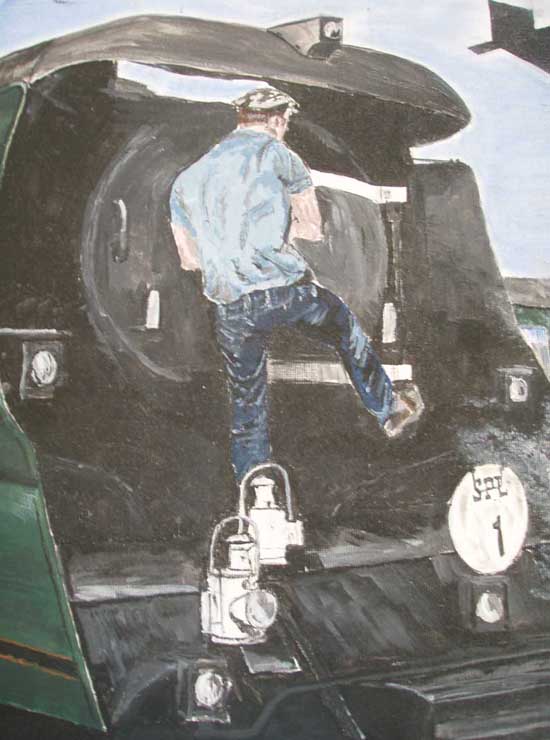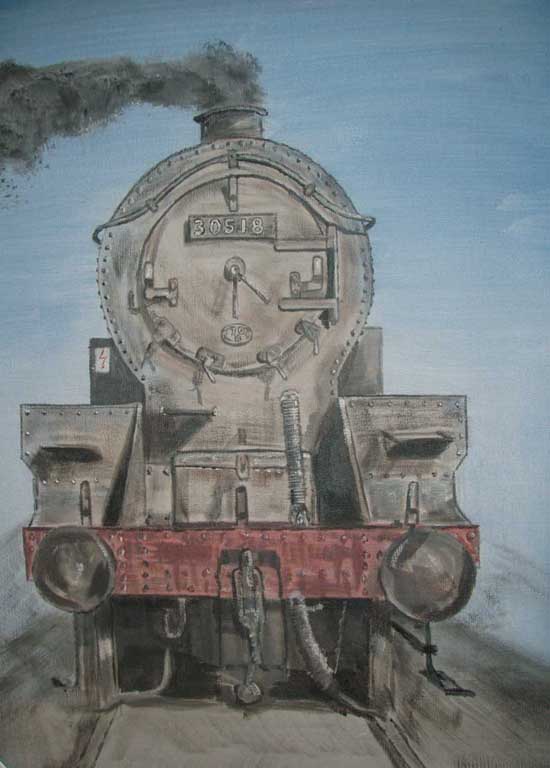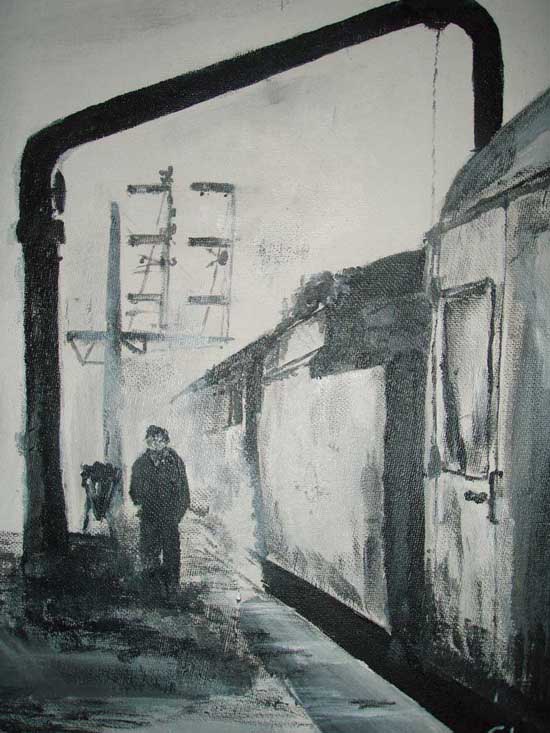 ---
Regards Gavin Lawrence Wollongong, NSW, Australia.



---
Return to Gallery index