Jim Evans' Swan Song:
Nigel Kendall commented:
Photo caption: On 16th June 1967, MN Pacific 35007 reaches 87mph down Walkford Bank driven by Driver Jim Evans of Nine Elms Shed. This was the fastest I had ever seen a locomotive travelling on this stretch of line. I was lucky to freeze the action with my maximum shutter speed of 500th sec!

Nigel added: I realised it was Jim Evans on the footplate when I read his book years later. I married-up the run he described with pictures I took on that day, and, lo-and-behold, his run was one of them! At the time I managed to get his address in Spain and sent him a copy of the photo. He kindly wrote back and confirmed the time and place. I've still got his letter filed away. Another clue was that the train was travelling EXTREMELY fast!!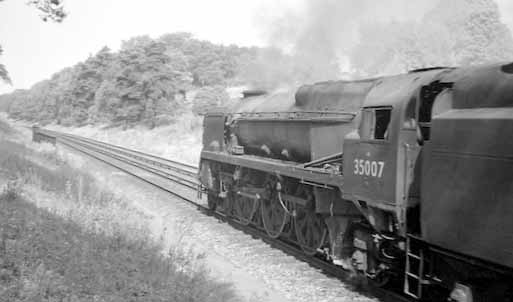 The photograph is copyright © Nigel Kendall 1967/2011



---
Return to Gallery index