STEAM TRAIN DIARY - svsfilm.com/diary
Steam train events in US and Canada
---
This listing is maintained for personal use and is not intended to be a complete diary of steam train events in the USA and Canada. SVS Film will not be responsible for any errors or omissions, nor will be responsible for any expenses or other costs incurred as a result of the information printed here. All schedules are subject to change without notice. PLEASE DO NOT USE THIS SCHEDULE TO MAKE TRAVEL PLANS WITHOUT CHECKING WITH THE RAILROAD/OPERATOR FIRST.

Some entries are shown as To be confirmed . This indicates that early information has been learnt, but has not been verified by the proposed operating organisation!!

We would welcome any comments, corrections or updates by email ESPECIALLY if you are a tourist railroad, or operator of a preserved steam locomotive!
---
Why not ask for your name to be added to the new SVS Film newsletter emailing list to receive all the latest news about new DVDs, CDs, rail topics and website developments - click here
---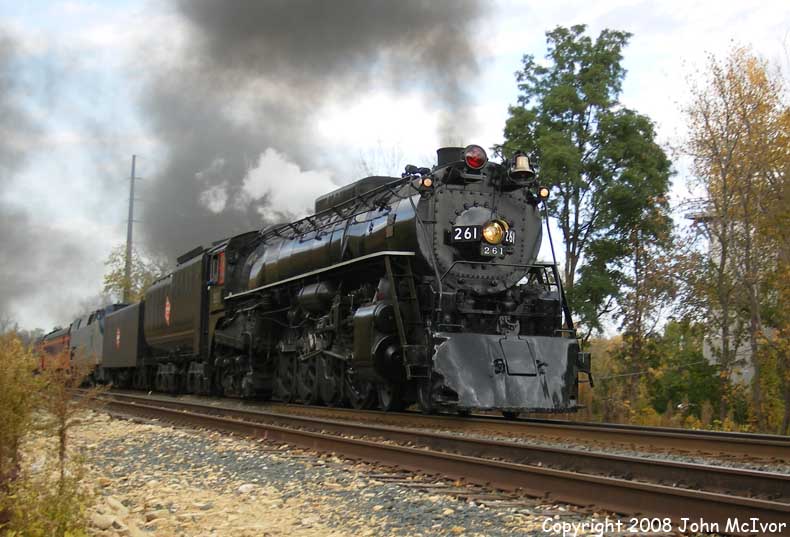 Photo of the week:
MILW 261 leaving Red Wing, October 2006.
Copyright © John McIvor 2006
---
'Photo of the Week' picture contributions always considered for possible inclusion - copyright credit given - submit .jpg file by email to SVS Film.

---
Latest Steam Train Diary updates August 1, 2017

September dates - NKP 765 on Cuyahoga Valley Scenic Railroad
September 25 - 27 - Chamasteam photo freight cancelled
September 30 - October 1 - MILW 261 'Fall Colors' excursions
September/November - WM 1309 photo freights postponed until 2018

---
Diary for 2017
[Jan]
[Feb]
[Mar]
[Apr]
[May]
[Jun]
[Jul]
[Aug]
[Sep]
[Oct]
[Nov]
[Dec]
---
August 2017

August 5 - Williams AZ. Grand Canyon 2-8-2 #4960 or 2-8-0 #29 due to operate the round trip to the Canyon.
For details - Grand Canyon Steam Schedule

August 5 and 19 - Chattanooga TN: Tennessee Valley Railway Museum trip to Summerville GA with steam.
For details - TVRM

August 19 and 20 - Howell MI. Pere Marquette #1225 2-8-4 heading 1 hour exursions.
For details - Steam Railroading Institute

August 30 - September 2 - Denver CO: Narrow Gauge Convention.
For details - NG Convention
---
September 2017

September 2 - Williams AZ. Grand Canyon 2-8-2 #4960 or 2-8-0 #29 due to operate the round trip to the Canyon.
For details - Grand Canyon Steam Schedule

September 2 and 16 - Chattanooga TN: Tennessee Valley Railway Museum trip to Summerville GA with steam.
For details - TVRM

September 4, 5, 6 - Chama NM: Special events including the Rio Grande Southern lives again with the re-creation of RGS 455.
For details - Friends of the C&TSR

September 16 - Williams AZ. Grand Canyon 2-8-2 #4960 or 2-8-0 #29 due to operate the round trip to the Canyon.
For details - Grand Canyon Steam Schedule

September 16, 17 and 23, 24 - Akron and Independence OH: Nickel Plate 2-8-4 #765 will operate 'Steam in the Valley' excursions along the Cuyahoga Valley Scenic Railroad, from Rockside Station, Independence Ohio twice on Saturdays and from Akron twice on Sundays.
For details - CVSR
September 22 - 24 - Bishop CA. "The Slim Princess Reunion" - SP narrow gauge #18 to head numerous trips at the Laws Railroad Museum.
For details - Southern Pacific NG Society

September 25 - 27 - Chama NM: Chama Steam 'Fall Madness'. Cancelled Photo freight event.
For details - Chama Steam
September 26 - 28 - Cumberland MD. Postponed until 2018 Newly restored C&O 2-6-6-2 #1309 to head photo freight event on Western Maryland Scenic RR.
For details - Western Maryland Scenic Railroad
September 30 - Williams AZ. Grand Canyon 2-8-2 #4960 or 2-8-0 #29 due to operate the round trip to the Canyon.
For details - Grand Canyon Steam Schedule

September 30 - Minneapolis MI: MILW 4-8-4 #261 heading 'Fall Colors' excursion to Gibbon or Winthrop.
For details - Friends of 261 Excursions
---
October 2017

October 1 - Minneapolis MI: MILW 4-8-4 #261 heading 'Fall Colors' excursion to Glencoe.
For details - Friends of 261 Excursions

October 7 - Williams AZ. Grand Canyon 2-8-2 #4960 or 2-8-0 #29 due to operate the round trip to the Canyon.
For details - Grand Canyon Steam Schedule

October 7, 14, 21, 22, 28, 29 - Chattanooga TN: Tennessee Valley Railway Museum trip to Summerville GA with steam.
For details - TVRM

October 28 - Alma MI: Pere Marquette 2-8-4 1225 heads excursion to Owosso.
For details - Steam Railroading Institute
---
November 2017

November 4, 11, 12 - Chattanooga TN: Tennessee Valley Railway Museum trip to Summerville GA with steam.
For details - TVRM

November 7, 8, 9 - Cumberland MD. Postponed until 2018 Newly restored C&O 2-6-6-2 #1309 to head photo freight event on Western Maryland Scenic RR.
For details - Western Maryland Scenic Railroad

November 17/18/19, 24/25/26 - Owosso MI: Pere Marquette 2-8-4 1225 heads 'The North Pole Express'.
For details - Steam Railroading Institute tickets
---
December 2017

December 1/2/3, 8/9/10, 15/16/17 - Owosso MI: Pere Marquette 2-8-4 1225 heads 'The North Pole Express'.
For details - Steam Railroading Institute tickets
---
Diary for 2018
---
Diary for 2019

Spring 2019 dates - '150th Anniversary of the Transcontinental Railroad's Completion' In the spring of 2019, Union Pacific's historic steam equipment will embark on a special excursion along the transcontinental route. - schedule to be confirmed.
For details - Union Pacific
---
Earlier 'Steam Train Diaries':
2004 - February - June ... July - December
2005 - January - June ... July - December
2006 - January - June ... July - December
2007 - January - June ... July - December
2008 - January - June ... July - December
2009 - January - June ... July - December
2010 - January - June ... July - December
2011 - January - June ... July - December
2012 - January - June ... July - December
2013 - January - June ... July - December
2014 - January - June ... July - December
2015 - January - June ... July - December
2016 - January - June ... July - December
2017 - January - June ... July - December

---
Copyright © SVS Film / John McIvor 2004-2017

Return to SVS Film Index