---
Alan Dedman emailed:
Thanks for posting those duty rosters, I consider them as the family tree of Nine Elms. Those names brought back some memories thatís for sure!
Alan Dedman, Chino, California, U.S.A.

Jim Rowe has written:
Here is a list of Nine Elms drivers and firemen for week commencing 12th June 1967, two weeks before the end of steam. The strip of names would be placed alongside the master roster each week, indication who was with who on each duty. A nice little piece of history and many familiar names. It came to me from Dave Dixon, a driver at Cross Country Bournemouth. He say's that Jim Evans gave it to him years ago.

Doug Richards emailed:
I was most interested to see this name slip show up. As I was the list clerk at Nine Elms at this time I can tell you a little bit of history surrounding it. In the weeks running up to the end of steam my colleague and senior list clerk the late George Rowe was busy preparing for the changeover that was approaching with the eventual transfer of most loco staff to Waterloo. He was attending meetings etc. and therefore it fell to me to compile the daily alteration sheets. Writing out the weekly name slips was always regarded as a bit of a chore and time consuming and therefore I was offered some assistance from Driver Julian (Jim) Twyman who was also at the time carrying out acting running foreman duties, and was also a good friend. The handwriting you see is that of the late Jim Twyman.

When I used to prepare the name slips I used to print the names in capitals until we were given the use of an old Imperial manual typewriter and then I used that as it was better for producing copies using carbon paper. Three sets of name slips had to be printed, one for the list clerk, one for posting in the notice case room and one for the wages/time clerk.

How Jim Evans came across this slip I don't know, just before the depot closed a large amount of such records were simply destroyed, although George and I held onto some items for personal nostalgic reasons. Hard to appreciate that this July 2012 the depot will have been gone for 45 years although I can remember working there so clearly.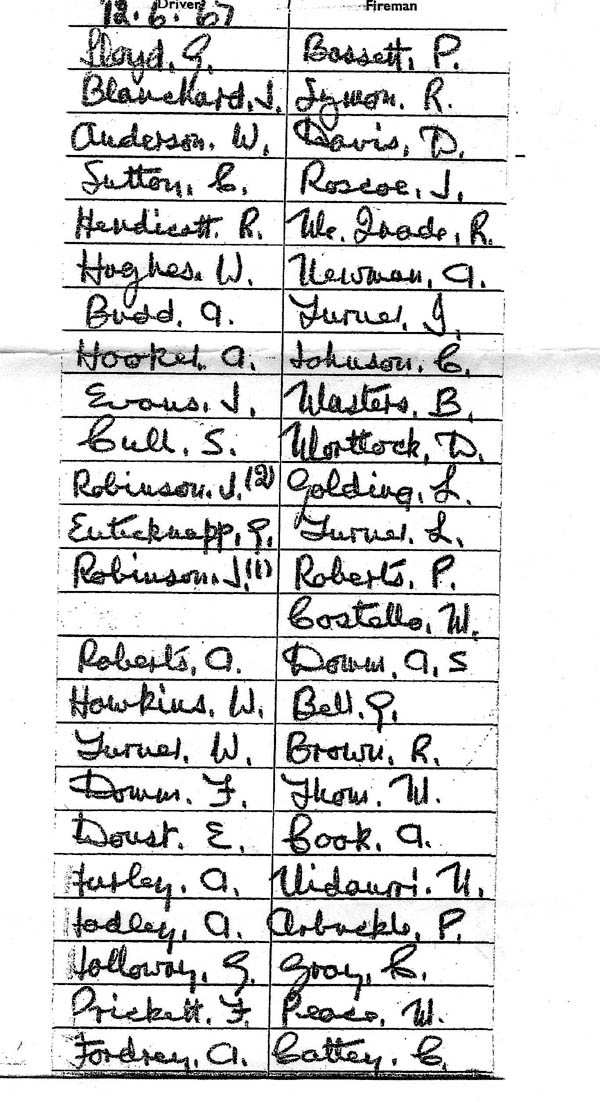 Phil Bassett has been kind enough to send us some images of roster lists:
Phil said: "I am attaching some copies of one of the very last Name List for the Enginemans Roster of Nine Elms. When I went through the names it brought the memories flooding back."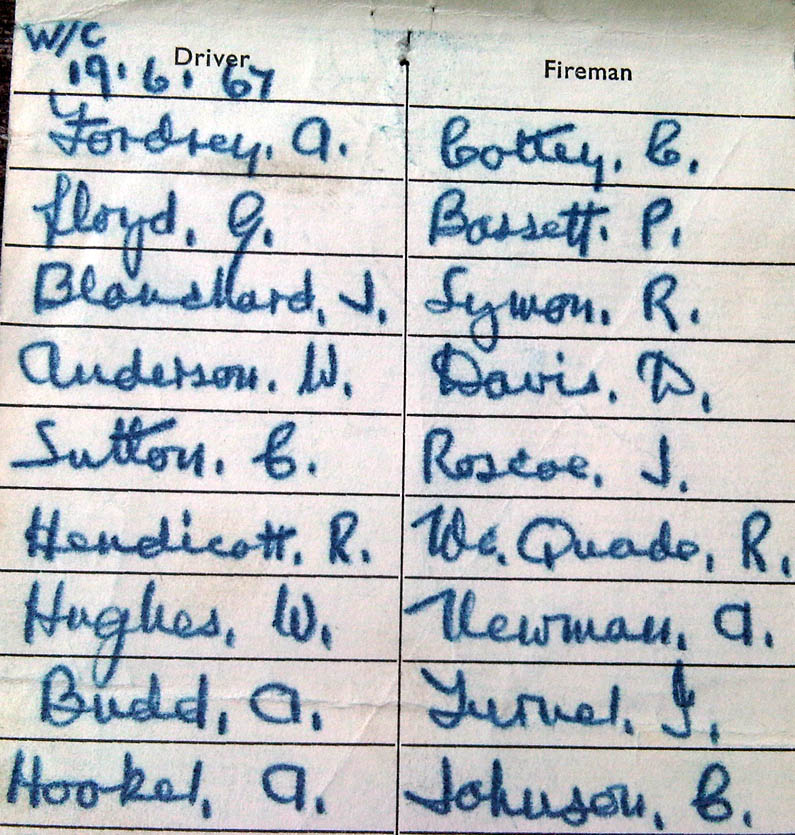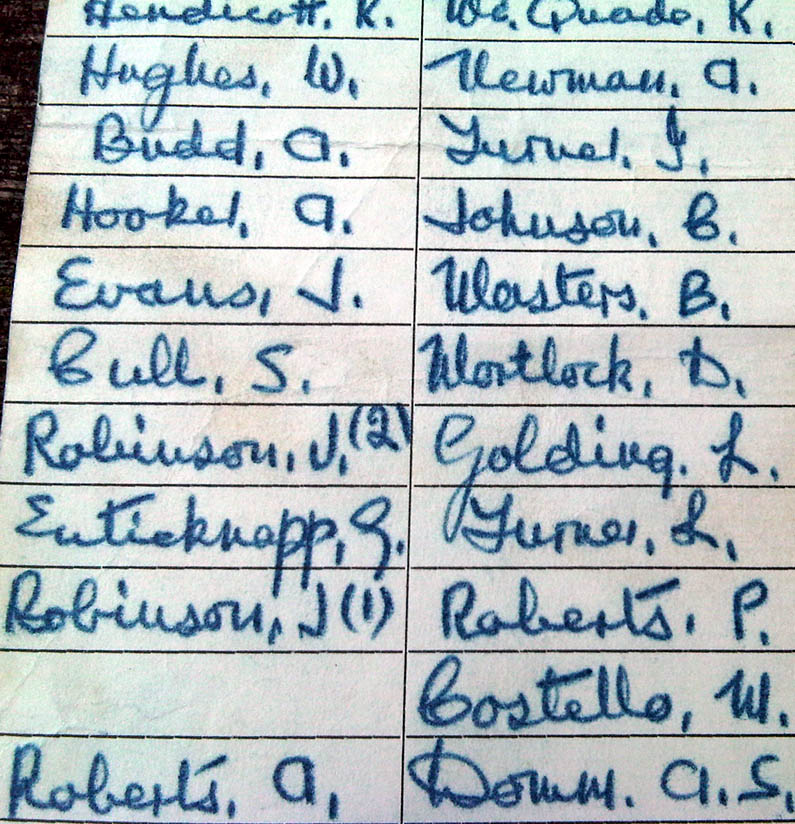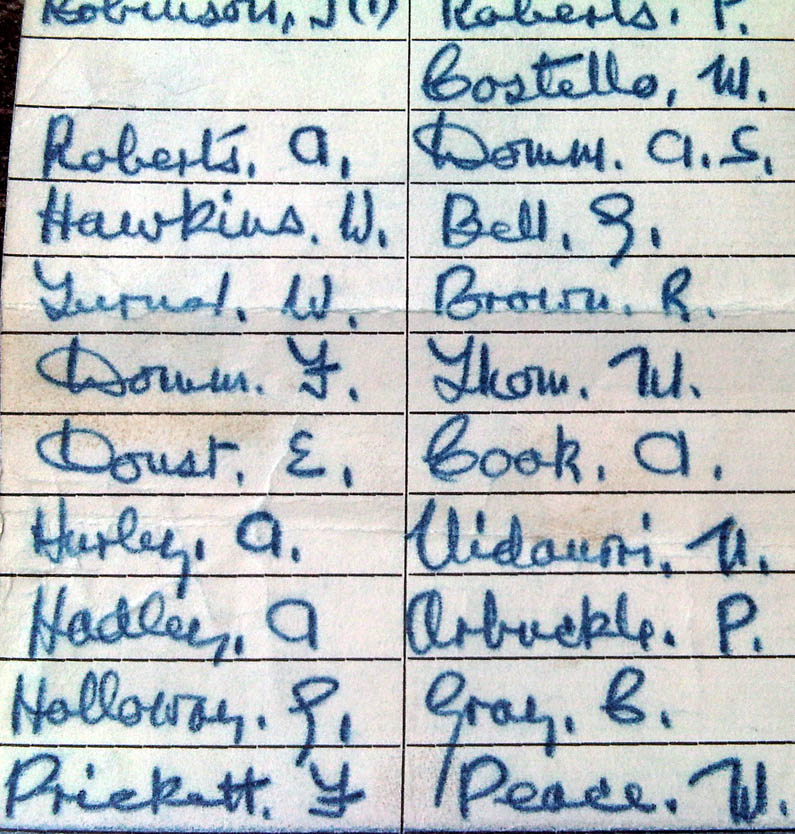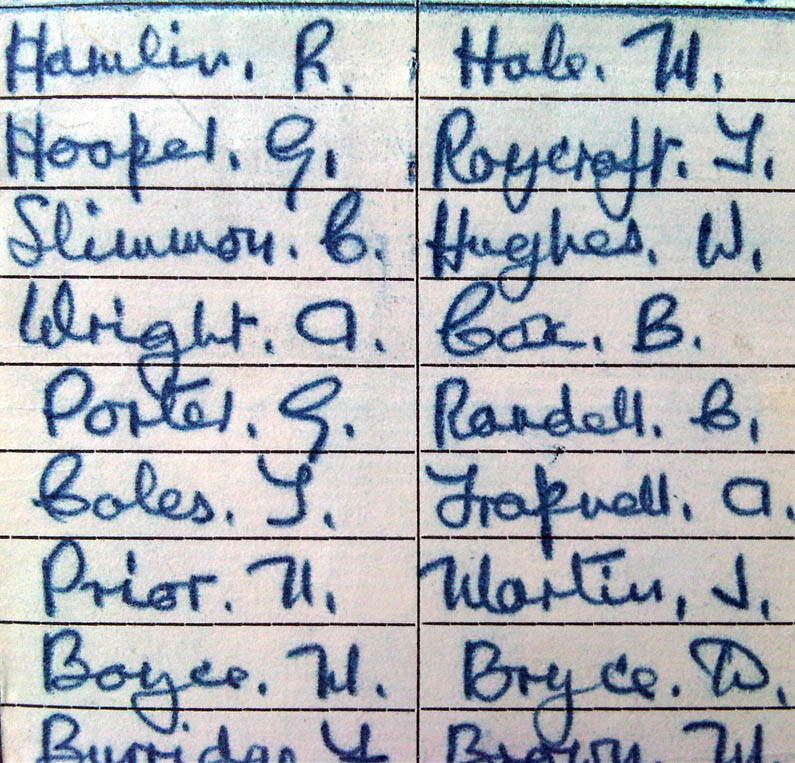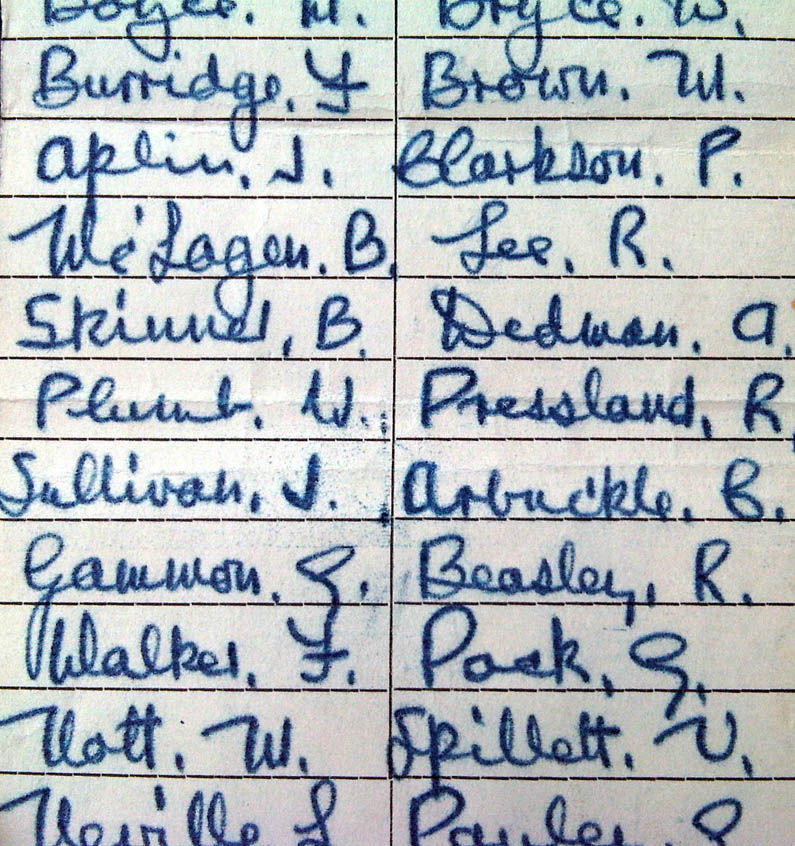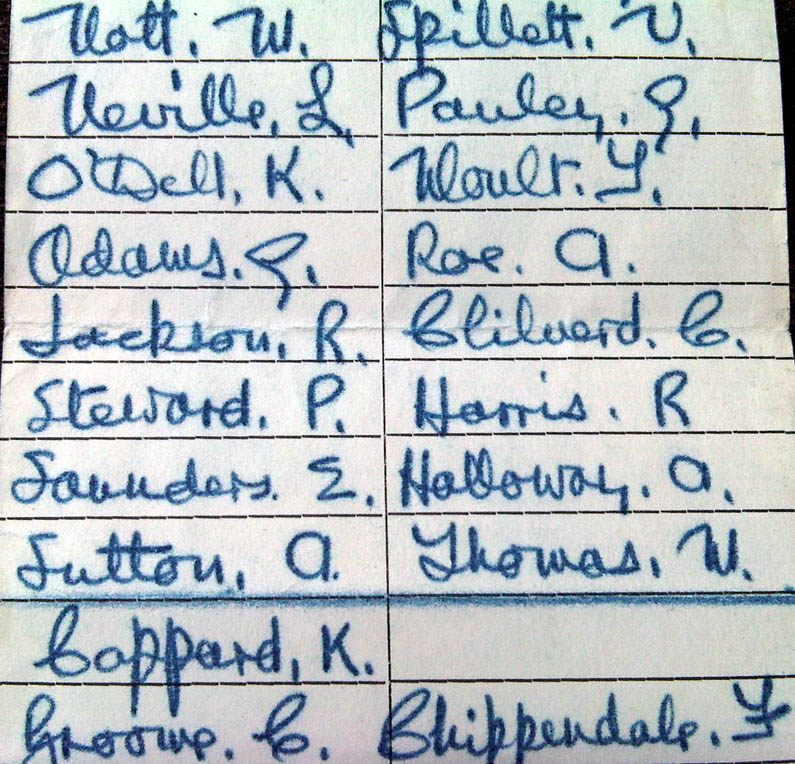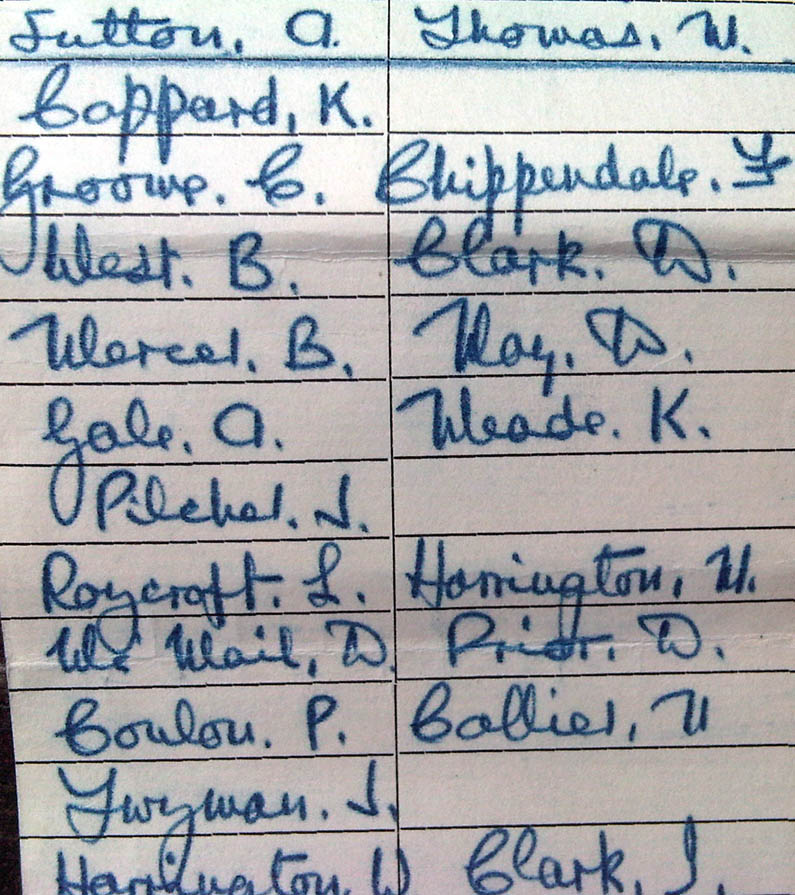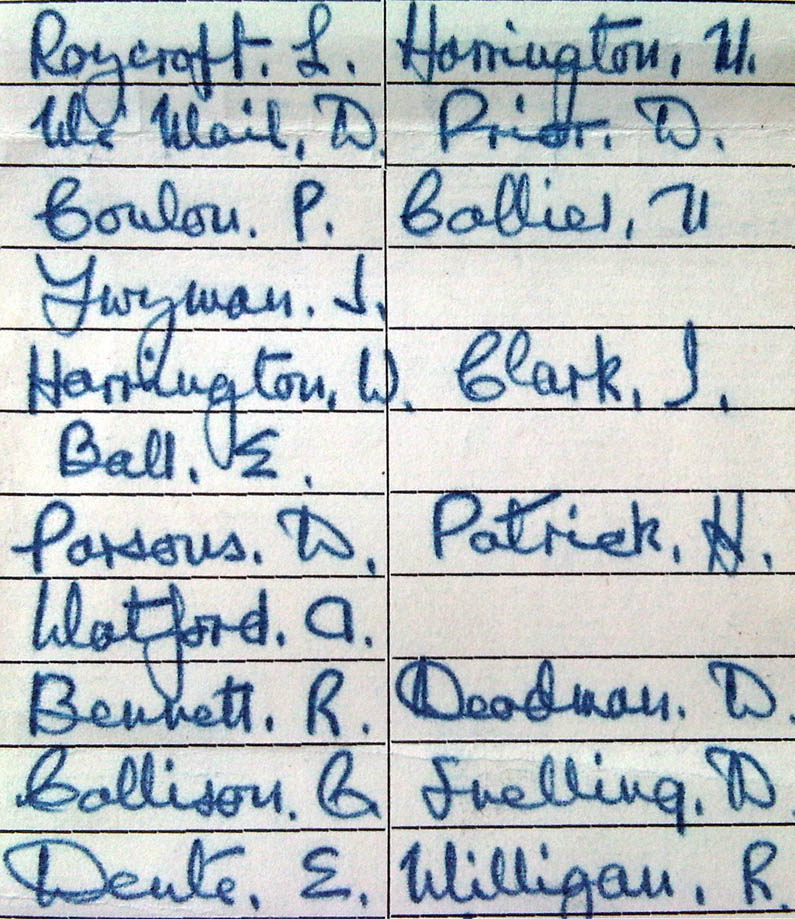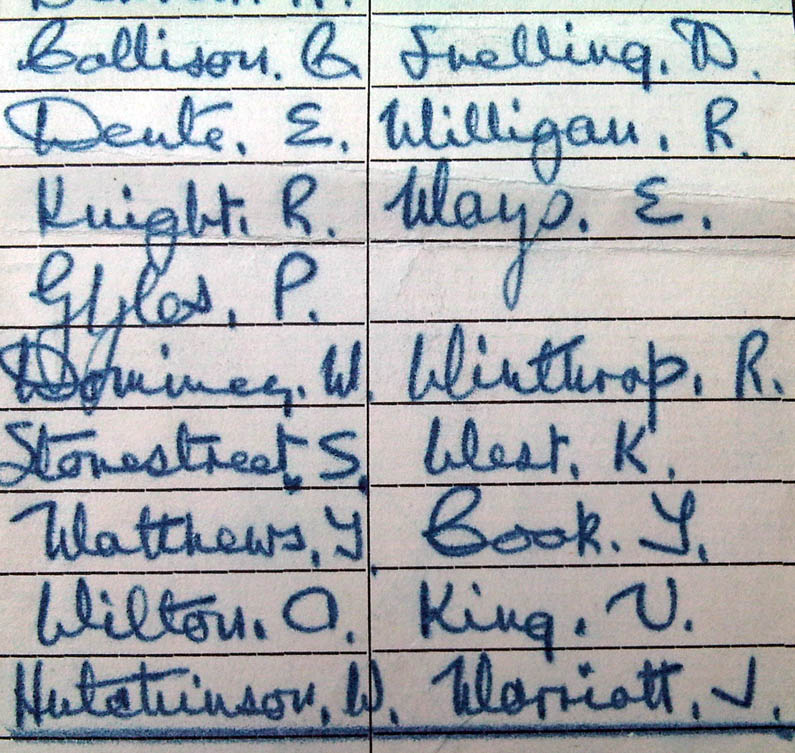 ---
Nine Elms Enginemen Tribute - Locomotive headboard dedication
Enginemen Cap Badge
Nine Elms enginemen with names A - K
Nine Elms enginemen with names L - Y